Biden Bested Trump in the Final Presidential Debate, Most Voters Say
54% said the Democratic presidential nominee performed best vs. 39% who said the president won
The moderator's ability to mute the presidential candidates in the final debate of the 2020 campaign led to a much more digestible discussion for the viewing audience at home, but the outcome was similar to the first debate in the eyes of voters, most of whom declared Democratic nominee Joe Biden the winner.
According to a Morning Consult/Politico poll conducted Oct. 23, 54 percent of voters who tuned in Thursday night thought Biden performed best, while 39 percent said the same of President Donald Trump. The margin of victory of 15 percentage points for Biden is similar to the 16-point gap from polling conducted among viewers of the fractious, Sept. 29 televised contest.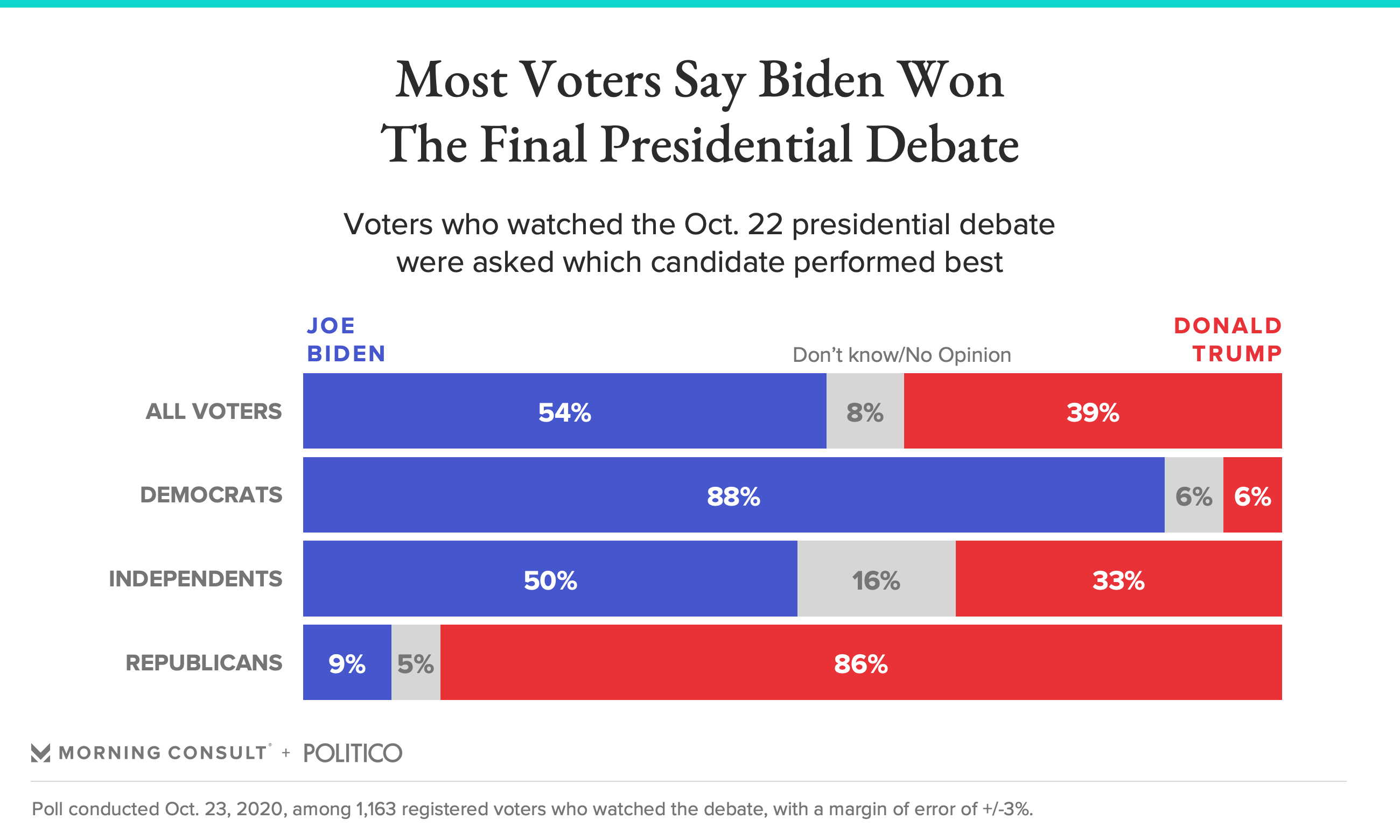 The latest poll was conducted among 1,848 registered voters, including 1,163 who said they watched the debate, with respective 2- and 3-point margins of error.
Like he did in the previous debate, Biden exceeded voters' expectations. In a pre-debate  survey conducted Oct. 19-22, 45 percent said they expected Biden to win, compared with 36 percent who thought Trump would emerge victorious.
The debate opened on Biden's turf, with questions about the coronavirus pandemic and the Trump administration's response. It briefly veered into more uncomfortable territory for the former vice president with talk of his son Hunter Biden's overseas business dealings that questioned the elder Biden's honesty, but eventually moved to issues such as climate change and race relations, where he has a trust advantage over the incumbent Republican.
Despite Trump's attacks on Biden's character, political inclination and ability to do the job, Biden left the debate stage with advantages over Trump intact on a number of traits.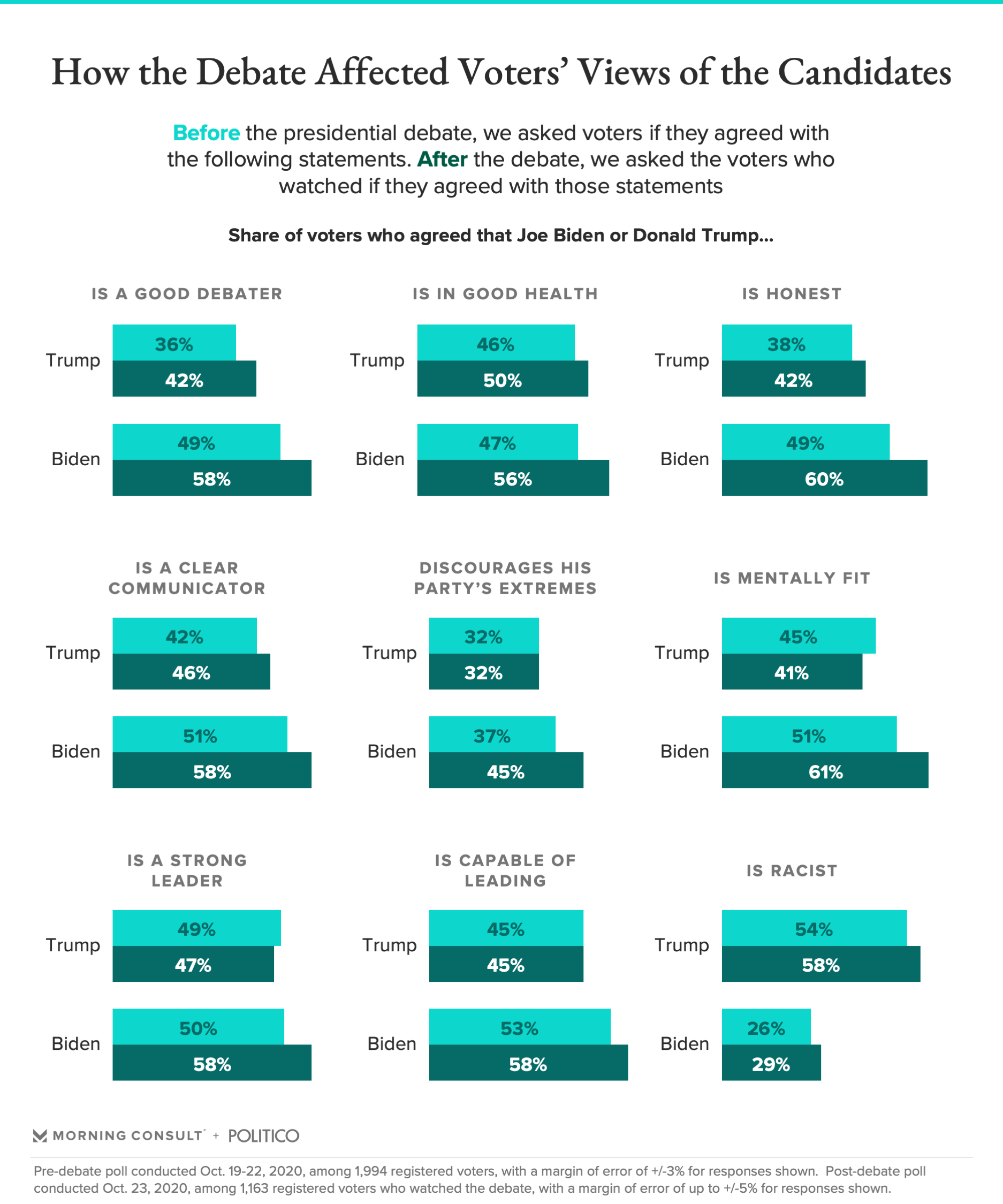 Roughly 3 in 5 debate watchers agreed that Biden is honest, mentally fit and a clear communicator and strong leader, all double-digit leads on the share who said the same of Trump. Voters were also more likely to say Biden discourages his party's extremes than Trump (45 percent to 32 percent).
Morning Consult Political Intelligence tracking showed Trump trailing Biden by 9 points among likely voters, 52 percent to 43 percent, heading into the debate, likely his last major moment to sway public opinion. However, fewer voters tuned in for Thursday's matchup compared with the Sept. 29 event. According to the survey, 63 percent of registered voters watched the debate, down 6 points from the previous debate, including an 8-point drop among independents, to 53 percent.
The Commission on Presidential Debates' decision to put the two candidates under the threat of a mute button helped facilitate a more orderly discussion, which did not go unnoticed by voters: The latest survey found 65 percent said the two candidates respected each other's time, a notable shift from the polling conducted after the first debate, when 86 percent of voters called the candidates interruptive.
They also gave credit to the moderator. Nearly 3 in 4 voters (73 percent) said NBC's Kristen Welker's performance was "excellent or good," including 83 percent of Democrats and 63 percent of Republicans. Almost a month ago, 43 percent of voters who watched said the same of Fox News' Chris Wallace, with half or more rating his handling as "poor" or "fair."