Read more stories about podcasting in Morning Consult's special report, 'The Public's Perceptions on Podcasts.'
Podcasts are grabbing the attention of many parents looking for screen-free entertainment for their kids during the pandemic — and new data shows they're willing to open their wallets for children's podcast content, which could help the nascent industry grow. 
Podcasts have gained popularity among children in recent years. Research from Kids Listen, a nonprofit advocacy organization for kids' podcasts, found that overall, 89 percent of kids who listen to podcasts are ages 8 and under. Half of all kids who listen to podcasts do so every week, while one-third listen to podcasts daily.
"Parents perceive podcasts, because they're audio, very differently," said David Kleeman, senior vice president of global trends at Dubit, a digital studio and research strategy consultancy focused on kids and teens. There's data to back this up: An Oct. 8-11 Morning Consult survey finds that 51 percent of parents view time spent listening to music, podcasts and other audio programs differently from time spent in front of screens such as televisions, computers and smartphones.
According to NPR's 2020 Spoken Word Audio Report, 15 percent of U.S. adults listen to children's spoken word audio, likely parents co-listening with their kids, while 62 percent of adults listen to news. Currently, none of Apple Inc.'s top 100 podcasts are children's titles, and according to Podtrac, none of the top 20 podcasts for the month of September fall into the kids genre. 
Children's podcasts genres vary from science to storytelling, with independent creators and legacy media companies, including PBS and ViacomCBS Inc., producing content for younger ears. 
Lindsay Patterson, co-founder of Kids Listen and Tumble Media, a production company for children's educational audio, said awareness, not content, is one of the main hurdles facing this nascent industry. 
"If you're not a parent, you're not going to be aware of it," she said. "But even parents, they don't naturally think of podcasts for kids because it's a brand-new category." 
Patterson said that podcasts meant for kids are frequently grouped in family categories where their programs may be found next to ones meant for parents. Currently on Apple Podcasts, six of the top 20 shows in the kids and family section are podcasts for parents, not children. 
According to the Kids Listen survey, 98 percent of respondents said the adult in the family found podcasts for kids and families to listen to, but 40 percent of respondents said children are the ones that make the decision to listen to a podcast.
Maggie McGuire, chief executive of audio streaming platform Pinna, said that kids under the age of 8 are likely introduced to podcasts by the adults in their life, but said that older children may learn about audio content from their peers.
Kleeman said the industry is still in the "early stages developing coherent channels for podcasts," which makes it "harder to get discovery to find your content and engage with it."
But there are solutions to this problem. Kids Listen has developed an app that makes finding a kids podcast easier, and Pinna, a subscription service for kids that provides ad-free access to podcasts, audiobooks and music, is providing a one-stop shop for original and licensed kids podcast content. 
Pinna, which costs $7.99 per month or $79.99 per year, launched its subscription platform in January 2019, and is the "first and only audio on-demand streaming service" for children between the ages of three and 12 that provides a "safe space designed just for them," McGuire said. The service has subscribers and listeners in 137 countries, with the average subscriber listening to the service for at least 60 minutes per day.
McGuire said that as more platforms create and curate audio content for children, that growth will only aid discoverability. 
"The more players there are in the marketplace, we all lift each other up," she said "Then it will become a burgeoning category. It's on the precipice of it — everybody is stepping into it now."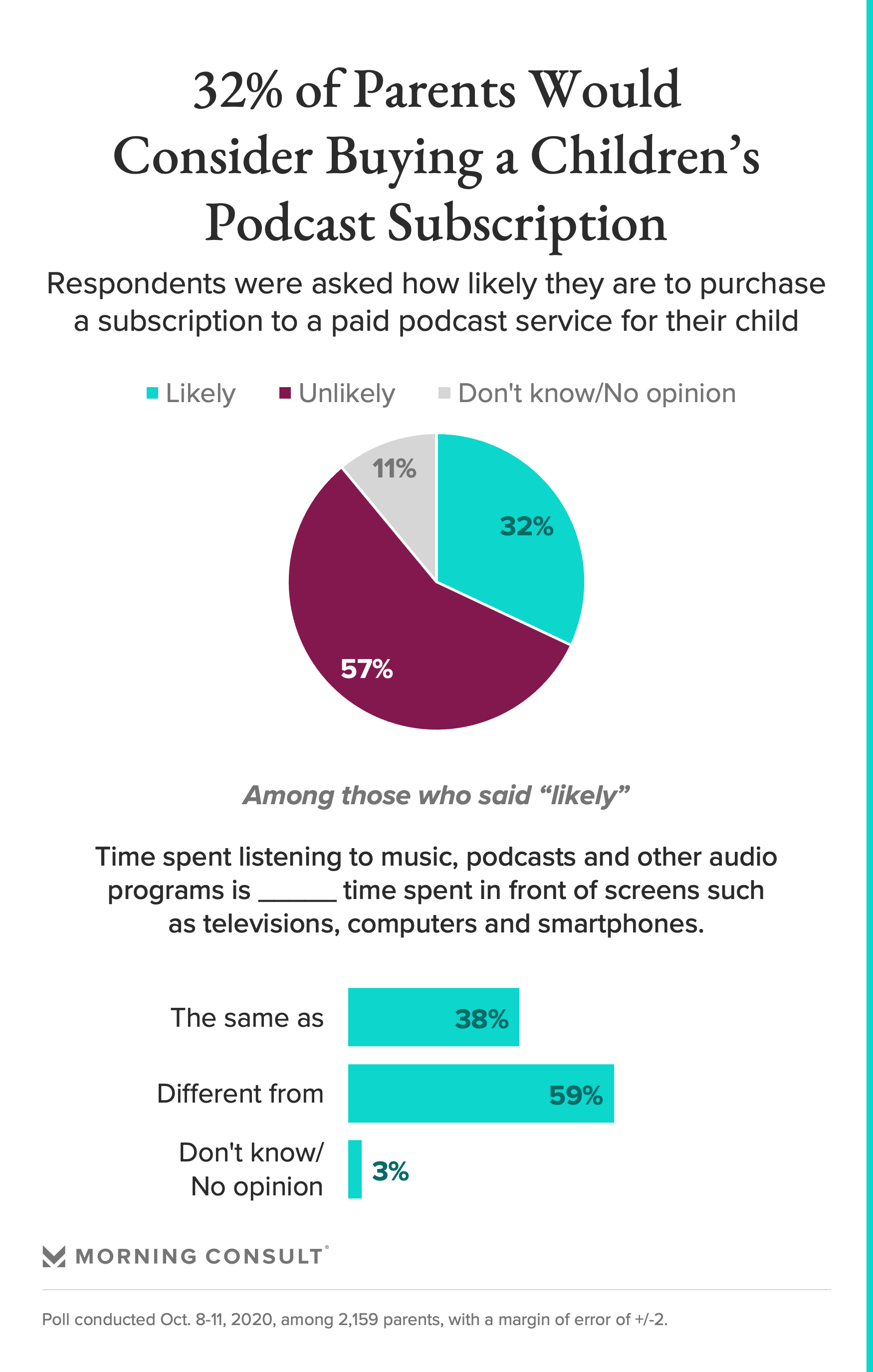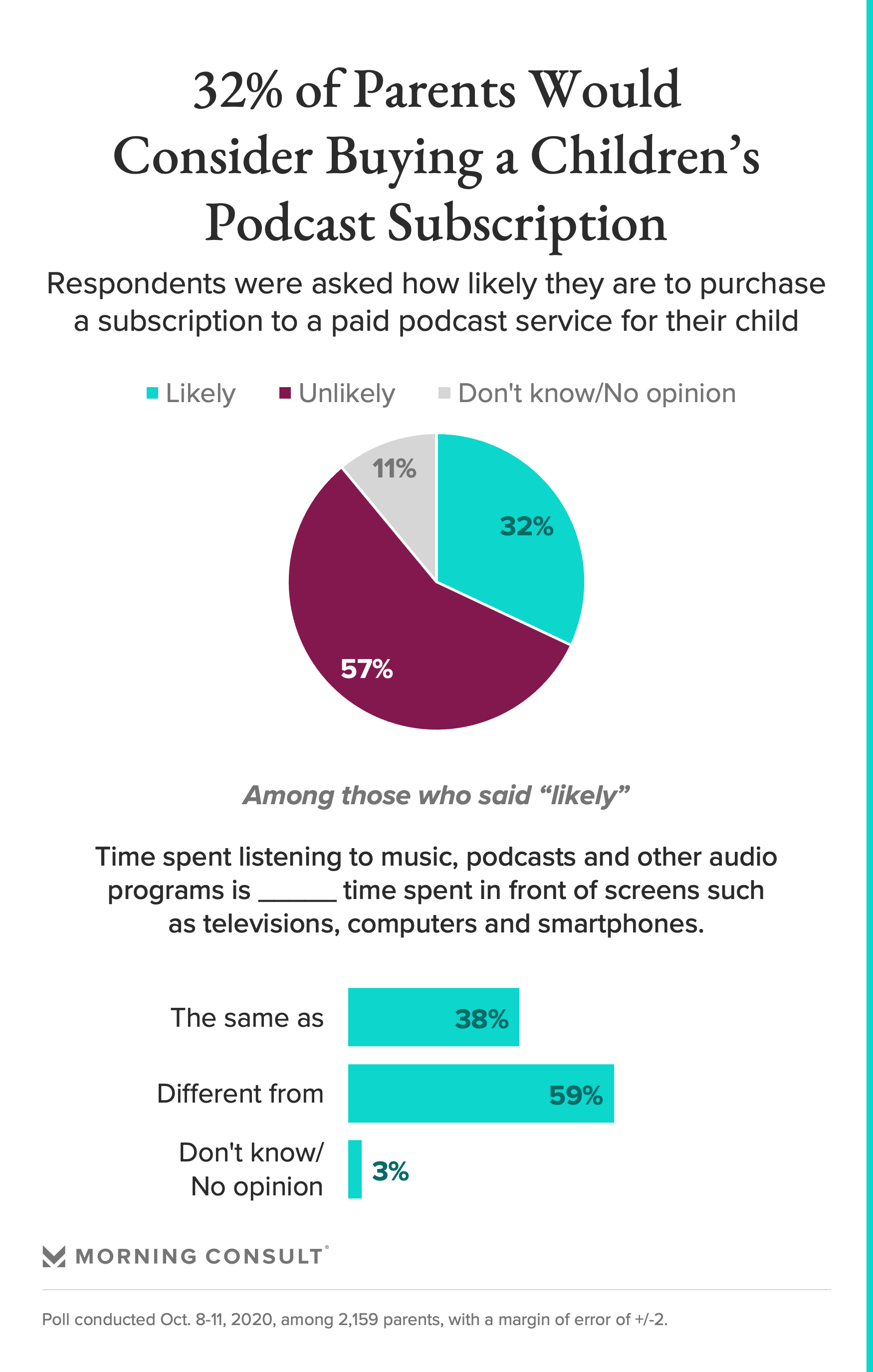 The Morning Consult survey found that 32 percent of parents said they are very or somewhat likely to purchase a subscription to a paid podcast service for their child. That share climbed to 64 percent among parents who listen to podcasts at least a few times a week, numbers that did not surprise Patterson.  
"When you do start listening, you learn the value of the podcast and how it's different from other media that you may be willing to buy a subscription to," she said. 
The COVID-19 pandemic has also driven interest in audio content for children, as parents look for more activities to keep kids entertained and engaged at home.  
"Wow in the World" a children's podcast distributed by NPR, saw average weekly downloads for increase by 94 percent in the 13 weeks post-COVID compared to 13 weeks pre-COVID, according to Meredith Halpern-Ranzer, chief executive of Tinkercast, the company behind the podcast.
During the pandemic, the company ended up creating a second podcast, initially released daily from mid-March through August and now released weekly, called "Two Whats?! And A Wow!" to meet demand. Tinkercast plans to release new episodes of both shows through the end of the year. Patterson has also seen increased activity since the onset of the pandemic.
Experts expect this usage to continue post-pandemic, with kids podcasts growing alongside their adult counterparts.  
"The faster and the wider the adult podcast space grows, the more audience share that marketplace delivers," McGuire said. "There will be a trickle-down effect to those folks being interested in it for their children."