From the way consumers will celebrate and travel to how they'll shop and spend, Morning Consult has been closely monitoring how consumer spending, channel preferences and shopping needs, preferences and habits are changing this holiday season, and what brands can do to navigate this landscape as it evolves.
Consumers' expected spending levels and shopping habits related to the upcoming holiday season have remained largely consistent since holiday tracking began in early September. But one thing is clear: Differing financial realities among American shoppers reveal important nuances in spending attitudes and expected consumption this season.
With only a few weeks until Thanksgiving, just 46 percent of Americans report looking forward to this year's holiday season more than they usually do — down 4 points since early September. Indeed, as time passes, the pandemic continues to escalate, and the economy flails, Americans' holiday shopping timelines and financial pressures are shifting. The current state of consumer spending — and how this translates to ability and willingness to spend this holiday season — will directly impact gift-giving this year, from what people buy to how they plan to search for, pay for and give gifts.
When they'll buy: holiday gift shopping timelines
Just under a quarter of Americans, 24 percent, plan to start holiday shopping earlier than usual this year. In fact, while a growing share has begun shopping, a significant share still has not. The 44 percent who haven't yet begun holiday shopping are more likely to be Gen Zers (56 percent have not yet begun) and lower-income and less-educated Americans (47 percent of each audience have not yet begun their holiday shopping, compared to only 32 percent of their high-income and more educated peers). Shoppers who've not yet begun their holiday shopping are also increasingly likely to procrastinate when they'll start: 42 percent now plan to begin in late November, up 12 points since late September.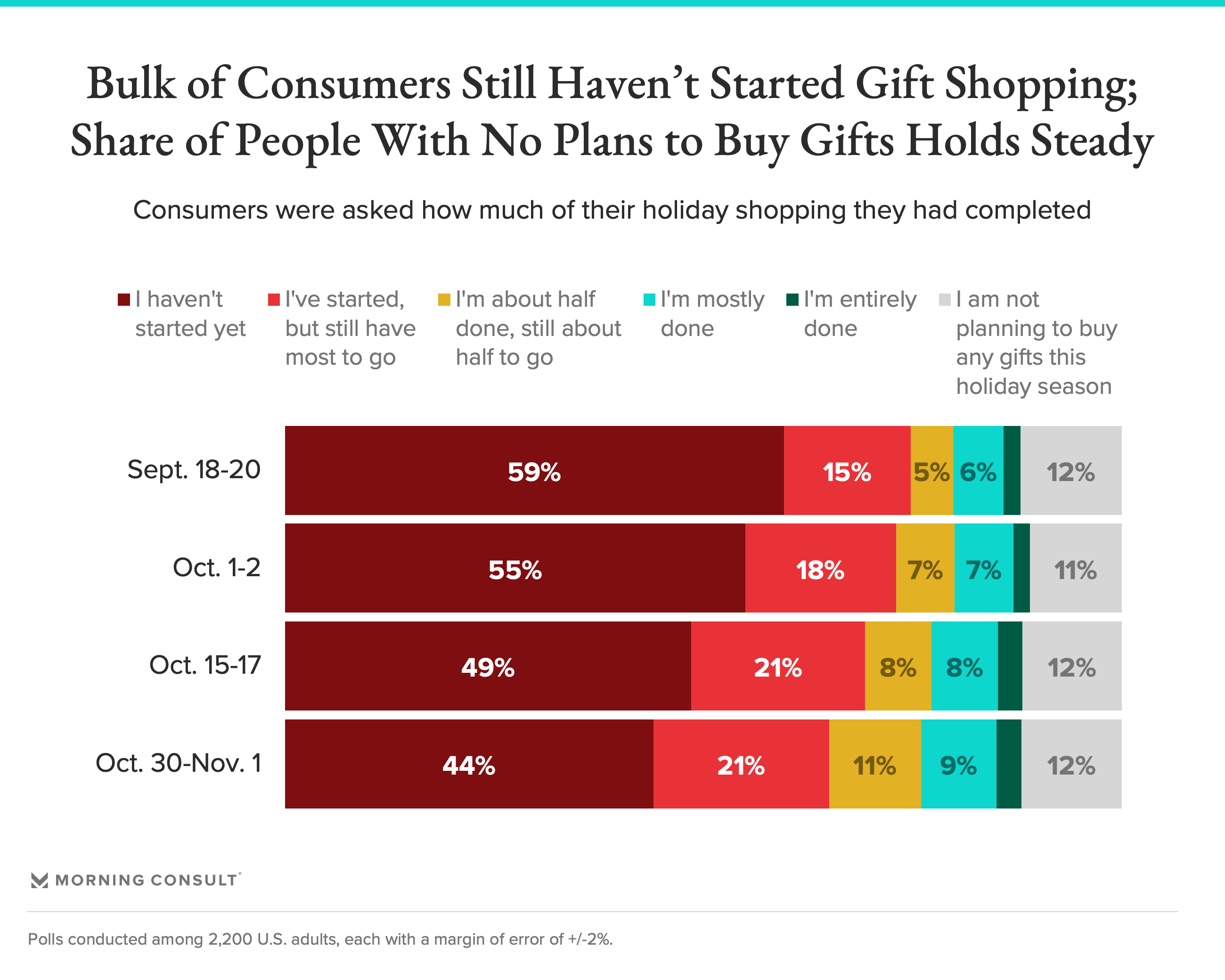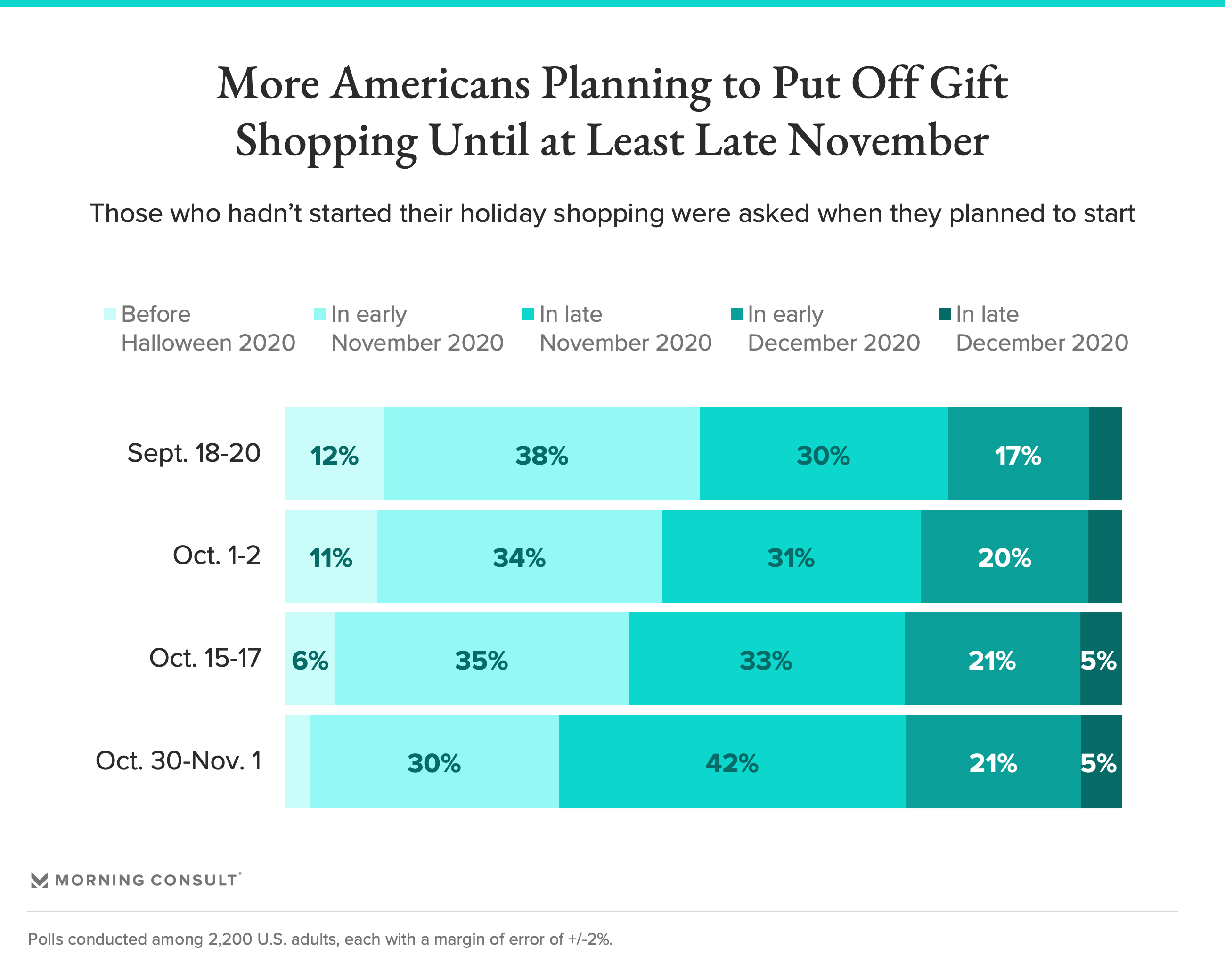 That younger shoppers and those with lower incomes are least likely to have started gift shopping underscores the potentially crippling effects consumers' financial concerns may have on spending and celebrating throughout the 2020 holiday season. Indeed, the majority of Americans are worried about the current economic downturn; unsurprisingly, this concern is translating to worry around personal finances this holiday season in particular.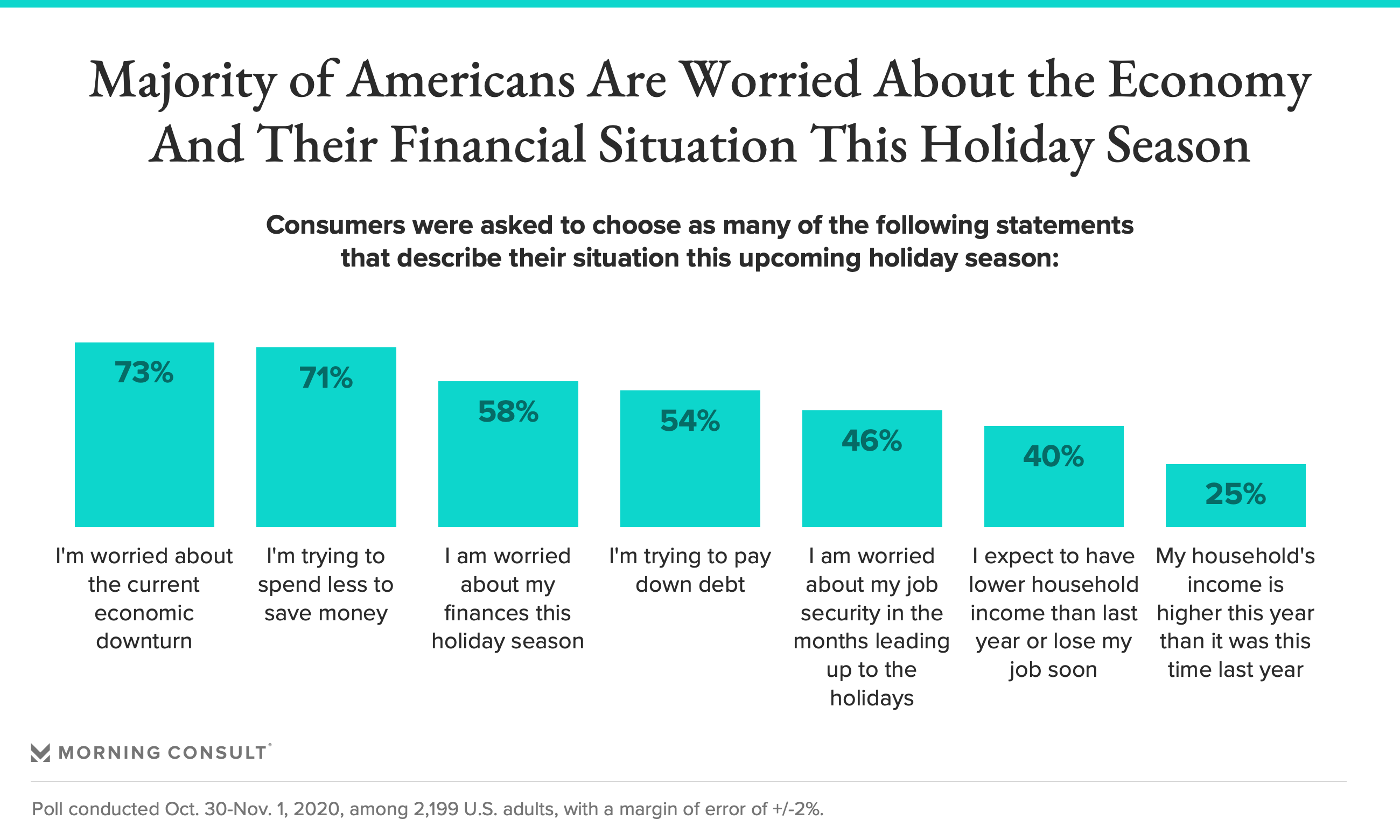 With majorities of adults currently attempting to spend less money or pay down debt — and a sizeable 46 percent of the population worried about their job security these next few months — retailers should not only be sensitive to shoppers' financial realities and consider pricing and promotion strategies oriented around mitigating these challenges, but also assess potential impacts of widespread spend reductions on their forecasts this holiday season.
It's clear that financial strain will impact the holiday season for many Americans this year, and in more ways than one. To start, a growing share of shoppers expects to spend less on gifts this year, up 6 points since early September, while the share expecting to spend as much as in the past is shrinking.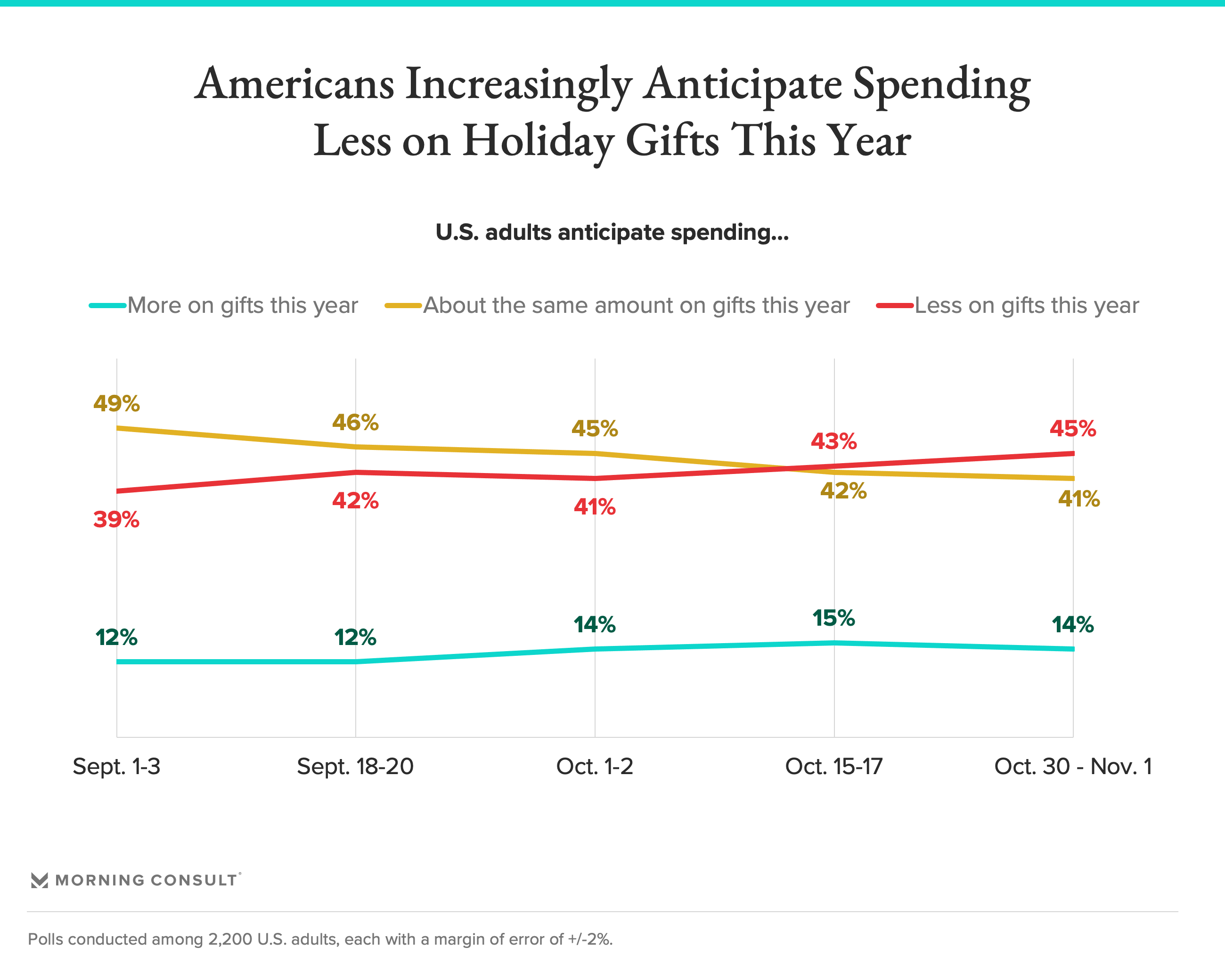 Notably, spending expectations are divided along income and generational lines. Twenty-five percent of high earners anticipate spending more while 33 percent expect to spend less; 26 percent of Gen Zers plan to spend more this holiday season while 30 percent anticipate spending less.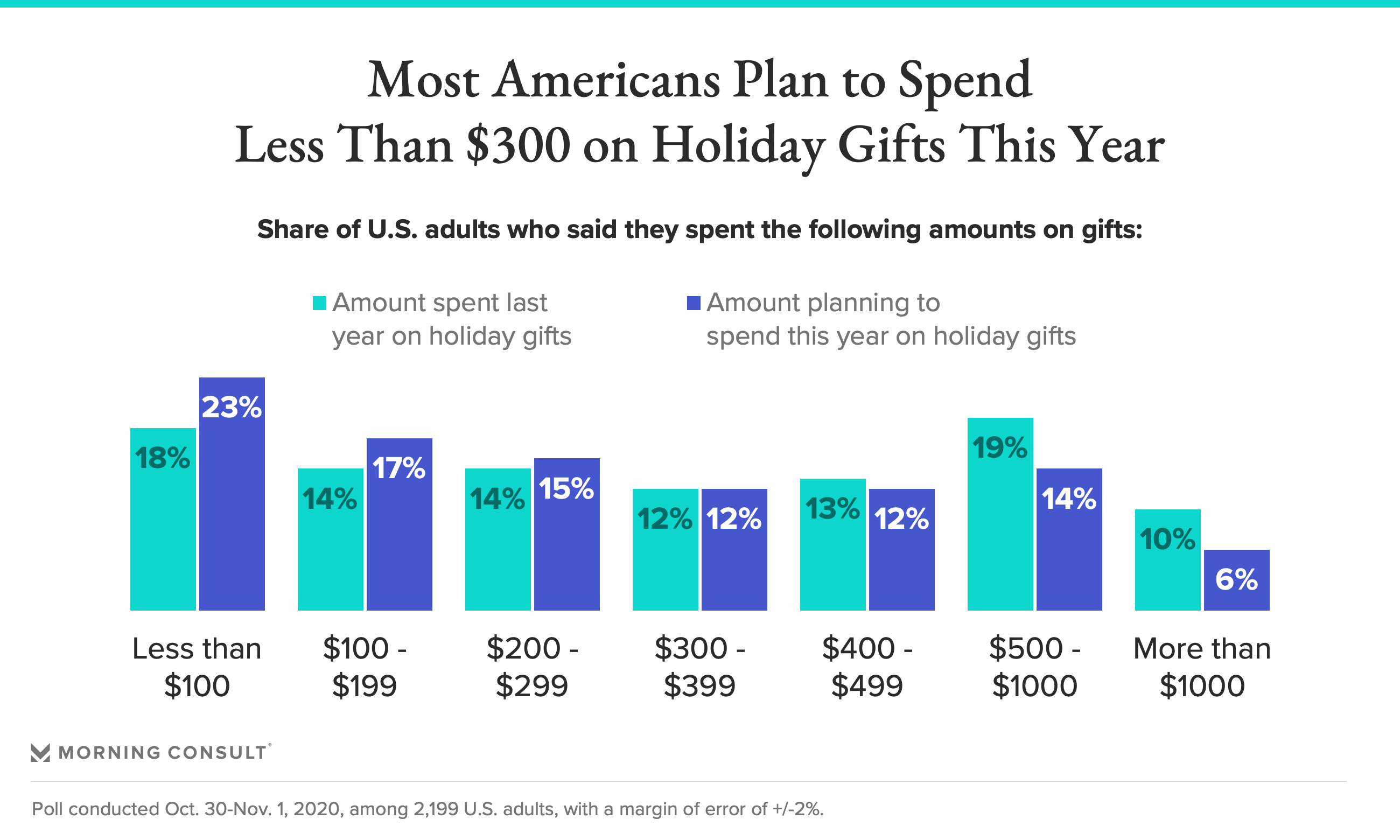 Specifically, most Americans (55 percent) plan to spend less than $300 on holiday gifts this year, 9 share points higher than last year. Conversely, the share of shoppers planning to spend $500 or more on holiday gifts is also down 9 points year on year, with only 20 percent planning to do so in 2020. 
These anticipated spending amounts have not changed materially since early September, suggesting that despite turbulent times, enduring financial challenges, and an uncertain election season, shoppers' early estimates hold as the holiday season approaches. 
Retailers would be wise to keep in mind consequential shifts in consumer behaviors and mindsets while holiday shopping this year. The vast majority plan to have budgets, will compare prices more than usual and will be cutting back on the number of gifts they give this year; many will have also cut back on spending at other times or in other areas of their life to accommodate holiday spending.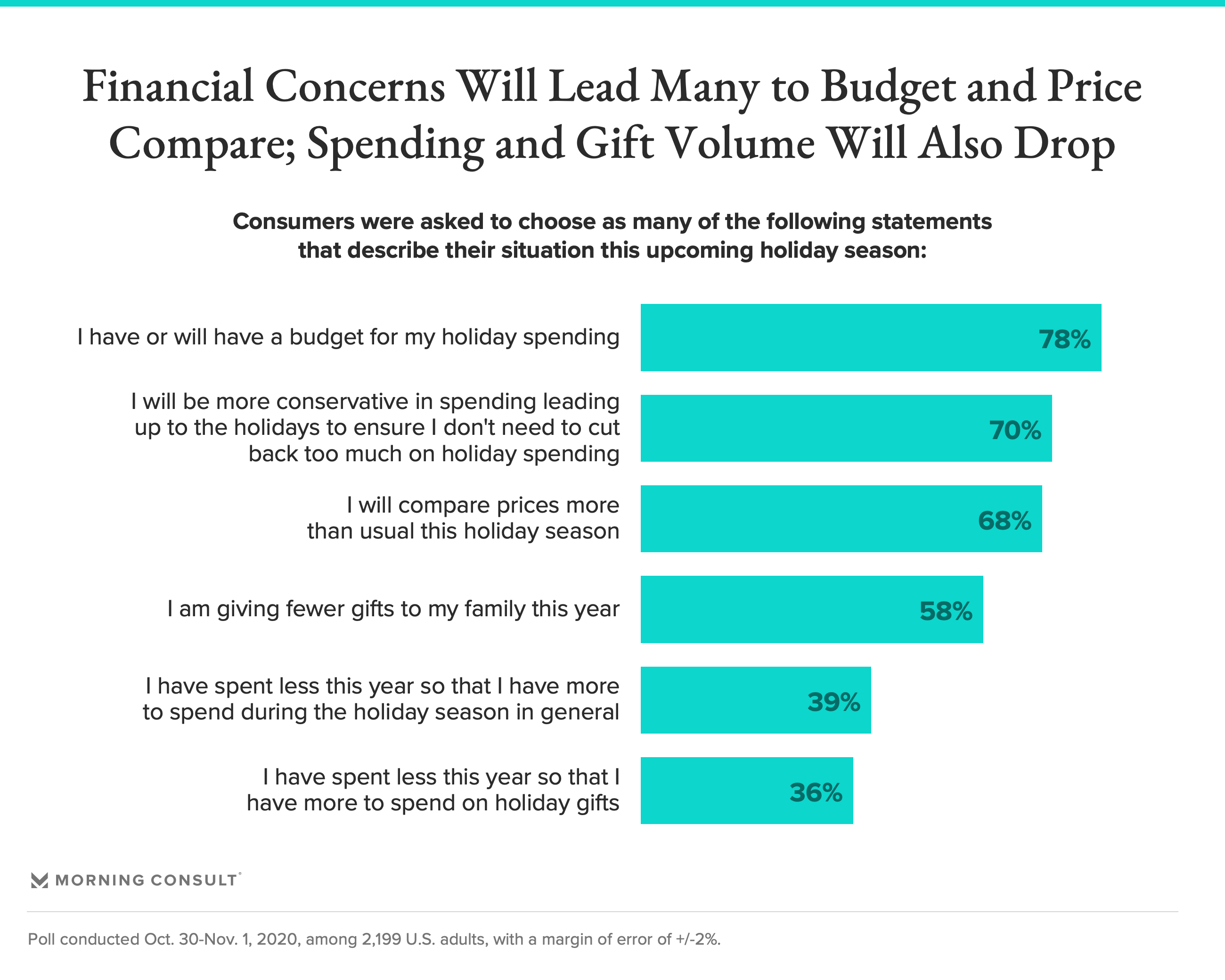 How they'll pay: preferred payment methods
Debit cards are Americans' most-favored payment methods (46 percent plan to pay for their purchases using this method this holiday season), followed by cash (40 percent) and credit cards (40 percent). But given the economy and many shoppers' financial situations, 40 percent indicate that they are open to alternative funding options such as opening a new credit card or using companies offering pay-later options to help them better afford holiday gifts. It's also worth noting that a little over 1 in 10 (13 percent) say they are more likely to buy from stores or sites that have deals or partnerships with credit cards they use, suggesting that the role these tie-ups will play in driving search and even purchasing volume will likely be minor.
How they'll gift search: receptivity to and top sources for ideas
Approaches to gift ideas vary, though, similar to European shoppers, starting with a specific retailer or with a certain gift in mind is slightly more common (31 percent and 30 percent, respectively, indicate that this is how they plan to approach gift shopping this year). Still, only about a third of shoppers (34 percent) plan to shop off prepared gift lists; the remaining 66 percent expect to just start shopping and discover gifts as they go, or combine this with a more pre-planned approach. And, while half of the population feels reasonably confident in their gift ideas for people on their lists this year — particularly higher-income adults — half are less certain and as such are more open to receiving help with gift ideas.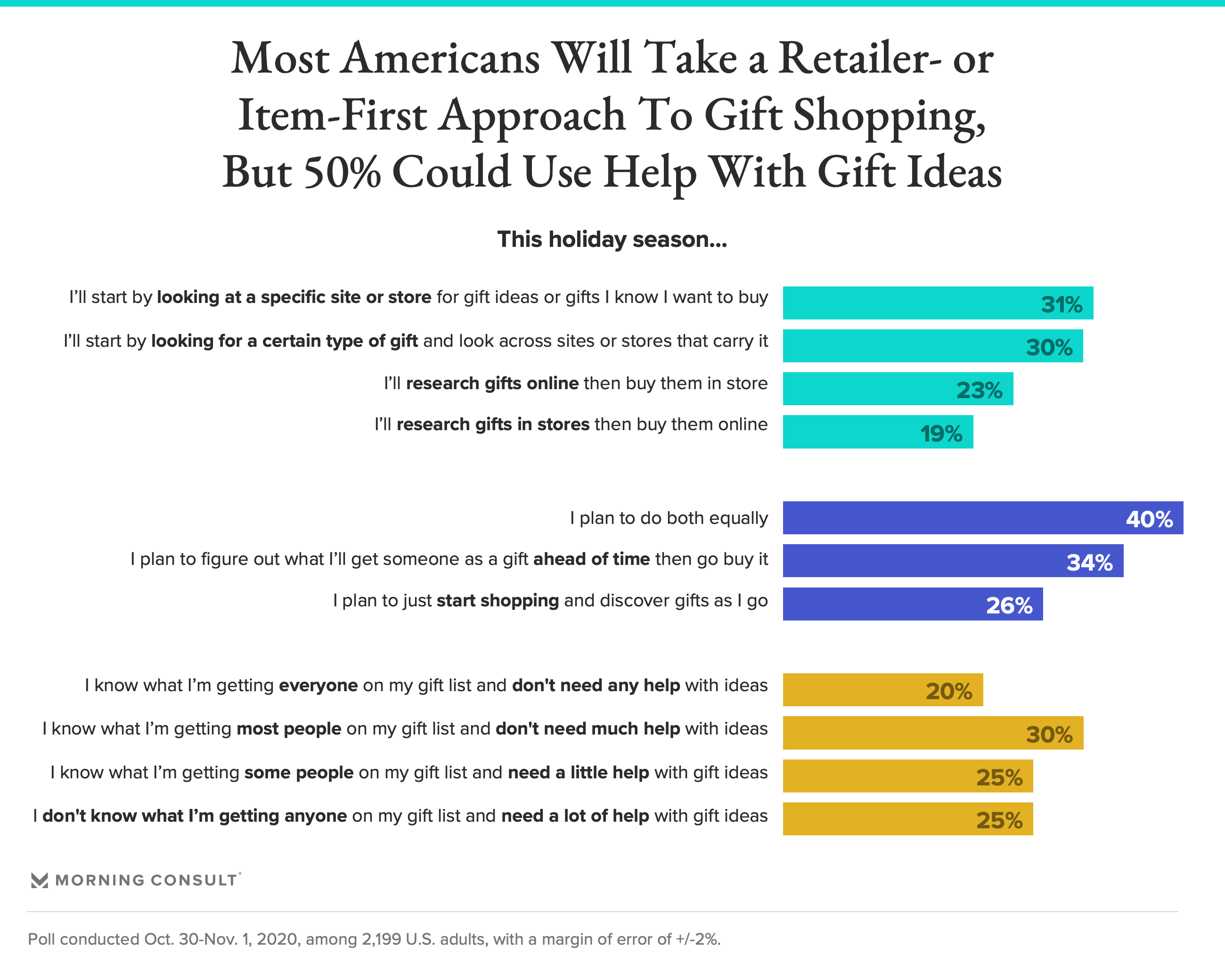 This creates an important opportunity for retailers and brands to strategically position their products and shopping experiences so as to surprise and delight shoppers with creative offers, products and ideas. In fact, products seen in stores (30 percent) or on sites (26 percent) where consumers shop are among the top places shoppers will look for gift ideas this year, though personal searches will play a slightly greater role.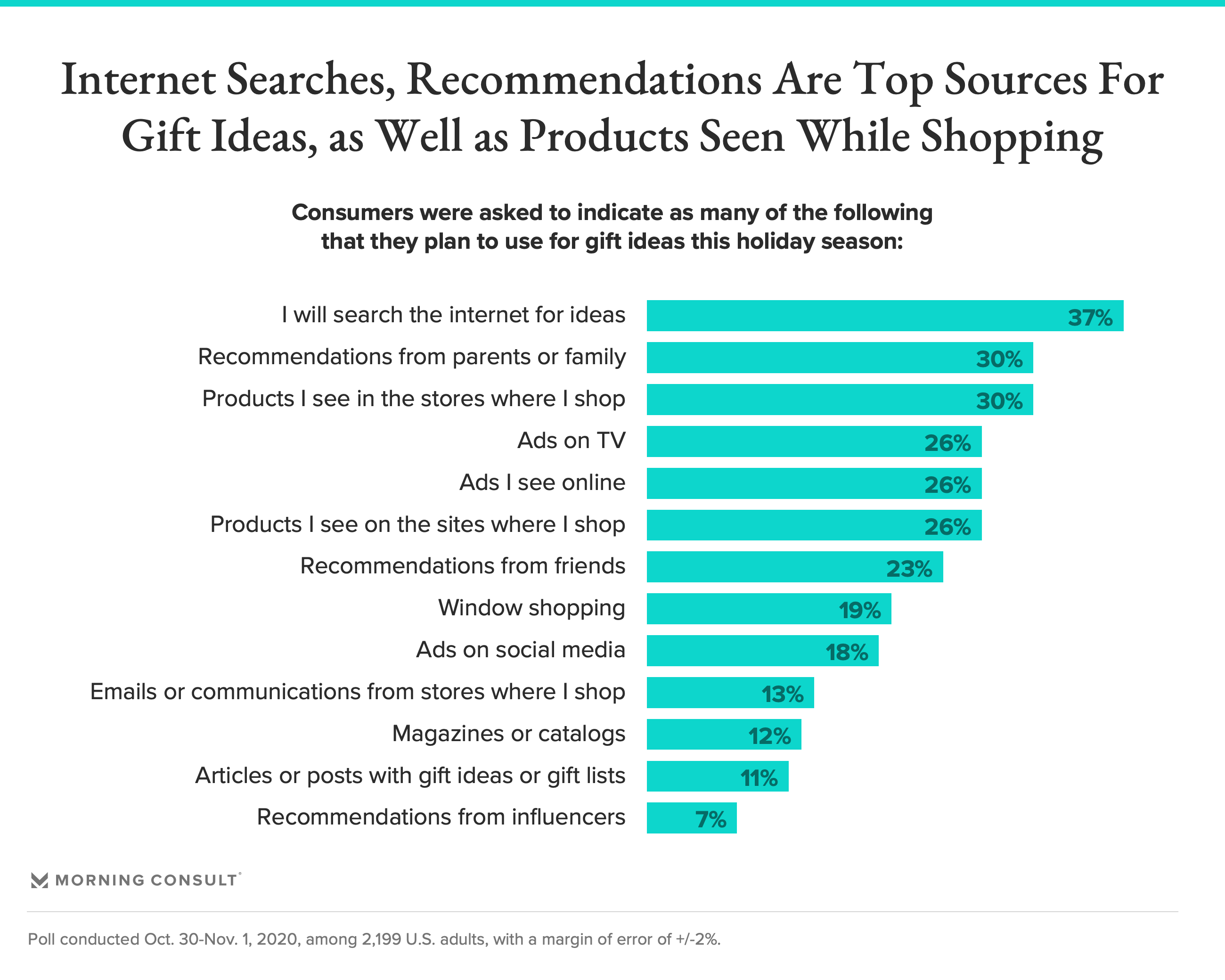 What they'll buy: top gifts this holiday season
In terms of what holiday shoppers will spend on this season, Americans' go-to brands are likely to benefit from familiarity and preference: 71 percent plan to buy mostly from these brands or those they otherwise purchase from frequently this holiday season. Still, more than half (54 percent) plan to explore new brands more than usual as they search for gifts this year. While both higher-end specialty goods and, alternatively, store brand or discount items are of interest to 30 percent and 20 percent respectively, less than 1 in 10 shoppers explicitly plans to purchase more brand name goods than usual this holiday season.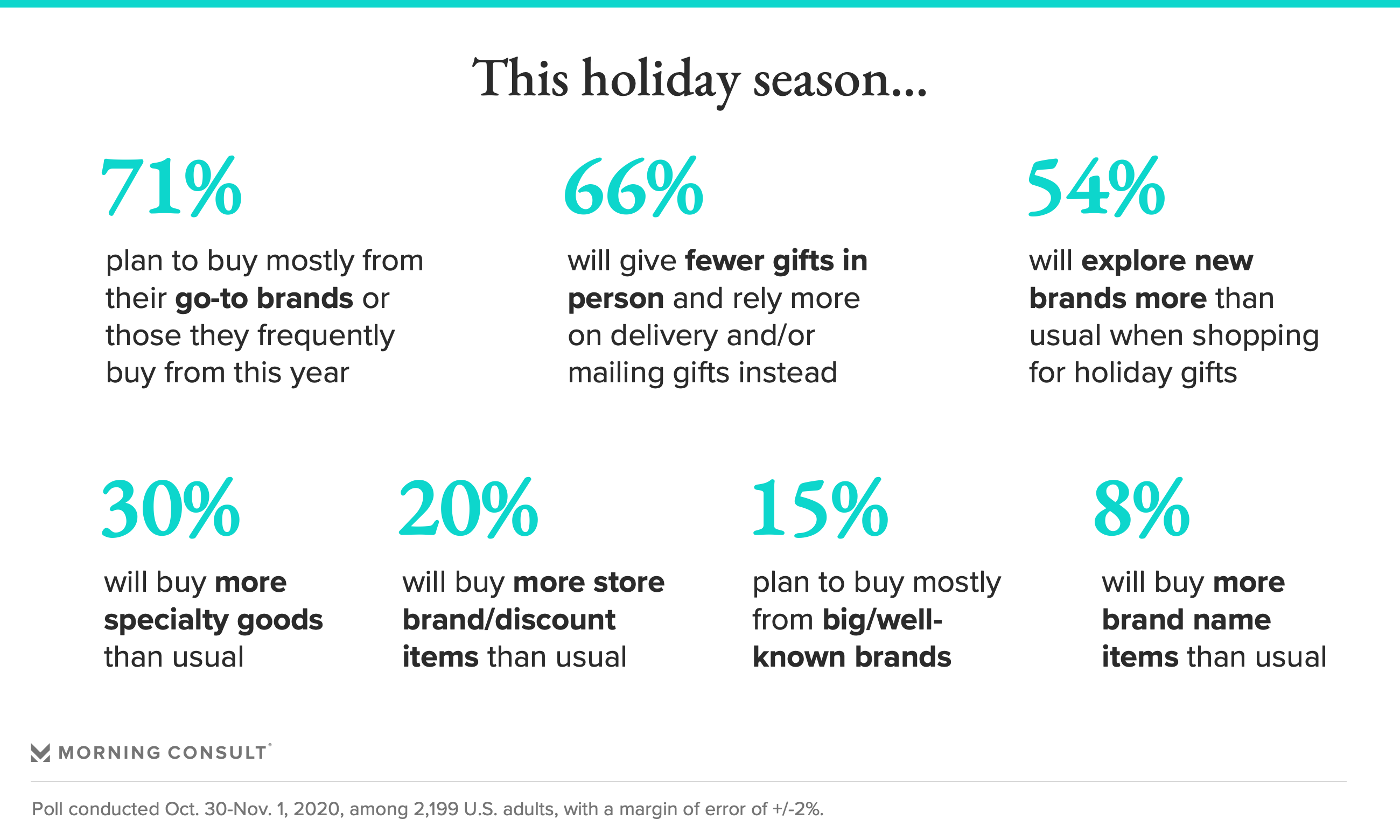 Gift cards continue to top Americans' gift lists this year: Roughly half of the population plans to give these, a share which has not wavered since tracking began in early September.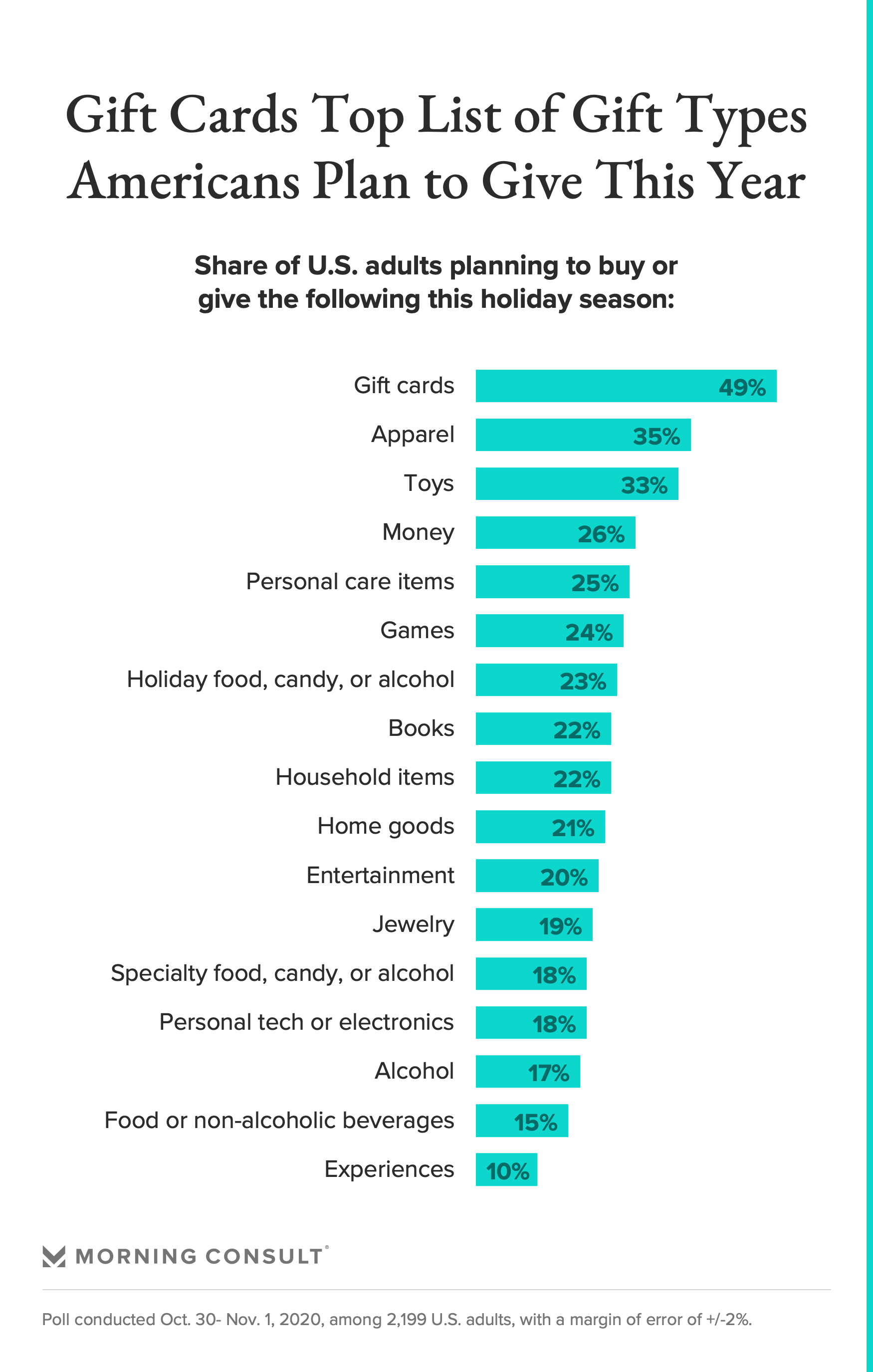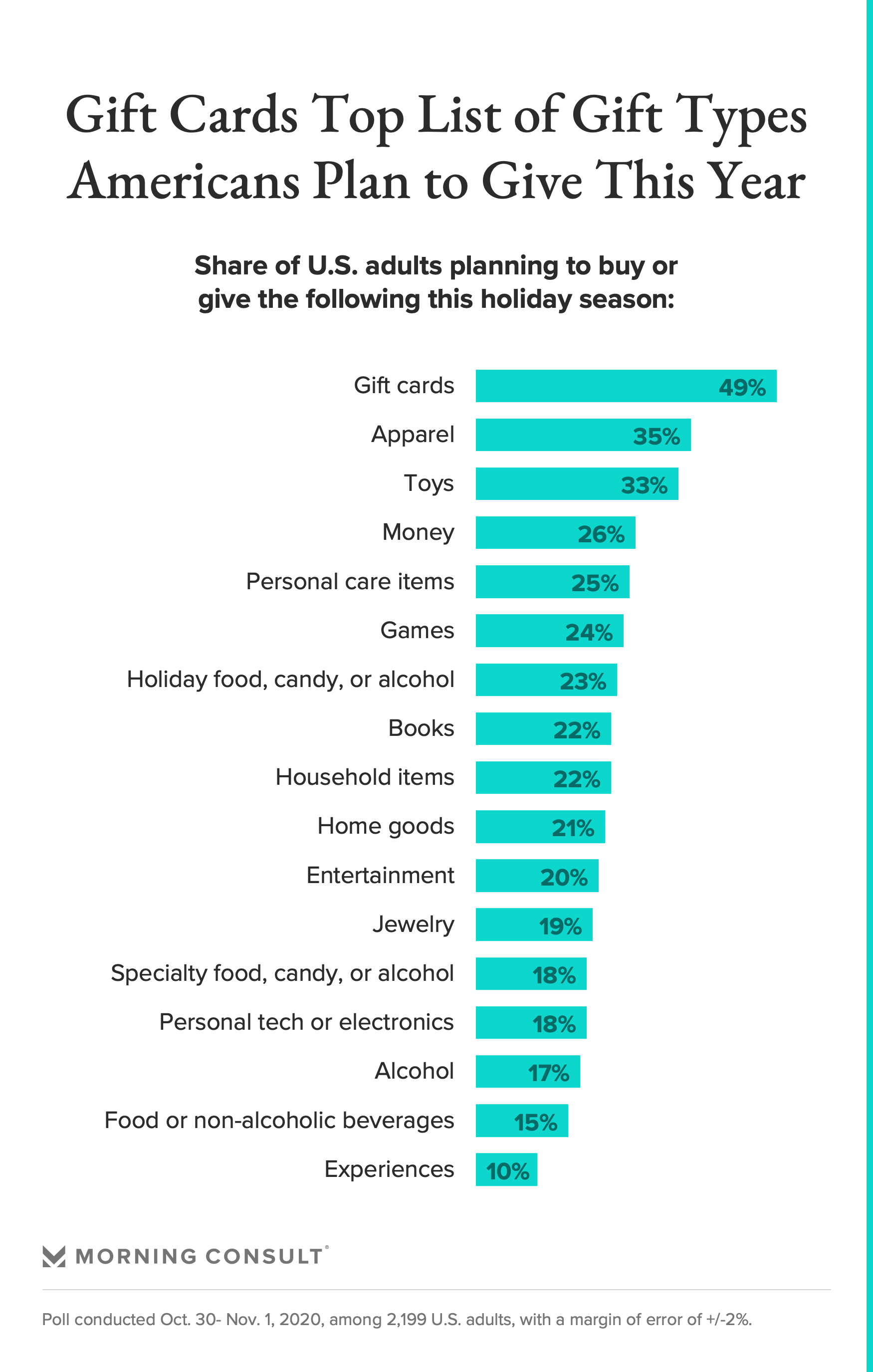 Apparel, toys and money are the next most-common gifts anticipated with more than a quarter of the population planning to give these.
Higher incomes are notably more likely than their peers to buy or give alcohol (27 percent), food or non-alcoholic beverages (23 percent), and, unsurprisingly, jewelry (31 percent) this holiday season.
The most common gift types people plan to give orient around fun or entertaining gifts, followed by those that are meant to be used at home, or are practical or comfort- or relaxation-related. These clearly reflect the home-bound, high-stress experiences of most Americans this year given the global pandemic.
Prestigious or luxurious items are on fewer than 1 in 10 shoppers' gift lists, though higher incomes are more than twice as likely to give these (16 percent plan to). 
When it comes to experiences, 46 percent indicate that they want to give people more experiences this year instead of material goods. Though this share rises to 62 percent among U.S. adults planning to spend more on gifts this holiday season, and to 74 percent among those planning to buy more luxury goods this year, roughly half of those planning to spend less this year as well as those expecting to buy fewer or no premium goods express a desire to gift these as well.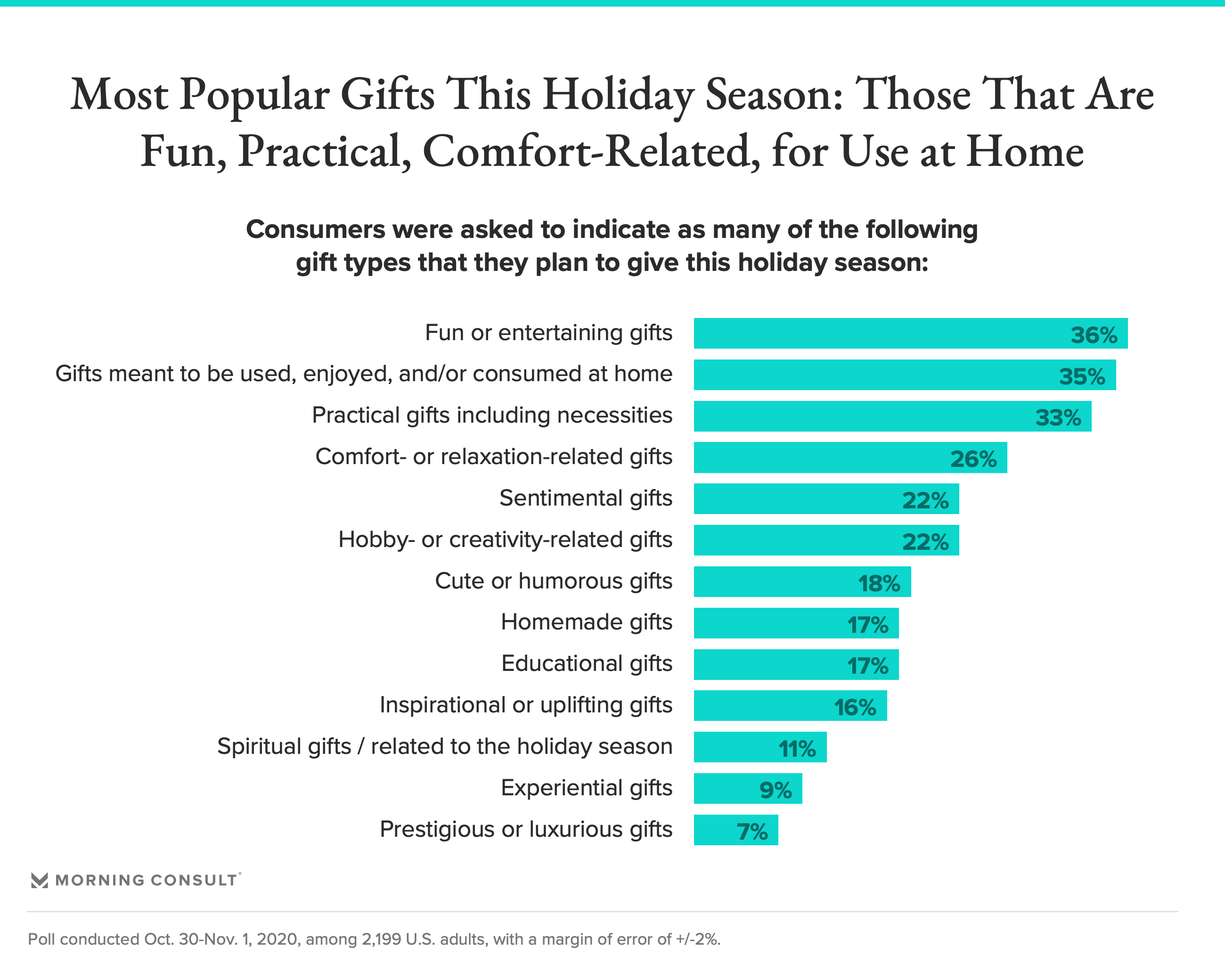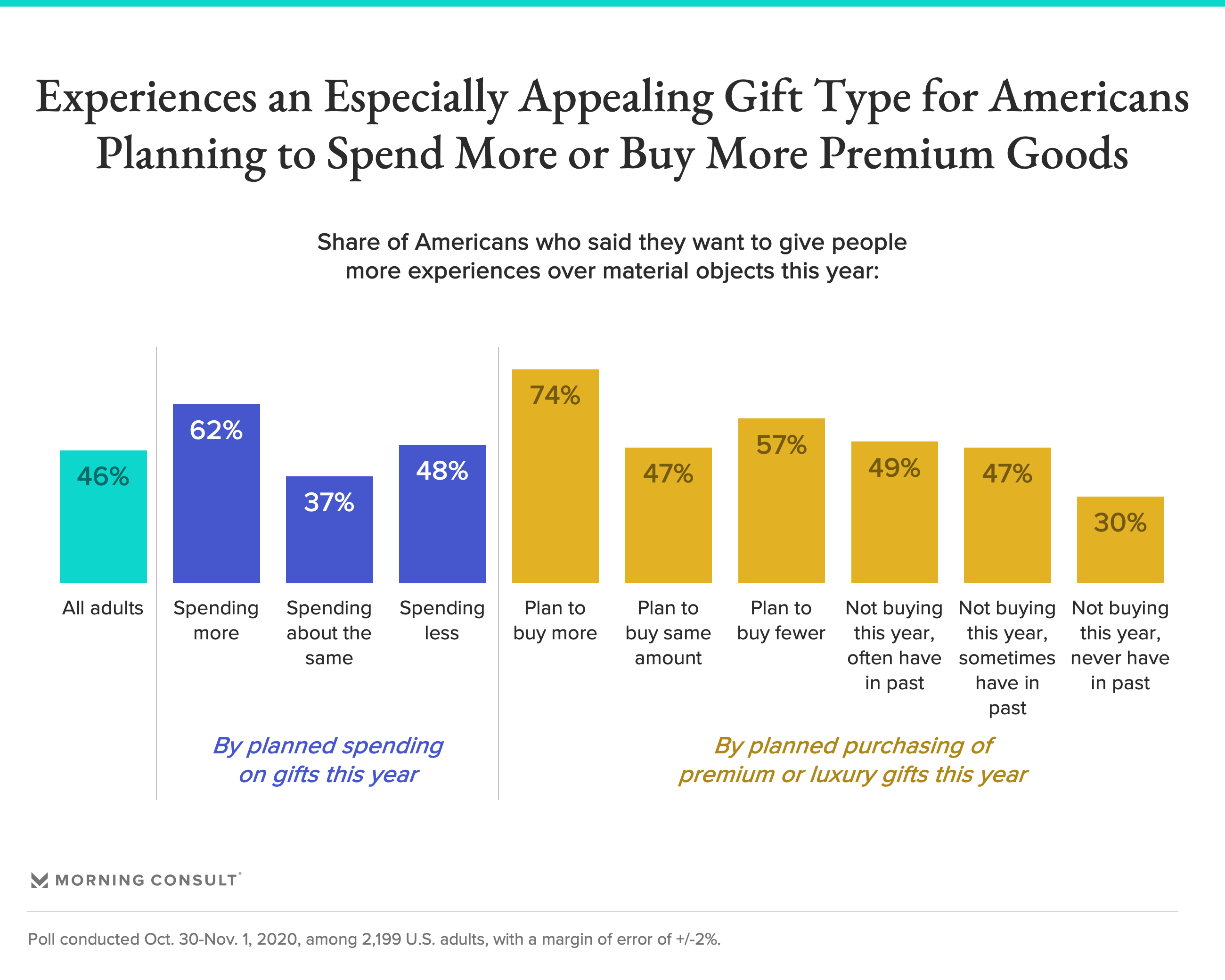 However, compared to just 8 percent of both middle- and lower-income earners, 32 percent of Americans who plan to give more premium gifts this year, along with 18 percent of high-income earners, actually plan to give experiential gifts. This clear "want to" vs. "plan to" gap in gifting experiences suggests that these are — or are perceived to be — expensive; companies with experiences to offer shoppers this holiday season would be wise to consider their messaging, positioning and perhaps even payment plans to increase accessibility for lower-income, financially constrained consumers who are clearly interested in giving these types of gifts but may feel they are out of reach.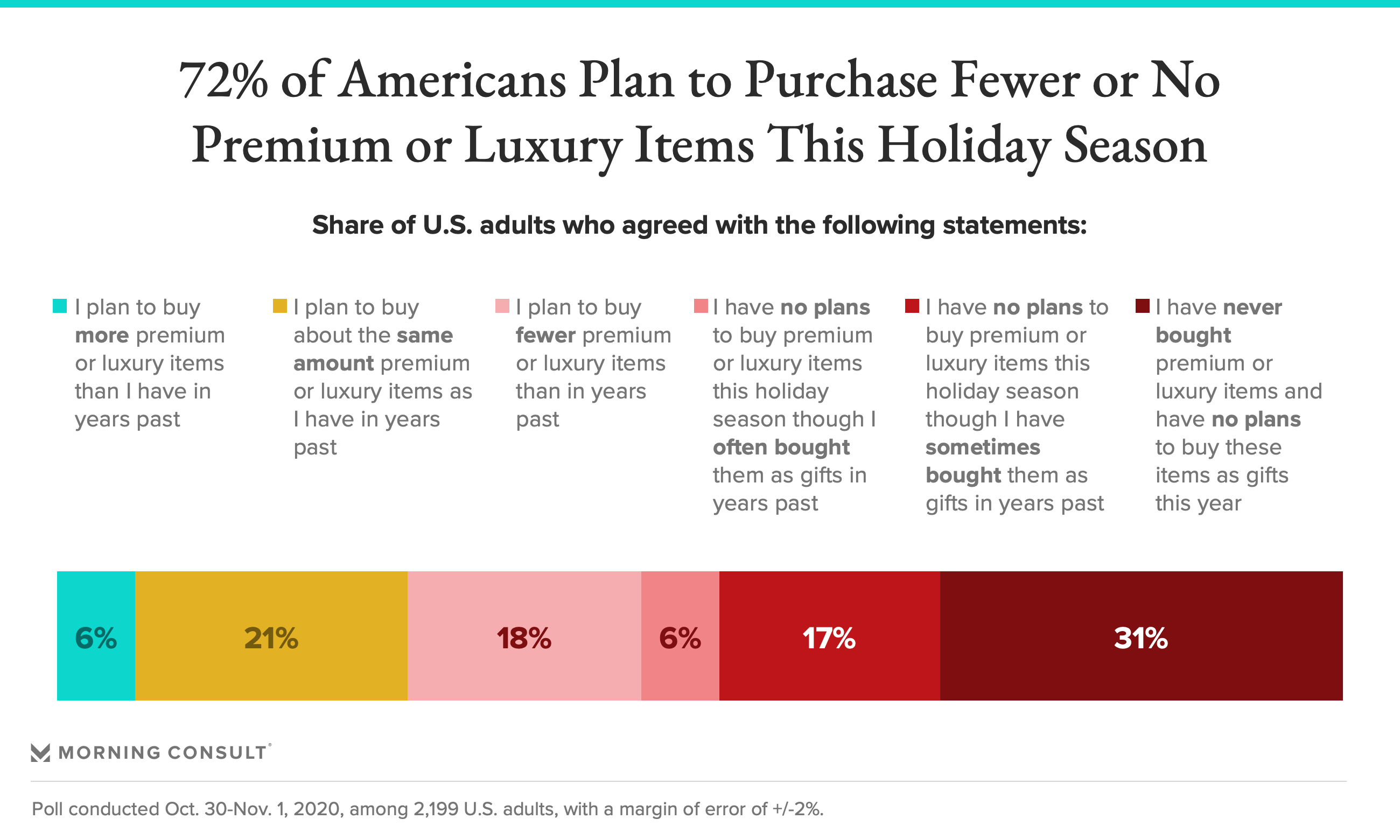 As might be expected given gift categories of interest and many Americans' ongoing financial struggles, nearly three-quarters of Americans (72 percent) plan to purchase fewer or no premium or luxury items this holiday season. Just 2 in 10 expect to continue buying these as much as they have in the past. 
Unsurprisingly, there's a clear relationship between plans to spend on luxury goods and income: While 19 percent of high-income earners plan to buy more premium or luxury goods this year, 20 percent have never bought these items and don't plan to this year either — half the share of lower-income consumers who say the same.
Wrapping it up
COVID-19 and myriad other defining events of 2020 are dramatically reshaping the way Americans celebrate, shop and spend this upcoming holiday season. Still, consumers' expected spending levels and shopping habits have remained largely consistent since holiday tracking began in early September. Though plans and attitudes may shift following the election and as the holidays approach, this current stability provides a much-needed source of predictability for brands and retailers to plan around as they navigate the final — and most consequential — stretch of the season.
For more on Morning Consult's full coverage of the 2020 holiday shopping season, check out our collection of insights and analysis here.