More than half of the public thinks the worst of the coronavirus pandemic is yet to come, according to a new Morning Consult poll conducted amid a deadly week and even as the country inches closer to its first residents getting vaccinated.
The virus has taken its toll in every corner of the United States, and federal health officials have issued contrasting assessments of the pandemic's trajectory in recent days. Dr. Robert Redfield, director of the Centers for Disease Control and Prevention, warned that the winter months could be "the most difficult time in the public health history of this nation," while Dr. Moncef Slaoui, the chief science adviser for Operation Warp Speed, the federal initiative on COVID-19 vaccines and treatments, said he thinks the country will see a "significant decrease" in deaths among older people by the end of January as high-risk groups are vaccinated.
Americans are generally taking the less rosy view, with 56 percent saying they think the worst of the pandemic is ahead of us. Democrats were 23 percentage points more likely than Republicans to say as much, 68 percent to 45 percent, respectively.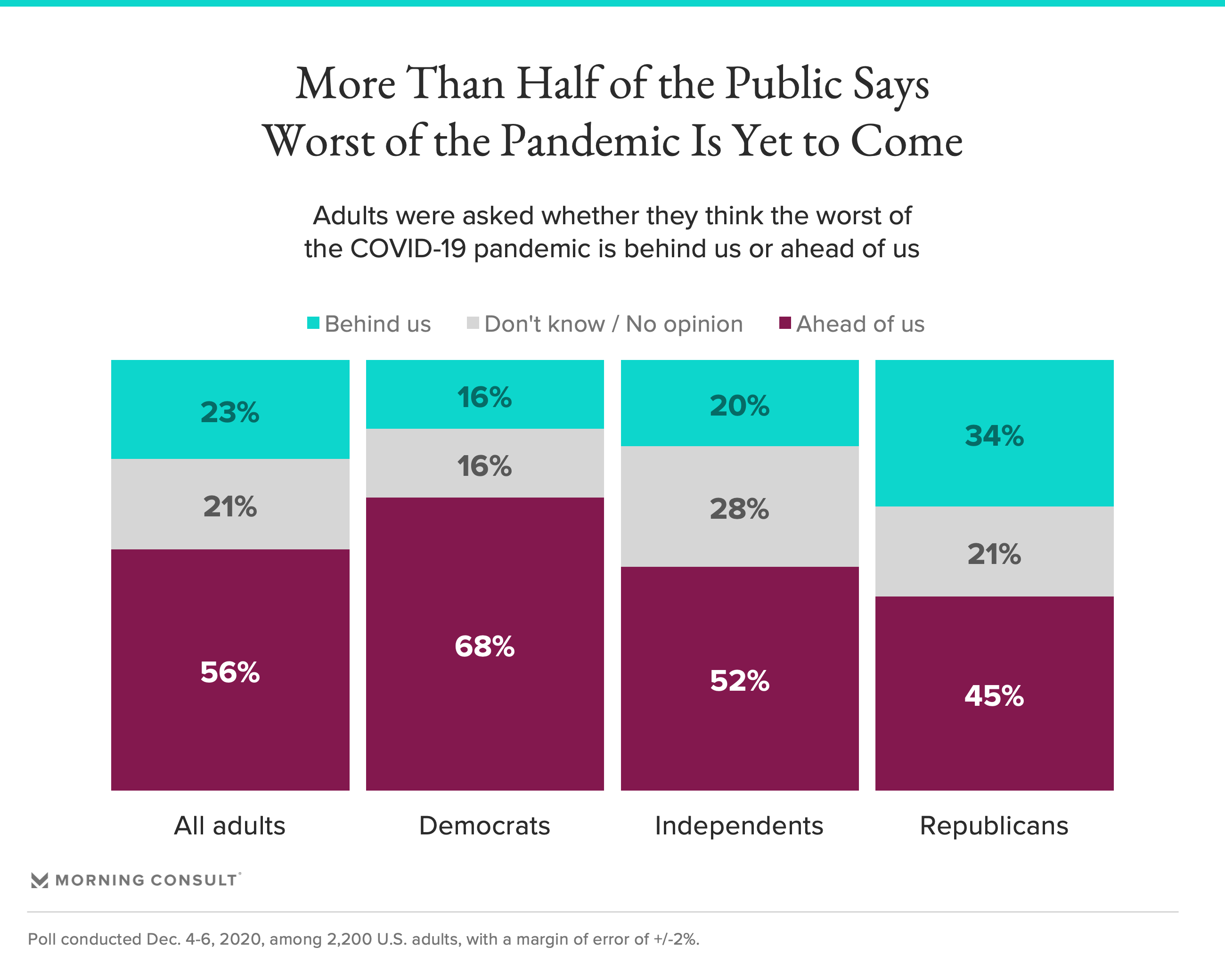 Meanwhile, 23 percent of adults said they think the worst of the pandemic is behind us, including 16 percent of Democrats and 34 percent of Republicans, according to the survey, which was conducted Dec. 4-6 among 2,200 adults and has a 2-point margin of error. Another 21 percent of adults didn't know or had no opinion.
People who strongly disapprove of President Donald Trump were among the groups surveyed that were most likely to say the worst of the pandemic is ahead of us, at 72 percent, while 69 percent of adults who were 65 or older said the same.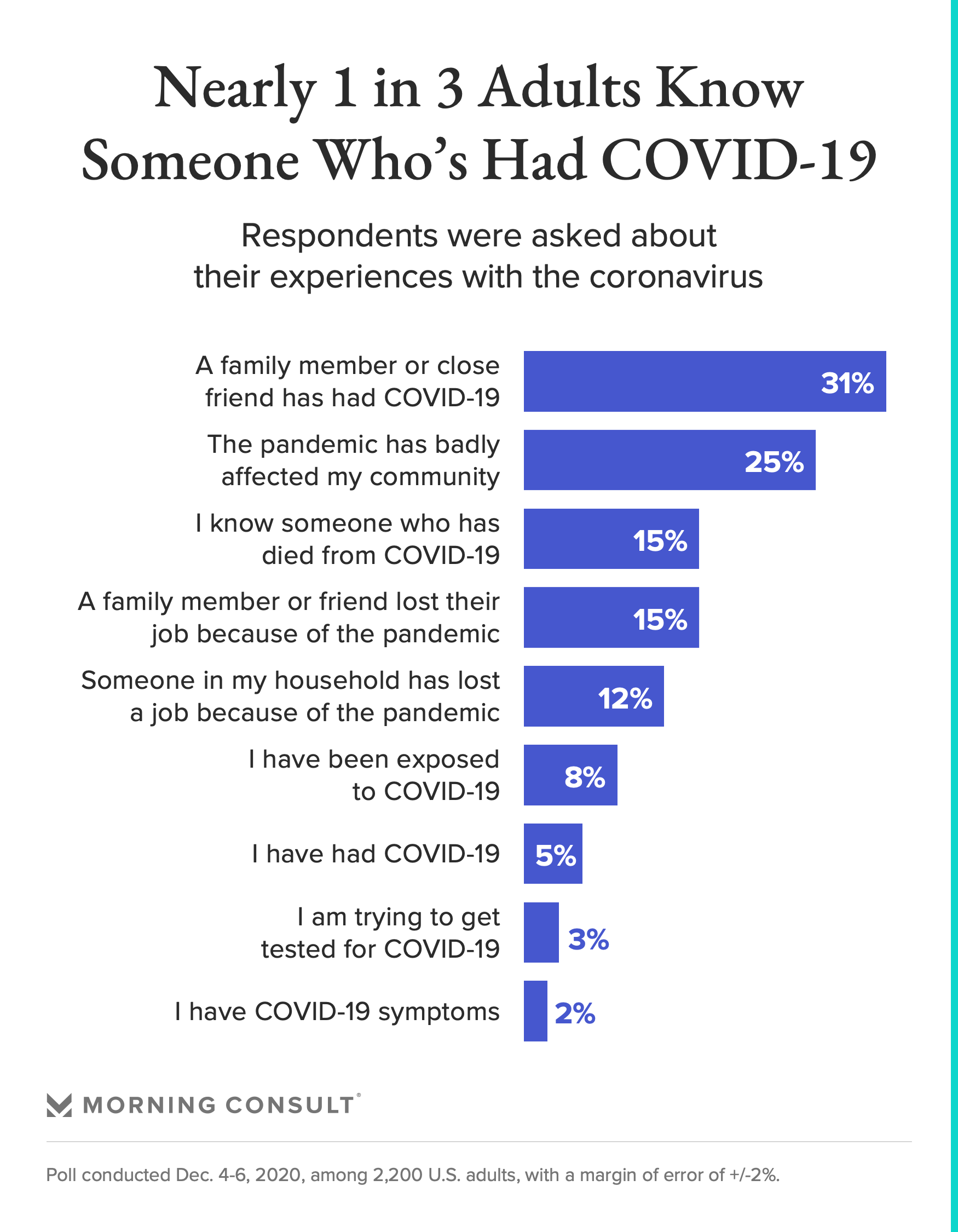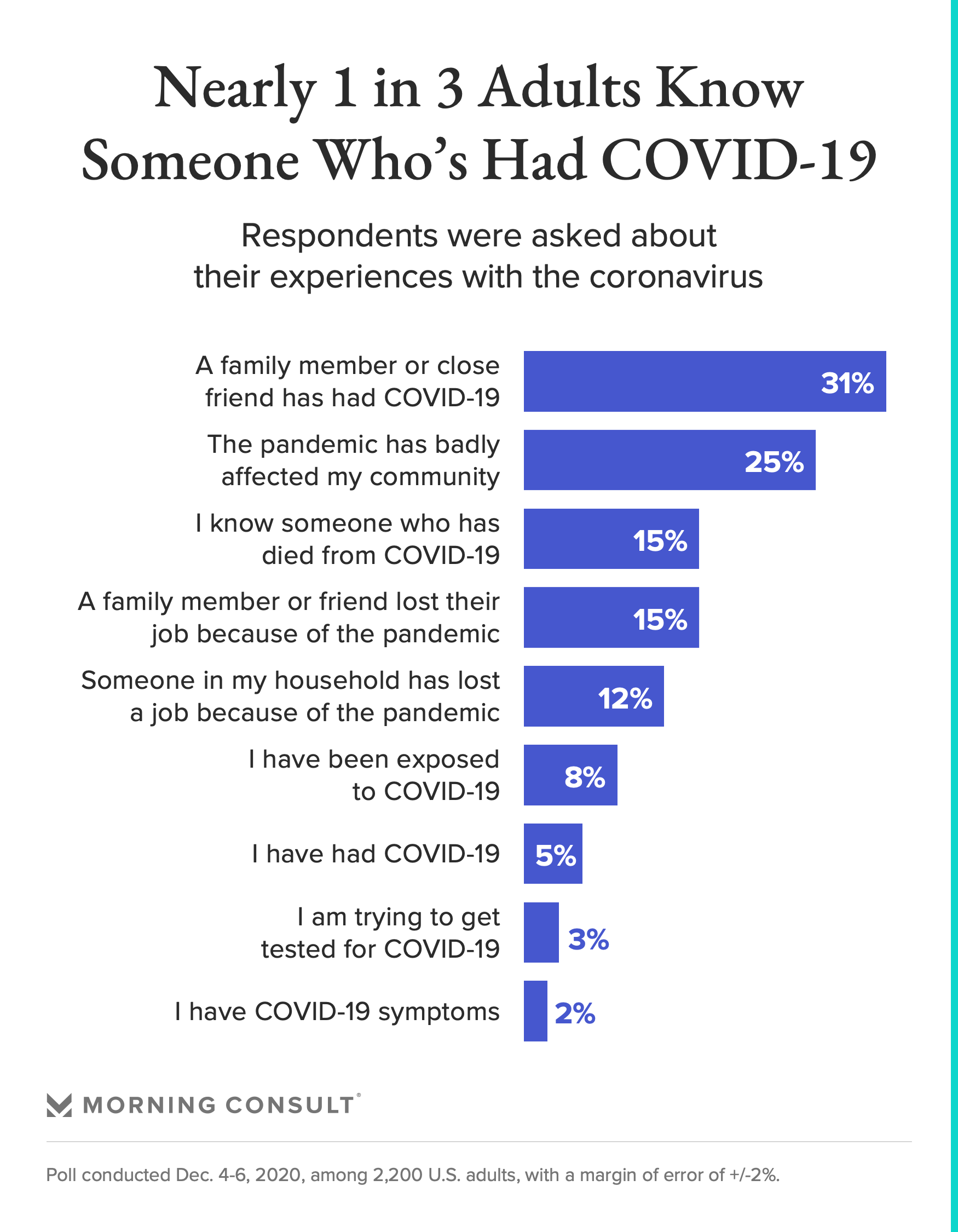 The poll also reflects how rapidly COVID-19 has spread in a matter of weeks: 31 percent of adults said they have a close friend or family member who's had COVID-19 and 15 percent know someone who's died, up from 19 percent and 12 percent, respectively, in an October survey.
Meanwhile, 5 percent of adults said they've had COVID-19, while 3 percent said they were attempting to get tested and 2 percent have symptoms but hadn't been diagnosed. Another 8 percent said they'd been exposed to the virus, according to the survey.
Nearly 177,000 new cases were recorded yesterday nationwide, while more than 101,000 people were hospitalized with COVID-19, according to the COVID Tracking Project. Since the beginning of the pandemic, more than 283,000 people have died in the United States.