When fall TV arrived a little later than usual this year, it also looked a bit differently. Suitors on "The Bachelorette" were shown quarantining and undergoing tests for COVID-19. Legal professionals on CBS' "All Rise" wore masks and face shields in the courtroom. Meredith Grey of "Grey's Anatomy" is fighting her own battle with COVID-19. 
And while many look to television for an escape from the global pandemic, new Morning Consult/The Hollywood Reporter polling finds that the majority of viewers believe it's appropriate for dramas, comedies and reality shows to depict characters practicing proper COVID-19 behaviors such as social distancing, getting tested and wearing masks.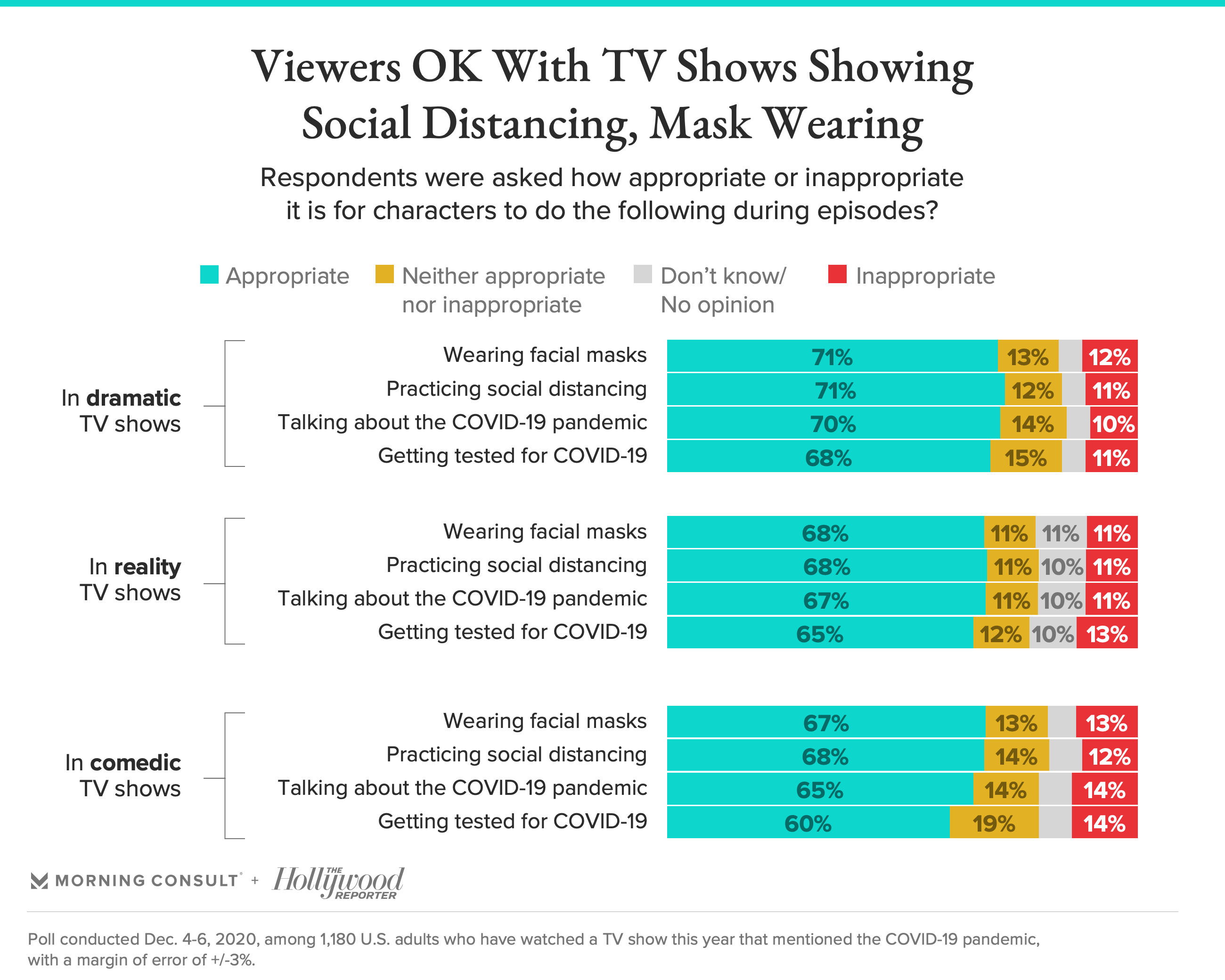 Just over half (54 percent) of the 2,200 U.S. adults surveyed in the Dec. 4-6 poll have watched a TV show that mentioned the COVID-19 pandemic or incorporated the pandemic into the show's plot. 
Those who have watched were most receptive to dramas and reality shows incorporating the pandemic (60 percent and 58 percent, respectively), but were less keen on comedies doing so (47 percent). The survey has an overall margin of error of 2 percentage points, while the viewer subsample has a 3-point margin of error. 
Viewers overwhelmingly found it appropriate for shows to discuss the pandemic and depict different COVID-19 protocols — including testing, social distancing and the wearing of facial masks — in new episodes. Seventy-one percent of those who watched a TV show that mentioned the pandemic said it was appropriate for dramas to portray characters wearing masks, while 68 percent said the same of reality TV programs and 67 percent said the same of comedies.
Some programs have decided to make COVID-19 an ongoing part of the TV season, while others have explored it in just a few episodes. 
ABC's "The Good Doctor" premiered with a two-part episode focused on the pandemic before shifting to other topics, while Fox's "The Resident" will explore lingering impacts of COVID-19. NBC's "Superstore" plans to incorporate the coronavirus throughout the season, but won't make it central to every episode, and Showtime's "Shameless" was rewritten to address the economic impact of the pandemic. 
Roughly one-fifth (21 percent) of those who have watched a show that featured COVID-19 said COVID-19 should be a minor storyline for the entire season, while 11 percent said it should be the main storyline for the duration of the season. Seventeen percent said it should be the main storyline for a few episodes.