Following a year defined by a global pandemic, protests against racial inequality and a contentious presidential election, reports that the upcoming slate of Super Bowl advertisements could strike a more serious tone should come as no surprise. And while most Americans say funny commercials are still their favorite, new data shows the majority of likely Super Bowl LV viewers believe it is appropriate for brands to promote social justice in their spots.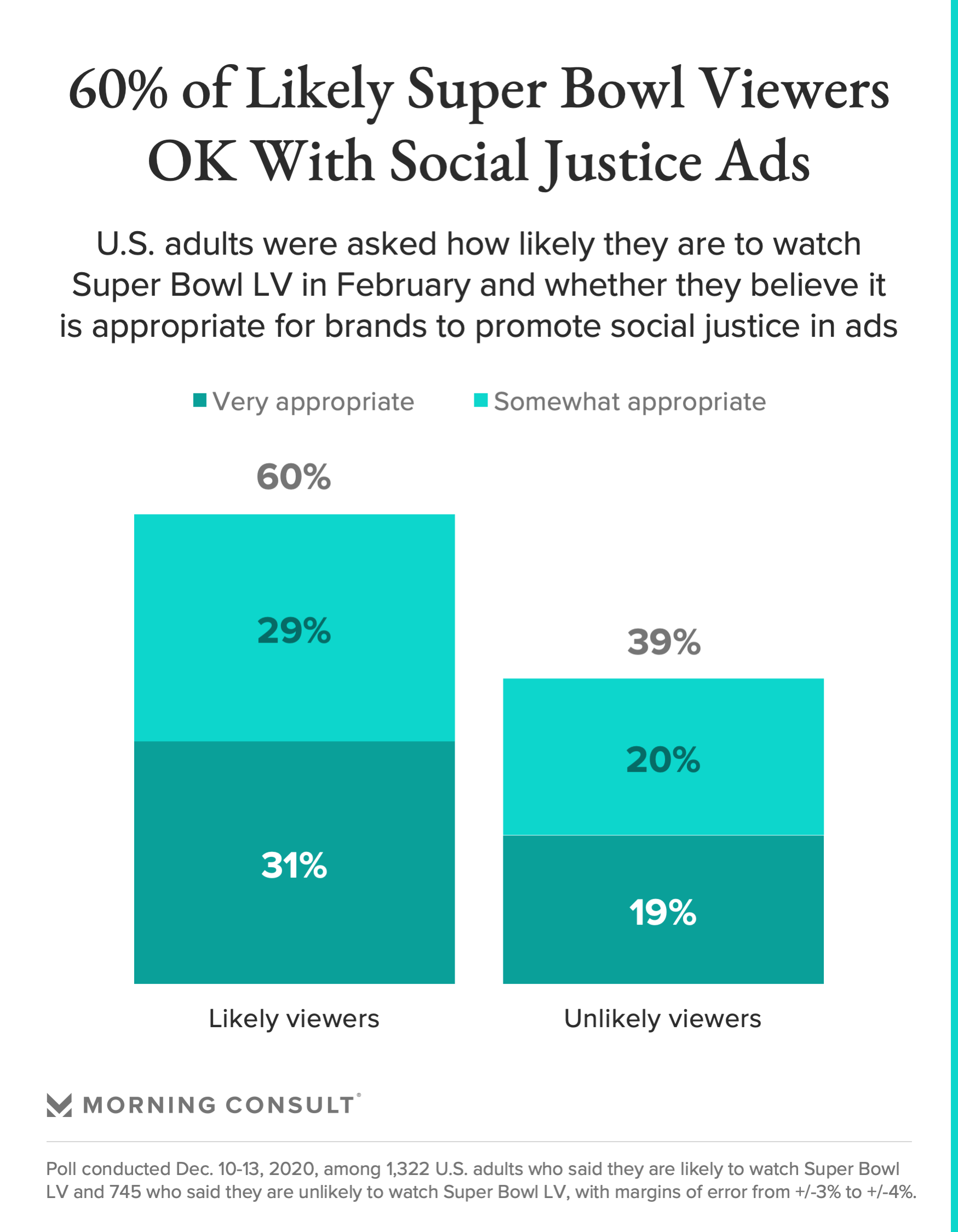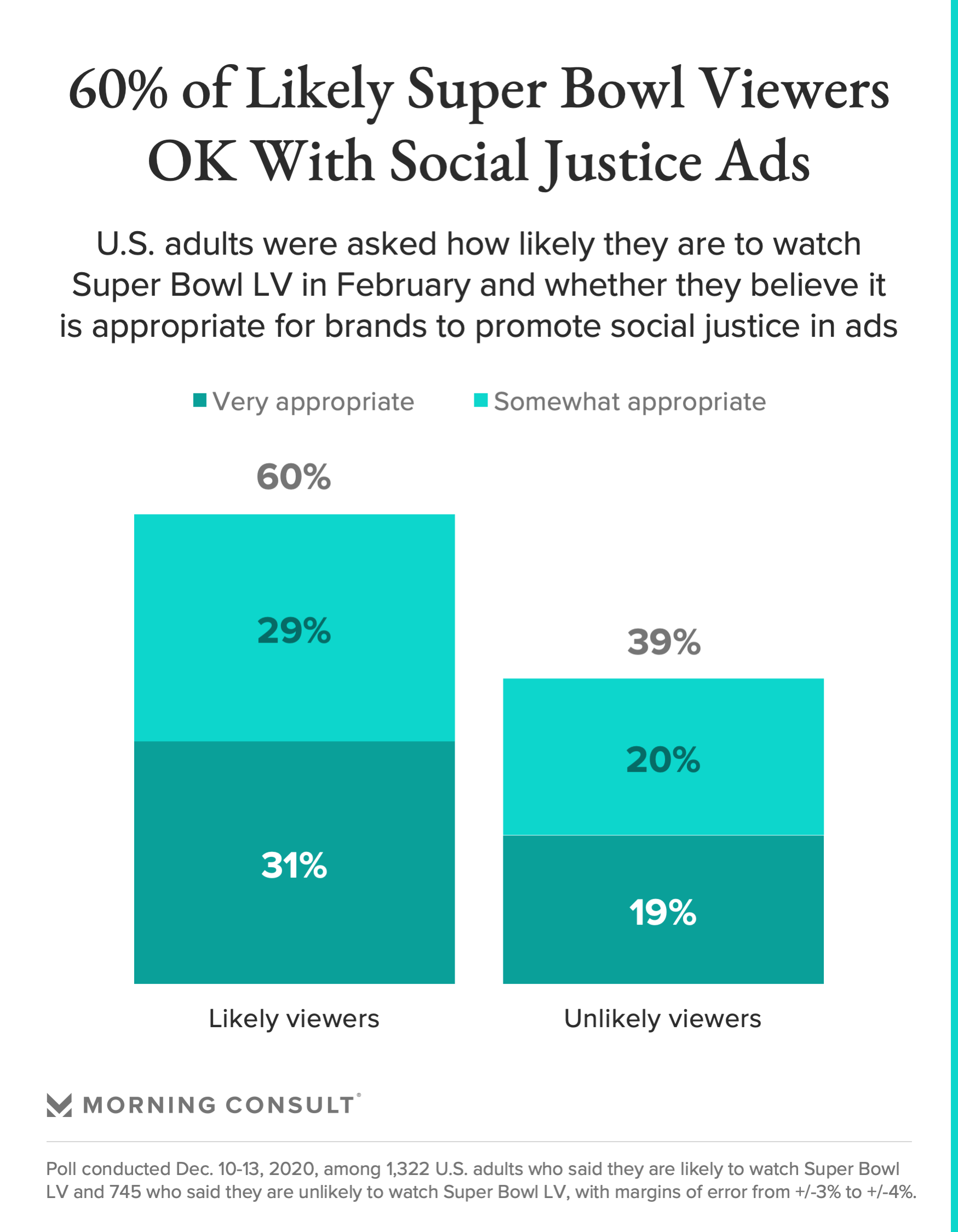 In Morning Consult's first Super Bowl survey ahead of the Feb. 7 game, 60 percent of likely viewers said the Super Bowl is an appropriate platform for advertisers to promote social justice during their commercials, almost twice the share of likely viewers who said such messaging is inappropriate. Those who said they are unlikely to watch the game were more opposed to social justice messaging, with 39 percent saying it is appropriate and 45 percent saying it is inappropriate.
Forty-four percent of those who said they are likely to watch the game identified as Democrats, compared to 28 percent Republicans and 28 percent independents. In addition, 42 percent of those likely to watch were either Gen Zers or millennials.
It is important for marketers to note that viewers see a significant distinction between ads that "promote social justice" and those that "take a political stand." While likely viewers largely said social justice messaging is fair game, 54 percent of them considered it inappropriate to get "political."
As for interest in the game itself, 60 percent of U.S. adults said they are likely to tune into the NFL's season finale, which will be broadcast on CBS, with 37 percent saying they are "very likely" to watch. That's down slightly from a poll taken ahead of Super Bowl LIV earlier this year, in which 64 percent of respondents said they would likely watch, including 44 percent who said they were "very likely" to tune in.
The Kansas City Chiefs' Super Bowl victory over the San Francisco 49ers in early February garnered a TV audience of 100.45 million viewers on FOX, according to Sports Media Watch, up 2 percent from the New England Patriots' 2019 defeat of the Los Angeles Rams on CBS.
While the pandemic has been portrayed as a politically polarizing issue, the majority of likely Super Bowl viewers said they would view brands that address certain aspects of it more favorably.
For example, 84 percent of likely viewers said they would have a more favorable opinion of brands that thank health care and essential workers, while 77 percent said they would look more positively upon brands that encourage Americans to wear face masks. At 63 percent, a slightly smaller majority said they'd appreciate brands that encourage COVID-19 vaccination.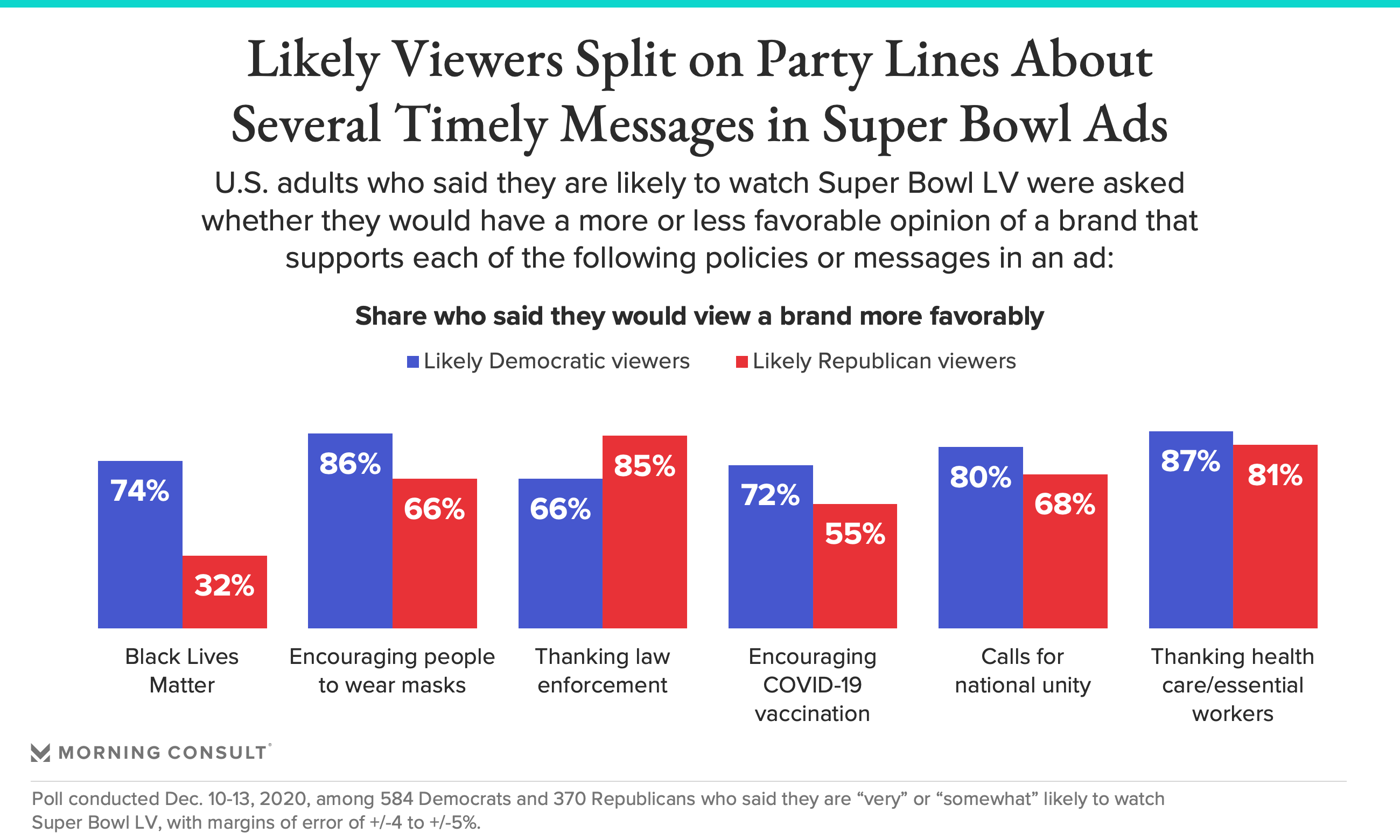 Among likely viewers, Democrats were more likely than Republicans to view brands that incorporate coronavirus-related messaging into their commercials more favorably. They were also far more likely to express rosier views of companies that advocate for the Black Lives Matter movement, a stance the NFL adopted for the 2020 season in the wake of the killing of George Floyd and one taken by many prominent players.
Overall, 63 percent of those likely to watch the game said funny ads are their favorite.
One number to keep an eye on over the next seven weeks is the share of Americans that plan to get together with friends and family to watch the Super Bowl. In the Dec. 10-13 survey, 70 percent of U.S. adults said they are not likely to gather for the game, with more than half saying they are "not likely at all."
Even among just likely viewers, 59 percent said they are unlikely to watch with friends. It remains to be seen how the continued rollout of COVID-19 vaccines in early 2021 might impact the public's plans.
Meanwhile, organizers' choice of Canadian recording artist The Weeknd as the halftime show's headliner proved popular: 54 percent of likely viewers said they support the decision, compared with just 12 percent opposition.
The margin of error among the 2,200 U.S. adults surveyed was 2 percentage points, while the group of 1,322 adults who said they are likely to watch Super Bowl LV carried a margin of error of 3 percentage points.
Correction: A previous version of this story misstated which Super Bowl adults are likely to watch. It is Super Bowl LV, not Super Bowl LIV.