The Super Bowl is in a league of its own when it comes to television viewership. In an age of unprecedented media fragmentation, the NFL's title game consistently draws more than 100 million viewers, which in 2020 was nearly four times the largest audience for a non-NFL telecast.
Even the Super Bowl, however, isn't immune to Generation Z's increasingly well-documented disinterest in watching sports relative to previous generations. New analysis from Morning Consult shows that a smaller share of Gen Z plan to watch the big game than millennials, Gen Xers and baby boomers.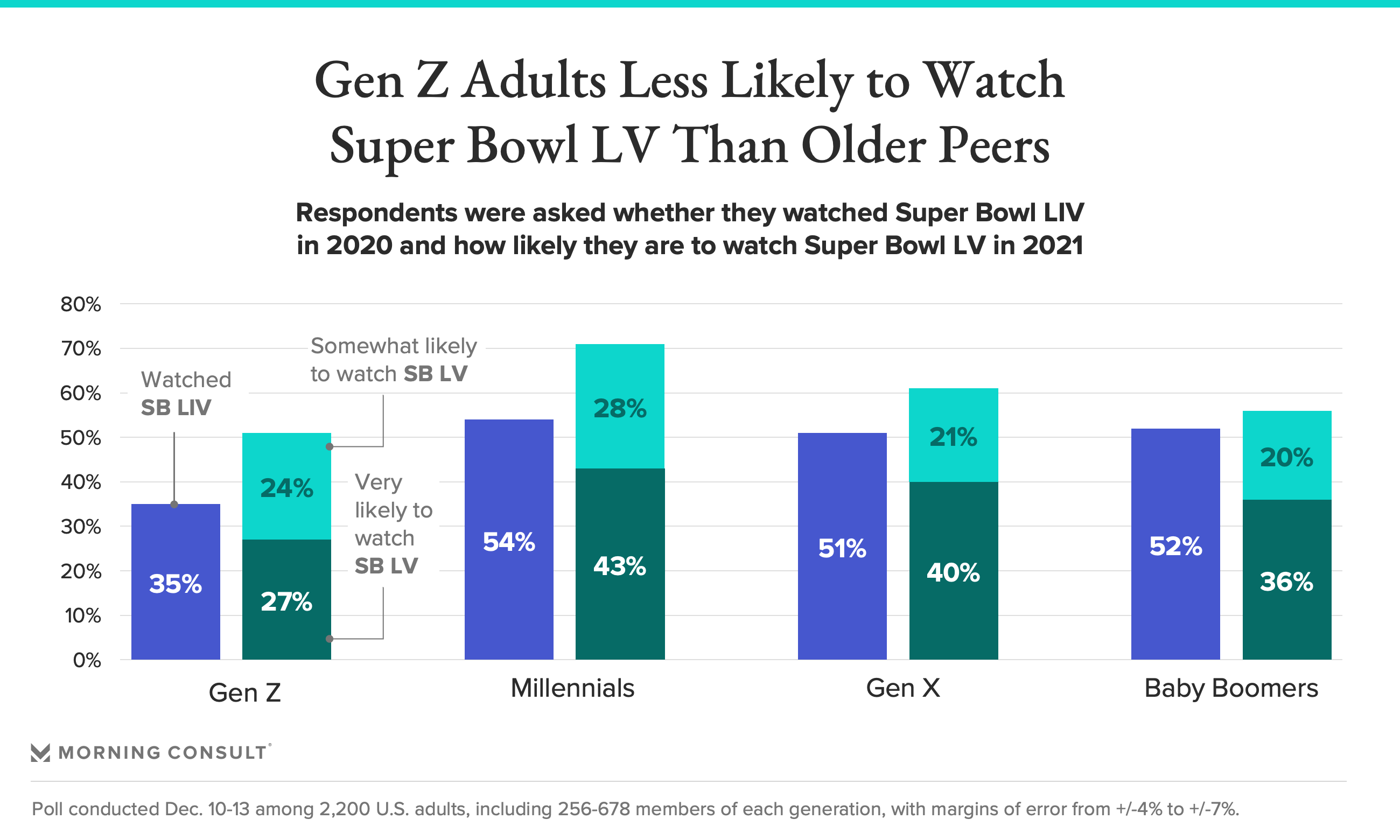 In a Morning Consult poll conducted late last year, about half of Gen Z adults — those between the ages of 18 and 23 — said they plan to watch Super Bowl LV on Feb. 7: 27 percent said they are "very likely" to tune in, while another 24 percent said they are "somewhat likely" to watch. 
In the same survey, 60 percent of all adults said they plan to watch the Super Bowl, including 37 percent who said they are near locks to see it. Among millennials, who consistently poll as the most sports-hungry generation, 71 percent said they expect to take in the game, including 43 percent who said they are very likely to watch.
Gen Z adults were also less likely to report having watched the Kansas City Chiefs' Super Bowl LIV victory over the San Francisco 49ers in 2020. Half of all adults surveyed said they saw last year's game, compared to only 35 percent of Gen Z respondents.
As long as the Super Bowl maintains its dominant position within the media landscape relative to the competition, its value to the NFL, TV networks and advertisers will only continue to grow. The dip in Super Bowl interest among Gen Z, however, is yet another indicator that the broader sports industry has its work cut out for it when it comes to capturing the attention of the next generation.