2020 left Americans expecting more of today's companies and the executives leading them, but also found society more skeptical and wary of overly political engagement from corporate America. Typically, CEOs releasing statements either supporting political issues or criticizing politicians would yield net 10- and 15-point drops in favorability towards their companies, respectively.
But yesterday's events left Americans feeling frustrated, upset, and sad, according to new Morning Consult / Politico polling, sentiment that inspired swift statements from countless CEOs. Salesforce.com Inc.'s Marc Benioff called for leaders to "call for peace and unity now." Apple Inc.'s Tim Cook said the events were "shameful." Jay Timmons of the National Association of Manufacturers called for Vice President Pence to invoke the 25th Amendment to remove President Donald Trump from office.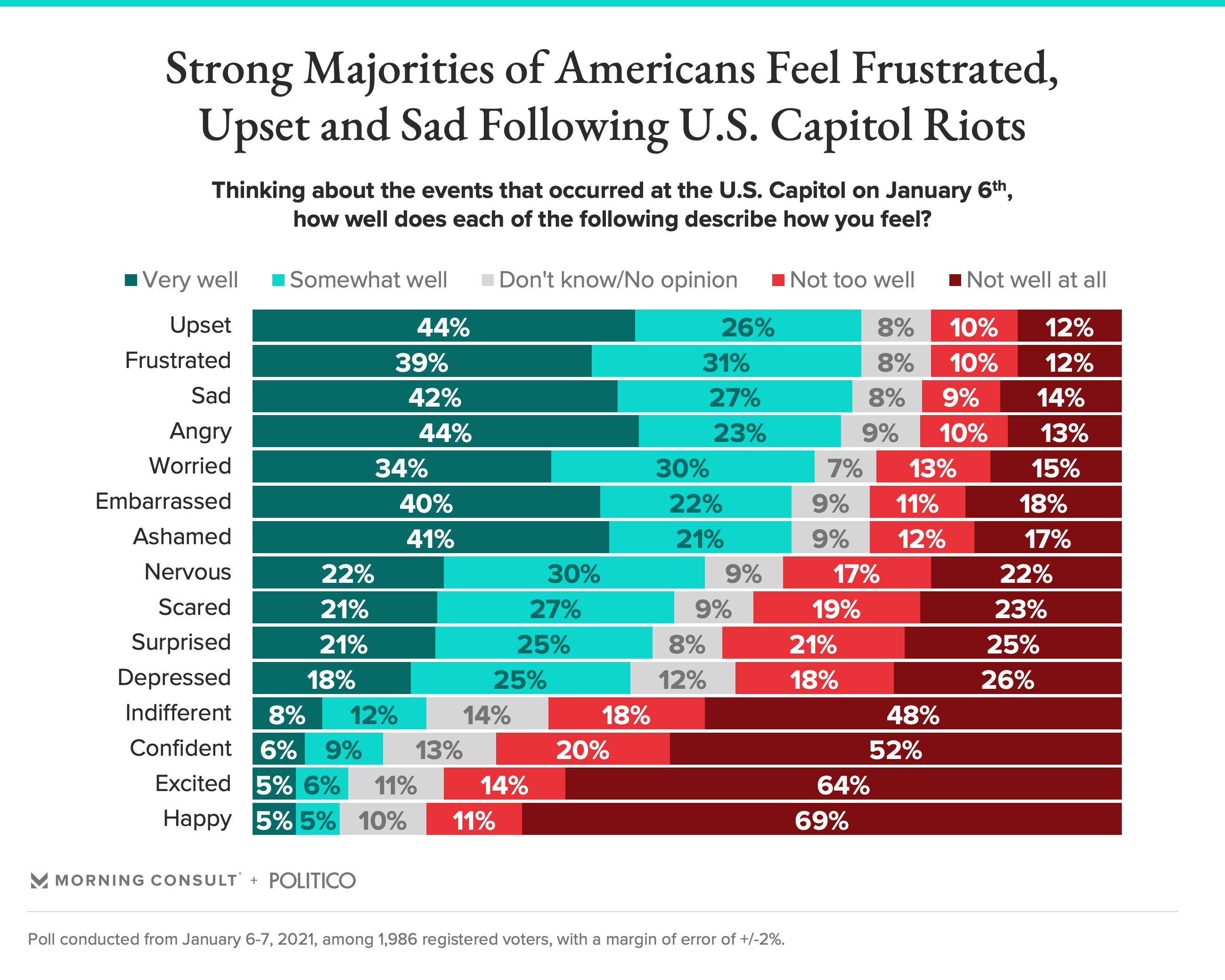 These statements — expressions of pain, shock, and disgust condemning the horrific break-ins at the U.S. Capitol — coming from corporate America are being largely well-received by Americans. Indeed, business leaders would be wise to speak out against Wednesday's events: Not doing so could impact their company's reputation.
While roughly a quarter of registered voters say companies speaking out against Capitol rioters doesn't impact their favorability or purchase likelihood one way or the other, 50 percent say they have a more favorable view of those who have or do condemn yesterday's events. And a substantial share (43 percent) would be more likely to purchase from companies doing so.
Conversely, expressing support for the break-ins is likely to yield significant net declines in both favorability and purchasing from companies failing to comprehend the sentiments most Americans are currently failing, and perhaps even failing to see the magnitude of yesterday's events for the well-being and stability of our nation.
Republican voters, too, were more in support of condemning the rioters than staying silent, by a more than 2-to-1 ratio. Thirty-eight percent said they would have a more favorable view of a brand if it denounced those who took over the U.S. Capitol, while 16 percent said they would see them less favorable. A notable chunk (30 percent) said such a statement would not impact their views. Staying silent would negatively impact Republican consumers, albeit by a smaller margin compared to all adults (21 percent would view a company less favorably, while 17 percent would view it in a rosier light).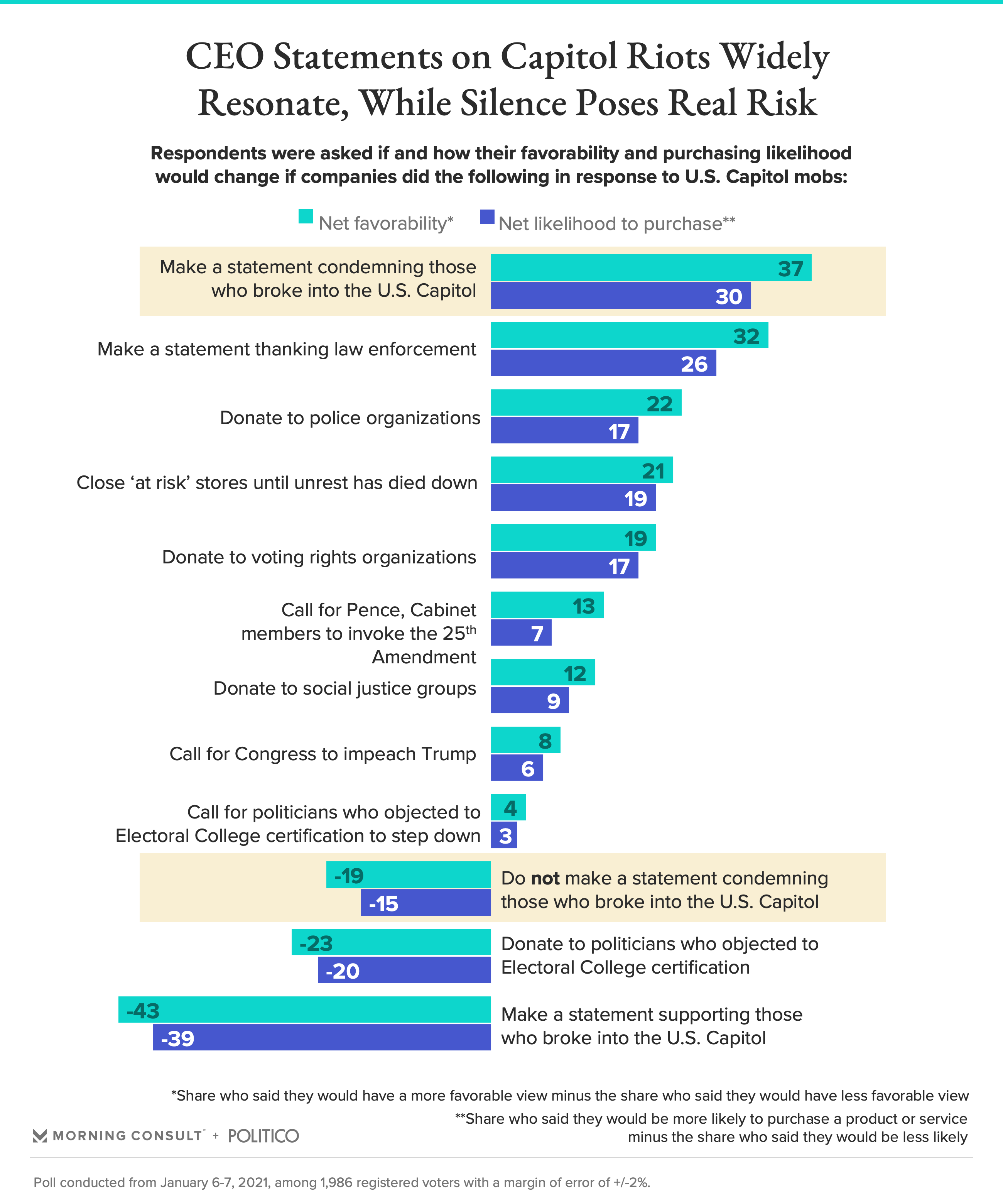 Yesterday's events follow a year of turmoil, with economic and health crises heightening the public's social and political concerns, leaving CEOs and companies to navigate stormy waters as consumers looked on. And the public was increasingly attentive to corporate and executive actions.
Although most consumers think a CEO should stick to their business and not get involved in political discourse, a fair share (35 percent) say the opposite — with younger consumers especially adamant about chief executives doing more than oversee their companies.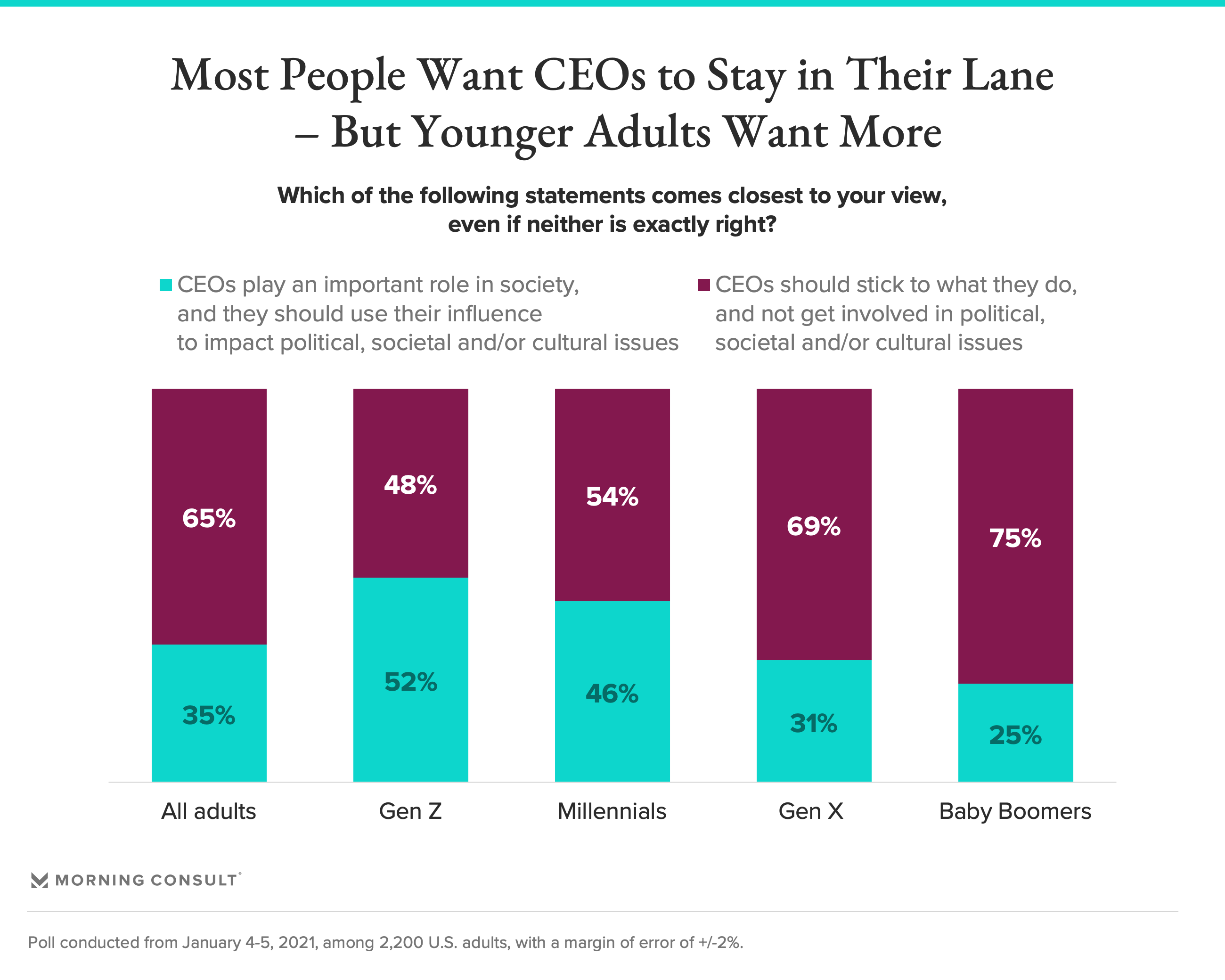 Indeed, 71 percent of Americans agree that CEOs are responsible for being leaders not just in their organizations, but also in American society. Another 68 percent believe that as corporate leaders, CEOs are the best positioned to drive real change in America. 
With President-elect Joe Biden entering the White House in a few weeks, companies will have a far more traditional commander-in-chief with which to deal. Still, yesterday's events suggest that even as we usher in a new year and a new administration, there's much work still to be done to unite our divisive country. Though majorities consider President-elect Biden and other local or national government leaders most responsible for addressing important issues facing our nation, 51 percent of Americans also hold U.S. CEOs accountable for doing so, making it clear that expectations of CEOs will continue to remain elevated in the weeks and months ahead.
So, while the heat is not off for CEOs who are increasingly a critical ingredient in the makeup of our country's collective future, we can only hope the temperature in the pressure cooker in which they're currently operating will simmer down in the year ahead.