As millions at home wait to be vaccinated, the rich and famous find their actions under even more public scrutiny — with social media users calling out their displays of wealth and privilege in the midst of a global health crisis, from gathering in large numbers to jetting off on vacations.
This online backlash may have real-world consequences, as new polling finds that fans aren't afraid to turn their backs on — and withhold money from — celebrities flouting pandemic guidelines.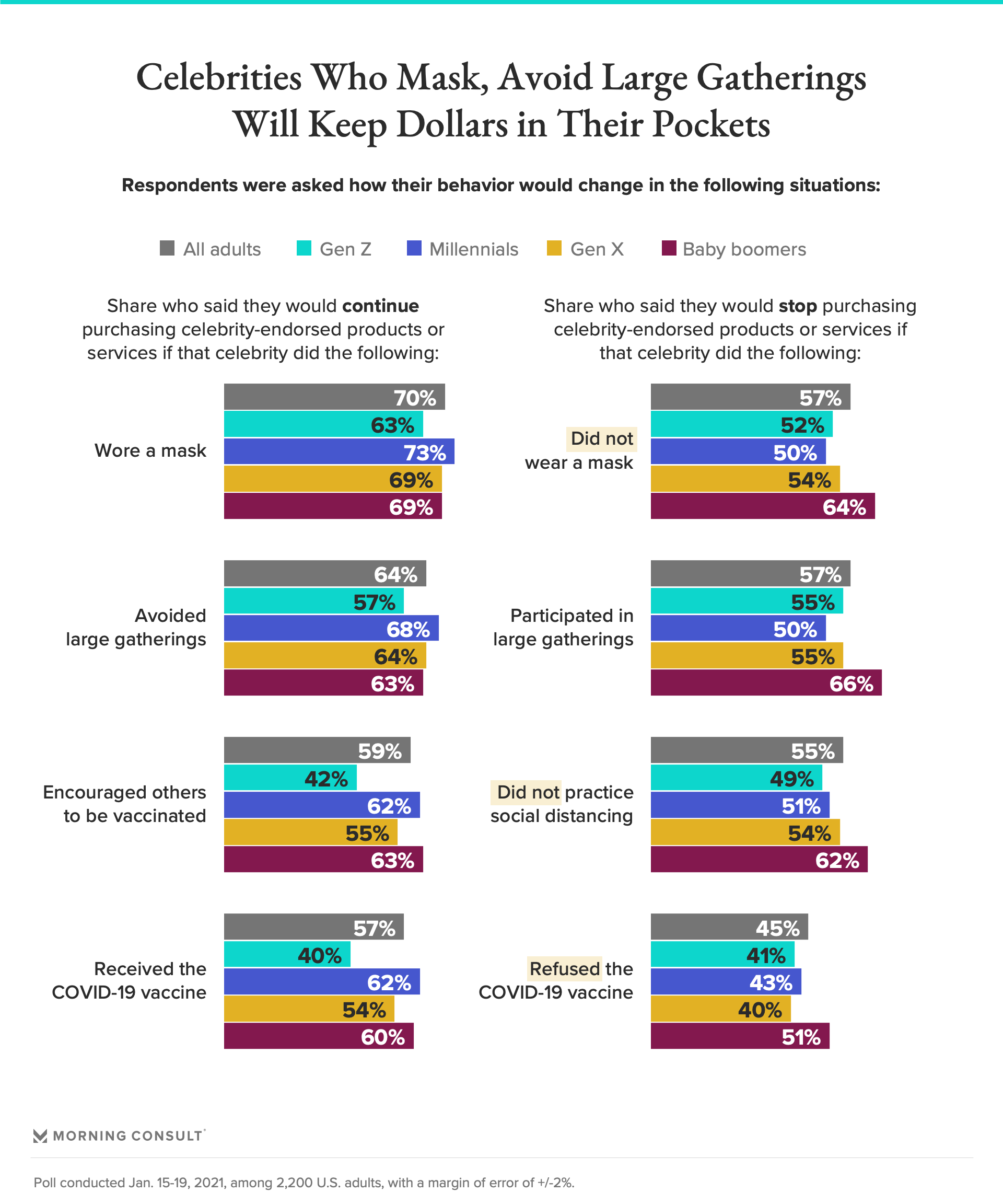 A Jan. 15-19 survey poised two hypotheticals to its 2,200 respondents — a celebrity following guidelines meant to prevent the spread of the coronavirus, and one choosing not to — and asked them how their views of the rich and famous would change as a result. Seventy percent of respondents said they would purchase products or services from celebrities who wore face masks in public, while 57 percent said they would opt not to purchase from a celebrity who did not wear a face covering in public. 
Now, as vaccinations roll out across the country, celebrities have the opportunity to use their platforms to encourage the public to undergo inoculation. Fifty-nine percent of adults said they would continue to spend money on celebrities who encourage people to get vaccinated, while 57 percent said the same of celebrities getting vaccinated themselves.
Famous faces including television personality Martha Stewart, actor Ian McKellen and actress Judi Dench have already received the COVID-19 vaccine. Fifty-eight percent of adults said that celebrities should use all platforms available to them to encourage the public to get vaccinated, a view shared by 48 percent of Republicans and 74 percent of Democrats. The survey has an overall margin of error of 2 percentage points, while the Democrat and Republican subsamples have a 3- and 4-point margin of error, respectively.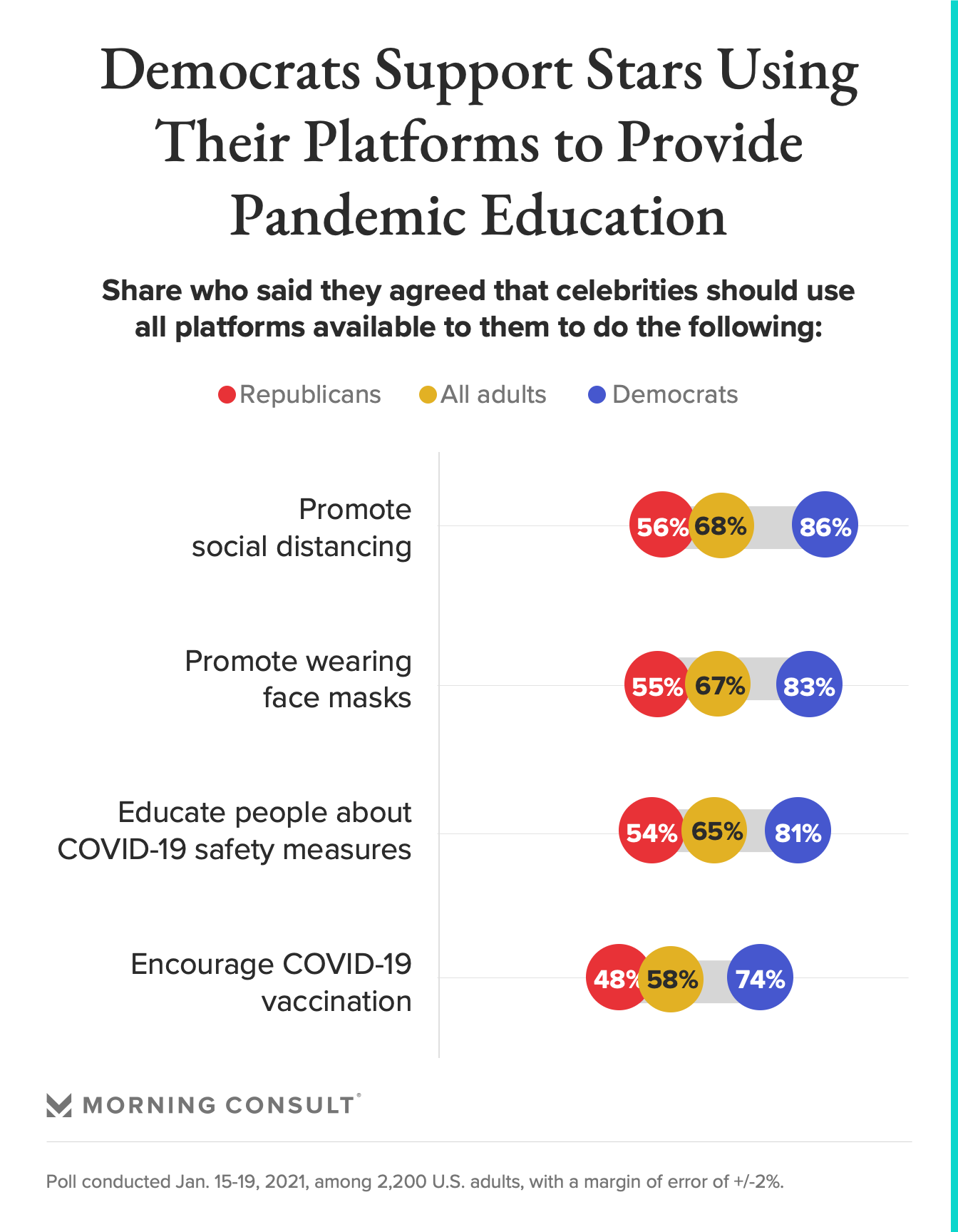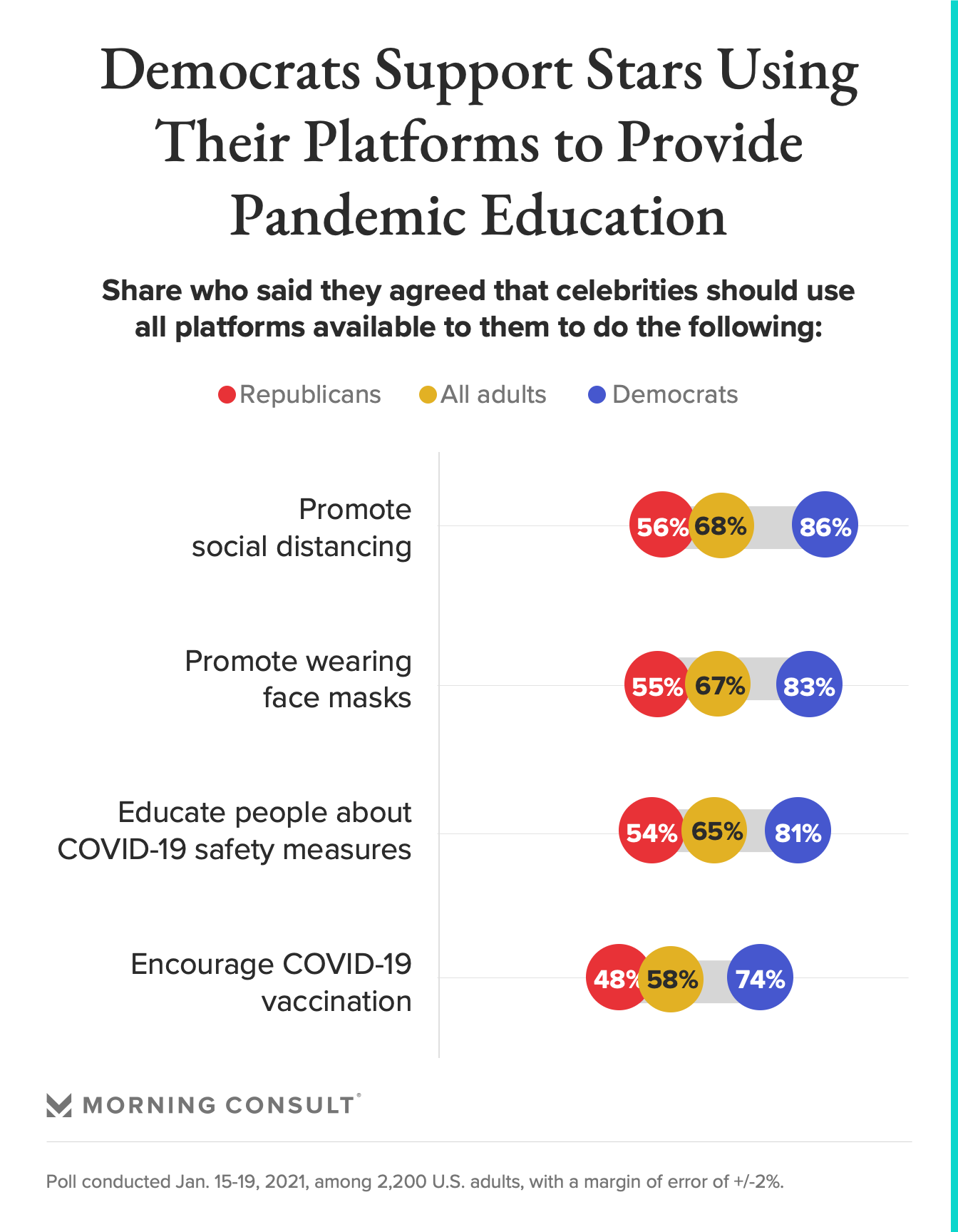 Social media users have been highlighting celebrity failings related to pandemic protocol. Actor Bruce Willis was recently spotted being asked to leave a Rite Aid because he wasn't wearing a mask, something he reportedly said was "an error in judgment," and Grammy-nominated singer Dua Lipa has been called out for her global travels while health officials implored the public to stay at home. 
The phrase "Harry Wear A Mask" started trending on Twitter when Harry Styles was spotted socializing in California — wearing just a bandana over his mouth and nose — as COVID-19 infections and deaths were skyrocketing in the Golden State. 
And while some social media users voiced their displeasure online with stars' lack of regard for public health measures, respondents were divided over whether calling out celebrities helped the situation. 
Thirty-four percent of adults said criticizing stars for ignoring health recommendations improves the behavior of all people, while 40 percent said the public call outs didn't help to improve behavior.