Majority voter support for Donald Trump's conviction has not wavered in the weeks since the Jan. 6 Capitol riot that sparked his second impeachment, even as Republican senators look set to acquit the now-former president for a second time. 
According to a new Morning Consult/Politico poll, 54 percent of voters said they would approve if the Senate voted to convict Trump on the House's charge that he incited an insurrection, virtually unchanged in comparison with four other surveys conducted over the past month. Another 39 percent of voters would disapprove of Trump's conviction, within the surveys' margins of error of 2 percentage points.
Backing for Trump's conviction over the past month has been consistently higher than was measured in Morning Consult/Politico polls conducted ahead of Trump's January 2020 impeachment trial. In the final poll before that first trial began, 49 percent of voters said they would approve if the Senate removed Trump from office over his alleged effort to pressure the Ukranian government to investigate his domestic political rivals. 
While support for conviction among Democrats and independent voters roughly matches the numbers from last year's impeachment surveys, Republican voters are slightly more likely to back Trump's removal this time around, 19 percent to 13 percent, reflecting Trump's slightly dampened favorability and approval ratings among the base since his campaign against the 2020 election results ended with the violent siege of the Capitol by some of his supporters.
However, roughly 3 in 4 Republican voters said Trump should not be convicted — and the same share said he should not be barred from running for elected office in the future. Overall, 58 percent of voters said Trump should be banned from seeking office. 
Despite public support, the question is likely moot — it would require the Senate to first convict Trump, a vote that requires a two-thirds majority. According to tallies from The Washington Post and The New York Times, Trump likely has the votes he needs to be acquitted in the Senate trial, as nearly all of the chamber's 50 Republicans have indicated that they will not support Trump's conviction. Most GOP senators have cited arguments, also touted by Trump's lawyers, that the whole process is unconstitutional since Trump has now left office.
Nevertheless, House Democratic impeachment managers are set to enter the Senate chamber this week to lay out their arguments against the president. Unlike last year's trial, which relied on intense interviews and documents, this year's trial is set to focus on public comments from the president during his campaign against the 2020 election results that were echoed by Capitol rioters.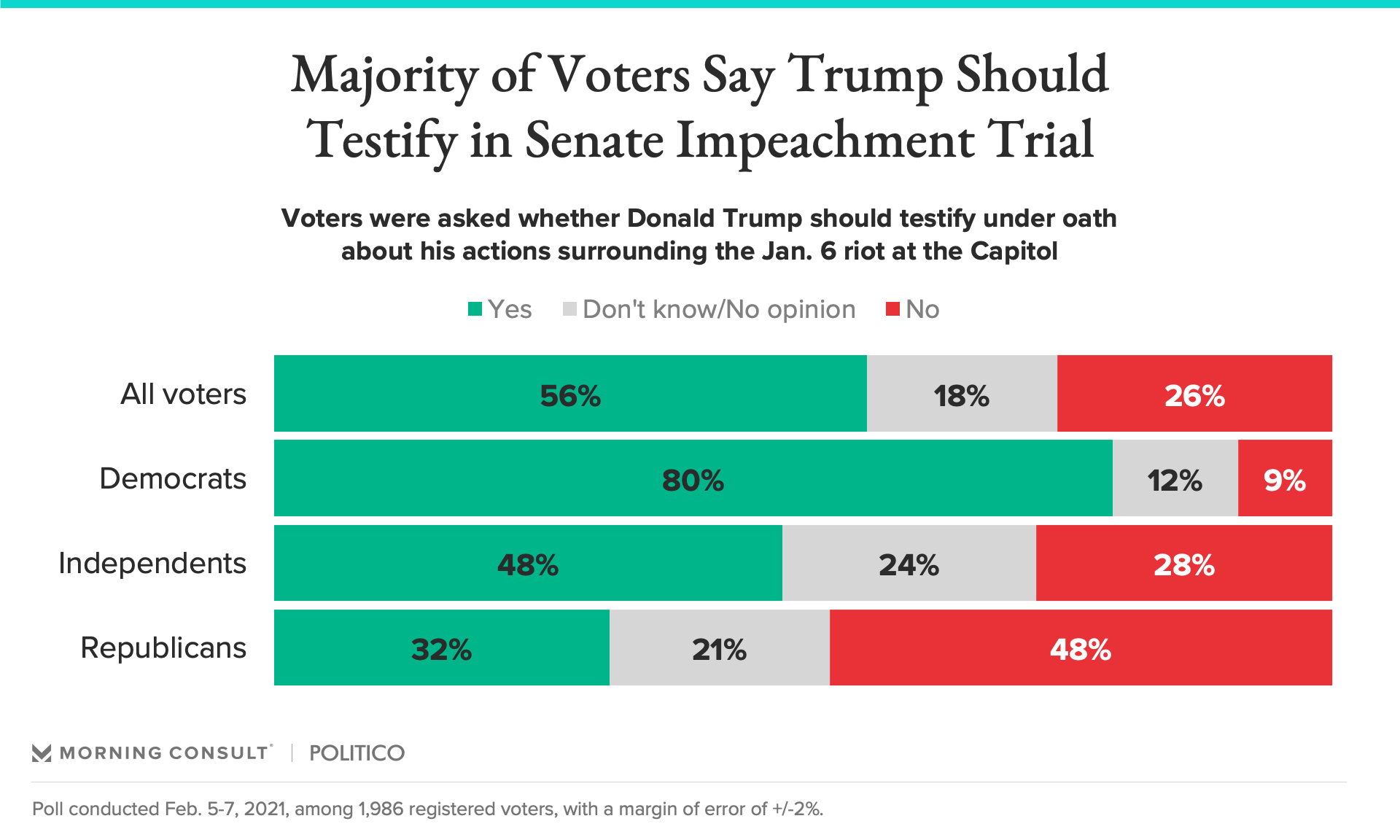 Democrats have sought Trump's on-the-record testimony in his own defense, though that was quickly rejected by the president's legal team. The majority of voters (56 percent) said the former president should testify about his actions surrounding the Jan. 6 riot at the Capitol, including 4 in 5 Democrats and a third of Republicans.