2020 was a busy year for royal drama, and 2021 is proving even more hectic.
Prince Harry and Meghan, the Duchess of Sussex, stepped down as senior members of the British royal family last year, moved to the United States and secured lucrative deals with Netflix Inc. and Spotify Technology S.A. amid whispers of deepening familial rifts. Prince Charles was diagnosed with COVID-19, and Prince Philip is currently in the hospital for a pre-existing heart condition and an infection. 
All the while, Netflix's fourth season of "The Crown," which rehashed Prince Charles and the late Princess Diana's dramatic relationship, streamed on millions of Americans' televisions, and Buckingham Palace continued to deal with backlash following Prince Andrew's various scandals and alleged crimes.  
Now, ahead of Harry and Meghan's sit-down CBS interview with Oprah Winfrey airing on Sunday, their first joint public appearance since their detachment from Buckingham Palace was made permanent last month, Morning Consult polling offers insights into U.S. adults' feelings about the British royal family, as well as their appetite for content about and produced by the royals.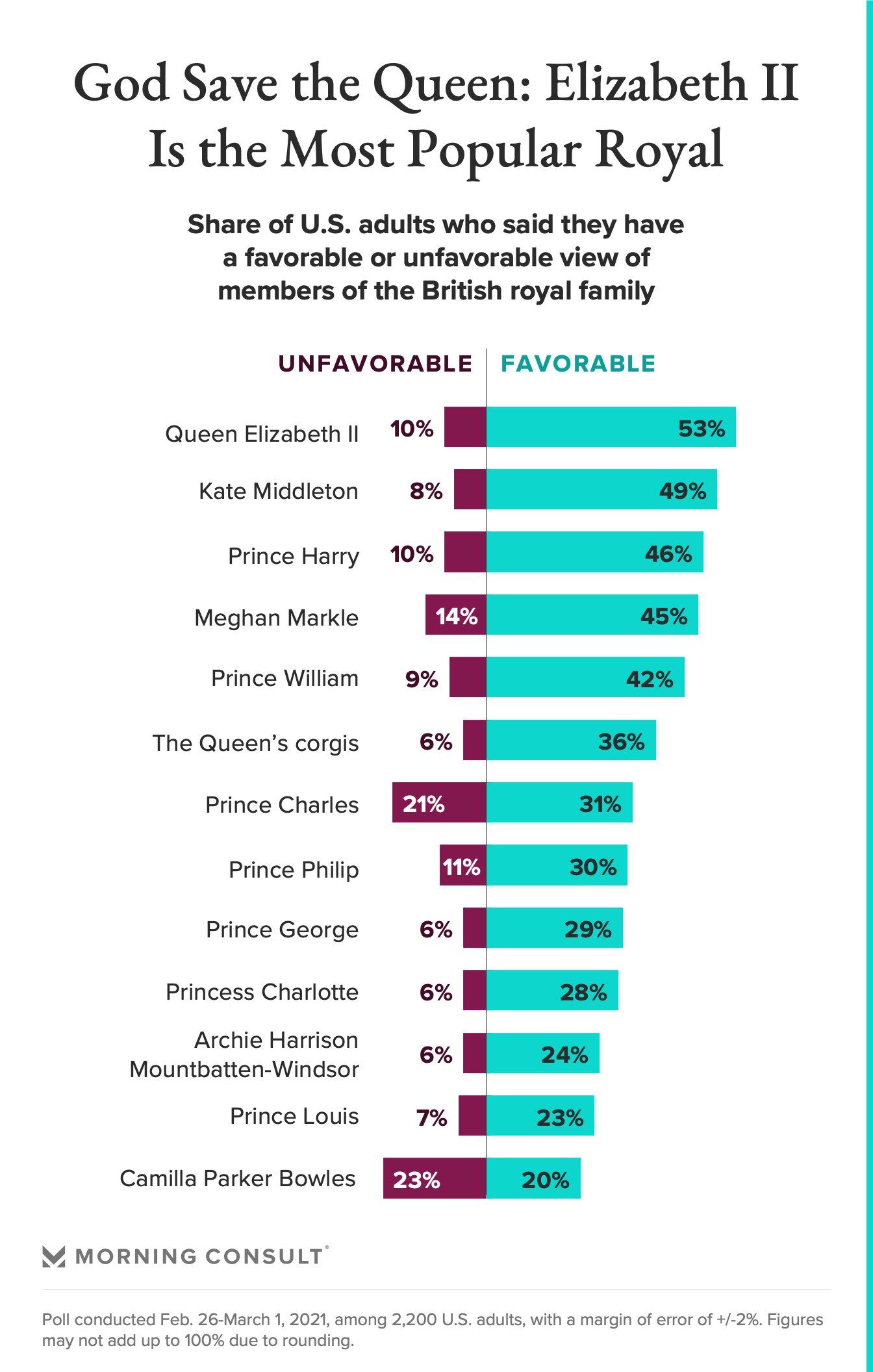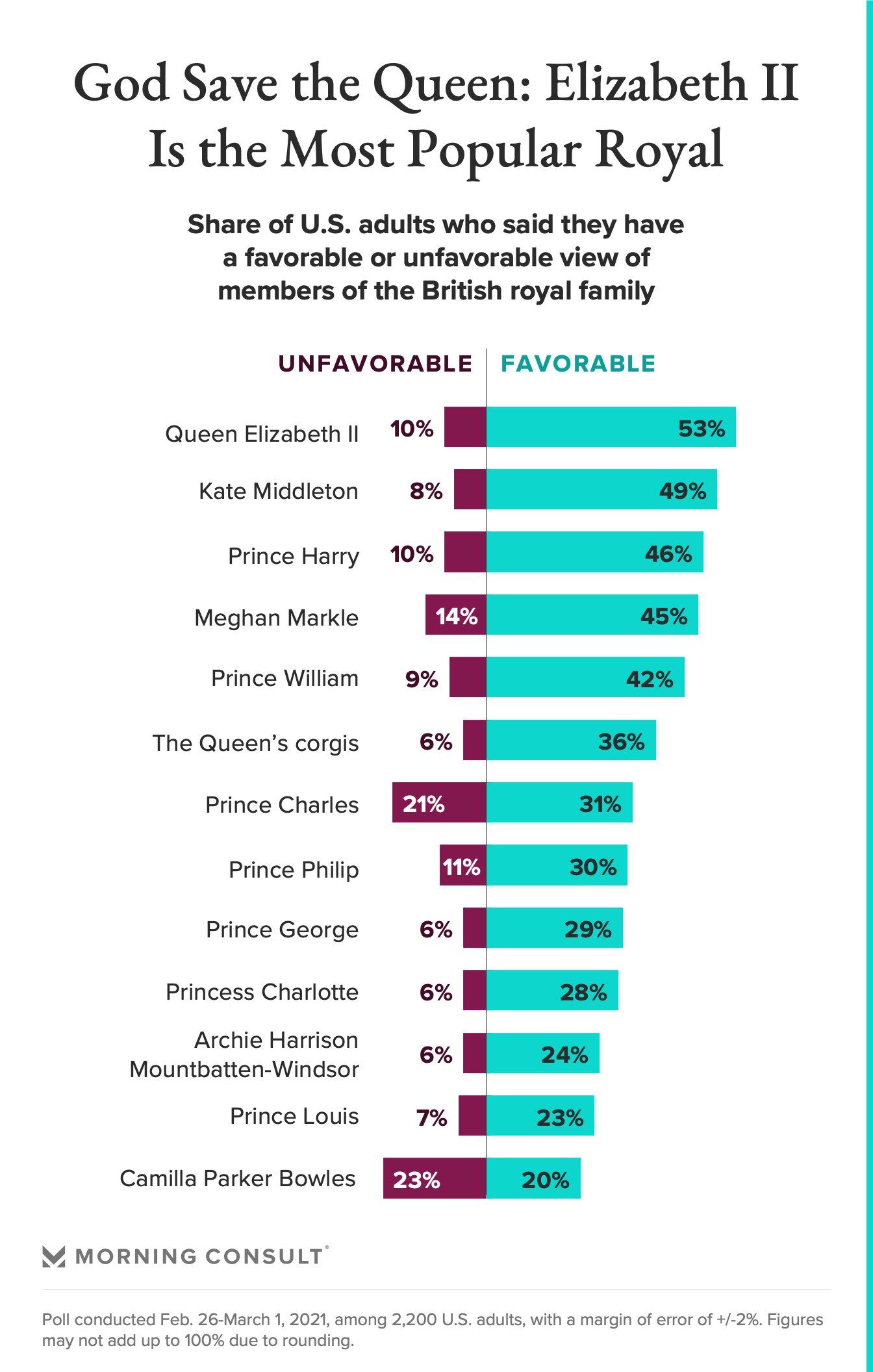 The Feb. 26-March 1 Morning Consult poll found that Queen Elizabeth II was the most popular member of the family, with a favorability rating of 53 percent. Kate Middleton, Duchess of Cambridge, was the second most popular royal, while Harry rounded out the top three, with favorability ratings of 49 percent and 46 percent, respectively. 
The survey — which was conducted before reports that Meghan was allegedly the subject of a senior staff member's 2018 bullying complaint and that she allegedly wore earrings gifted to her by Saudi Crown Prince Mohammed bin Salman three weeks after the murder of journalist Jamal Khashoggi — found that her favorability rating (45 percent) was 4 percentage points lower than Middleton's, though Harry edged out his brother, Prince William (42 percent), the second in line to the throne.
Camilla Parker Bowles, Duchess of Cornwall, who allegedly had a romantic relationship with Prince Charles while he was married to Princess Diana — events that were dramatized in the most recent season of "The Crown" — was the least popular member of the British royal family, with 20 percent of respondents holding a favorable view of her, and 23 percent holding an unfavorable view. The survey has a 2-point margin of error.
The queen's four-legged friends — Elizabeth has reportedly had more than 30 varieties of corgis and dorgis, a corgi-and-dachshund mix, since taking the throne in 1953 — proved to be more popular with respondents than several members of the royal family, including Prince Charles and his grandchildren. The queen reportedly owns just one dog at the moment, a dorgi named Candy, after the reported death of her other dorgi, Vulcan, late last year.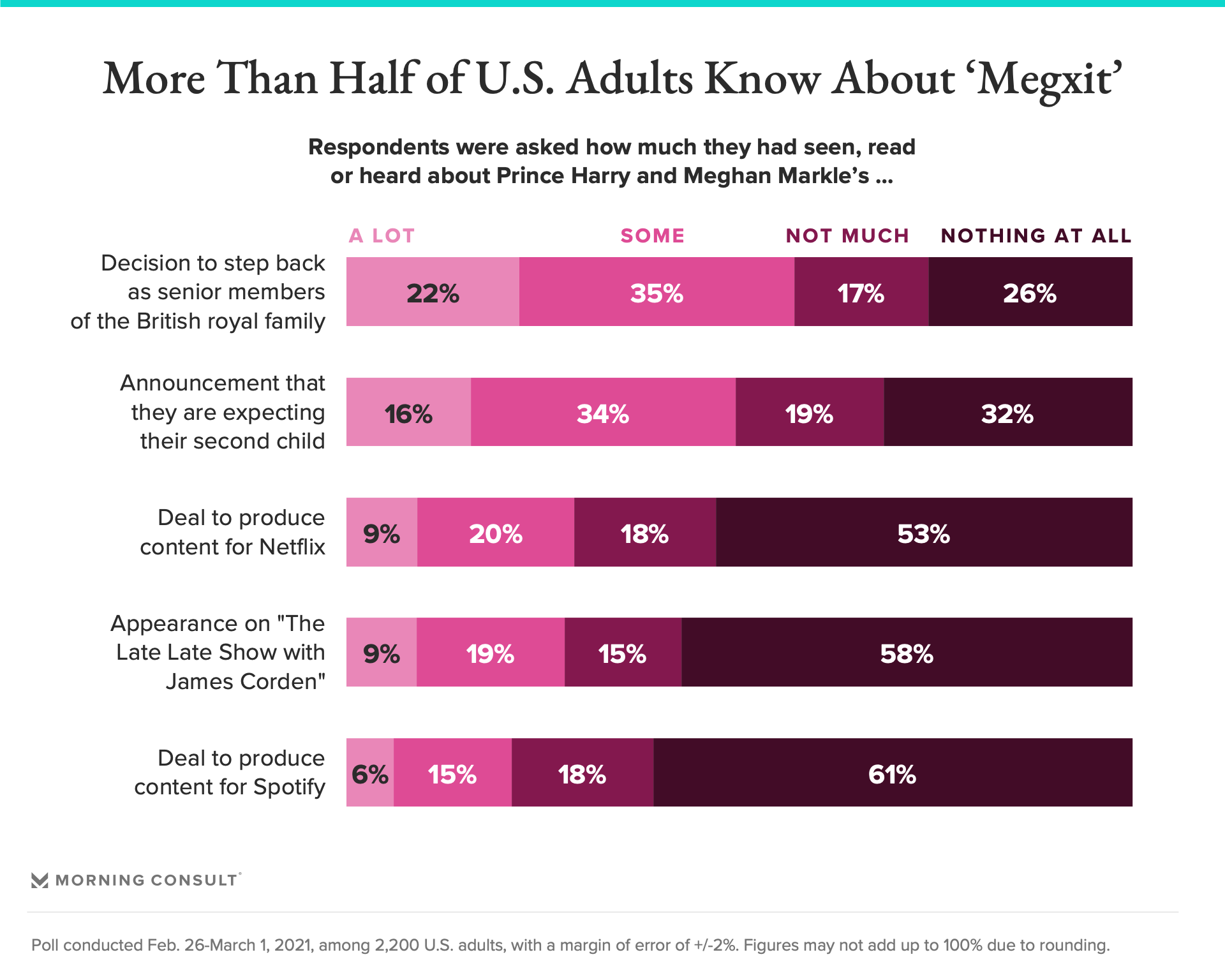 Public awareness of events surrounding Harry and Meghan was high. Fifty-seven percent of adults said they had seen, read or heard "a lot" or "some" about their decision to step back as senior members of the British royal family, with a nearly equal share (53 percent) supporting the couple's withdrawal.
Half of the public said they had heard "a lot" or "some" about the couple's announcement that they are expecting their second child.
And the headlines haven't slowed down. In response to the report published Wednesday on the alleged bullying complaint against Meghan, Buckingham Palace said it "will look into the circumstances outlined in the article."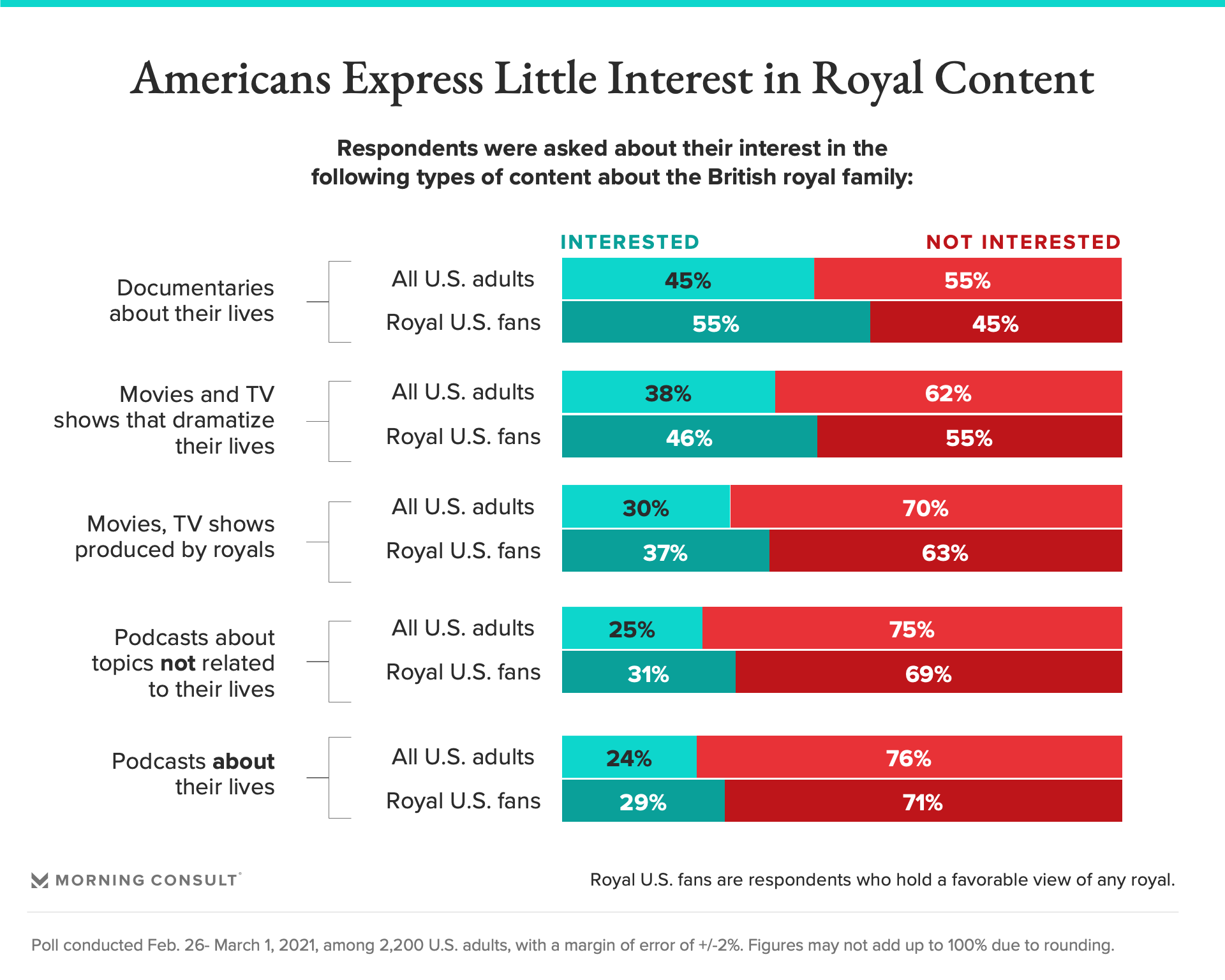 In recent years, films and TV shows centered on the British royal family have become popular, with "The Crown" leading the way. 
The fourth season of the historical drama, which focuses on the love triangle between Prince Charles, Princess Diana and Parker Bowles, known now as Camilla, Duchess of Cornwall, premiered in November and recently won four Golden Globes. It also quickly became one of the most popular programs on the platform: Viewers spent 3.36 billion minutes watching the show the week after its release, according to Nielsen Holdings PLC.  
However, based on the recent survey, Americans' appetite for more royal tea is not strong. Fifty-five percent of adults said they aren't interested in documentaries about the British royal family, and 62 percent said the same of fictional movies and TV shows similar to "The Crown."
The former royals are moving into the content game themselves. Last year, Harry and Meghan inked deals to produce content for both Netflix and Spotify, a move that respondents were less aware of than the couple's personal affairs and less interested in than programming about royal life. 
Twenty-nine percent said they had seen, read or heard "some" or "a lot" about the Netflix deal, while 21 percent said the same of the Spotify deal. On average, roughly three-quarters of respondents said they are not interested in movies, TV shows or podcasts produced by members of the royal family.