Morning Consult is commemorating the one-year anniversary of when the World Health Organization declared COVID-19 a global pandemic. Read our data-driven pieces about how the novel coronavirus has transformed the movie theater, restaurant and sports industries.
As the pace of COVID-19 vaccinations picks up and the federal government pushes new guidance for vaccinated people, many Americans remain skeptical about how getting a shot will immediately affect their lives, new Morning Consult polling shows.
The Centers for Disease Control and Prevention released new guidance Monday saying people who have been fully vaccinated against COVID-19 can safely gather in small groups indoors and without masks. But in the survey, conducted Feb. 26 to March 1, many adults indicated they're likely to stick with pandemic-related precautions when seeing others — regardless of their vaccination status.
Half of all adults, for example, said getting a shot would make them feel more comfortable seeing other vaccinated people if they were still wearing masks and social distancing. Another 26 percent said getting a shot would make them more comfortable seeing other vaccinated people without those precautions.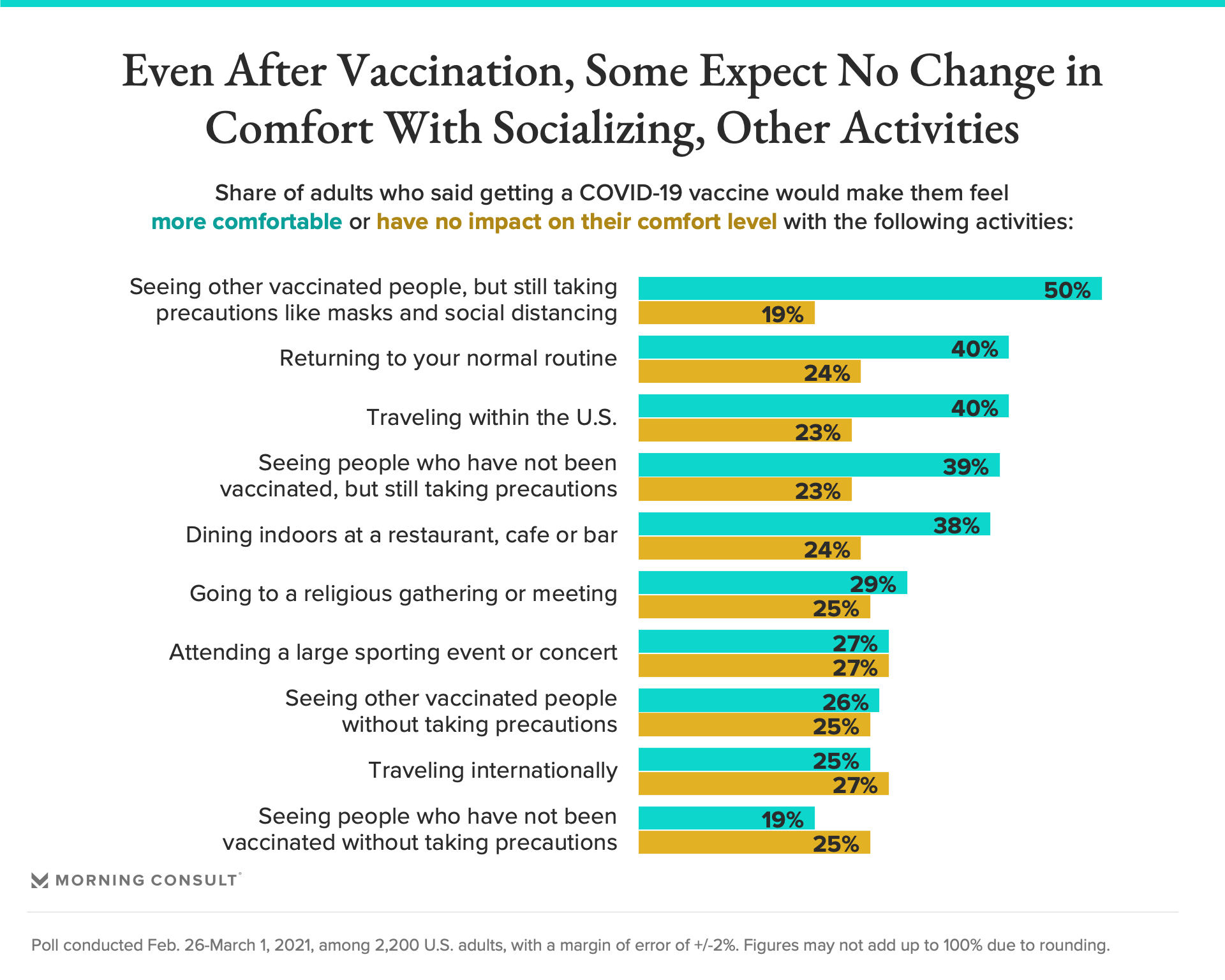 Meanwhile, 39 percent of adults said getting a shot would make them more comfortable seeing unvaccinated people, as long as they were still taking precautions. Another 19 percent said getting vaccinated would make them feel more comfortable seeing unvaccinated people unmasked and without distancing.
The findings, which come just ahead of the one-year anniversary of the World Health Organization's declaration of the COVID-19 outbreak as a global pandemic, underscore the public's confusion over what is and isn't safe to do after inoculation. And they indicate the CDC and the rest of the public health community could have a difficult time breaking through the "COVID information overload," said Dr. L.J. Tan, chief strategy officer for the Immunization Action Coalition, which creates programming around vaccines.
"We have not been as good at getting this science out and the guidance out regarding what people who have been vaccinated can do," Tan said. "This is important, because if people believe that getting vaccinated doesn't improve their quality of life, then why get vaccinated?"
Overall, 40 percent of adults said they'd be more comfortable returning to their normal routine after they're vaccinated. About the same share said they'd be more comfortable traveling within the United States or dining indoors after getting a shot, while people were generally split on whether they'd be more comfortable attending a religious gathering, a large sporting event or a concert post-vaccination.
"An important caveat is it may not take long before people who are vaccinated transition to being comfortable doing these things," said Dr. Glen Nowak, director of the Center for Health and Risk Communication at the University of Georgia, because "people are probably looking to other people to see what they're doing."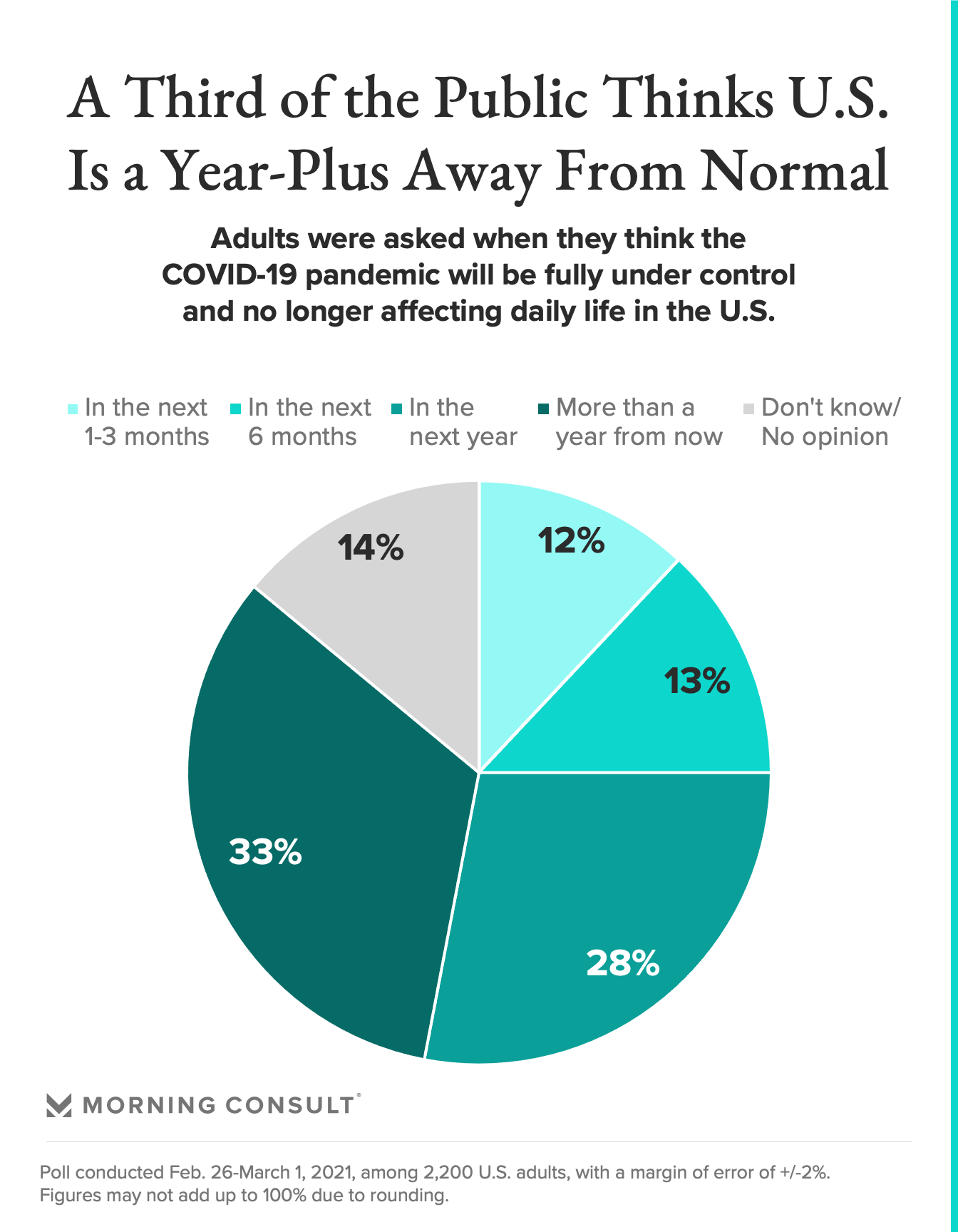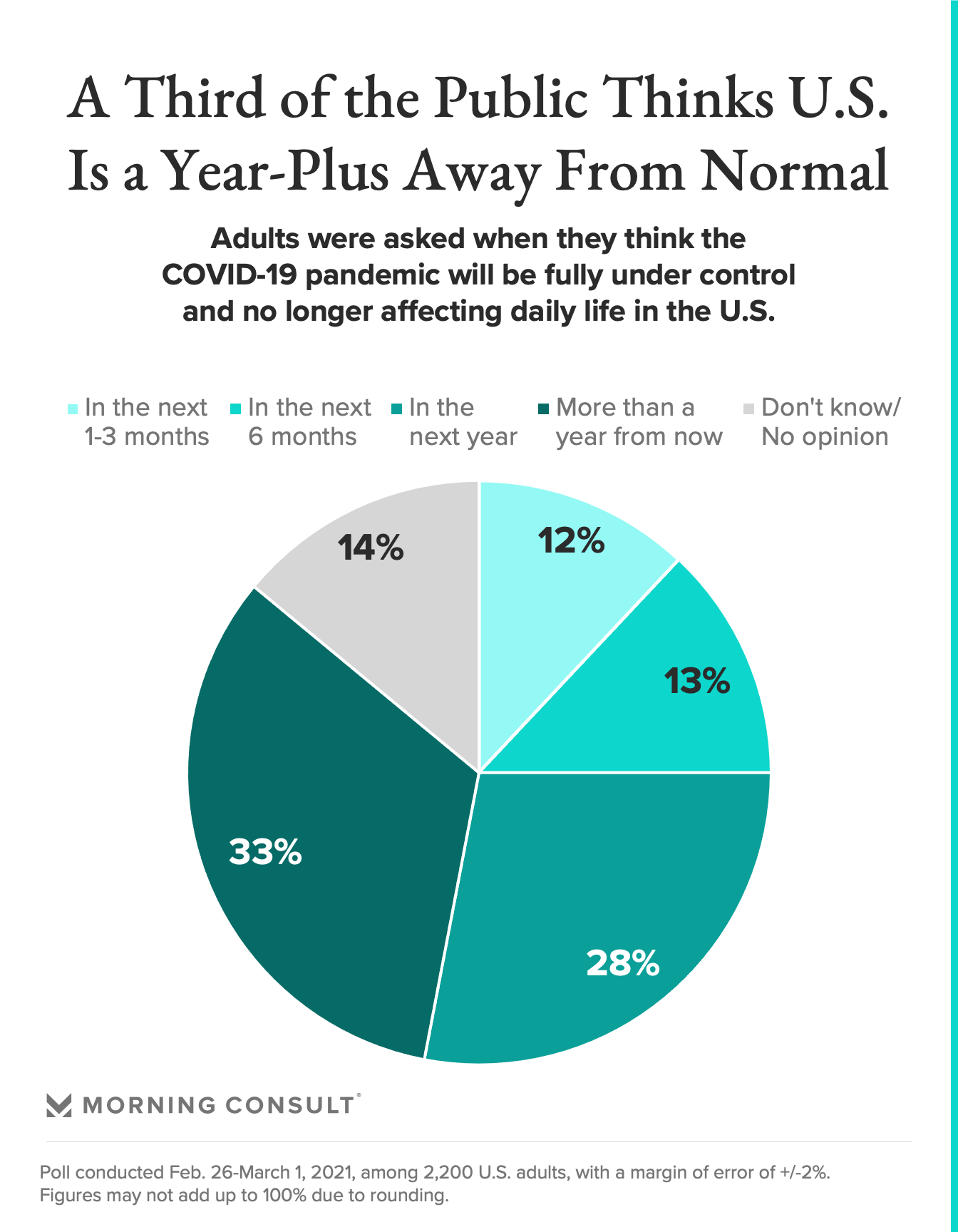 Even so, 33 percent of adults said they think it will be more than a year before the pandemic is fully under control and no longer impacting daily life in the United States. Another 28 percent said they think the pandemic will be under control sometime in the next year, while 13 percent of adults pegged the timeline at the next six months and 12 percent think it'll happen within the next three months.
"I'm not surprised that people are struggling to get a handle on how soon this will end, because the experts are uncertain," Nowak said.
The poll was conducted just ahead of President Joe Biden's announcement that the country's vaccine supply would be enough to cover every U.S. adult by the end of May and as federal regulators authorized Johnson & Johnson's one-shot COVID-19 vaccine. It included 2,200 U.S. adults and has a margin of error of 2 percentage points.
Given the lack of public consensus around the benefits of vaccination and the timeline of the pandemic, Tan said the new CDC guidance should be "elevated to the point where the public recognizes that it's something that will actually help impact their lives and change the way they're living."