In light of rare storms and record low temperatures last month that left millions in Texas and neighboring states without electricity, heating and water, certain segments of the public seem to be registering the need to prepare themselves for potential future disasters. 
According to new polling from Morning Consult, the disaster has prompted planning for roughly 2 in 5 adults: 17 percent of U.S. adults say they have already taken steps to prepare their homes for disaster since the outages in Texas, and 26 percent say they intend to make changes, which could include purchasing weatherization materials, making a disaster resilience plan or preparing an emergency "go-bag." Meanwhile, 44 percent say they do not plan to make any changes.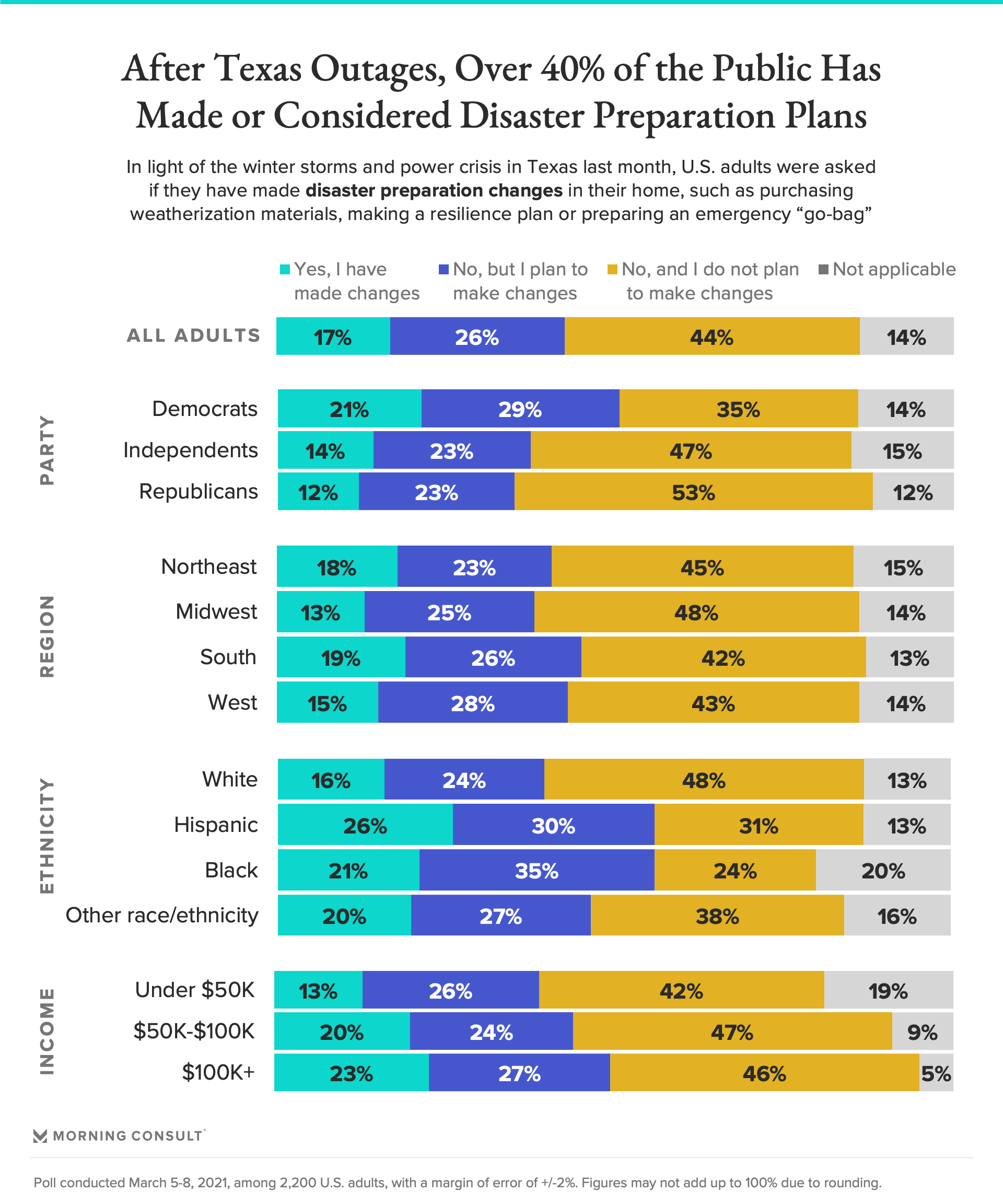 As the climate crisis continues to take its toll on the United States, it is unlikely any region or demographic will emerge entirely unscathed, as the storms, hurricanes and wildfires that have pummeled the country during the past years increase in intensity and potentially frequency. 
As the situation in Texas — in which a series of mid-February storms caused mass utilities failures and left roughly 4.5 million homes and businesses without power, many for days on end — has illustrated, even those living outside of areas with a history of climate change-related disasters may need to take steps to prepare. 
The March 5-8 poll, conducted just two weeks after lights came back on for most Texans, found that 84 percent of adults had seen, read or heard "a lot" or "some" about those storms and their impact on Texas and neighboring areas. And for many of them, it seems to have registered as a warning sign.
Hispanic and Black adults have reported a greater concern than white respondents about the impact of natural disasters and climate change on their own communities in past surveys, and that discrepancy in concern seems to have informed their disaster preparation, as well. Fifty-six percent of both Black and Hispanic respondents said they have made or are considering changes in their homes for potential disasters after the Texas outages, while 40 percent of white respondents said the same — a gap of 16 percentage points.
Lower-income communities of color were among the first to see power outages during the storms in Texas, compounding the myriad environmental and health injustices that the marginalized groups already face.
Half of Democrats, who tend to show more concern about climate change than their Republican counterparts, were also more likely to have made or are considering changes at 21 percent and 29 percent, respectively. Meanwhile, 12 percent of Republicans say they have already made changes, and 23 percent say they are considering them. Wealthier respondents were also more likely to prepare than their lower-income counterparts, likely because they have the resources to do so.
The poll surveyed 2,200 U.S. adults and has a margin of error of 2 points.