On Wednesday afternoon, President Joe Biden is expected to release the first half of his "Build Back Better" infrastructure proposal, a roughly $3 trillion plan that will take on improvements both to the bridges and roads that traditional infrastructure investments have targeted, as well as to the country's social fabric. 
A March 26-29 poll from Morning Consult and Politico shows that voters broadly support this expanded notion of infrastructure, with measures like increasing housing options for low-income families garnering the support of 70 percent of registered voters, including 87 percent of Democrats and 53 percent of Republicans.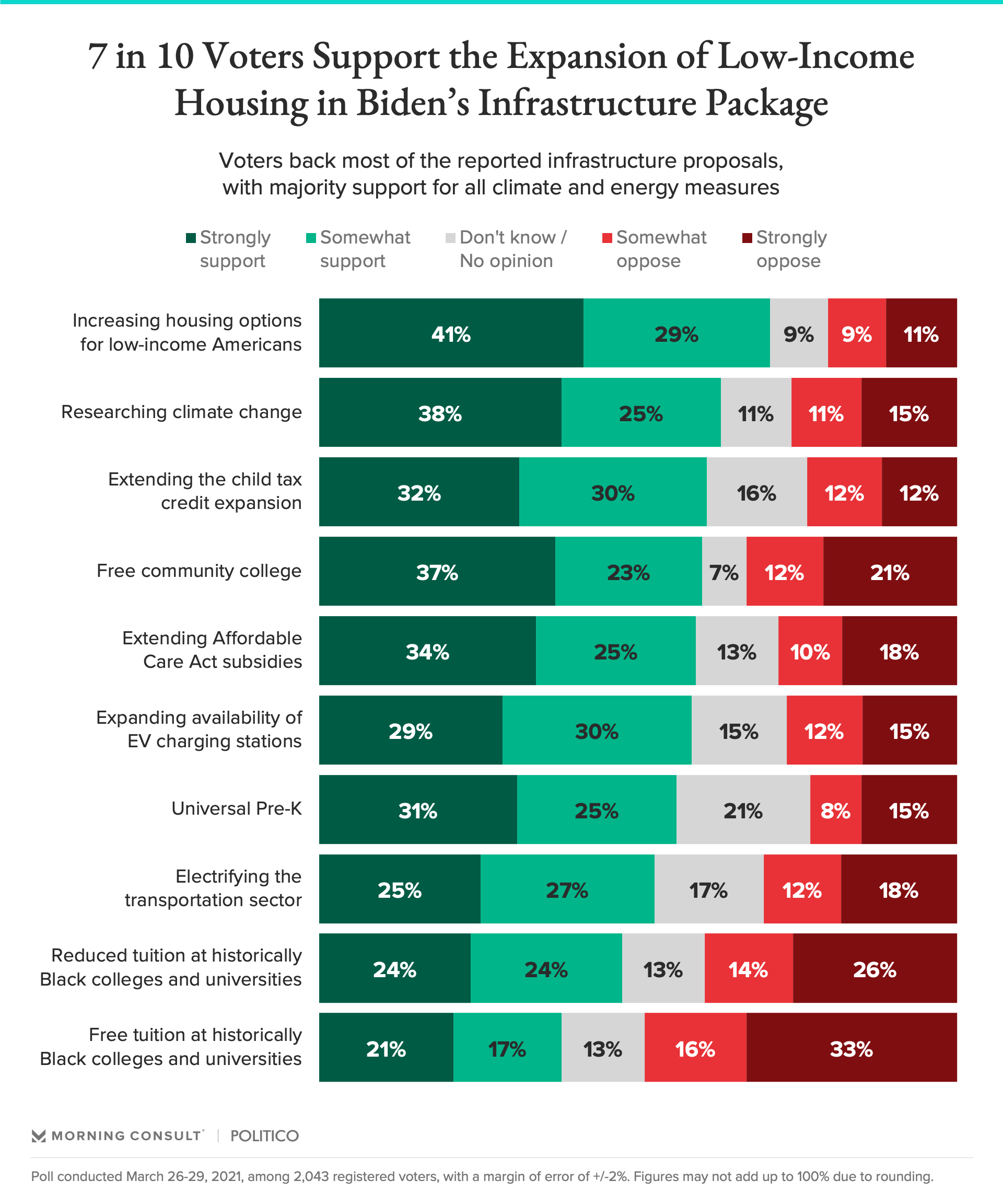 Biden has highlighted the opportunity infrastructural upgrades provide to invest in climate resiliency and speed the country's transition away from a fossil fuel-based economy; for instance, aides have reportedly specified that affordable housing investments will have energy-efficiency requirements. 
Voters are more likely to support than oppose these measures, including researching climate change (63 percent), expanding the country's electric vehicle charging network (59 percent) and taking other steps to electrify the transportation sector (52 percent). 
While a healthy majority of Democrats backed all of these measures (with climate change research being the most popular, with 85 percent support), Republicans were more skeptical, with roughly 50 percent opposed to all three.
Meanwhile, educational investments such as universal pre-K and free community college were also popular, though reduced or free tuition at historically Black colleges and universities were less so, coming in as the least-supported potential infrastructure measures polled. 
Millennials — who have borne the brunt of skyrocketing educational costs in recent decades — were most likely to support the educational investments, with the share of millennials supporting them consistently at least 10 percentage points higher than overall voter support for all measures. For instance, 38 percent of all voters support free tuition at HBCUs, a share that includes 55 percent of millennials and 29 percent of baby boomers (the generation least in favor).  
The plan is expected to include both tax increases for those making more than $400,000 per year and increases to the corporate tax rate to partially offset the trillions in spending, a balancing act that 54 percent of voters can get behind, according to the poll. 
The poll surveyed 2,043 registered voters and has a margin of error of 2 points.