Bucking tradition this year, the Screen Actors Guild Awards will air a one-hour, pre-taped show on Sunday in lieu of the multi-hour, in-person ceremony favored by other telecasts.
In the age of the pandemic, producers decided that less is more.
"We're looking at trying to do a unique award ceremony in an hour and leave people saying, which they very rarely do [with an awards show], 'Man, I wish we had more,'" co-executive producer Todd Milliner told Variety. 
But new polling suggests that shortening awards shows won't necessarily motivate viewers to tune in.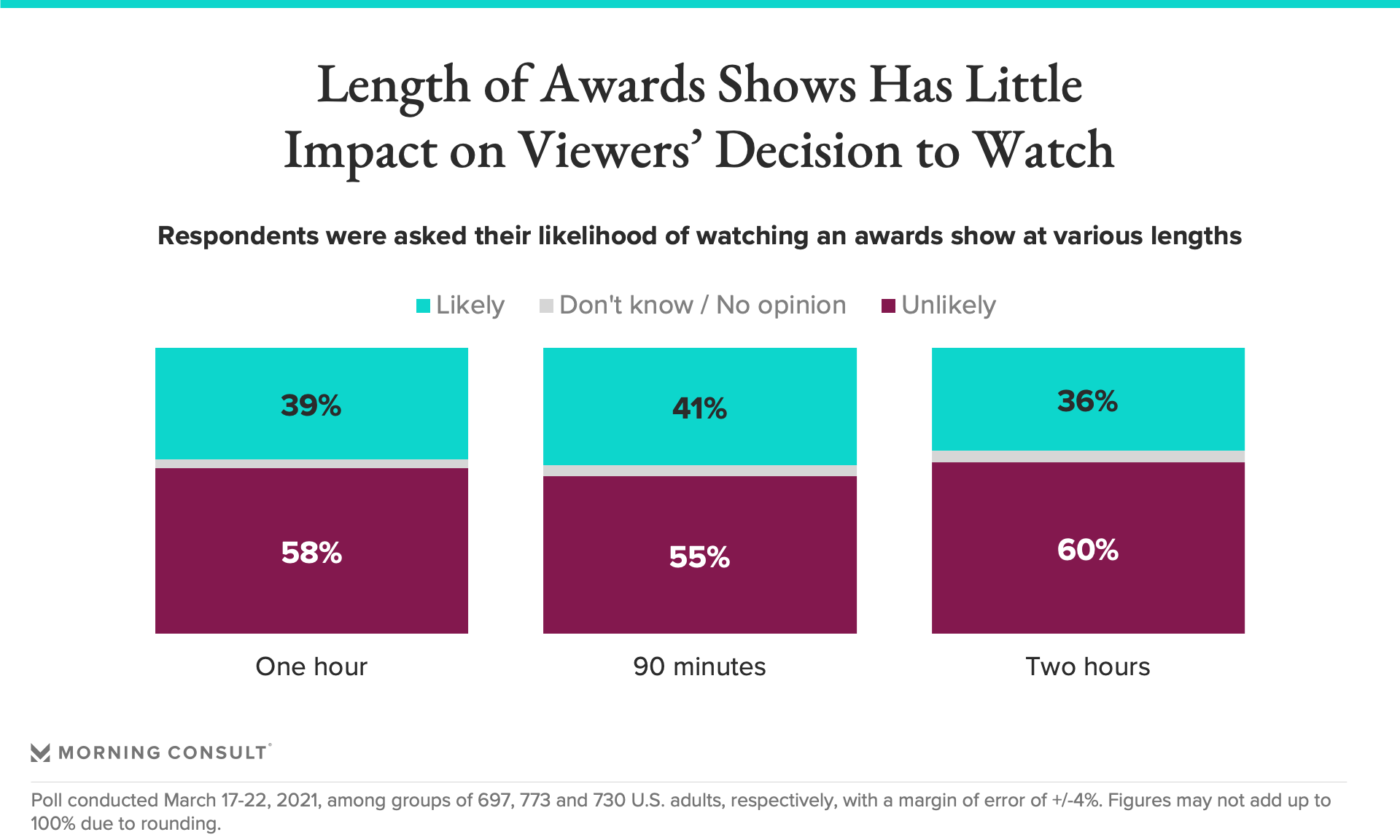 A March 17-22 Morning Consult survey asked three groups of respondents how likely they'd be to watch a comedy special, news special, sports special or awards show, with each group being presented with a different length for the programs: an hour, 90 minutes or two hours. 
The survey of 2,200 U.S. adults found that the length of programs didn't impact viewers' likelihood to watch. On average, 55 percent of respondents said they'd be likely to watch a one-hour program, compared to 53 percent who said the same of a 90-minute special and 51 percent who said they were likely to check out a two-hour show. 
The SAG Awards, which will be simulcast on TNT and TBS and have a running time half of its usual length, will be filmed and edited before Sunday, and will feature nominees congregating over Zoom for the announcement of the winners, with comedic bits interspersed throughout the special. 
Regardless of program length, though, awards shows were the genre of special respondents were least likely to check out. Roughly 4 in 10 adults said they would watch a one-hour awards show, while 41 percent said they would check out the 90-minute telecast and 36 percent said the same of a two-hour show. Comedy specials were the genre of programming most people said they would watch.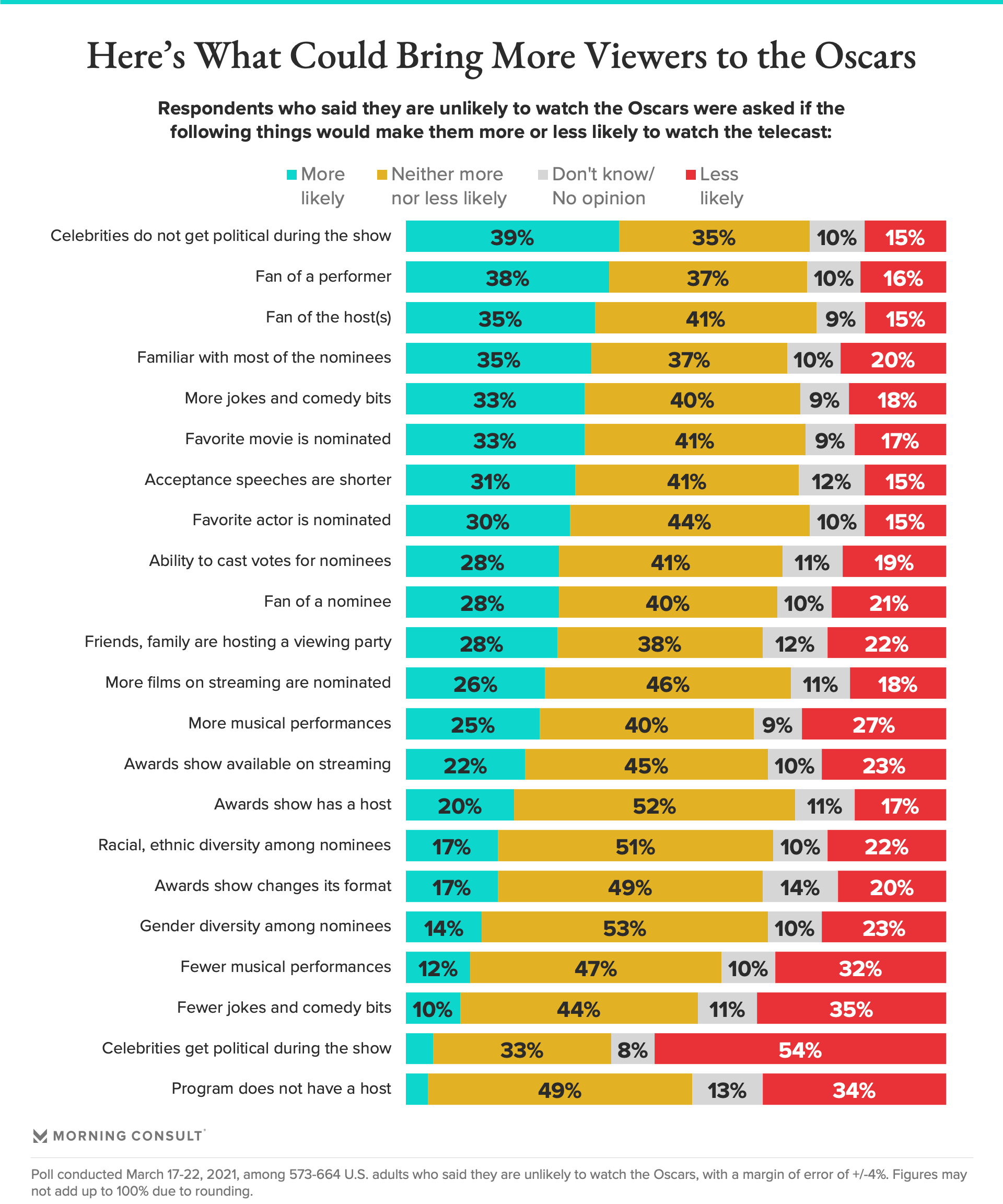 Awards show viewership has been on the decline in recent years, including the SAG Awards. Viewership of the 2020 telecast was roughly 2 million viewers, down from nearly 2.7 million in 2019, according to Nielsen.
February's Golden Globe Awards were watched by 6.9 million viewers, a decline of more than 62 percent from 2020, while 9.2 million people tuned in to the Grammys last month, a nearly 51 percent year-over-year decline, per Nielsen. Sixty-nine percent of respondents in the Morning Consult poll said they are unlikely to watch the SAG Awards, while 57 percent said the same of the Academy Awards. 
But there are some features that could woo unlikely Oscars viewers, according to the survey. 
Thirty-nine percent of respondents who said they were unlikely to check out the Oscars said they would be more likely to tune in to the April 25 telecast if celebrities refrained from expressing their political opinions. Equal shares of those respondents (35 percent) said liking the hosts and being familiar with the nominees would motivate them to watch. 
Recent news related to the Oscars indicates that this month's ceremony won't be in line with what viewers are looking for: Awareness of the nominees among the general public is low, and the show will reportedly be hostless for the third year in row.