More voters support than oppose the White House's infrastructure plan, both in broad strokes and in the specifics, new polling from Morning Consult and Politico has found. 
And while more traditional infrastructure projects — in the vein of modernizing hospitals, highways and roads — tend to be more popular among voters, even those that stretch the concept to include investments that would facilitate the country's transition away from fossil fuels have at least 50 percent support, albeit with much less backing from Republicans. 
Without giving details or the projected cost of the proposal, the April 2-4 poll initially asked voters if they support or oppose the infrastructure plan: 60 percent said they support it, while 22 percent opposed. 
The share that supports the proposal includes 84 percent of Democrats, 51 percent of independent voters and 35 percent of Republicans. While this partisan discrepancy on a proposal emerging from a Democratic White House is perhaps unsurprising, it is worth noting that fewer than half of Republican voters say they oppose the bill, at 46 percent (including 28 percent who "strongly" oppose). 
The electorate's apparent inclination to support the infrastructure plan persists when respondents were asked about specific proposals and their corresponding price tags, with even the least-popular proposals receiving support from half of the public or more.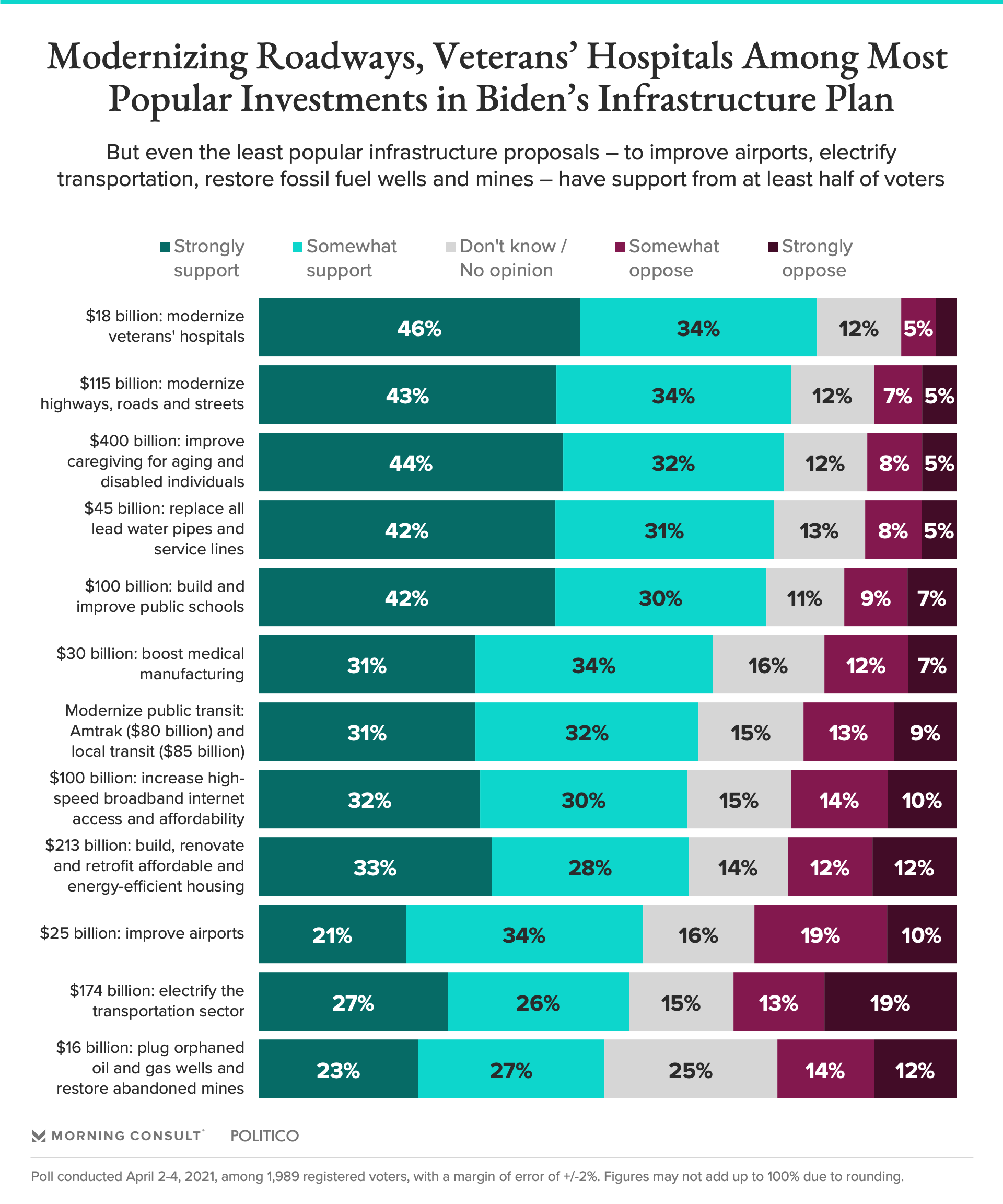 The proposals explicitly aimed at combating the climate crisis or transitioning the country away from fossil fuels saw the more marked partisan divides. For instance, 76 percent of Democrats said they would support spending $174 billion to accelerate the transition to electric vehicles, including expanding the country's EV charging network, while just 28 percent of Republicans said the same. 
Mona Dajani, a partner at Pillsbury Winthrop Shaw Pittman LLP who co-leads the firm's energy and infrastructure team, said she would attribute the lower overall support for the EV infrastructure proposal to the fact that "we're still at the beginning of the EV transition." 
"I expect as more EVs hit the road across the different classes and fast-charging technology becomes more commonplace, you will only see these numbers rise," Dajani said.
Spending $213 billion toward building, renovating and retrofitting affordable and energy-efficient housing units also elicited a partisan gap of nearly 50 percentage points, with 84 percent of Democrats and 36 percent of Republicans in support. (When voters were asked a week earlier, before the release of the American Jobs Plan, this was the most popular of the measures polled.) 
And on the question of spending $16 billion to plug orphaned oil and gas wells and restore abandoned coal, hardrock and uranium mines, the divide was 32 points, with 66 percent of Democrats and 34 percent of Republicans in support.
But other proposals enjoyed majority support from both parties, such as the proposed investments in highways and roads that have formed the backbone of major infrastructure proposals in the past. 
While both Democrats and Republicans have long agreed that the nation needs physical improvements to its roads and bridges, GOP lawmakers are now arguing that the scope of President Joe Biden's plan stretches the definition of infrastructure to the breaking point. 
During a Fox News interview on Sunday, Sen. Roy Blunt (R-Mo.) said roughly 30 percent of the package could reasonably be called "infrastructure," even stretching the definition somewhat. However, this skepticism over the rhetoric does not seem to have fazed voters, who are equally likely to support investments in more traditional infrastructure as they are investments in the country's social fabric. 
At least three-quarters of voters support the following measures: $18 billion to modernize veterans' hospitals; $115 billion to modernize highways, roads and streets; and $400 billion to improve caregiving for aging and disabled individuals.
These were among several proposals polled that saw majority support from Republicans as well as Democrats, with 78 percent of GOP voters backing veterans' hospitals investments, 71 percent backing highway and road modernizations and 64 percent backing caregiving improvements. 
"This polling on infrastructure validates a lot of things I'm seeing every day," Dajani said of the survey's overall results. "Infrastructure generally has broad support regardless of political leaning." 
The poll surveyed 1,989 registered voters and has a 2-point margin of error.