This piece is part of a Morning Consult mini-series highlighting the experiences of Asian adults living in the United States. Other stories: U.S. Asians Most Likely to Blame Trump, White America for Rising Tide of Anti-Asian Discrimination | Roughly Half of U.S. Asian Adults Have Experienced More Online Harassment During Pandemic

Over the past year, as the country suffered the grief of lost jobs, homes and loved ones, Asian Americans reported a parallel experience: an increase in hate crimes and violence directed toward them.
Now, more than 4 in 5 Asian adults say Asians have faced more discrimination in the United States during the past 12 months while nearly 3 in 5 say reports of anti-Asian racism and violence have affected their mental health, according to a new Morning Consult survey.
The findings come as the country grapples with a rise in violent attacks against Asian Americans, including a shooting rampage at three Atlanta-area spas last month that left six Asian women dead. And mental health professionals and advocates say the recent reports have amplified public conversations around the long-simmering issues of anti-Asian racism and mental health challenges.
"These numbers are really powerful in showing just how widespread the problem is," said Dr. Anne Saw, an associate professor of clinical-community psychology at DePaul University and a board member for the Asian American Psychological Association.
"We know that anti-Asian racism has always been around," she said. "But there is really something happening right now, in this pandemic time, that is impacting the majority of Asian Americans."
The survey, conducted March 24-30 among 1,000 Asian adults in the United States, found that 35 percent said their mental health has gotten worse during the pandemic, equal to the share who said the same in October. Forty-one percent of Asian adults said they'd felt depressed over the past year, while 59 percent said they'd been anxious, figures that are on par with U.S. adults overall.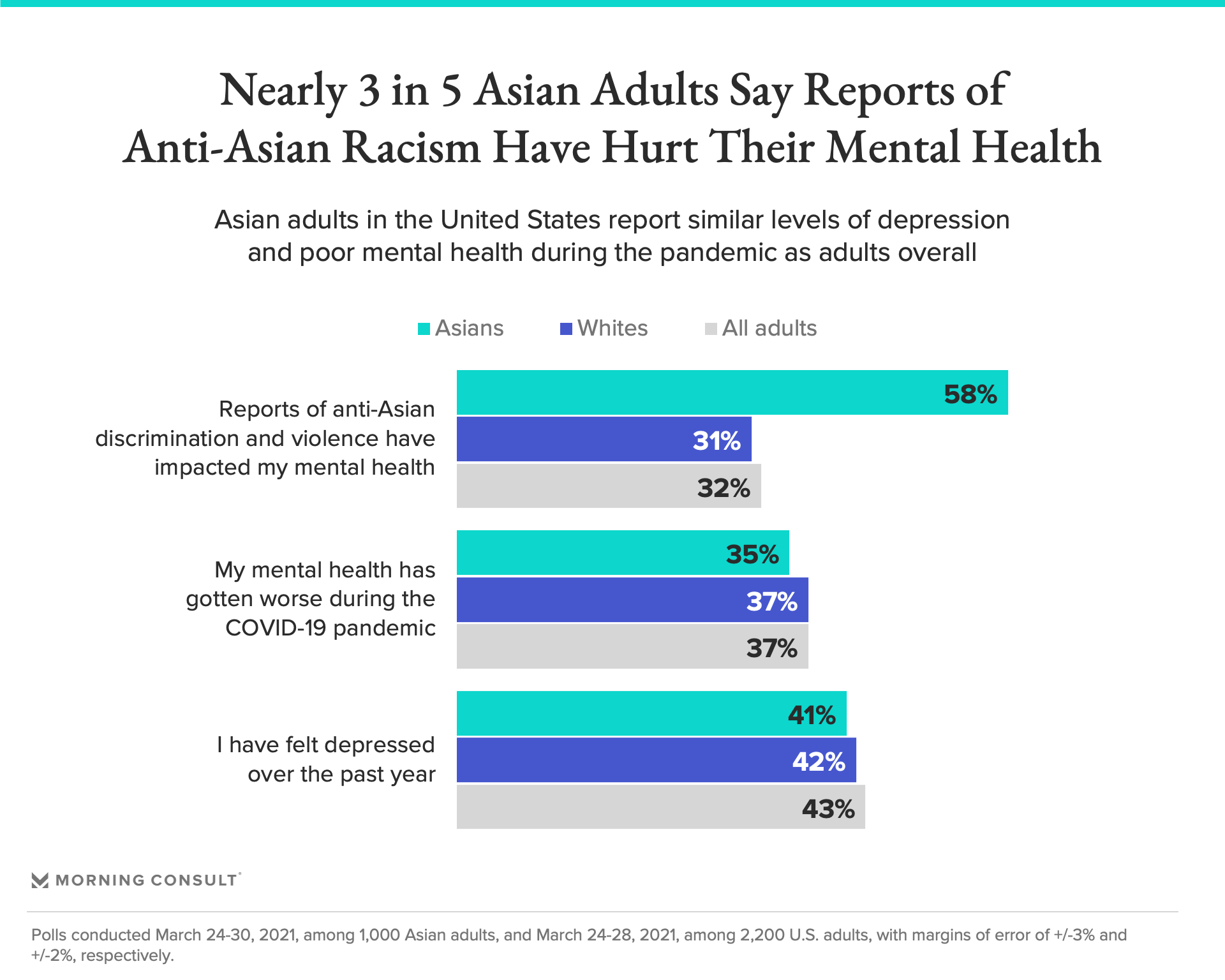 Saw said the findings for Asian adults are likely underestimates, though, because the survey was conducted only in English, potentially missing people who could be more vulnerable, like those who are older or immigrants. Research also indicates Asians are less likely to seek mental health services than white people.
The surveys, which have margins of error of 3 percentage points for Asian adults and 2 points for adults overall, also don't capture the diversity of experiences within Asian communities, Saw said. But the findings track with other reports noting an uptick in Asian Americans seeking mental health care services in the wake of the Atlanta attacks.
Carrie Zhang, founder of the Asian Mental Health Project, said she's seen renewed interest in its support groups and other mental health resources, and that the project's recent online discussions have centered on sexualization, "violence and discrimination that is geared specifically toward Asian American women."
Between March 2020 and February of this year, Stop AAPI Hate recorded 3,795 hate incidents, including verbal and online harassment, physical assault and civil rights violations, with women reporting twice as many incidents as men. In Morning Consult's survey, 66 percent of Asian women said reports of anti-Asian violence and discrimination has affected their mental health, compared with 49 percent of Asian men.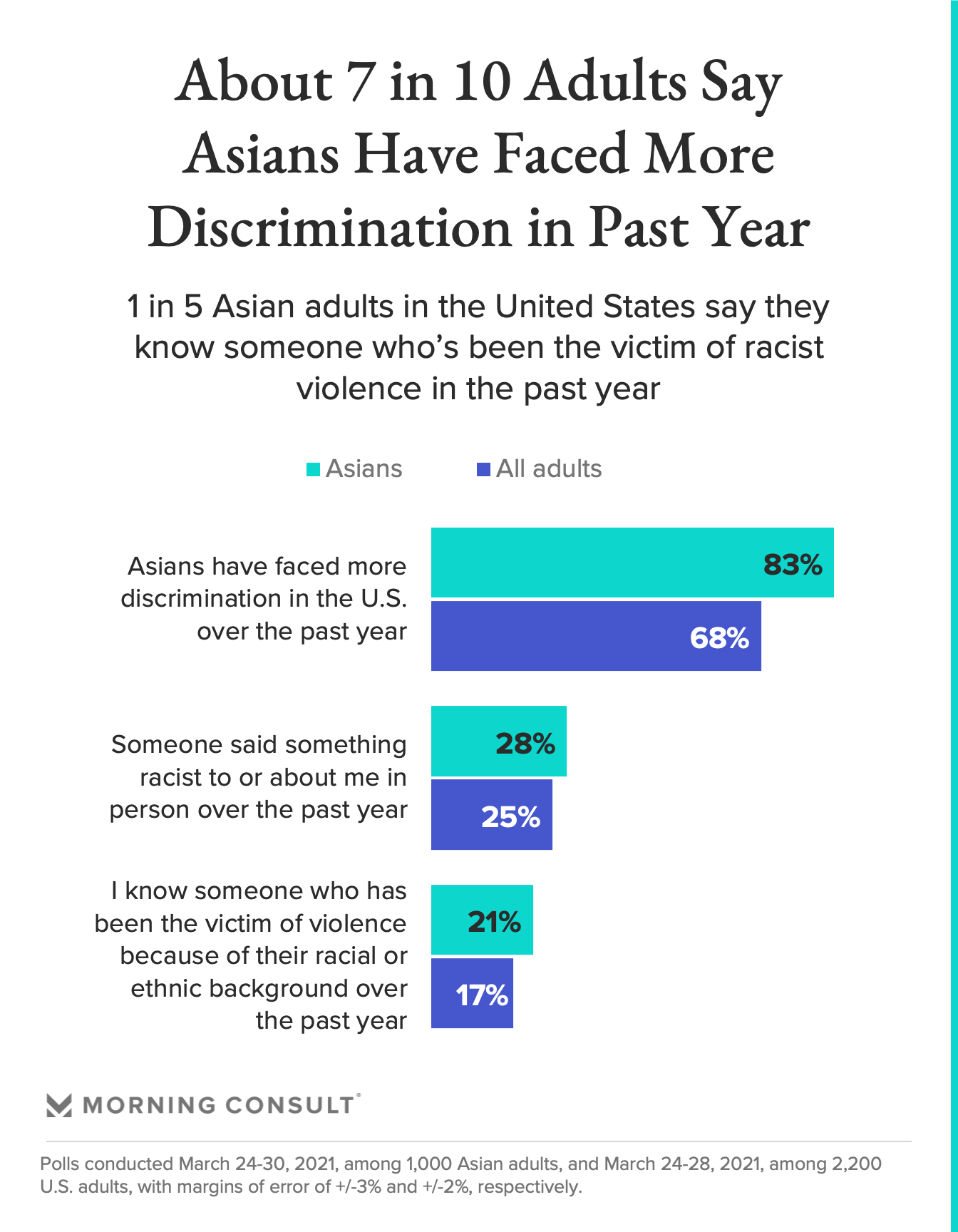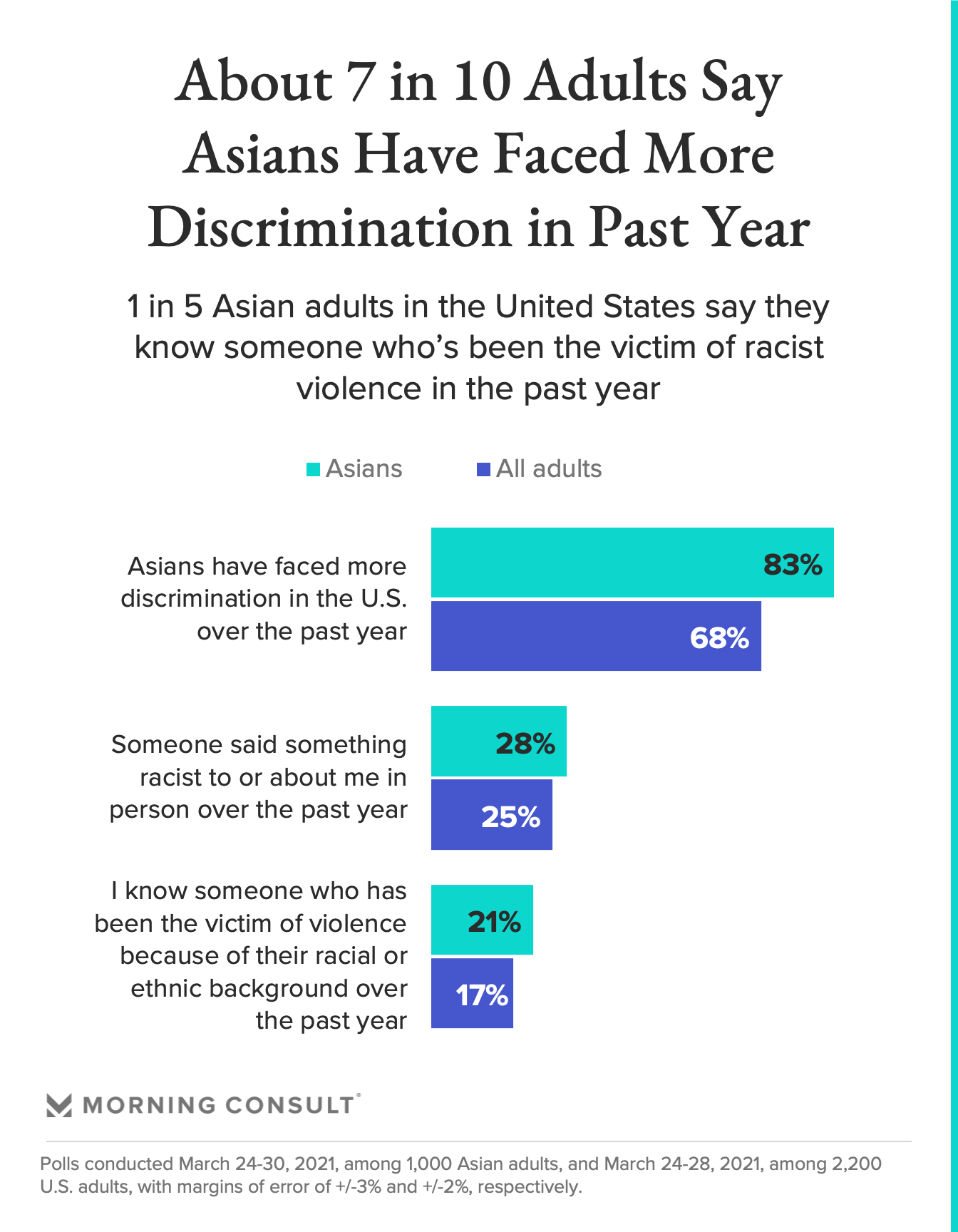 "Gender and identity 100 percent come into play, especially in being able to talk about issues," Zhang said.
So does the internet. Among Asian adults who have witnessed negative online behavior, including doxing, harassment, threats, stalking and humiliation, 90 percent said they think it was because of the person's race or ethnicity, and 73 percent said they've seen more of this behavior during the pandemic.
The poll also suggests other groups recognize the challenges facing Asian American communities: 68 percent of adults overall said Asians have faced increased discrimination in the United States over the past year, including 64 percent of white adults. And 32 percent of adults overall said reports of anti-Asian racism and violence have affected their mental health.
But, Saw noted, increased awareness of the issue does little to fix it. She said it's likely that the mental distress of the past year will continue in the months and years ahead, exacerbating the shortage of accessible mental health care for Asians in the United States. Language barriers and a lack of awareness about Asian cultures and historic discrimination are also shortcomings.
"The limitations of our health care infrastructure being able to accommodate the needs of Asian Americans is not new, particularly around mental health care and finding culturally appropriate care," Saw said. "It's not an easy fix."