The lofty and seemingly improbable vision of a country with exclusively new electric car and truck sales by 2035 is within reach, according to a new report from the University of California, Berkeley. And pairing the electrification of transit with a grid dominated by clean energy would set the United States on the path to keep global warming to below 1.5 degrees Celsius compared with pre-industrial levels, the study finds.  
By comparing an ambitious electrification scenario with a business-as-usual scenario, the study's researchers found not only that the former is possible within the next 15 years, but also that it will come with benefits for the climate, economy and public health. 
This accelerated electrification process for new vehicle sales could save consumers roughly $1,000 annually per household by 2050, or $2.7 trillion in total, the report concludes. And doing so could avoid 150,000 premature deaths related to air pollution issues and save $1.3 trillion in environmental health costs over the next 30 years, as compared with the business-as-usual scenario.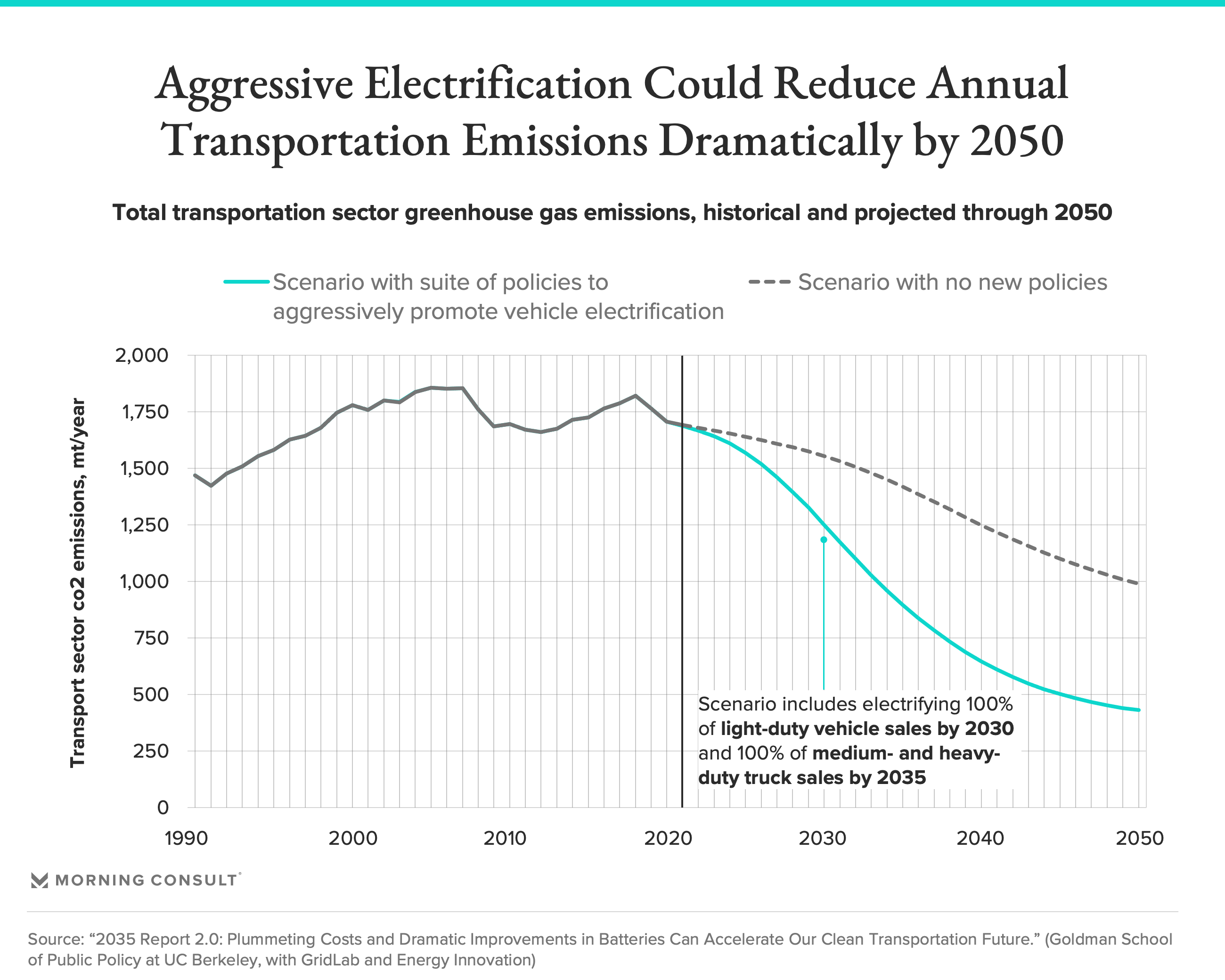 These emissions and cost savings are in reach, the authors say, because recent developments related to electric vehicle battery costs and performance have already accelerated the electrification of transportation, leaving EVs poised to overtake gasoline and diesel vehicles, despite modest sales projections in the coming years.
"The uptake of electric cars and trucks can go much faster than previously forecast and is already exceeding market projections," Dr. Amol Phadke, a senior scientist at Berkeley's Goldman School of Public Policy and one of the study's authors, said in a news release. "The performance and cost of the technology are ready to meet the needs of American drivers today, and the necessary charging infrastructure can be built cost-effectively without straining electricity grids."
While more EVs will inevitably mean more demand for electricity, the report states that the precipitous drop in wind and solar costs in recent years has meant that "a cost-effective pathway to decarbonize the transportation sector is in reach," without relying on coal or new natural gas plants to make up the difference. 
The 2035 timeline is consistent with aims set by auto giants such as General Motors Co., which in January said it hopes to eliminate all tailpipe emissions from new light-duty vehicles by 2035 as part of a broader pivot to carbon neutrality by 2040. And it is also consistent with President Joe Biden's plans as he has laid them out so far: a nationwide charging system with at least 500,000 new stations, tax incentives for EV buyers and investments in a domestic battery supply chain. 
However, getting there will require the Biden administration, state lawmakers and future administrations to pull specific policy levers, such as strengthening federal fuel economy standards, state-level zero-emission vehicle standards, financial incentives and labor standards to buoy domestic manufacturing and sales of EVs, as elaborated in a companion report from the policy firm Energy Innovation. These more targeted incentives, the report says, should ramp down over time as the market matures, in order to encourage early adoption.
The two reports' release comes just days after a separate study from the Lawrence Berkeley National Laboratory (prepared for the Department of Energy's Office of Energy Efficiency and Renewable Energy) found that the country is already halfway to Biden's goal of a zero-carbon electricity grid by 2035. The report compared 2005 Energy Information Administration greenhouse gas emissions projections for 2020 to the reality, and found that emissions were a full 52 percent lower than anticipated.