To say the owners of England's six most prominent soccer clubs lacked public support in their bid to form a new European Super League would be a massive understatement, but new polling shows opposition to the plan was considerably less fervent among younger adults in the United Kingdom than their older peers.
In a Morning Consult survey conducted April 19-20 ahead of the plan's collapse, 70 percent of U.K. adults who identified as soccer fans said they opposed the move by Arsenal, Chelsea, Liverpool, Manchester City, Manchester United and Tottenham Hotspur to join six other Spanish and Italian clubs in the creation of a midweek club competition featuring the same core members each year, including 58 percent who said they "strongly" opposed the plan. In addition, 83 percent of "avid" fans of the sport opposed the Super League plan, with 73 percent "strongly" opposed.
The Morning Consult survey of 1,000 U.K. adults carries a margin of error of 3 percentage points, while responses among the 628 British soccer fans sampled have a 4-point margin of error.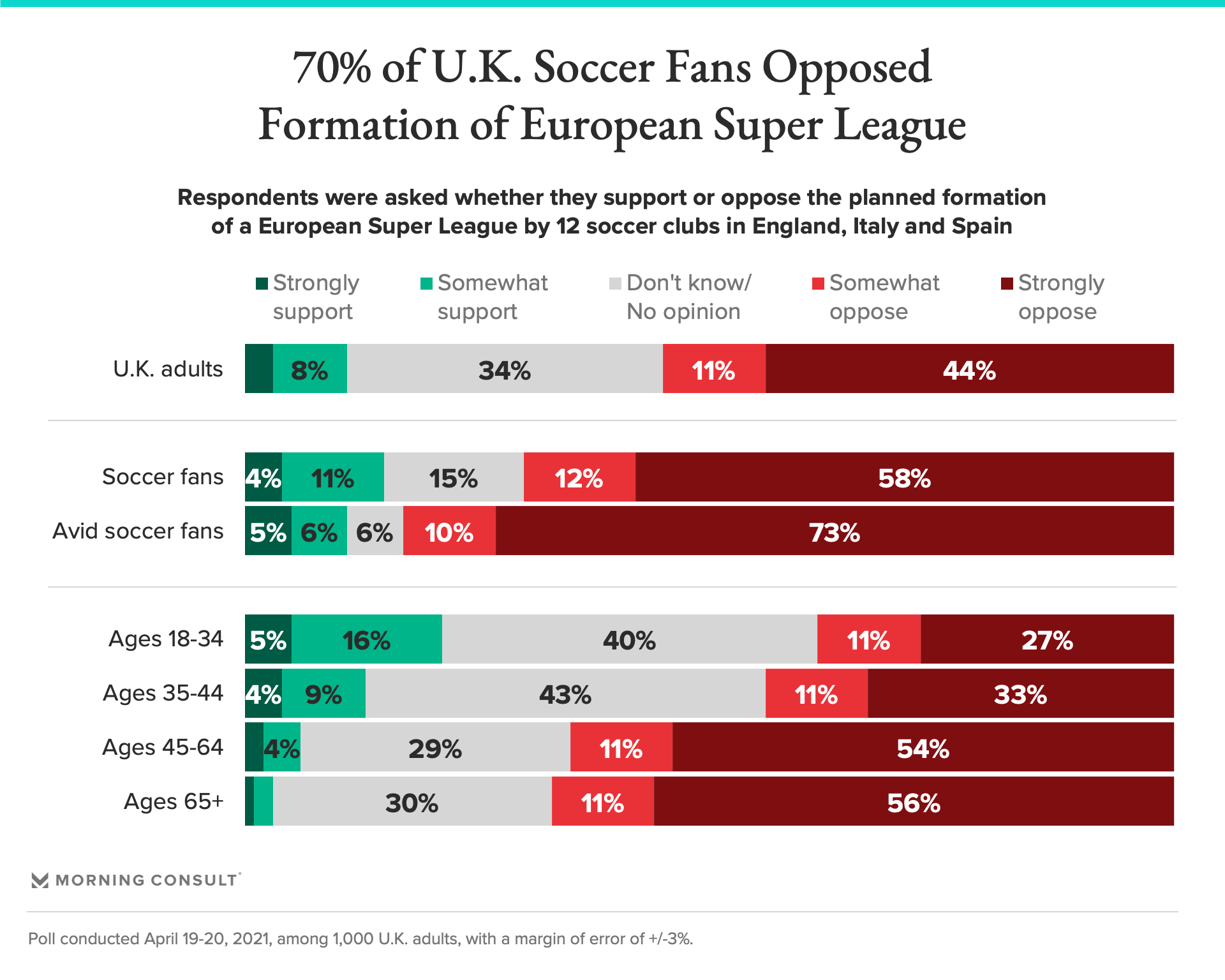 While the British public was overwhelmingly against the formation of a European Super League, about 1 in 5 adults between the ages of 18 and 34 came out in favor of the plan, as did 13 percent of those between the ages of 35 and 44. Only 6 percent of respondents between the ages of 45 and 64 and 3 percent of respondents ages 65 and older supported the proposal. 
In addition, more than half of fans over the age of 44 said they "strongly" opposed the idea, compared to just 27 percent of those between the ages of 18 and 34, and one-third of those between the ages of 35 and 44.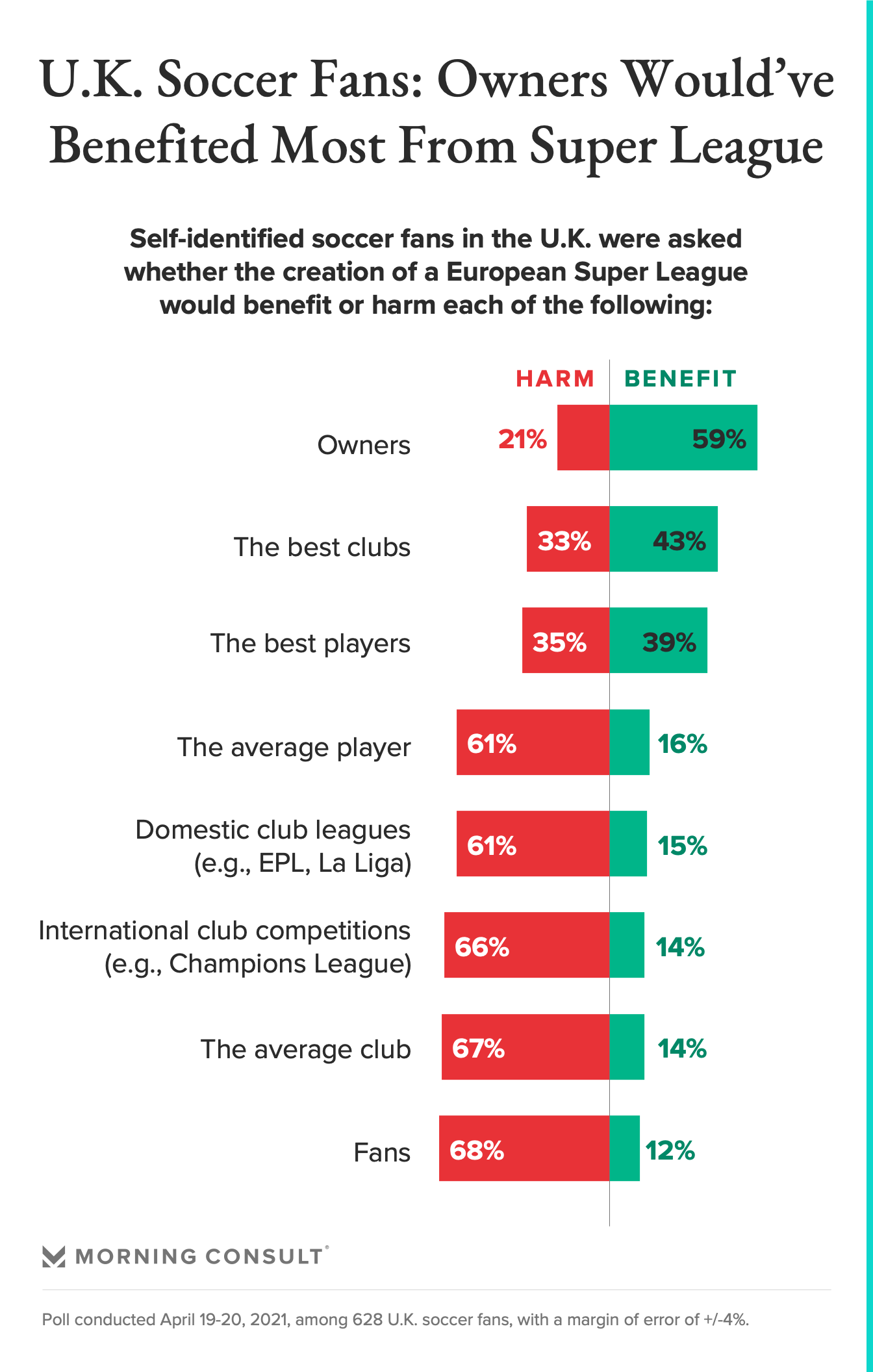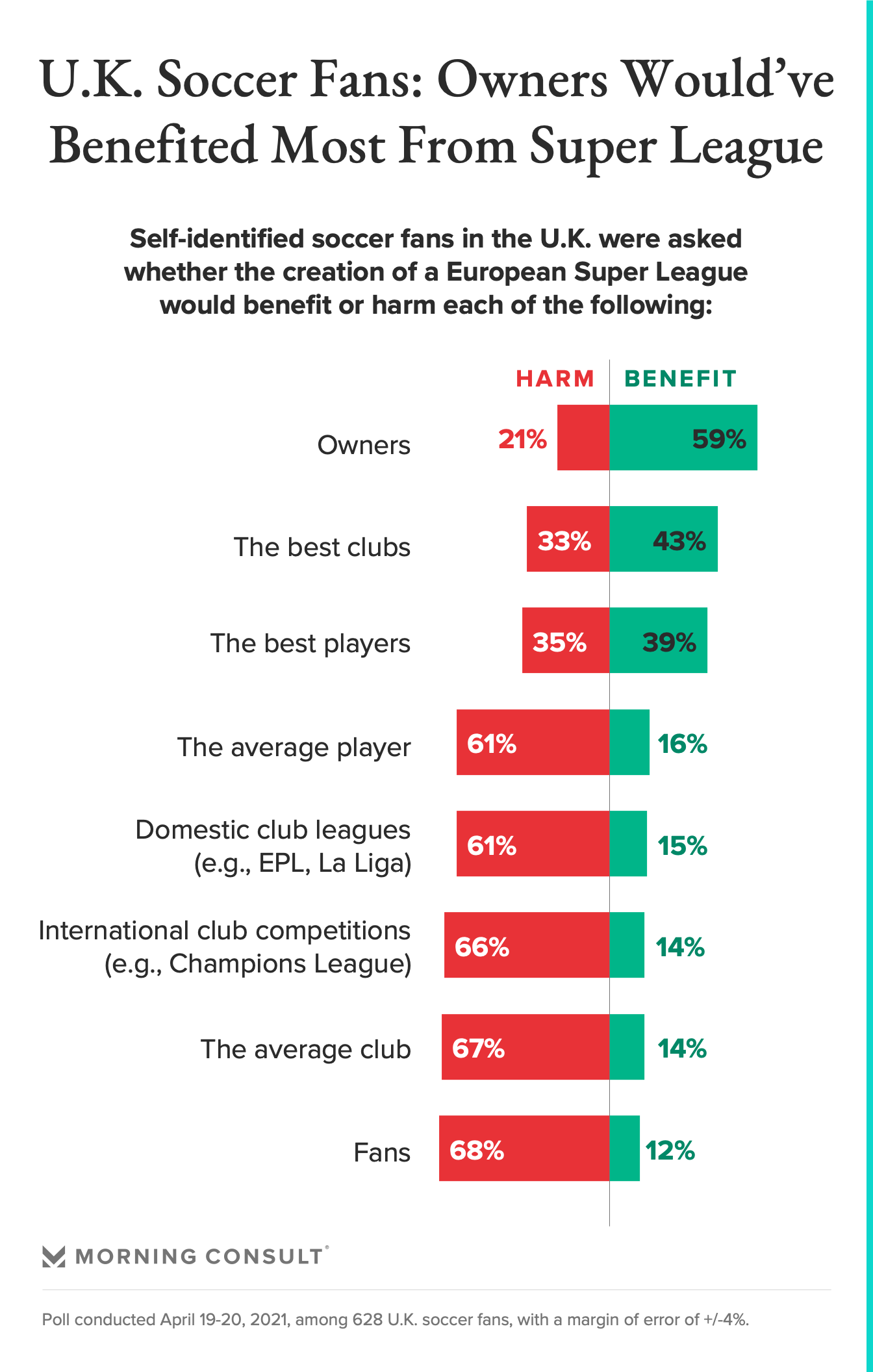 The 12 founding members of the Super League — which in addition to the six English teams included A.C. Milan, Atlético Madrid, FC Barcelona, Inter Milan, Juventus and Real Madrid — unveiled plans for the competition Sunday. The announcement was immediately met with fierce backlash from fans, as well as soccer's established governing bodies, political and governmental leaders, the media and non-Super League clubs. The league began to unravel Tuesday as member clubs started to back out, and by Wednesday, it was in tatters.
From its inception, the Super League was dogged by the sentiment that its creation was purely a cash grab by the already wealthy owners of the 12 founding clubs. Among the British soccer fans surveyed, 59 percent said the formation of the league would benefit the owners, while just 12 percent said it would benefit fans. 
Some owners of the clubs that abandoned the plans have apologized to supporters for joining the Super League without the backing of fans, but that hasn't stopped some prominent figures in British soccer from calling for them to sell their respective clubs.