As COVID-19 vaccinations ramp up and countries around the globe grapple with how to safely relax restrictions and reopen their borders, a new Morning Consult survey conducted in five European countries finds most residents are in favor of giving people digital certificates proving their vaccination status, but they're split on what purpose they think the cards should serve.
Israel was the first country to launch a digital vaccine card in February. Now, the European Union is preparing to introduce a "digital green certificate" to verify people's COVID-19 vaccination, negative test status or recovery from COVID-19, with French President Emmanuel Macron saying the pass will help facilitate travel between European countries, and eventually, the United States.
The survey, conducted April 8-11 in France, Germany, Italy, Spain and the United Kingdom, indicates that while most people in all five countries want access to digital proof of vaccination, they're divided on whether such certificates should be mandatory.
In the five countries, more than half of the public supports giving all people who have received a COVID-19 shot digital proof of the vaccination. But 45 percent of French adults are in favor of a requirement that people carry digital proof of vaccination, compared to 63 percent of Italians.
And while 68 percent of adults in the United Kingdom said a vaccine card requirement would be helpful in determining who can safely return to pre-pandemic services, that share fell to 47 percent in France.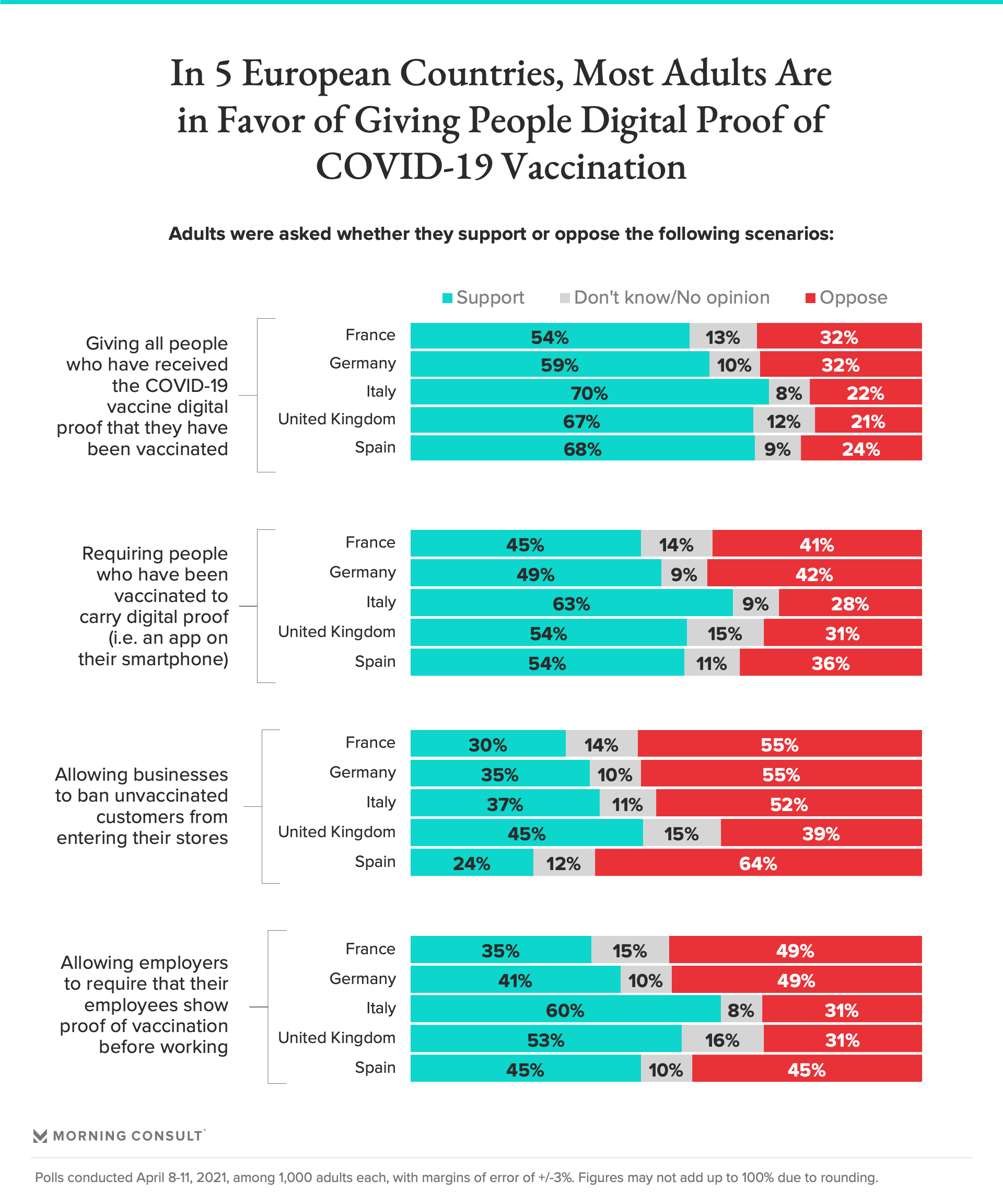 "Local politics really weigh in here," said Dr. Heidi Larson, founding director of the Vaccine Confidence Project at the London School of Hygiene & Tropical Medicine.
The U.K. government is working to develop its own standards for so-called vaccine passports, and the certificates have become heavily politicized, with dozens of officials decrying them as "divisive and discriminatory." The World Health Organization also doesn't back vaccination mandates "as a requirement for entry or exit" at this time.
In the U.K., 67 percent of adults said people should be given digital proof that they've been vaccinated, but 54 percent said people should be required to carry such proof with them. 
Another 45 percent said businesses should be able to ban people from their shops if they haven't been vaccinated. That share was the highest out of the five surveyed countries.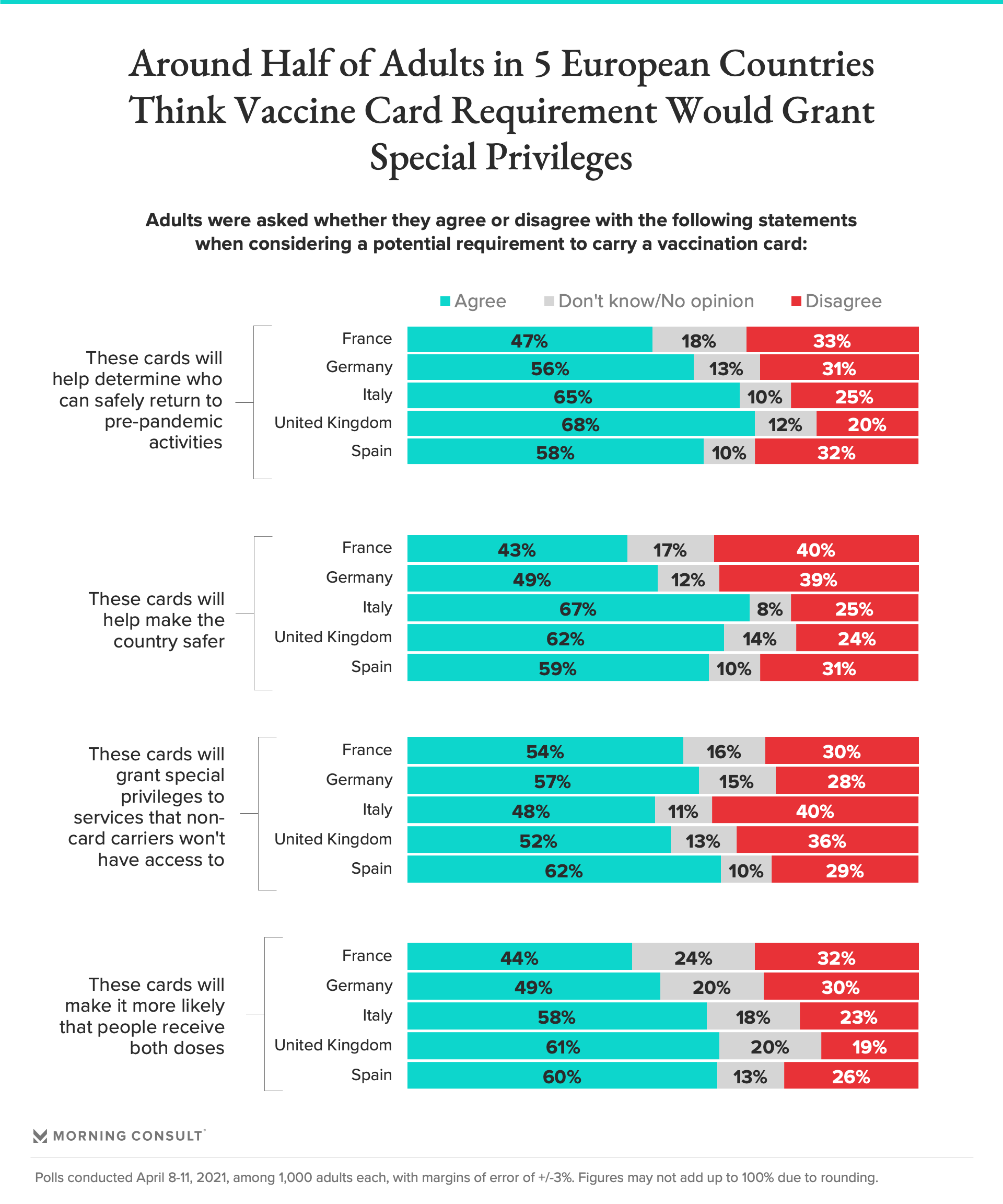 Europeans also held varying opinions about who should be involved with creating vaccine passports, if at all. Italian adults were the most likely to say the government should develop digital vaccination certificates without input from private companies, at 50 percent, and the least likely to say they were concerned about health data privacy and protection, at 42 percent.
In the other four countries, at least half of adults said they were concerned about health data privacy when it comes to digital vaccine cards, with that share reaching 67 percent in Spain.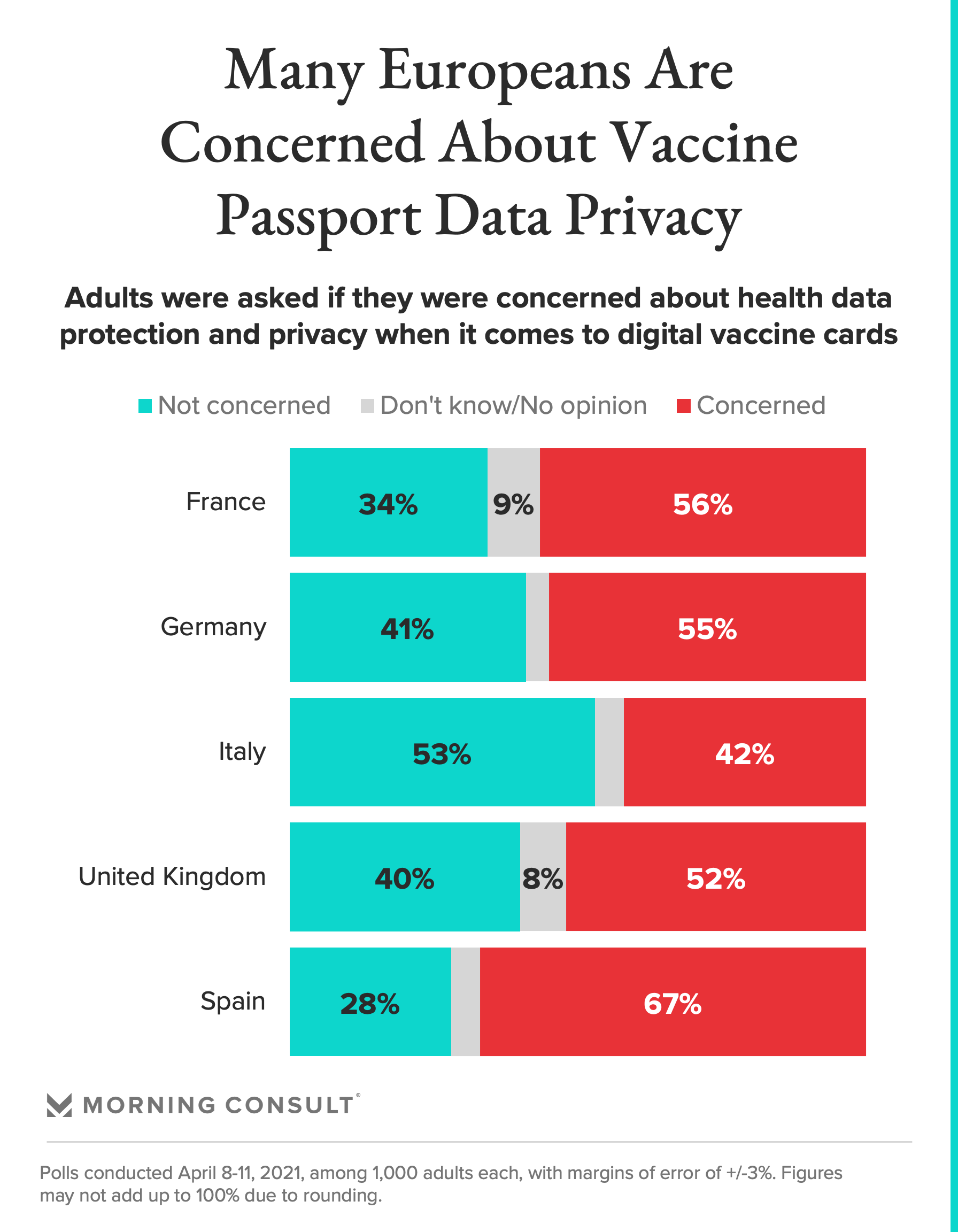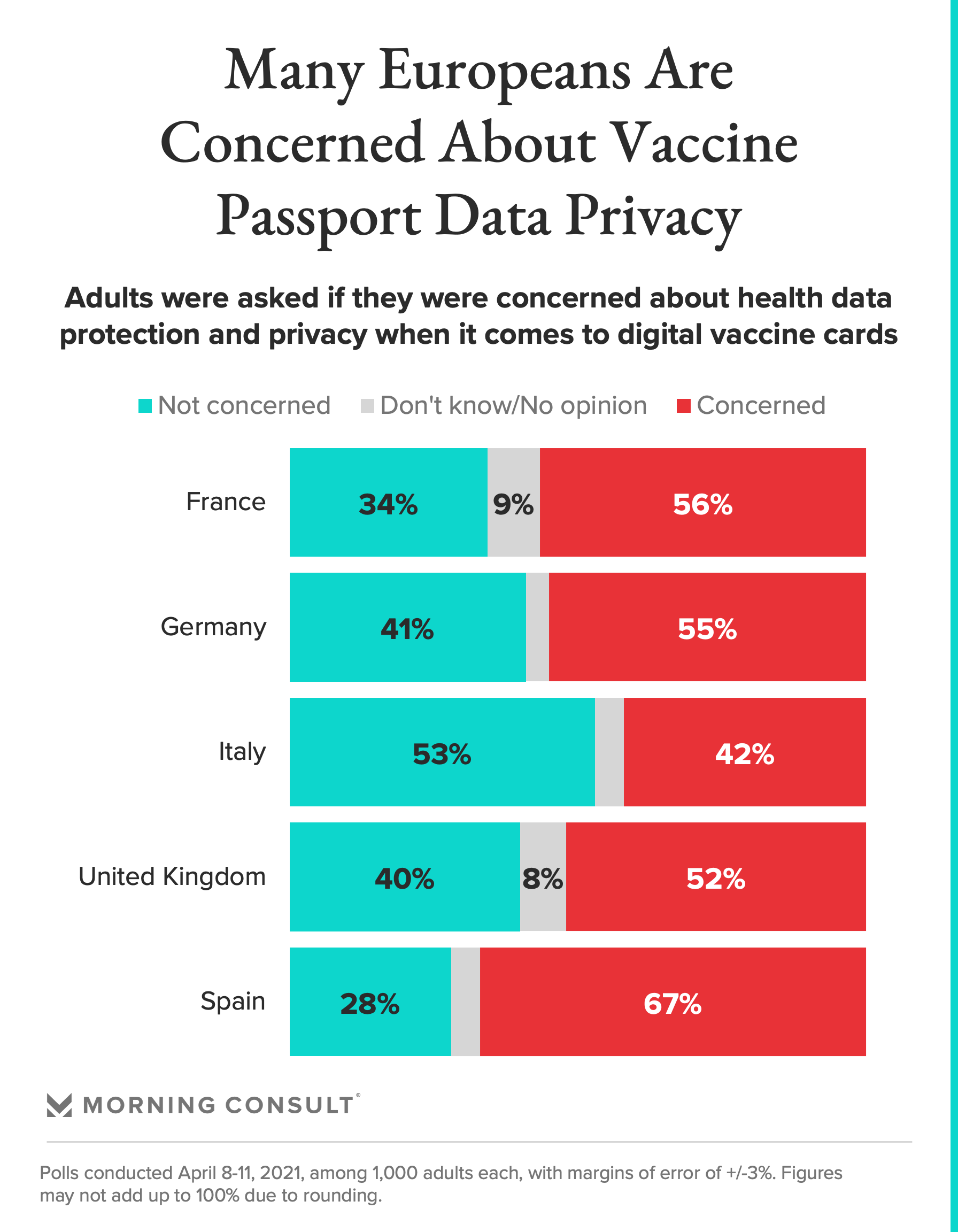 In Germany, 23 percent of adults said the government should develop digital vaccination certificates without input from private companies, while 26 percent said the government should create standards for private-sector passports and another 28 percent said neither the government nor private companies should develop digital vaccination certificates.
Part of the resistance toward vaccines and certificates is driven by "this feeling of being counted, being monitored, being watched," Larson said. And the framing of the certificates as vaccine "passports" likely only adds to "the anxiety around technology and the digital nature of it."
Overall, 66 percent of Italians said a vaccine card requirement is a good idea, compared with 58 percent of adults in the U.K., 56 percent of those in Spain, 52 percent of Germans and 41 percent of French adults.
Italy and Spain, notably, were hammered by COVID-19 early in the pandemic, with Lombardy and Madrid serving as early European epicenters. Now, 53 percent of Italians and 69 percent of Spaniards say they are very concerned about COVID-19, while adults in France and the U.K. were the least likely to say as much, at 35 percent each.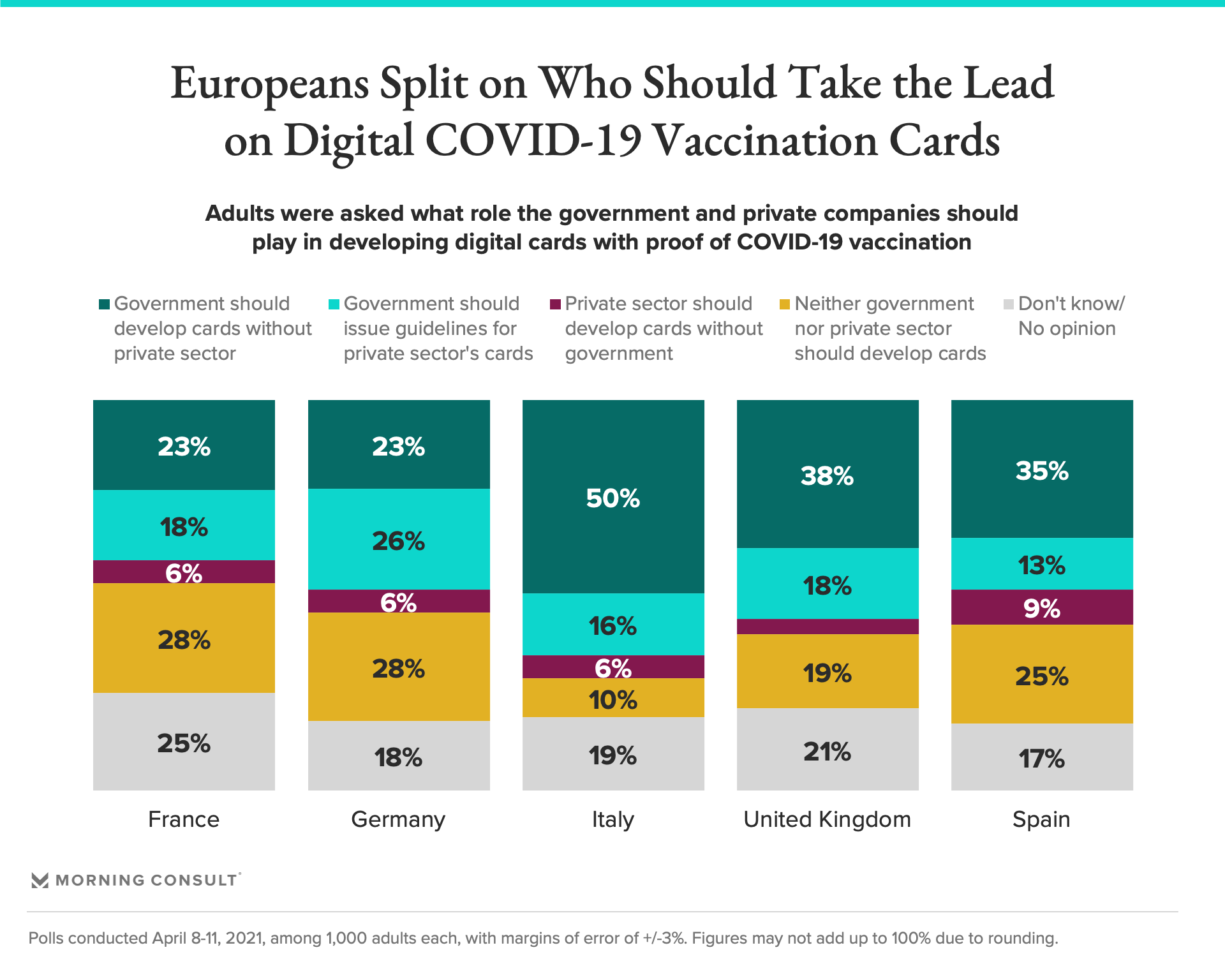 The findings come as the vaccine rollout picks up in the European Union after a slow start, due in part to delayed vaccine shipments and concern over rare blood clots possibly tied to AstraZeneca PLC's shots. The United Kingdom, meanwhile, has one of the highest vaccination rates in the world, about the same rate as the United States, according to a tracker from The New York Times.
Perceptions on vaccine passports could shift as they're introduced. The European Parliament has a plenary meeting this week that is expected to focus in part on plans for the digital green certificate, with the goal of having a framework ready by the summer.
The bottom line, Larson says, is that "people should just have documentation of whether they were vaccinated or not, and some situations are going to require it and some aren't."
All five surveys were conducted among 1,000 adults in each country and carried a margin of error of 3 percentage points.