President Joe Biden last week announced that the United States would hinge its decarbonization process around a new target: emissions reductions of at least 50-52 percent by 2030, as compared with a 2005 baseline. While it had been teased for months, the ambition of the commitment — almost doubly as aggressive as the Obama administration's 2015 pledge made when the former president signed the Paris Agreement — came as a surprise to many. 
But new Morning Consult data found that for most voters, it was a pleasant one. In a survey conducted April 21-25, 64 percent of voters said they support the new commitment, while 20 percent opposed the pledge, including 11 percent who did so "strongly."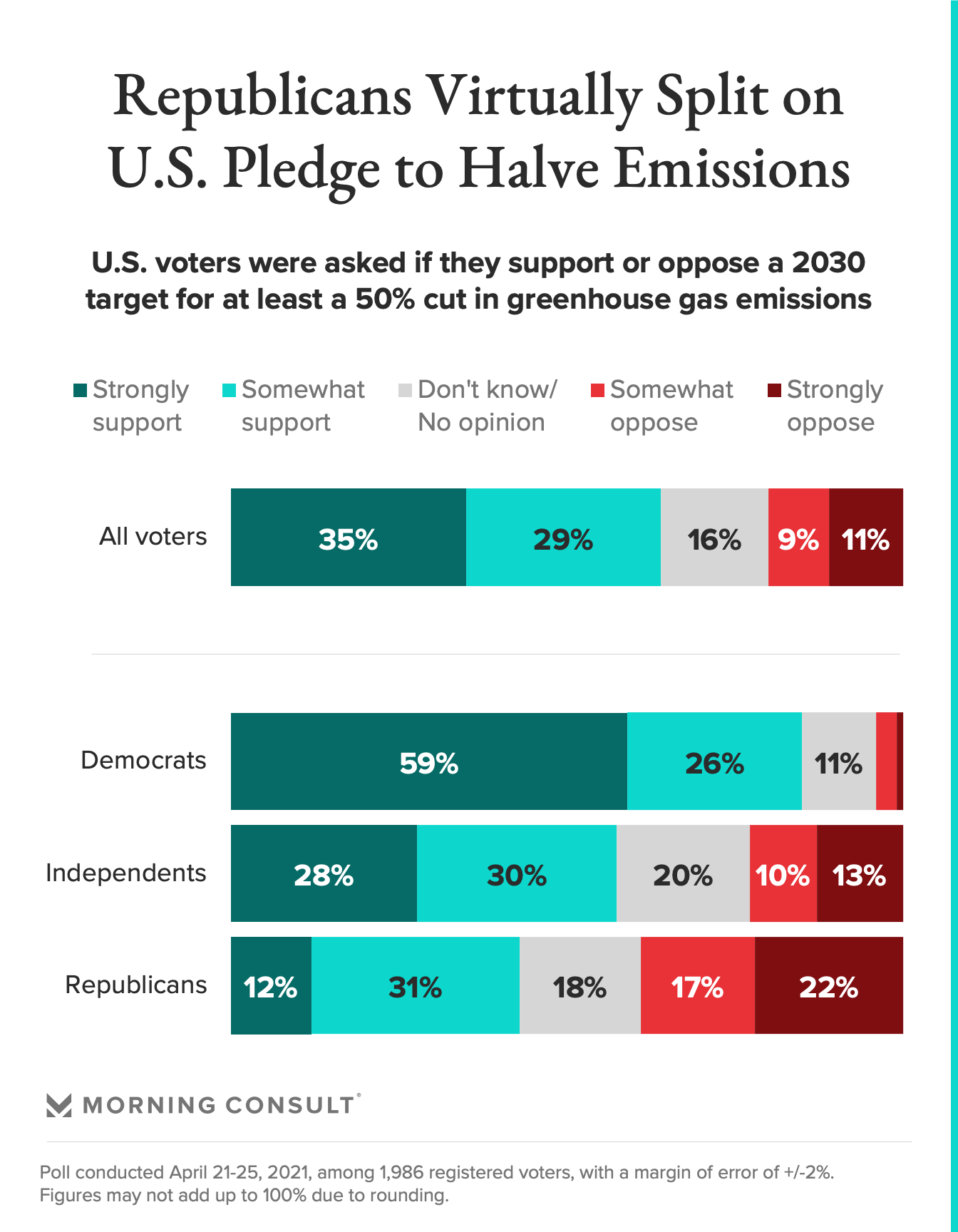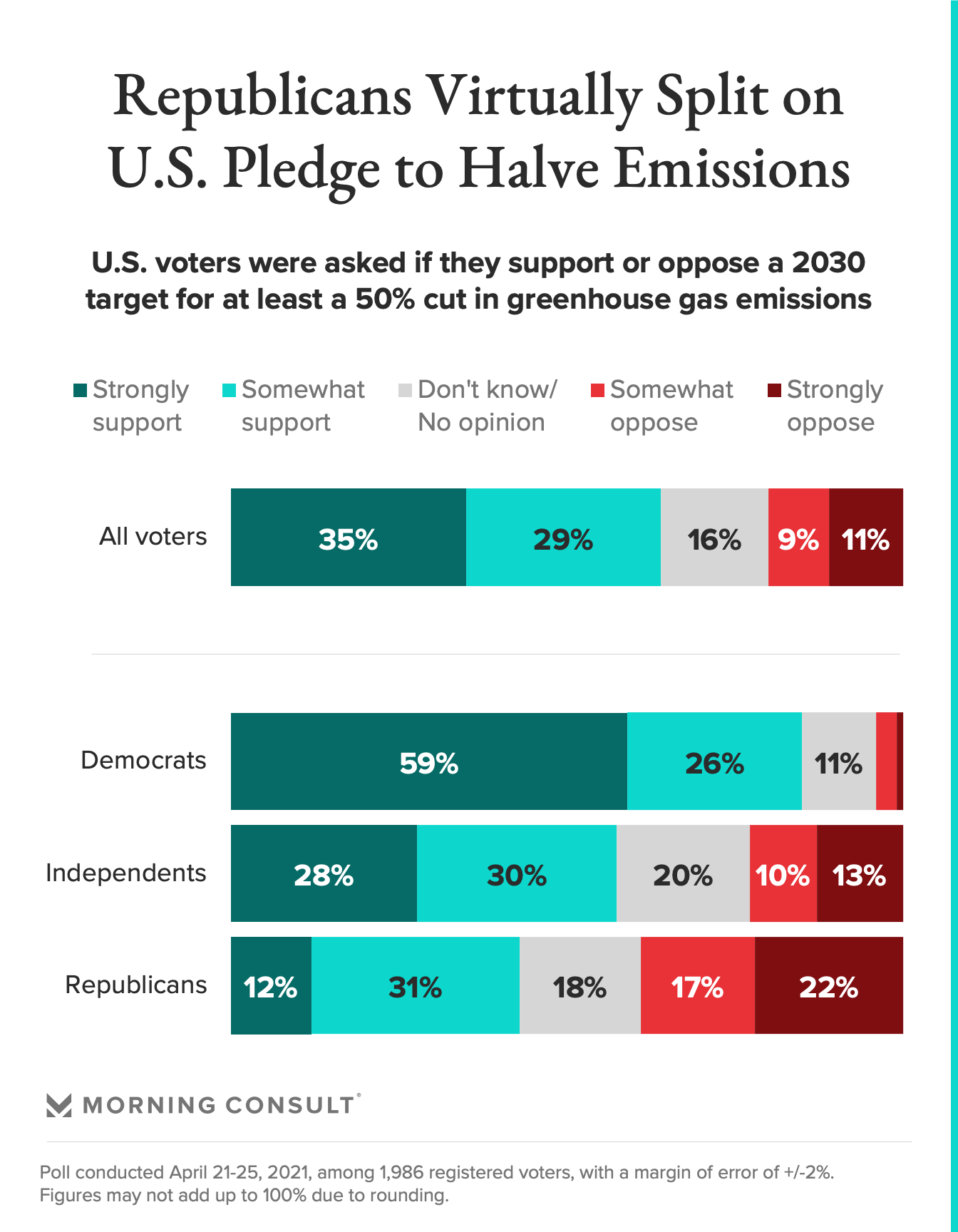 Predictably, Democrats had higher levels of support than the overall electorate, at 85 percent compared with just 4 percent opposed. And while fewer than half of GOP voters say they back the move (43 percent), those in support outnumber those who oppose (39 percent), albeit by a difference that falls within the subsample's margin of error. 
A separate poll from Morning Consult and Politico found that 21 percent of voters had seen, read or heard a lot about the commitment, while 39 percent heard some and 19 percent said they heard nothing at all. Conducted in the days following Biden's two-day international climate summit — before which Biden unveiled the commitment and encouraged similar pledges from the 40 world leaders he had invited — the April 24-26 survey found that a larger share of voters had seen, read or heard of the emissions pledge than of the event itself: 15 percent heard a lot about the event, 29 percent heard some and 31 percent heard nothing at all.
Regardless, a plurality of voters applauded both the scope of the commitment and the country's move to reclaim the mantle of climate leadership. 
Asked to consider whether Biden's 2030 emissions goal displays the right level of ambition, 42 percent of voters said it is "just right," while 30 percent said it is too ambitious and 11 percent said it is not ambitious enough.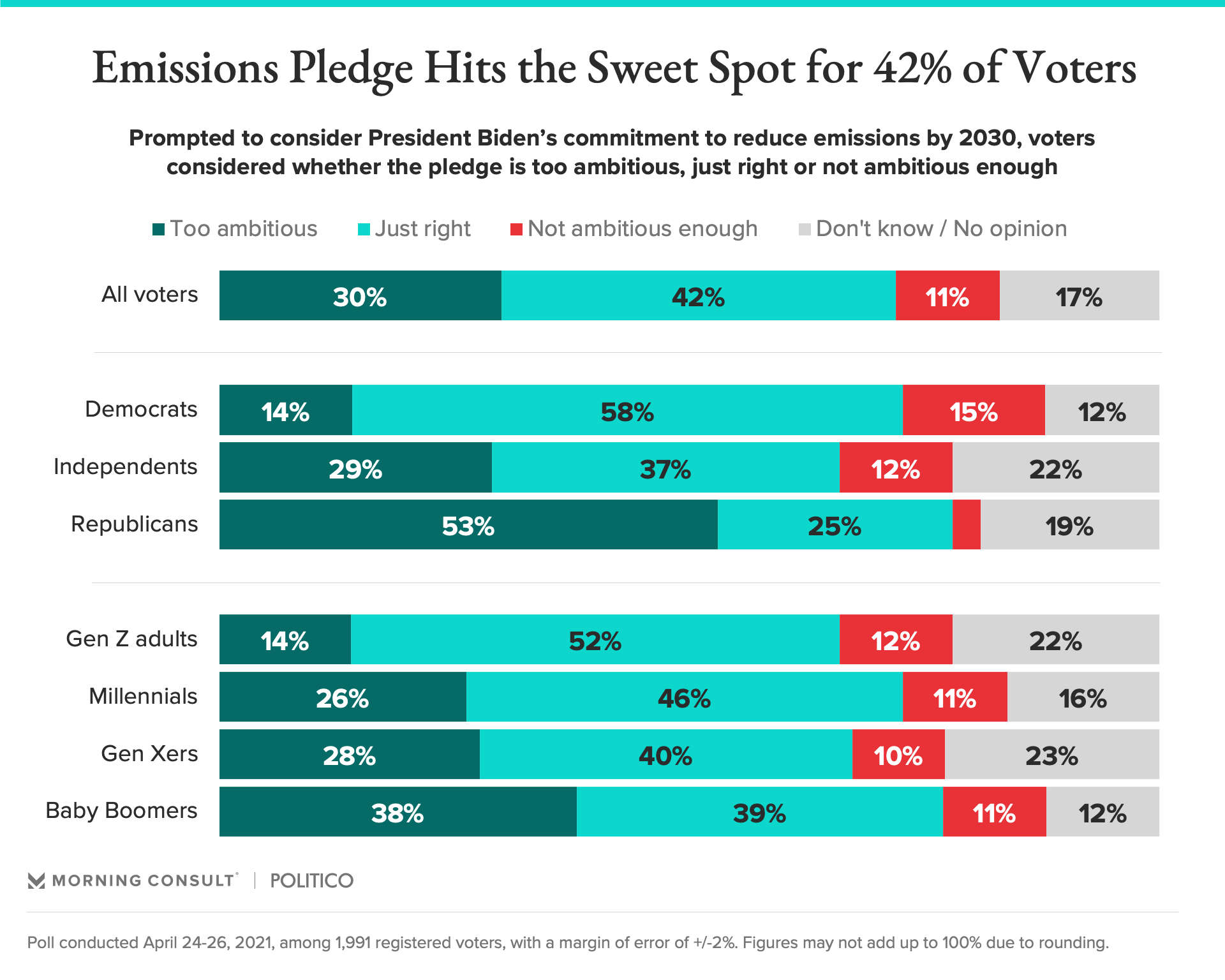 The question elicited a marked generational divide between the oldest and the youngest respondents, with baby boomers most likely to say it is "too ambitious" (38 percent vs. 14 percent for Gen Z adults) and Gen Z adults most likely to say it is "just right" (52 percent vs. 39 percent for boomers). In previous polls, members of Gen Z demonstrated the parallel beliefs that climate change is inevitable, but that taking action can slow the phenomenon.
Meanwhile, two-thirds of respondents said they agree that the United States has a responsibility to "lead the world on combating climate change," while 23 percent said they disagree. An overwhelming majority of Democrats agreed on this point (89 percent), and a plurality of Republicans joined their counterparts across the aisle: 46 percent said they agree, while 41 percent disagree.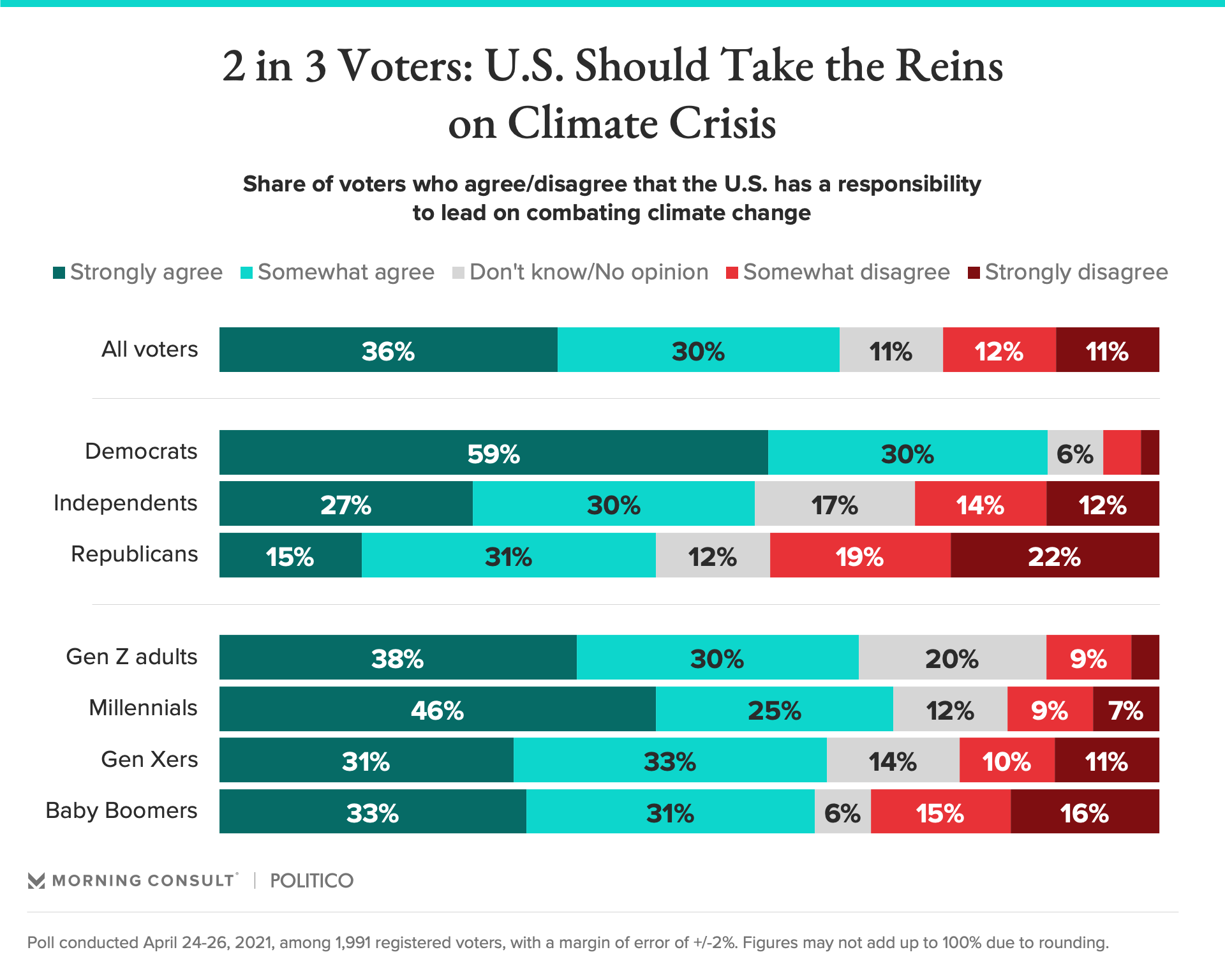 In a bid to help developing countries that are already bearing the brunt of the climate crisis while contributing a mere fraction of the emissions warming the planet, Biden also announced last week that the United States will double its public climate finance to such nations, up from the $2.8 billion annual average during the baseline period of fiscal 2013-17.  
But on this front, the administration has met a more divided electorate. The April 21-25 poll found that 40 percent of voters said the United States should provide financial aid to help developing nations reduce carbon emissions in their own countries, and an equal share said the country should not. The remaining 20 percent said they did not know or had no opinion. 
However, the balance of public opinion seems to be shifting in Biden's direction: In a June 2017 poll that asked the same question, 48 percent opposed U.S. aid toward lowering developing countries' carbon emissions while 32 percent were in favor.
Both of the 2021 polls surveyed roughly 1,990 registered voters and have margins of error of 2 percentage points.