Just under half of voters support waiving patent protections for COVID-19 vaccines, according to a new Morning Consult/Politico poll that comes as congressional Republicans criticize the Biden administration for backing a proposal to do so.
The White House announced last week that it supports an international effort to have the World Trade Organization temporarily waive intellectual property rights for COVID-19 vaccines, a move that came after public pressure from congressional Democrats. They argue a patent waiver would help developing countries struggling to vaccinate their populations scale up production of the shots and "prioritize people over pharmaceutical company profits."
The decision was met with immediate pushback from the pharmaceutical industry and Republican lawmakers, who say the United States should instead focus on other efforts to shore up global vaccine supplies. European Union leaders echoed their position over the weekend, urging the Biden administration to lift restrictions on vaccine exports.
"Intellectual property protections are part of the reason we have these life-saving products," Sen. Richard Burr (R-N.C.), said during a Senate Health, Education, Labor and Pensions Committee hearing Tuesday. "If these protections are not in place for innovators of life-saving medicines, we will not have them for the next pandemic."
In the survey, a 48 percent plurality of registered voters said they support waiving the patent rights, while another 21 percent of voters opposed the measures and 31 percent said they don't know or have no opinion. The poll was conducted May 7-9 among 1,994 registered voters and has a margin of error of 2 percentage points.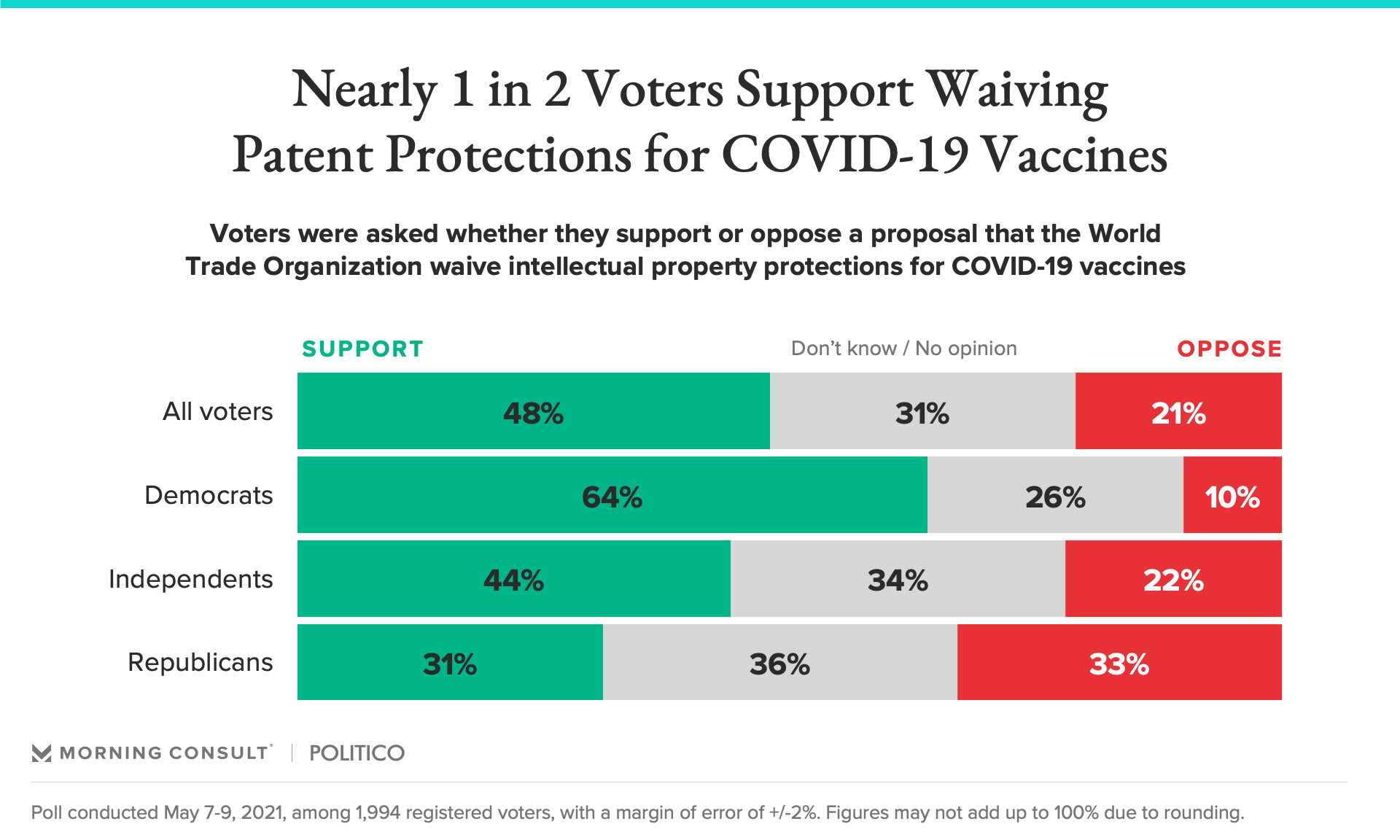 Democratic voters were more likely to support the waiver than oppose it, 64 percent to 10 percent, while Republicans were split: 31 percent said they support the measure, 33 percent oppose it and 36 percent said they don't know or have no opinion.
Yet despite policymakers' recent focus on the patent waiver, most voters have not been especially clued in: 56 percent said they had seen, read or heard "not much" or "nothing at all" about the Biden administration's support for the waiver proposal, including 48 percent of Democrats and 67 percent of Republicans.
The effort to waive patent protections for COVID-19 vaccines will face hurdles even with the Biden administration's support, and debate over the measure will likely remain a focal point in the months to come. WTO Director-General Ngozi Okonjo-Iweala said Monday that she hopes the group comes to a "pragmatic" decision about whether to waive the protections by December.