The state of West Virginia is offering young people a $100 savings bond to get the COVID-19 vaccine. In New Jersey and Connecticut, vaccinated adults can get a free beer. The governor of Ohio announced a million-dollar lottery drawing for vaccinated state voters. And Maryland will pay state employees who get vaccinated — and take the money back if they don't get booster shots that could be recommended in the future.
But as states and communities attempt to entice unvaccinated Americans to get a COVID-19 shot, new Morning Consult polling indicates some vaccination incentives and requirements could be more effective than others.
When it comes to incentives, for example, 57 percent of unvaccinated adults said a big cash payment, such as a $1,000 savings bond, would sway them, while 43 percent said they'd probably or definitely get vaccinated if they were offered a smaller reward, such as a $50 bond. Adults under age 45 were more likely to say a big financial incentive would make them more willing to get a vaccine.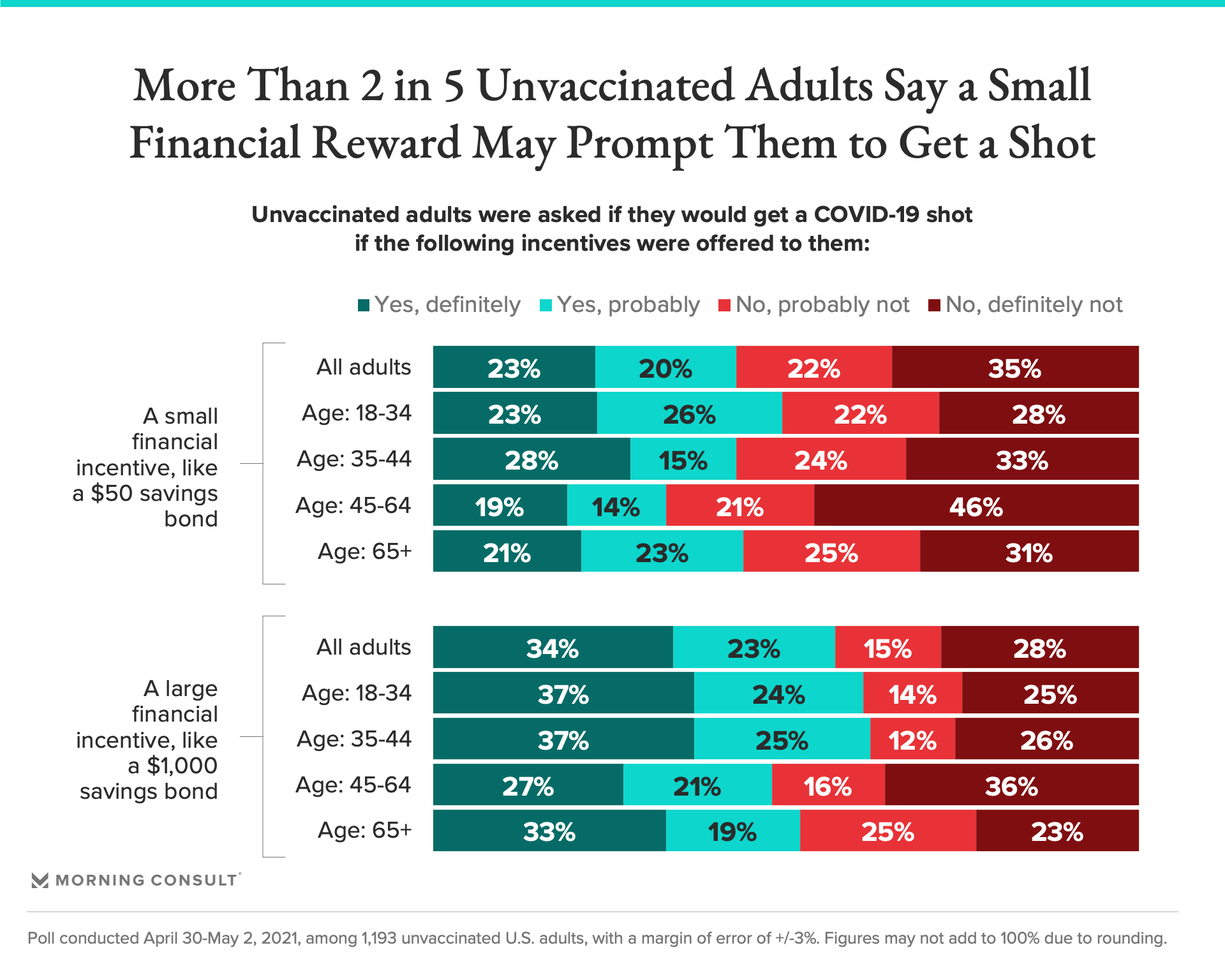 Proponents of the incentives have billed them as a way to improve vaccination uptake among younger adults who may not have reservations about the shot but rather feel less urgency about getting it. Brands have touted freebies for vaccinated people, and a growing number of governments and universities are considering their own rewards.
"My guess is that's probably going to work," President Joe Biden said of vaccine incentives during a call with governors Tuesday.
But in the survey — and in new global tracking data — unvaccinated adults largely listed vaccine concerns as major reasons they hadn't yet gotten a shot. For example, 44 percent said they were nervous about the potential long-term effects of the vaccine, while 32 percent said they were concerned about the short-term effects. And 39 percent said there is too much conflicting information about the shot right now.
Another 22 percent said they planned to get vaccinated soon when it was their turn, while 12 percent said they hadn't been able to make an appointment and 9 percent said their preferred shot was unavailable near them.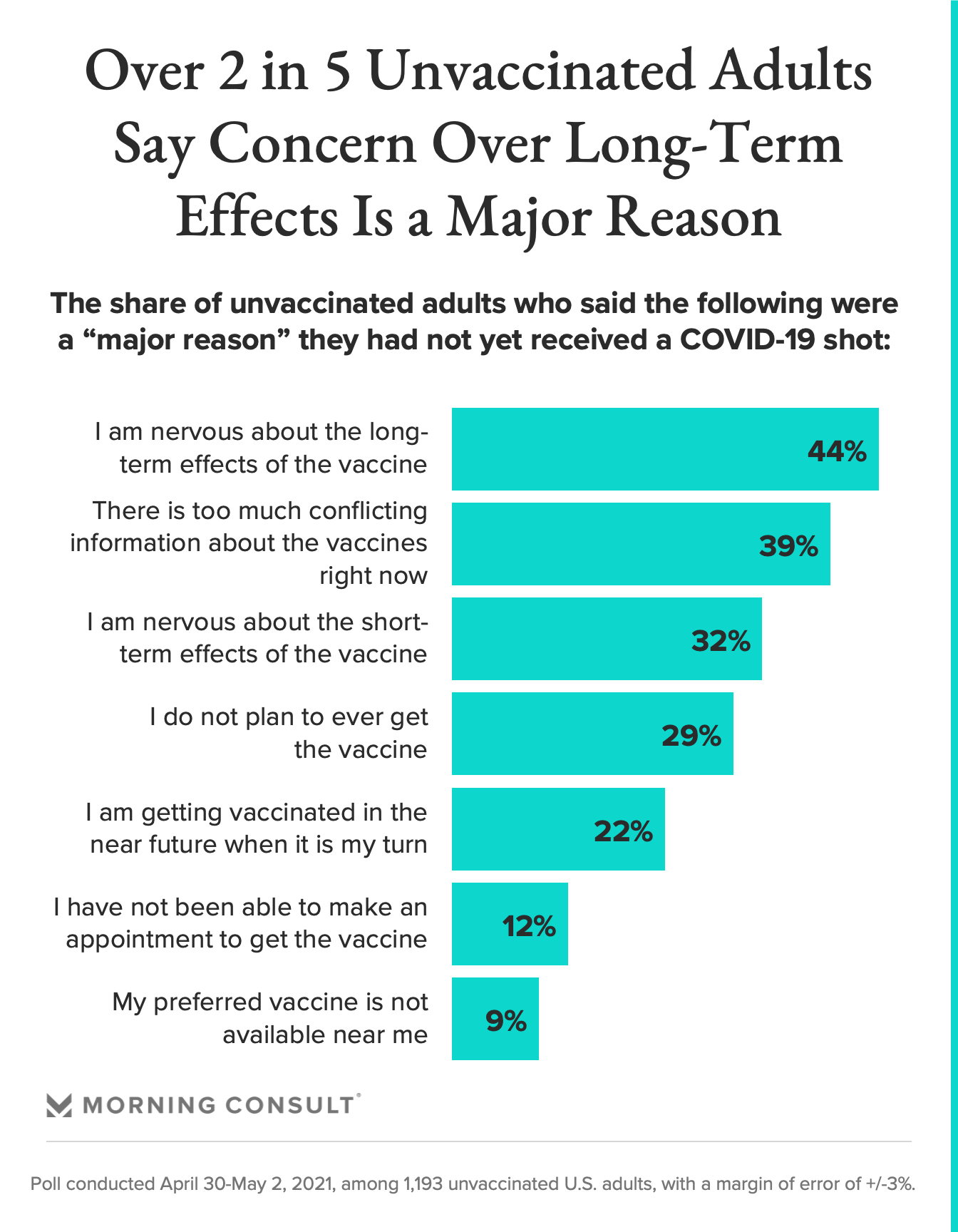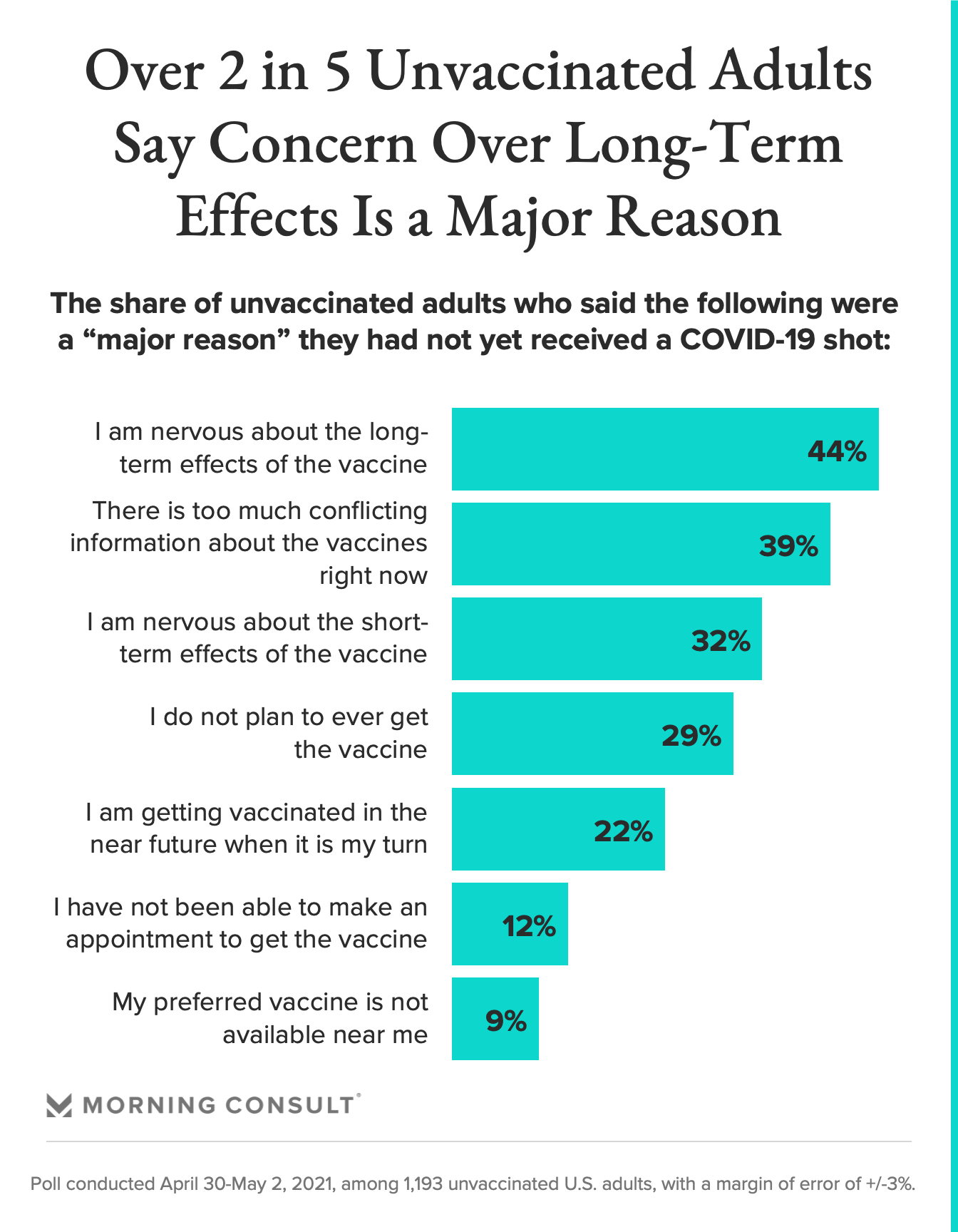 Unvaccinated people were about as receptive to the stick as they were the carrot: 57 percent said they'd get a COVID-19 shot if it were required to work or shop in-person, while 48 percent said they'd do so if it were required to dine indoors at a restaurant and 45 percent said they'd likely or definitely get vaccinated if they had to in order to fly domestically.
Health officials say making vaccination more convenient could spur more people to get a shot. The poll suggests it could help: About half of unvaccinated adults said they would probably or definitely get a shot if their employer provided vaccinations at the workplace; if their primary care doctor provided vaccinations during routine visits; or if a walk-up vaccination site that does not require an appointment opened near their workplace.
They were slightly less likely to say a walk-up site near home would affect their decision, with 42 percent saying they'd likely or definitely get vaccinated if that were the case.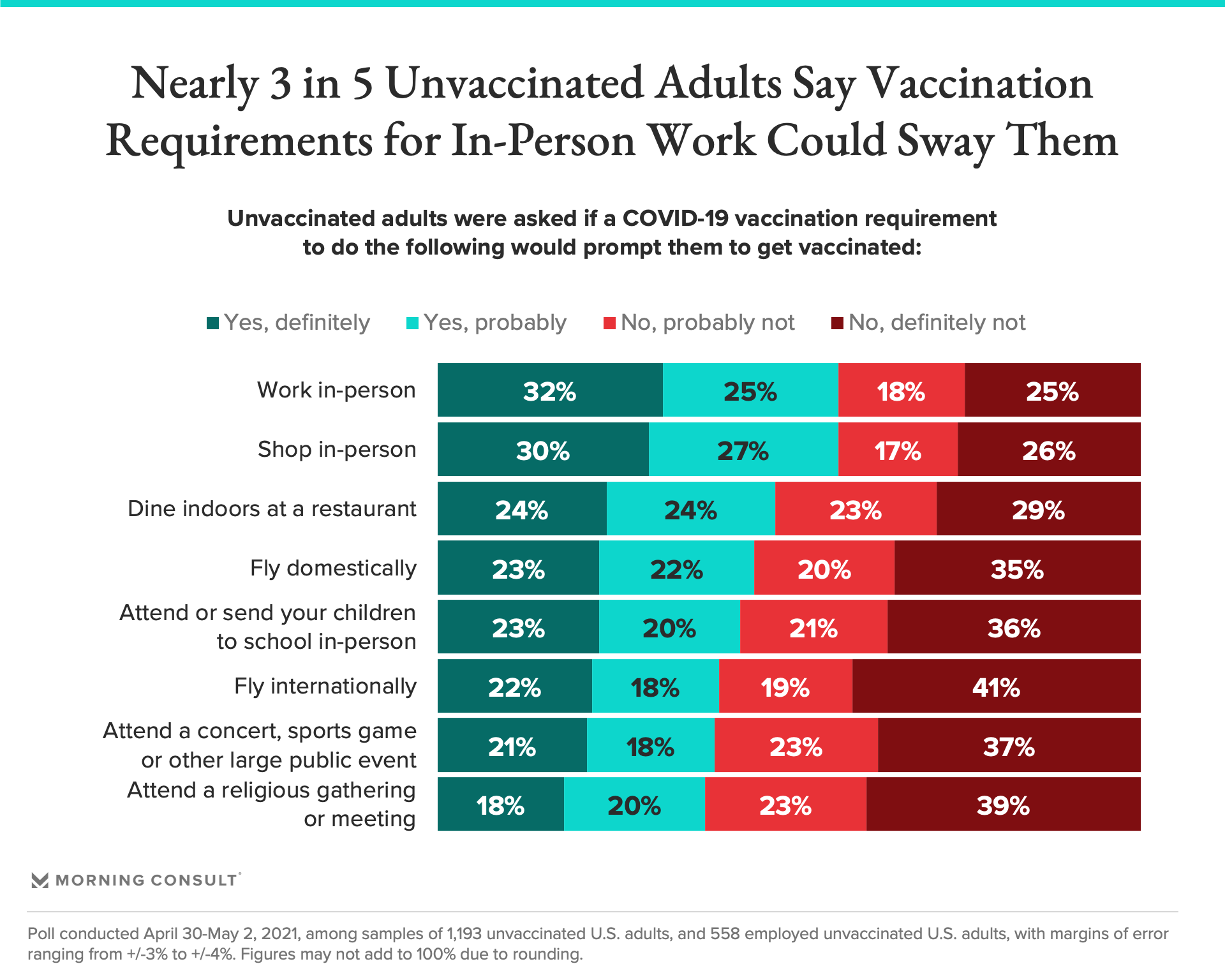 The prospect of paid time off from work to get vaccinated, which the Biden administration called on all employers to offer last month, could also move the needle for some people. Unvaccinated adults were roughly split down the middle on whether paid time off for vaccine appointments or related sick days would sway them to get a shot.
Word of mouth continues to play an important role in the vaccine rollout, too.
In the survey, 45 percent of unvaccinated adults said they'd get vaccinated if someone they trusted recommended it. Another 23 percent said there was one person who could encourage them to get vaccinated, with most listing family members such as their parents or their romantic partners in an open-ended question.
The survey was conducted April 30-May 2 among 2,200 U.S. adults and carries a margin of error of 2 percentage points. The subsamples of 1,193 unvaccinated adults and 558 unvaccinated employed adults had margins of error of 3 and 4 points, respectively.