Unvaccinated adults are more comfortable ditching their masks than those who have gotten a COVID-19 shot, though the public overall is wary of going maskless despite new federal guidance for vaccinated people, a new Morning Consult survey shows.
The Centers for Disease Control and Prevention relaxed its mask guidance for fully vaccinated people late last week, marking a significant step toward the country's post-pandemic normal. But it also generated backlash from health officials who said states and businesses will now have to choose between enforcing mask mandates and trusting the public to follow the guidelines — effectively a vaccination honor system.
Dr. Rochelle Walensky, the CDC director, defended the decision over the weekend, saying the updated guidance was "not permission to shed masks for everybody everywhere." And at the White House on Monday, President Joe Biden urged people to respect businesses that decide to maintain mask mandates.
The Morning Consult survey, conducted May 14-17, indicates that overall, most adults still feel more comfortable wearing masks than not for a variety of activities, but those who haven't gotten a COVID-19 shot are much more comfortable going maskless in public. Fifty-one percent of unvaccinated adults, for example, are comfortable resuming their normal routines without donning a mask, compared with 34 percent of vaccinated adults.
Unvaccinated adults are roughly twice as likely as their vaccinated peers to say they're OK going maskless at school, a religious gathering, sports game, concert, work conference, shopping mall or gym.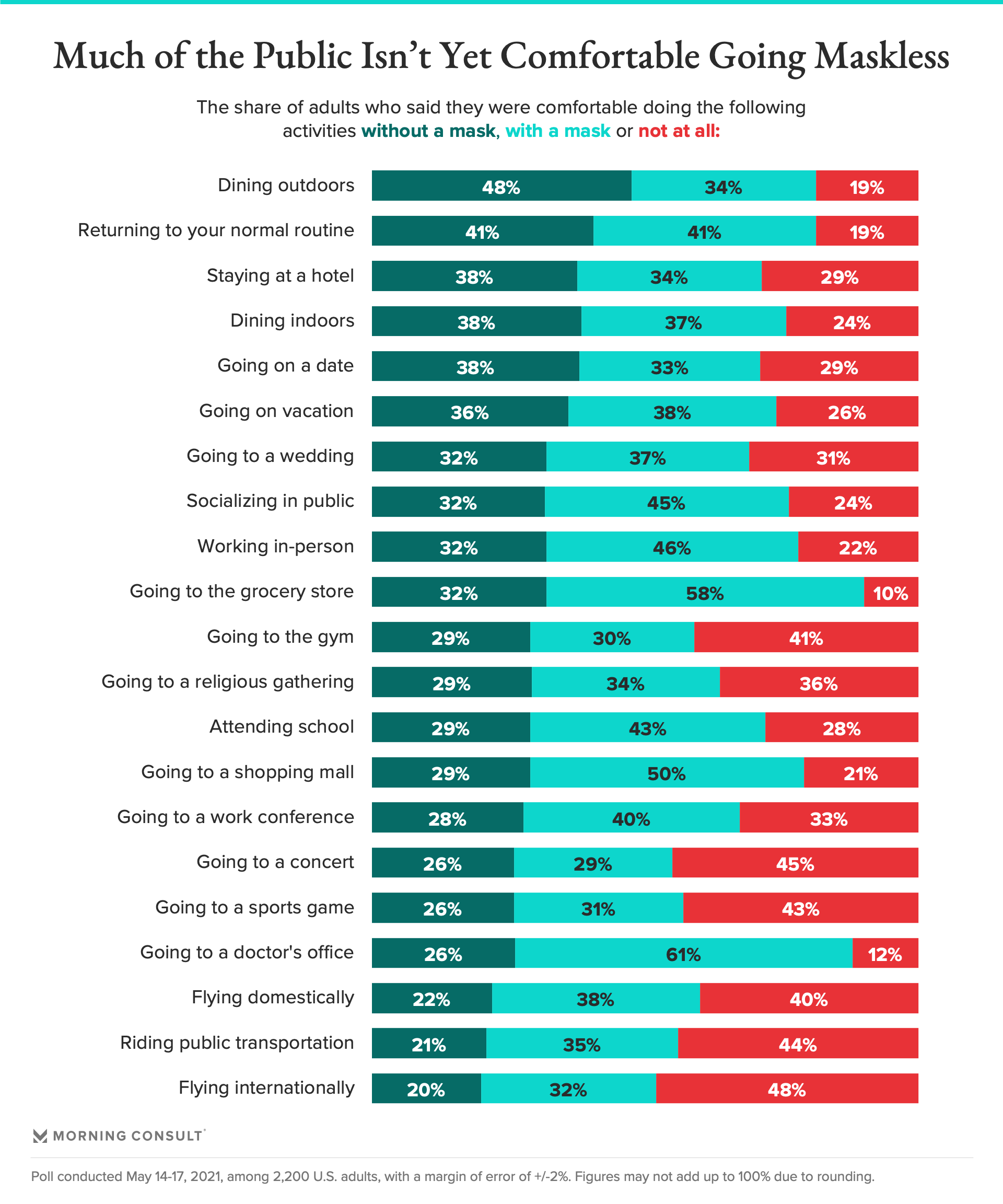 Even so, the public isn't quite ready to toss their masks entirely. Overall, just under half of adults said they were comfortable dining outdoors without a mask — the highest share of any activity in the survey — while 38 percent would eat indoors at a restaurant and 26 percent each said they would go to a concert, sports game or doctor's office without a mask.
For many activities in the survey, though, adults were more likely to say they'd be comfortable doing them if they kept their masks on. Sixty-one percent, for example, said they'd be OK visiting a doctor's office masked.
Another 58 percent of adults said they'd keep their masks on at the grocery store, while 50 percent said they'd do so at a shopping mall and 46 percent said they'd be comfortable working in-person if they wore a mask.
Notably, adults were more likely to say they'd be comfortable attending school, visiting a doctor or flying domestically or internationally if they kept their faces covered — all activities where the CDC still recommends that everyone wears a mask, regardless of vaccination status.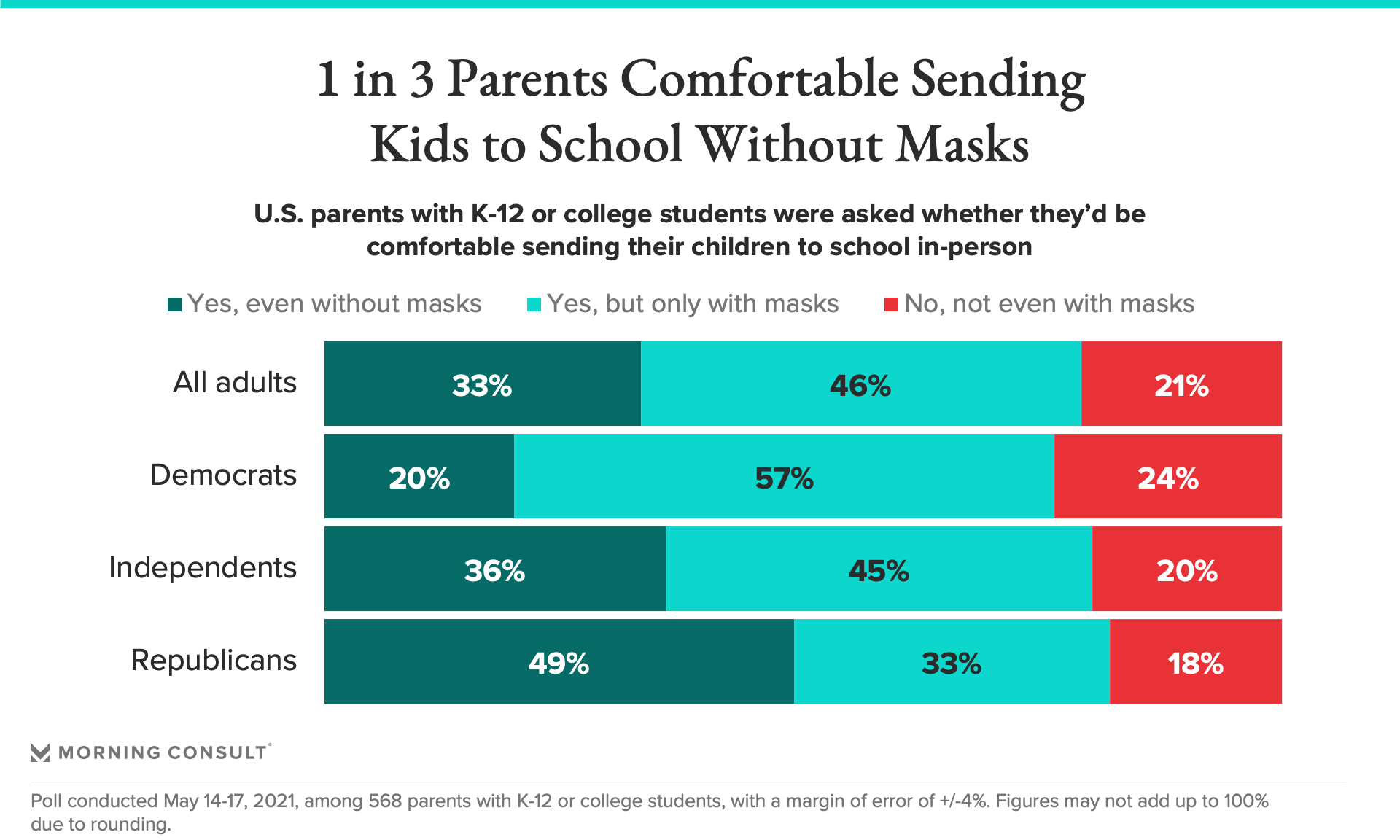 Yet there are still some divides. Among parents with K-12 or college students, 33 percent said they'd be comfortable sending their children to school maskless, including 49 percent of Republicans and 20 percent of Democrats. Another 57 percent of Democrats and 33 percent of Republicans would be OK with in-person schooling if their children wore masks.
And beyond their own comfort, adults were less decisive on how state and local officials should approach mask rules in wake of the new guidance.
A 45 percent plurality of Republicans said governments should lift mask mandates, while a 46 percent plurality of Democrats said officials should set mask rules based on local conditions.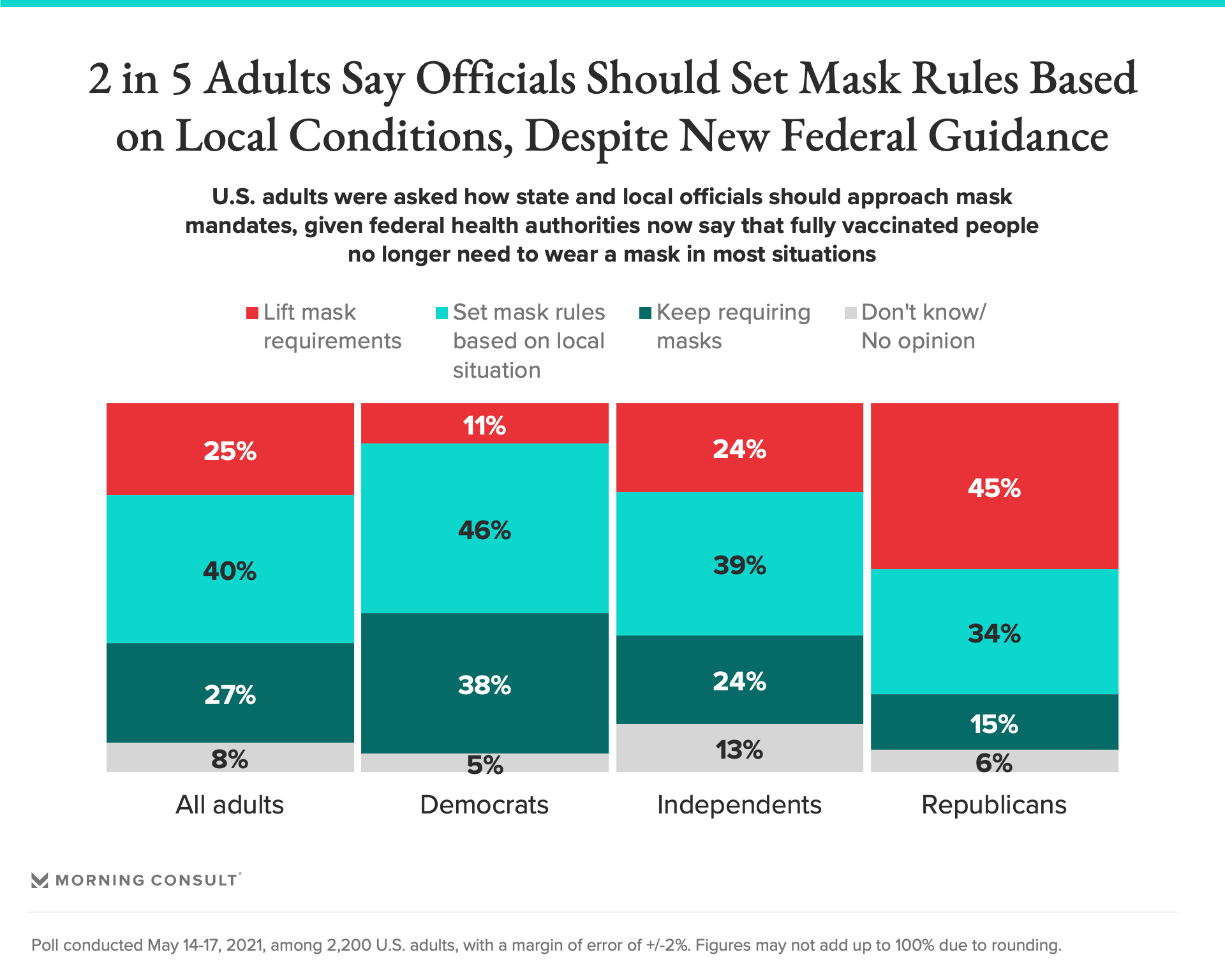 Overall, 40 percent of adults said officials should set mask mandates based on what's happening in their local community, while 27 percent said they should continue requiring masks and 25 percent said the rules should be dropped.
When asked to consider the CDC guidance, respondents were slightly more likely to say businesses should maintain their mask mandates for shoppers than to let all customers in without masks, at 31 percent and 22 percent, respectively.
Multiple states and retailers have announced they will relax their mask-wearing requirements since the CDC's announcement last Thursday, including New York, Massachusetts, Virginia and Maryland, as well as CVS Health Corp., Walmart Inc., Target Corp. and Costco Wholesale Corp.
The poll was conducted among 2,200 U.S. adults and has a margin of error of 2 percentage points.