Software maker Basecamp's decision late last month to ban employees from sociopolitical discussions on internal workplace tools prompted a round of resignations and elicited a mixed reaction outside the company, and new polling indicates the debate is a tricky one for businesses: Over half of working Americans believe employees should be allowed to freely express political opinions in the workplace, but even more say that personal political views don't belong there.
According to a new Morning Consult survey conducted May 20-22, 52 percent of U.S. workers said they agreed that "employees should be allowed to freely express their political opinions at work," compared with 75 percent who also said that "personal political views do not belong in the workplace." The poll was conducted among 1,000 U.S. adults who said they worked in the private or public sector, with a margin of error of 3 percentage points.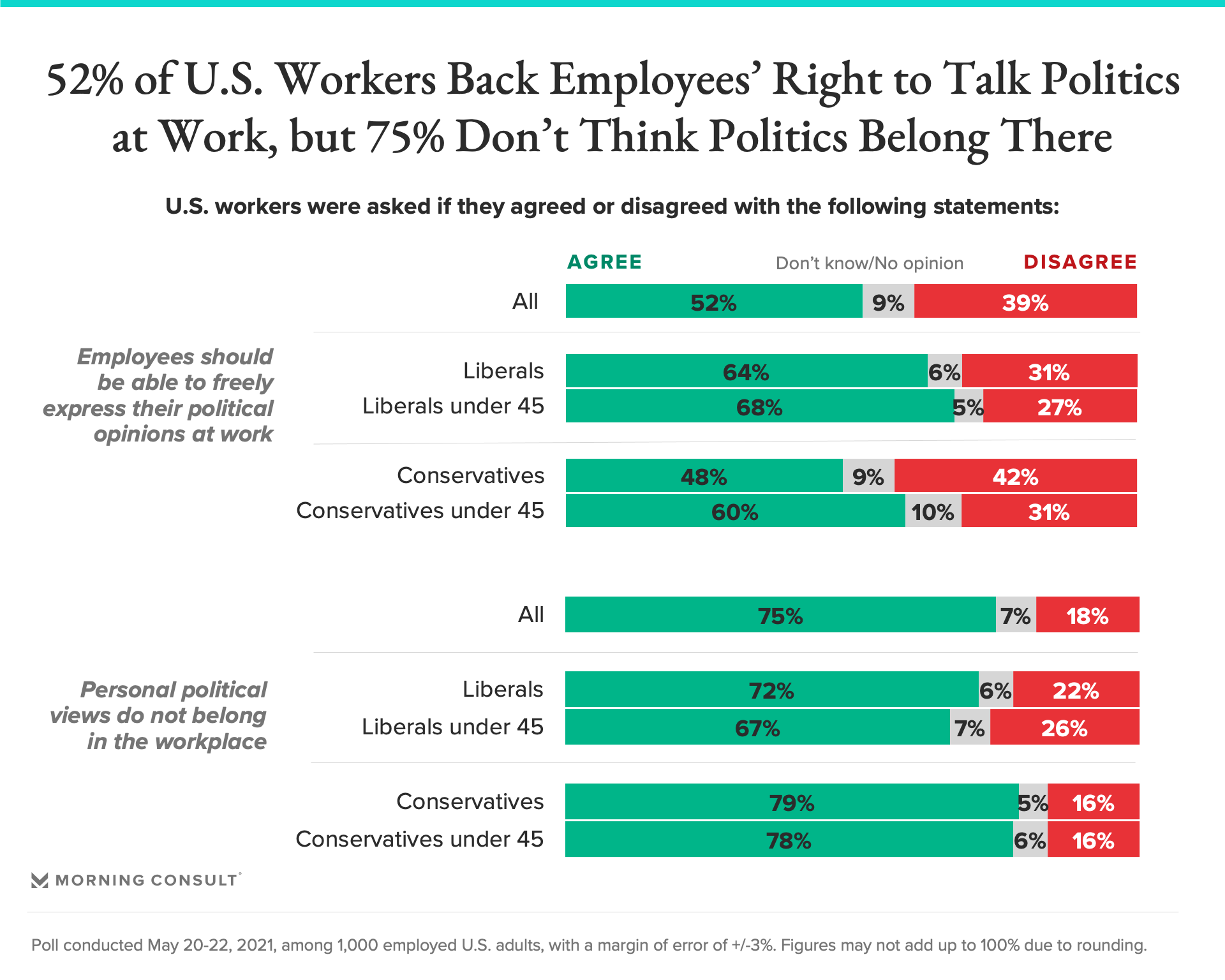 Liberals felt stronger than both conservatives and the overall sample of employed Americans about workers freely expressing opinions, as 64 percent agreed with the statement. Conservatives, however, expressed more support than their liberal counterparts and colleagues overall for the idea that personal politics don't belong at work: 79 percent agreed with the apolitical statement.
Opinions were even more pronounced among conservatives and liberals under the age of 45. Sixty-eight percent of those liberals supported the expression of political opinions at work, while 78 percent of conservatives said the workplace is not an appropriate setting for personal political views.  
Another survey conducted May 6-9 also found that some subjects are more divisive than others.
While more than half of workers polled view discussing religious beliefs or whom they voted for in an election as inappropriate workplace topics, a similar share believes it's fine to discuss the criminal justice system, and even more (60 percent) said it's appropriate to talk about the choice to get vaccinated against COVID-19, according to the survey, which polled 1,031 U.S. workers and carries a margin of error of 3 points.
Forty-three percent of workers said national politics and police brutality are appropriate topics to discuss at work, while 44 percent said they were inappropriate subjects.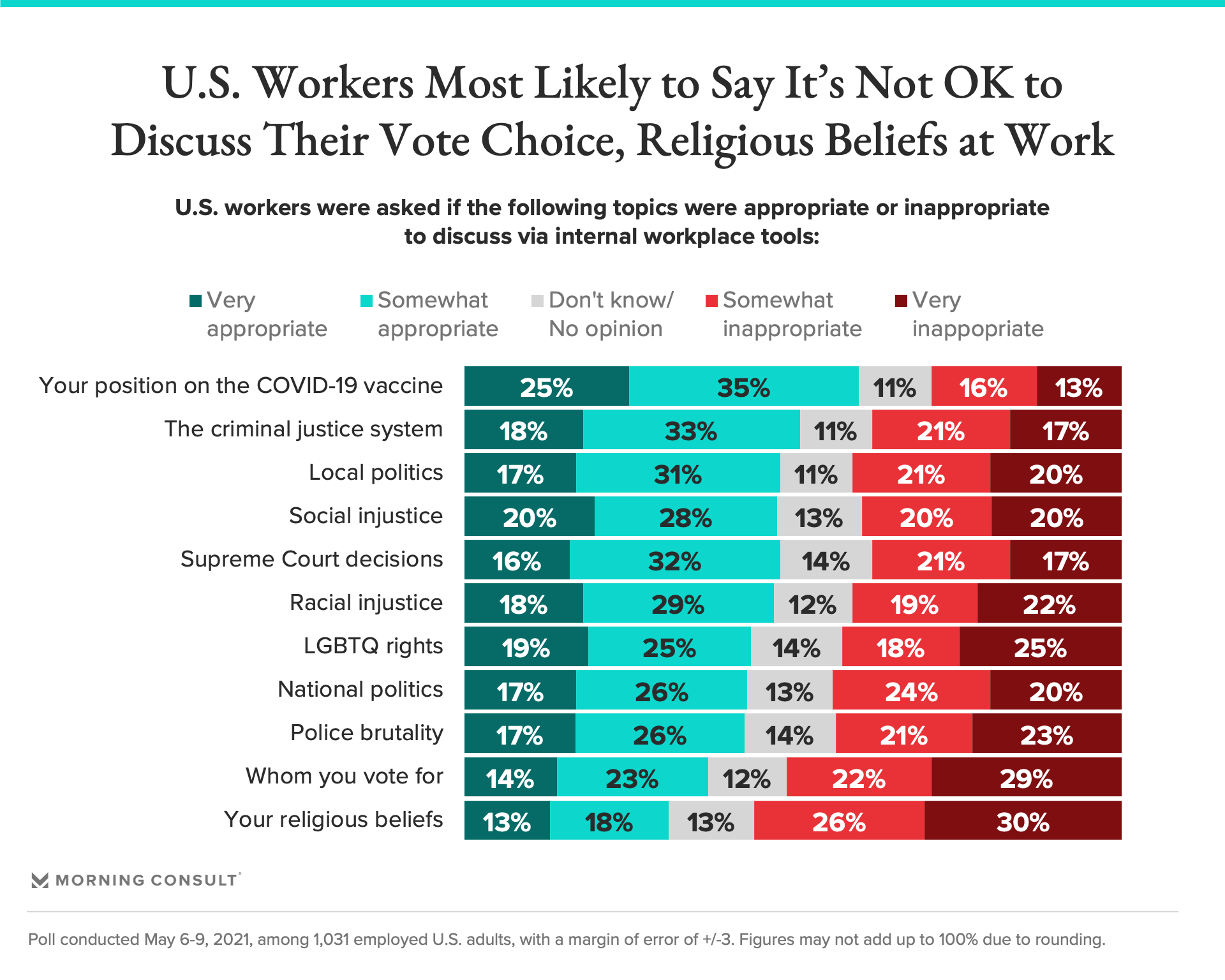 At least 20 Basecamp employees, roughly one-third of its workforce, reportedly said they would resign due to the productivity software company's policy to ban discussing politics at work, which was announced April 26. Employees were asked to refrain from sharing political stories via an internal work chat and "performing political advocacy in general," co-founder David Heinemeier Hansson wrote in a blog post further explaining the decision.
"No comment thread on Basecamp is going to close the gap on fundamental philosophical and political differences," he wrote. "And we're left worse for wear when we try."
The reaction was similar to the fallout from Coinbase's own ban, to promote an "apolitical culture," in September, which led 60 employees, or 5 percent of its workforce, to leave the cryptocurrency exchange company, Chief Executive Brian Armstrong said. 
While these decisions elicited passionate responses from some, the May 6-9 poll suggests ample support for such policies.
More than half of employed Americans (54 percent) said they supported measures to ban workers from discussing social or political issues via internal workplace tools, compared to 30 percent who opposed them. 
Completely banning social or political discourse at work, including in-person conversations, was more polarizing: 42 percent supported such measures, while an equal share opposed them.
The decisions by Basecamp and Coinbase stand in contrast with many major corporations recently taking public political stands. Last month, hundreds of companies, including Apple Inc., Amazon.com Inc. and Alphabet Inc., signed a statement denouncing "discriminatory legislation" that would limit voting rights in a number of states.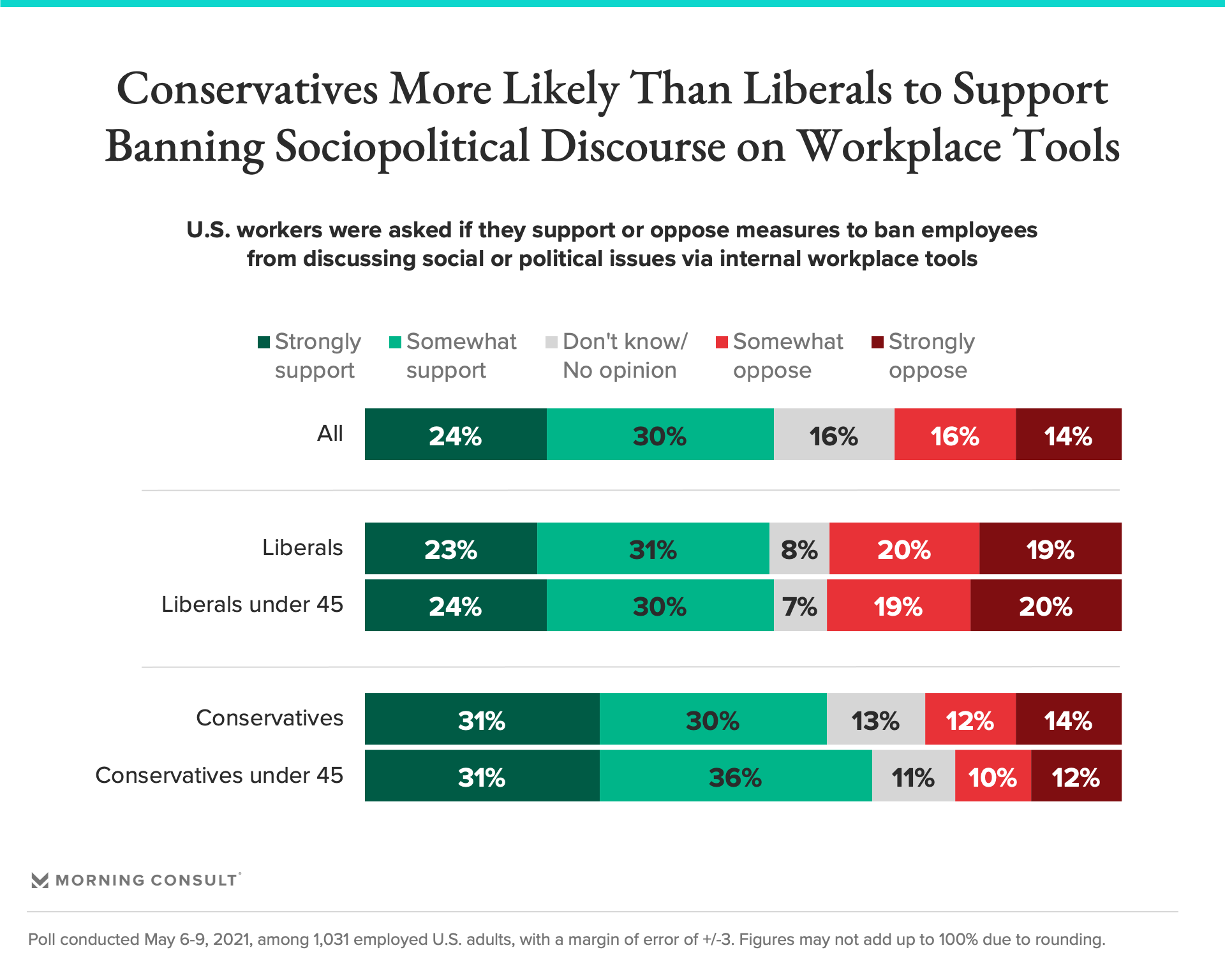 Employees older than 45 find a range of subjects much more inappropriate than their younger colleagues, according to the early May survey, including whom they're voting for, local politics, LGBTQ rights and social injustice in general.
While 52 percent of employees ages 35-44 said police brutality was appropriate to discuss at work, only 34 percent of workers in the 45-64 age range agreed. Forty-four percent of the youngest group, ages 18-34, said it was OK to discuss police brutality in the workplace.    
The poll also asked if respondents' colleagues were more liberal than they were, more conservative or if they shared similar political beliefs. The largest share, 33 percent, was unsure, while the second-largest (28 percent) said their beliefs were similar to their coworkers' beliefs. 
Workers were slightly more likely to believe their colleagues were more conservative than them  (23 percent) than they were to say they suspected that their coworkers were more liberal (16 percent). 
A significant share of employed Americans already avoid the issues altogether: One-third said they don't discuss political or social issues with colleagues at all.