Last year, most of the public found themselves suddenly shut in their homes, commutes halted and cars idle. For many, key economic concerns became more existential  — how to hold onto their jobs or keep their families safe — and prices at the gas pump became largely irrelevant. 
This marked a change in the long-standing relationship between the well-being of U.S. consumers and gas prices. Typically, most of the country's reliance on cars to get to work, run errands and socialize translates into a reliable, inverse correlation between gas prices and consumer sentiment: Gas prices go up and consumer sentiment falls, and vice versa.
But consumer sentiment and gas prices plummeted in tandem at the beginning of the pandemic, according to an analysis of Morning Consult data and the Energy Information Administration's gas price tracker. Economists say this is largely because demand for gas plummeted with the start of lockdowns, and as other factors began to take precedence in influencing consumer sentiment.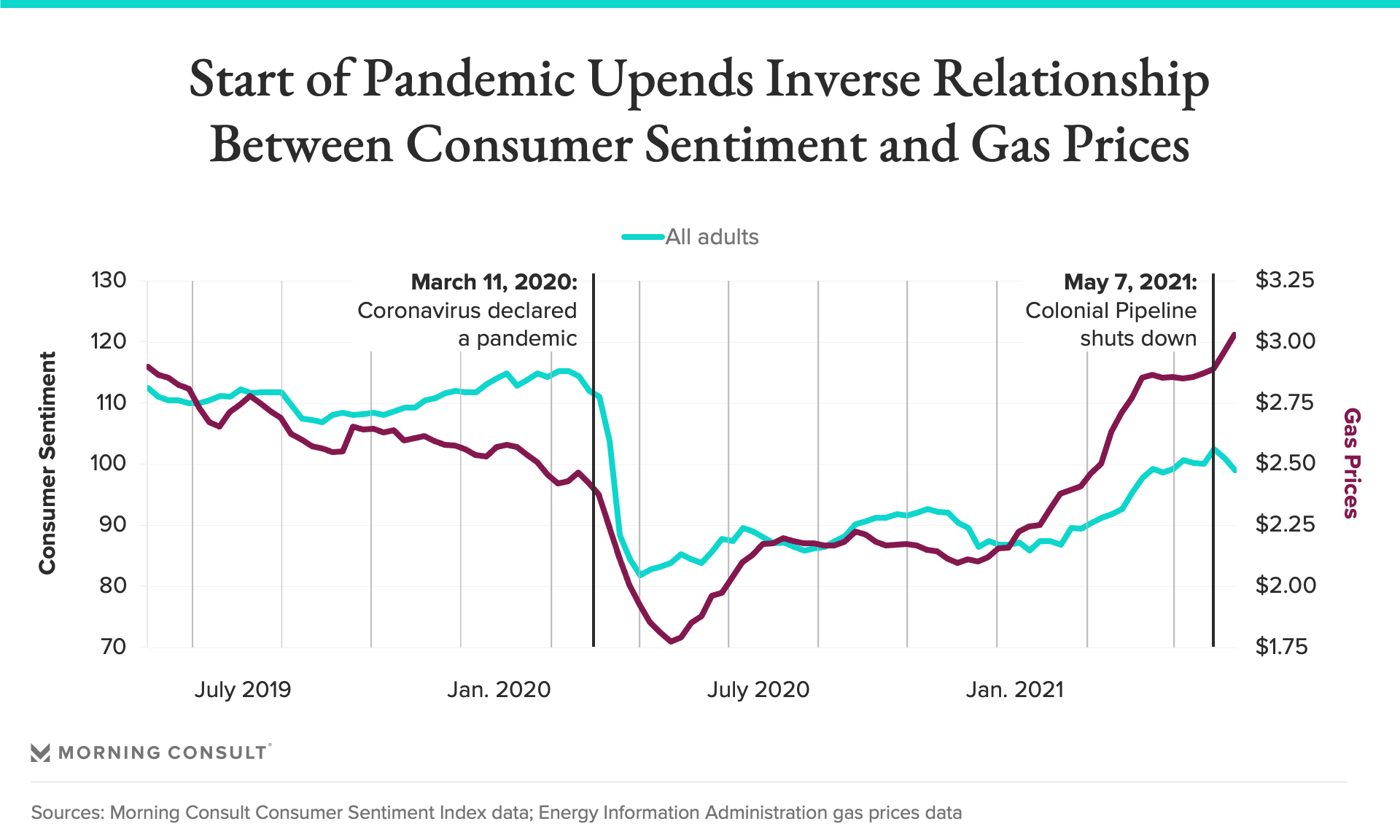 "With the pandemic, people weren't driving as much for reasons that had nothing to do with price — they just didn't have anywhere to go," said Katherine Spector, an energy markets consultant and fellow at the Columbia University Center on Global Energy Policy. "Any effect from gasoline prices just got lost in the shuffle. There was just so much else going on in terms of people's economic and financial lives."
And over a year later, as the country begins to return to normal, both consumer sentiment and gas prices are rising again. While some of the more recent uptick is due to the Colonial Pipeline shutdown that caused gas shortages throughout the Mid-Atlantic and Southeast, a lot is reflective of rebounding mobilization among consumers and growing economic optimism. 
"Most people now are just glad to be driving," said Mark Johnson, an associate dean of MBA programs at Wake Forest University, who wrote a paper in 2012 on the relationship between consumer confidence and gas prices. "They're looking the other way when it costs around $40 to fill up." 
Johnson's research backs up Morning Consult's findings from before the pandemic: Traditionally, there has been a strong, inverse relationship between gas prices and consumer sentiment. Not only that, Johnson used economic testing to argue that gas price changes drive changes in consumer sentiment — not the other way around. 
Or, as we've seen over the past year, major external events can alter that relationship. 
While the two metrics were moving roughly in opposition before the pandemic hit, in March 2020 both gas prices and consumer sentiment dipped precipitously in reaction to the pandemic's impact on the country as a whole.
"That is an indication of demand drying up, but at the same time we imposed so many different lockdowns that supply was constrained, as well," said Morning Consult economist John Leer. "I think as time has progressed, we've seen more and more that this pandemic has resembled sort of a typical demand-side shock to the economy, where prices are depressed, consumer spending falls and you need some sort of government intervention to boost aggregate demand." 
With regard to gas prices specifically, Spector said that the pandemic further complicated matters by potentially shifting how much of our driving is discretionary. Once large swaths of society began working from home and minimizing trips to the grocery store, regularly filling up the tank became less of a necessity and more of a luxury.
"All else equal, we would expect that anything that's discretionary is going to be more price-sensitive and more consumer confidence-sensitive: 'I don't have to do it, I'll do it when I feel good about doing it,'" she said.  
But while most people have begun to return to driving and other pre-pandemic habits — and report being broadly happy about doing so — a look at how consumer sentiment has changed across demographics shows that not all groups have had the same experience.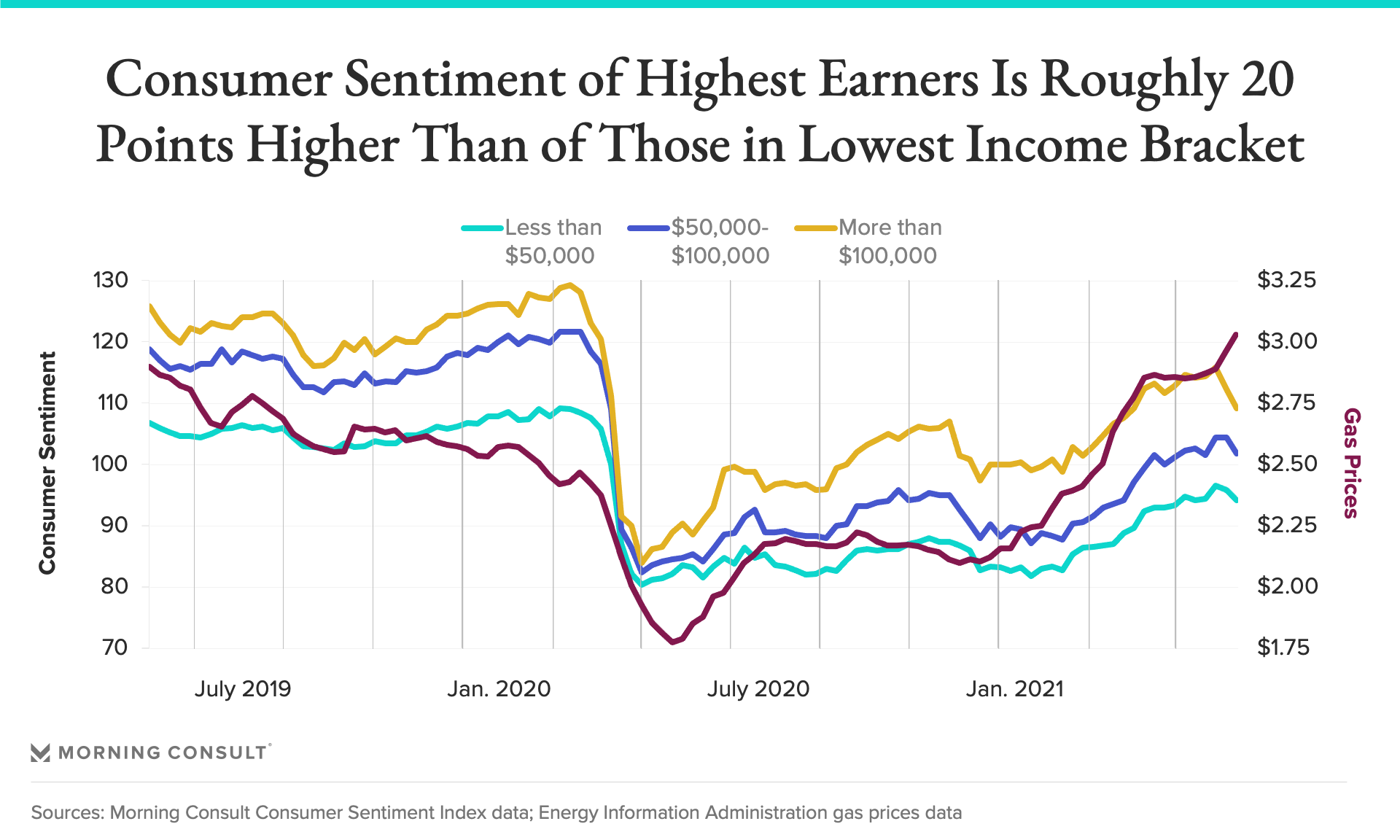 Workers who earn less than $50,000 per year have not seen the same kind of sharp increase in consumer sentiment as those who earn more than $100,000 per year have. These lower-income workers are typically more vulnerable to gas price increases, as those increases can take up a larger chunk of their disposable income, even if they travel less and buy comparatively less gas. 
And for many low-income workers, this vulnerability persisted even during lockdown; those who continued to do essential work like keeping grocery stores open over the course of the year did not have the same reprieve from buying gas regularly that their higher-income counterparts did.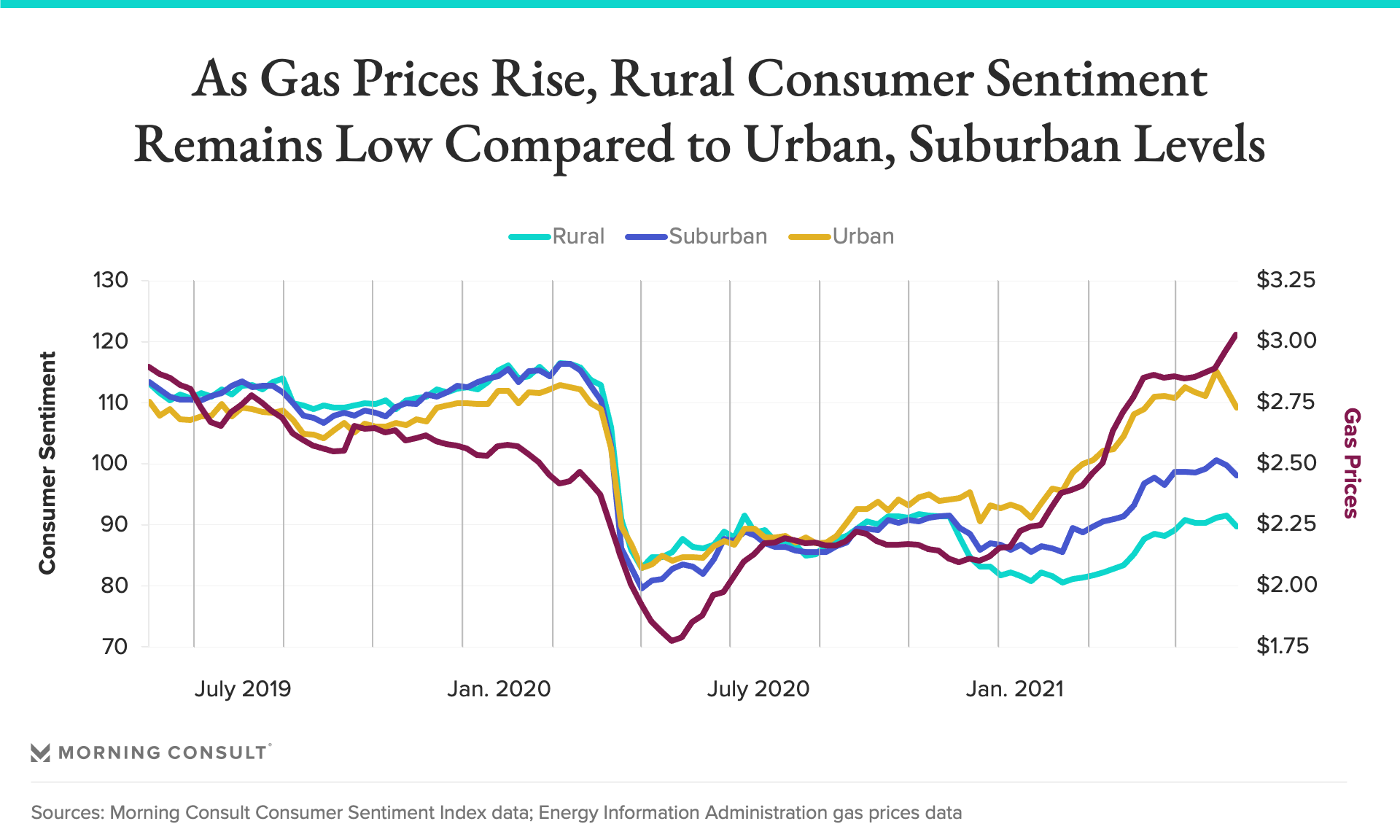 Rural Americans — who often have to drive more and farther — have also had a slower rebound in consumer sentiment compared to their urban and suburban counterparts. However, this could be a function more of politics than of community type; President Joe Biden's election prompted a leap in consumer sentiment among Democrats and urban respondents in particular, who formed a large part of his electoral base.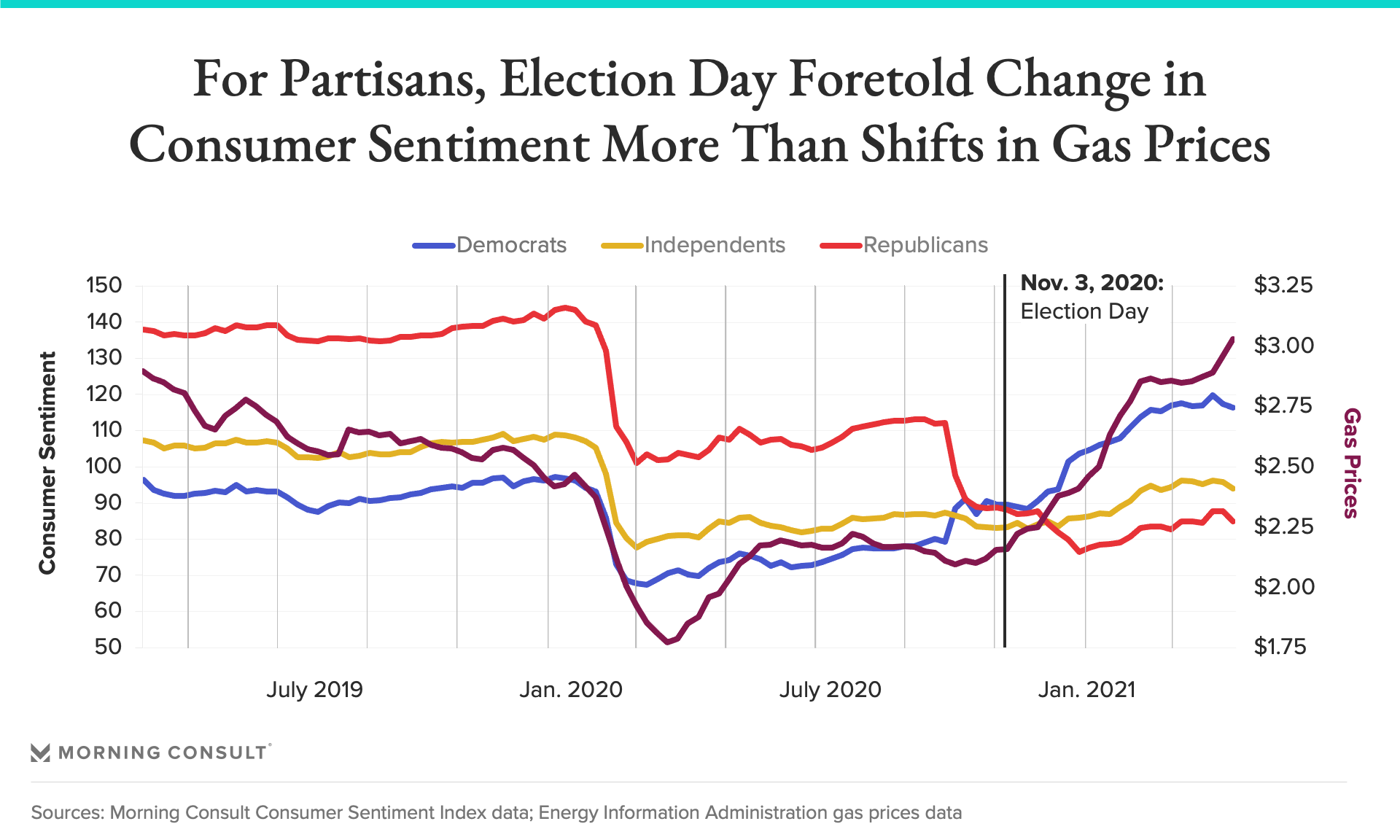 Another complicating factor: the Colonial Pipeline shutdown. On May 7, 2021, the two metrics moved in opposition once again, as the ransomware attack and subsequent shutdown of the pipeline — a main artery of the East Coast's gasoline supply — prompted a gas shortage, which resulted in surging prices and consumers in the region buying up supplies. 
The data indicates that consumer sentiment dropped more than 3 points over the course of the two weeks post-crisis, while gas prices jumped 13 cents on average nationwide (and by far more in the impacted parts of the country). 
However, Leer noted that the shutdown came on the same day that the Bureau of Labor Statistics released a report showing lower April employment recovery than anticipated (prompting the stock market to plunge), and just a few days before another BLS report registered the sharpest rates of inflation since 2008. So, he said, the impact of gas prices exclusively is hard to isolate.
It remains to be seen how closely the two metrics will be related once the pandemic is in the rear view and gas prices plateau a bit. Johnson said that with stimulus checks still lingering in consumers' bank accounts and the excitement to travel growing, the country will likely see higher gas prices and growing consumer sentiment for a period, but eventually the relationship could restabilize as the economy returns to normal. 
"I think we have a short memory when it comes to these sorts of things," he said. "But for a time, excitement will outweigh whatever negative sentiments we're seeing at the pump." 
Morning Consult data scientist Laura Maxwell contributed.