For two weeks every other year, the Olympics offer American athletes in a wide range of sports a stage on which they can capture the attention of the entire country. And unlike the professional and college ranks, where women's sports tend to play second fiddle to their men's counterparts, the Olympics offer both male and female athletes equal opportunity to shine.
The interest gap between men's and women's athletics among American sports fans is still substantial at the professional and college levels, but new research shows that when it comes to the Olympics, sports fans are similarly interested in men's and women's sports.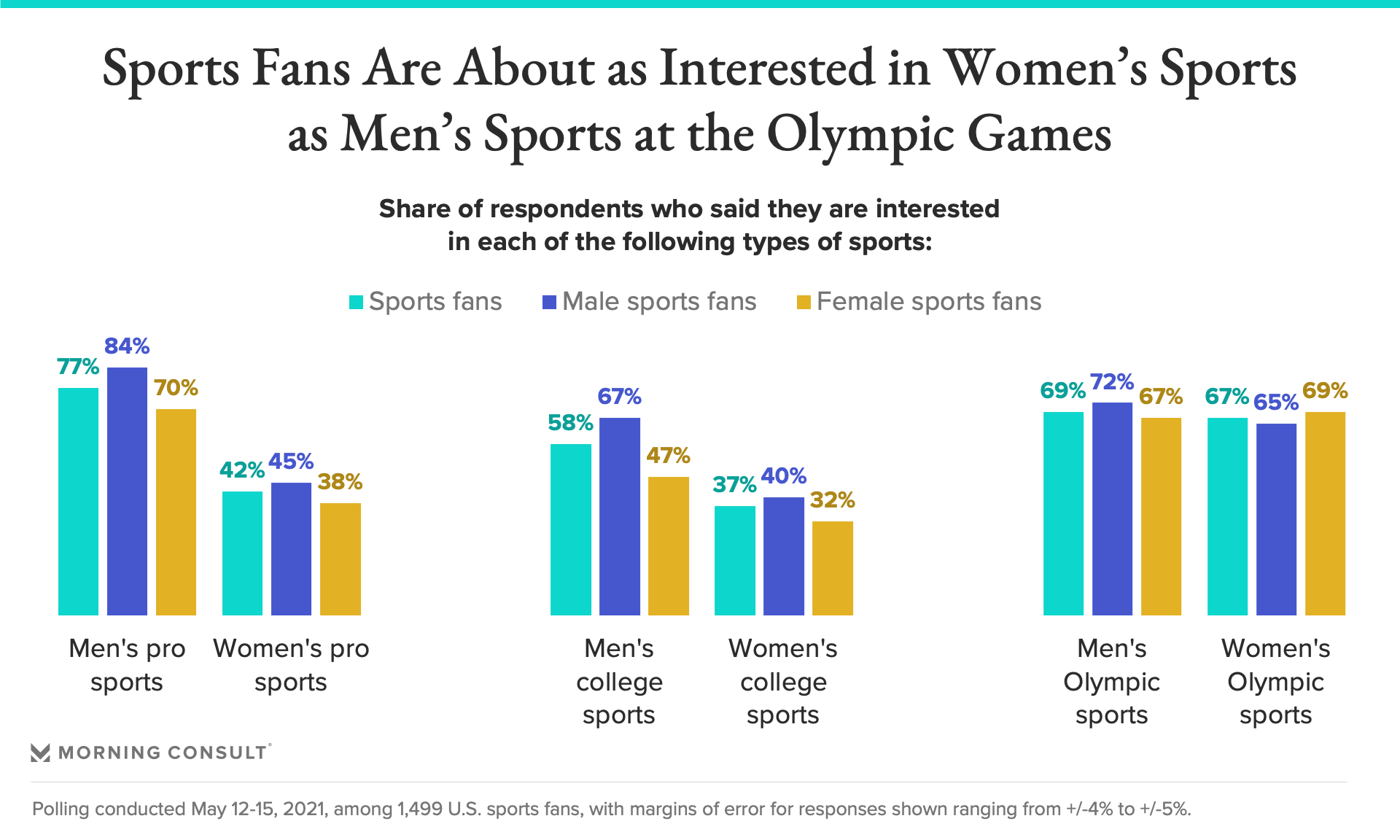 While 67 percent of sports fans said they are interested in women's Olympic sports, 69 percent said they are interested in men's Olympic sports, according to a Morning Consult survey conducted May 12-15. The gap between the two groups falls within the survey's margin of error of 2 percentage points.
By comparison, the share of sports fans interested in women's professional sports (42 percent) is 35 points smaller than the share interested in men's professional sports (77 percent), and the share of fans interested in women's college sports (37 percent) is 21 points smaller than the share interested in men's college sports (58 percent).
Katie Lebel, an assistant professor at Ryerson University focused on gender equity in sports and consumer behavior, said that while women's sports at the professional and collegiate levels generally receive less media attention and are less accessible to potential viewers than men's sports, Olympic broadcasters and marketers in North America tend to focus on the most successful athletes, or those with the most compelling personal stories, regardless of gender.
"In the U.S. and Canada, women athletes have been really successful at the Olympics and, in some cases, they're outperforming their male counterparts," Lebel said. "So, it's a bit of a no-brainer that producers want to cover success. And for women, this is their moment to shine in a lot of ways."
In the wake of swimmer Michael Phelps' retirement from competition, the most well-known figures in the U.S. delegation headed to this summer's Tokyo Games are women. In a Morning Consult survey conducted last month, the four prospective Olympians with the greatest name recognition were all women: tennis player Serena Williams, gymnast Simone Biles, soccer player Megan Rapinoe and swimmer Katie Ledecky.
Michelle Berg, executive vice president at The Strategic Agency, a sports marketing firm, said that national pride allows successful Olympic female athletes to compete on a relatively level playing field in terms of commercial opportunities with their male counterparts.
"In the Olympics, it's all about the team. Regardless of whether it's male or female, you're playing for your country," Berg said. "It's better equalized and it's more balanced in the way it's promoted because I think we're all watching as Team USA."
The results of the May 12-15 survey align with the findings of a study conducted by researchers at the University of Southern California and Purdue University, who tracked the share of airtime dedicated to women's sports relative to men's sports on broadcast and cable television networks from 1989 to 2019. The study, published in March, identified nationalism as an element that can generate an uncharacteristically robust amount of coverage for a women's sports story.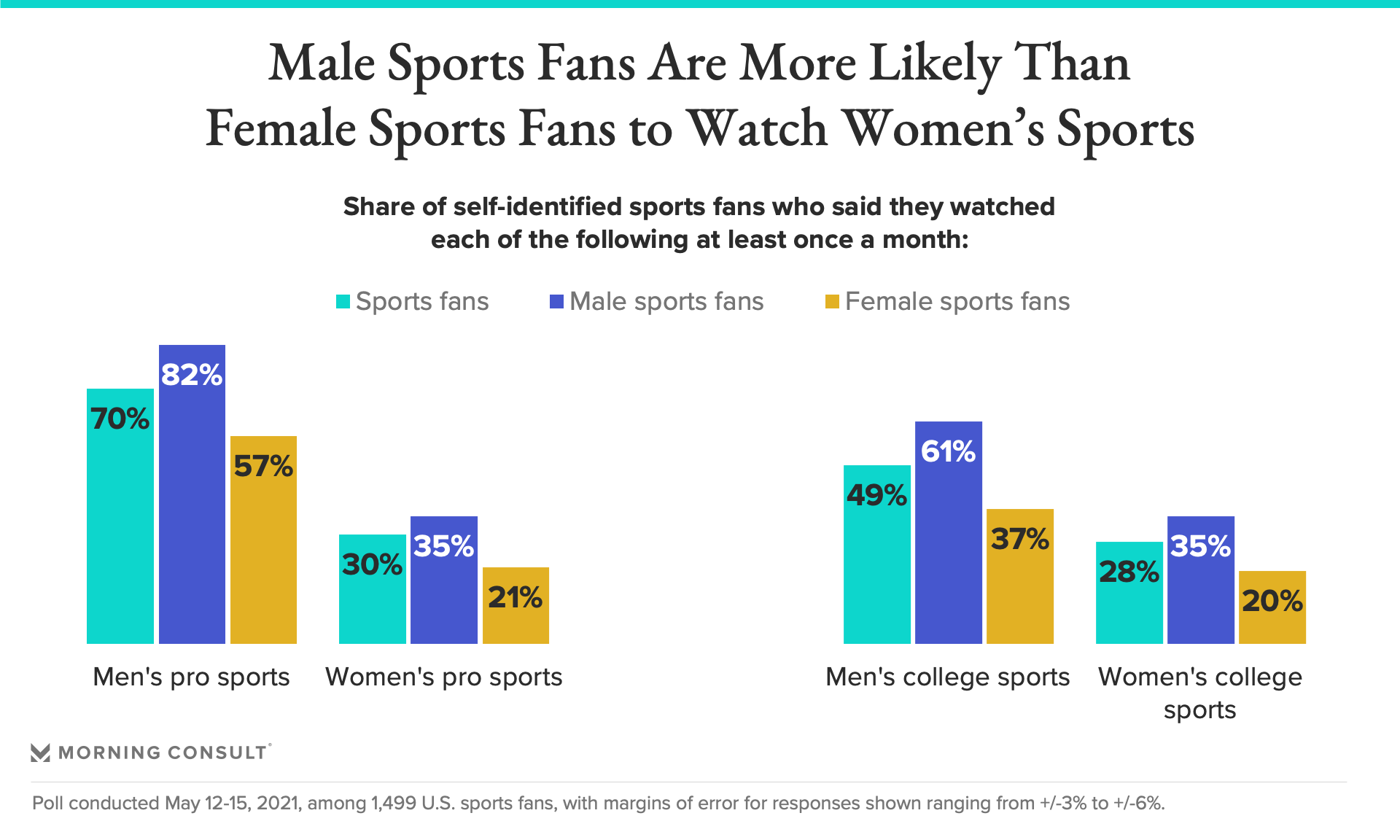 In the context of both professional and college sports, the survey found that male sports fans are more likely to watch both men's and women's sports regularly than female sports fans.
"Preferences are groomed from a pretty early age and allegiances are groomed over time," Lebel said. "So when it comes to male sports fans, they've been groomed to watch sports — it's a learned behavior, really. Transitioning to watching women's sports isn't really a huge stretch."
While the share of sports fans who said they watch men's professional sports regularly was greater than the share who said they watch men's college sports regularly, fans were about as likely to watch women's sports at the pro and collegiate level.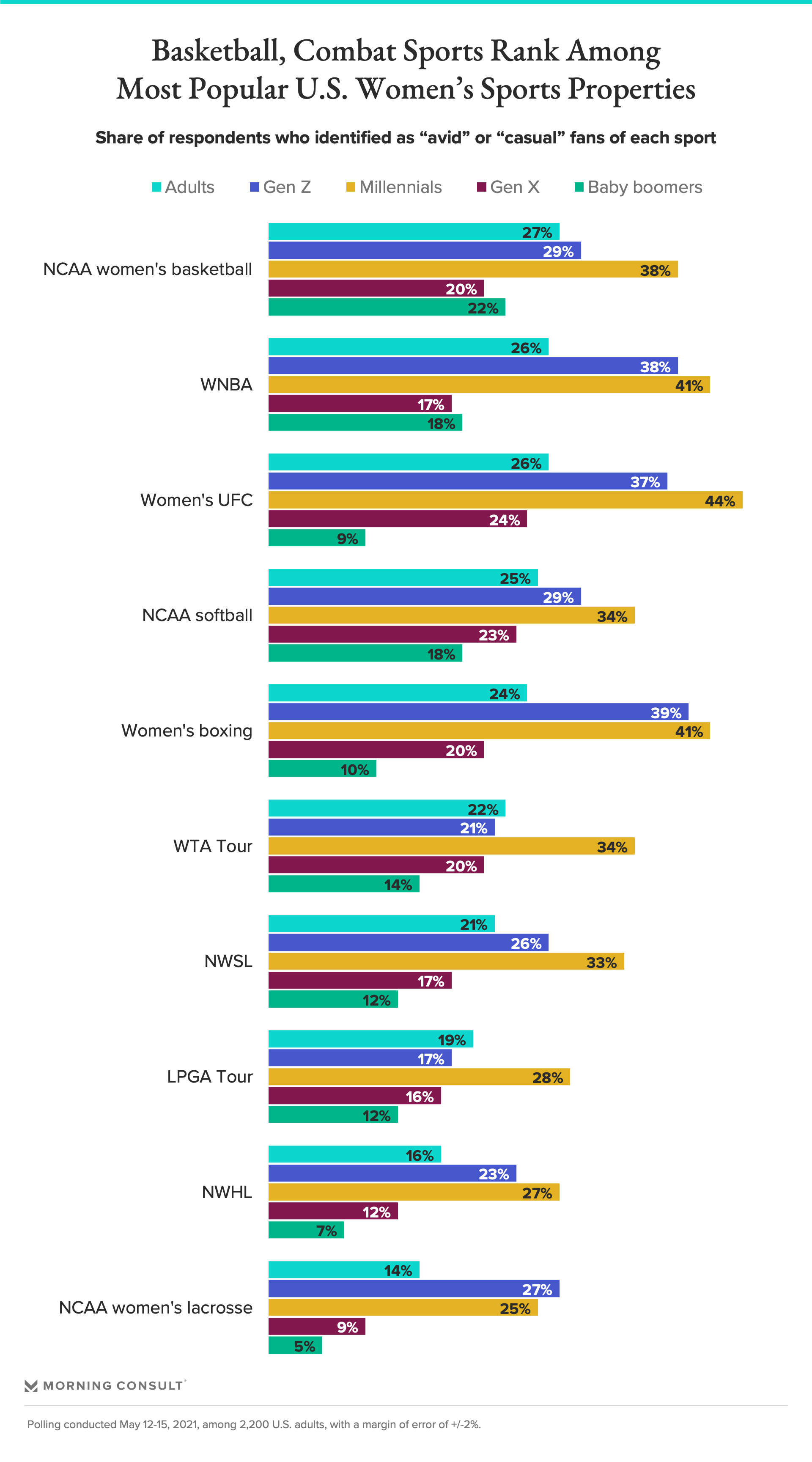 The results of the survey also indicate that millennials are more likely than other generations to identify as fans of women's sports properties, as are members of Generation Z to a lesser extent. (Gen Zers are generally less likely to identify as sports fans than their elders.) NCAA women's basketball, the WNBA, women's UFC, NCAA softball and women's boxing were the most popular women's sports, with about 1 in 4 U.S. adults identifying as either an avid or causal fan.
Berg noted that the properties that ranked highest tended to have more robust linear television footprints than their peers. Women's competition in the UFC also benefits from being promoted alongside men's competition and included in the same events, she said.