A large majority of voters agree that 2021's rise in violent crime in the United States is a significant, increasing problem, according to a new Morning Consult/Politico poll, but Democrats and Republicans have starkly different views about its contributing factors and how to fix it.
Roughly 3 in 4 voters (78 percent) said they believe violent crime is a "major problem" in the United States, and a similar share (73 percent) said it is on the rise after weeks of news about shootings and the proliferation of videos online showing violent incidents nationwide.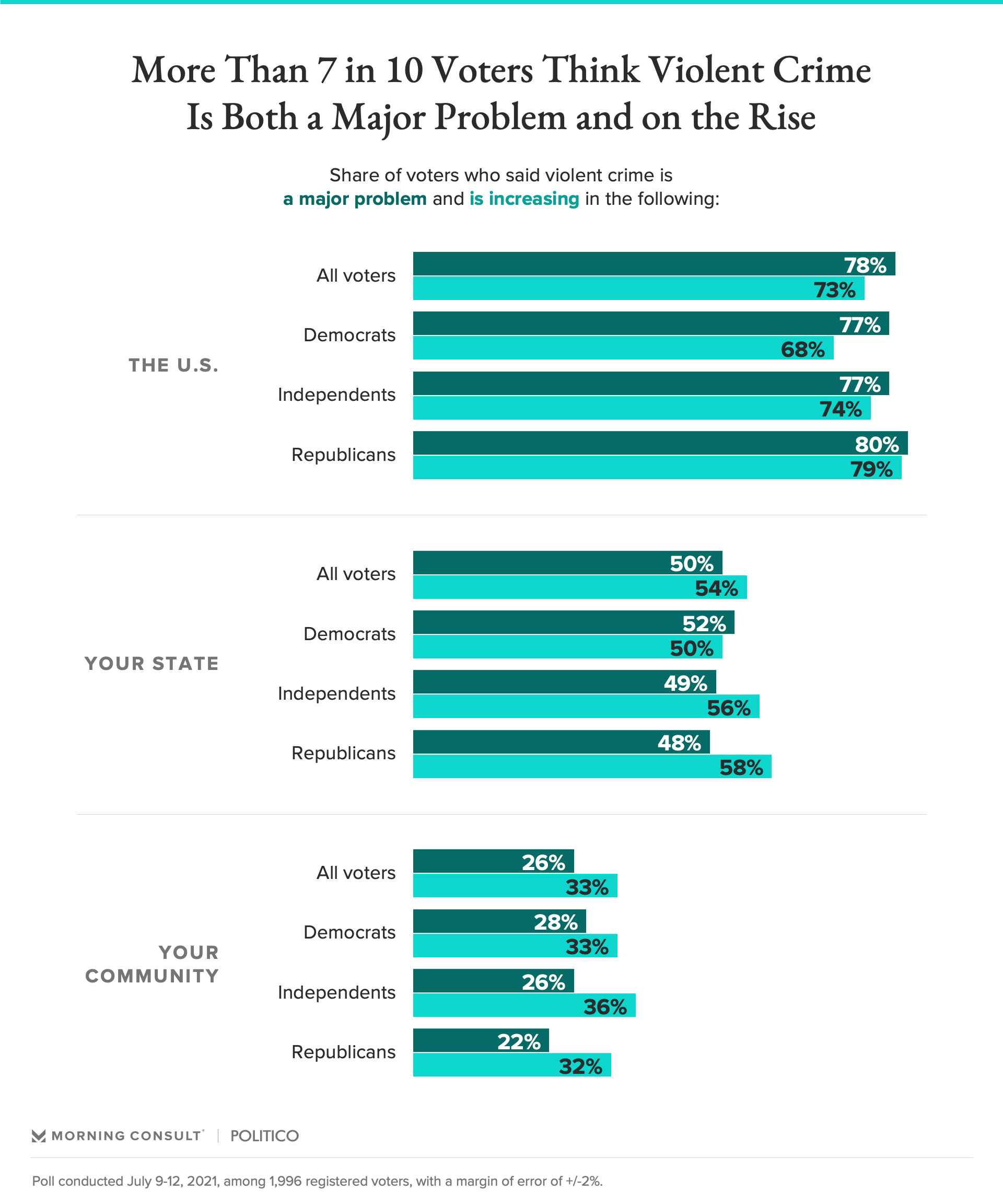 There's little partisan deviation on whether violent crime is a problem in the country, but Republican voters are slightly more likely than Democratic voters (79 percent to 68 percent) to say it's increasing.
Closer to home, about half of voters say crime is a major and increasing problem in their states, while fewer say the same about their own communities: About a third of all voters, Democrats and Republicans say violent crime is increasing on their local turf.
The July 9-12 poll, which surveyed 1,996 registered voters and has a margin of error of 2 percentage points, came amid an increasing spotlight on the rise in violent crime that has caught the White House's attention. 
On Monday, President Joe Biden convened a meeting of local officials, including New York Democratic mayoral nominee Eric Adams, and urged them to use some of the funds provided to their governments by his $1.9 trillion COVID-19 relief package to boost local law enforcement and crime prevention programs.
In the meeting, Biden said that while there's no "one-size-fit-all approach" to curbing the violence, "we know there are some things that work," including "stemming the flow of firearms."
That message – tying the increase in violent crime to the accessibility of guns – is resonating with much of the U.S. electorate, especially Democrats.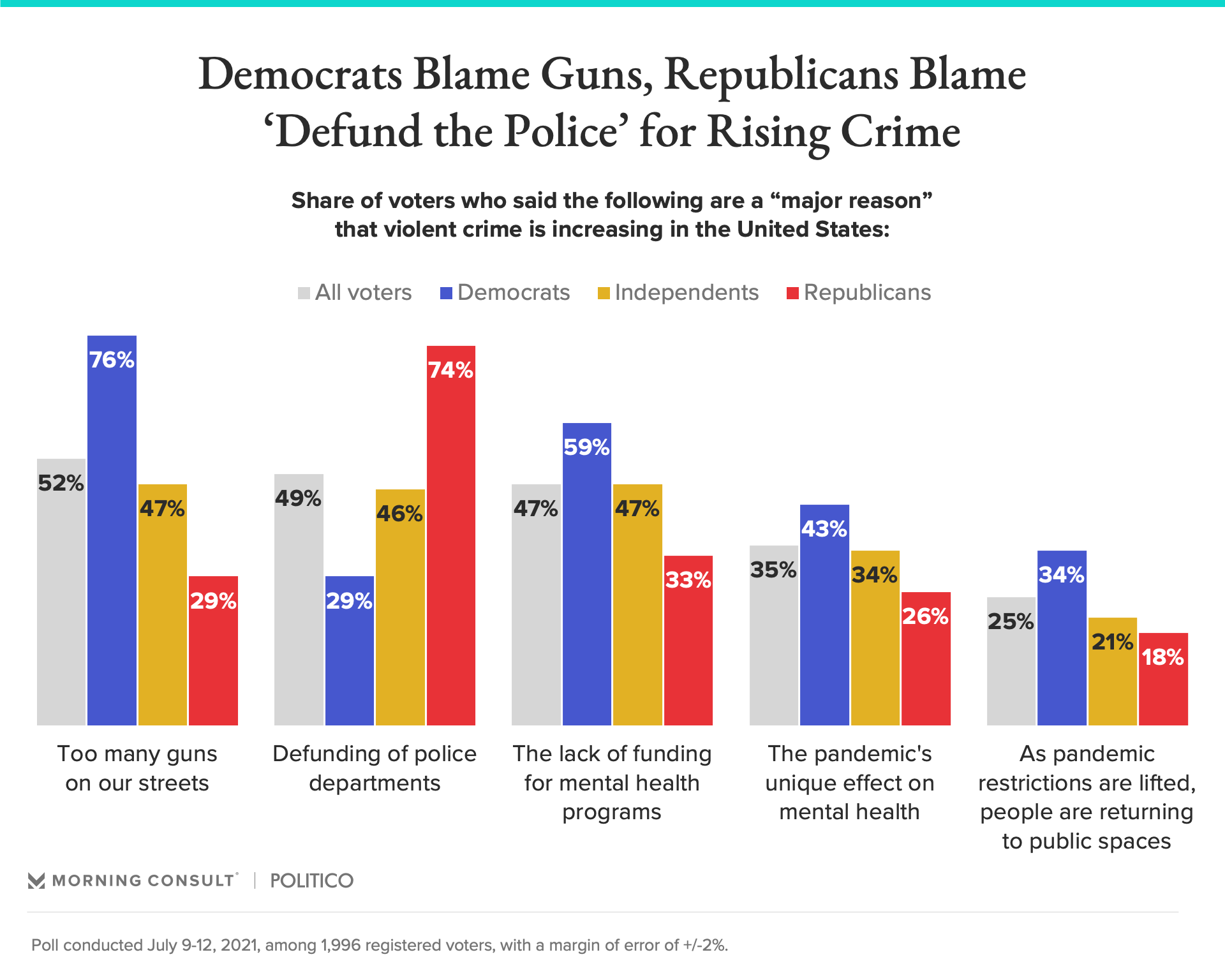 Roughly half of voters (52 percent), including 3 in 4 Democrats and 47 percent of independents, identified "too many guns on our streets" as a "major reason" that violent crime is increasing in the United States. A similar share of voters (49 percent) said the defunding of police departments – a rallying cry of some liberal activists that has been weaponized against Democrats despite its rarity in practice – has contributed in a big way to the crime surge, driven by 74 percent of Republicans.
When it comes to addressing crime, roughly 3 in 5 voters agree that stricter enforcement of current gun control laws, hiring social workers to help police defuse situations with people having emotional problems and increasing funding for police departments would at least somewhat decrease the rate of violent crime in the United States. 
Republican voters were particularly resistant to gun-control efforts, and were most likely to say more money for police departments would decrease the rate of violent crime in the United States.
Just 1 in 5 voters said decreasing funding for police departments would help stem the crime rate, driven by 29 percent of Democratic voters.
Former President Donald Trump may have said last year that "no one will be safe in Biden's America," but as the 46th president navigates the complicated politics of addressing the crime surge, he begins with public opinion on his side, similar to the advantage on the topic that he enjoyed over his predecessor during the 2020 presidential campaign.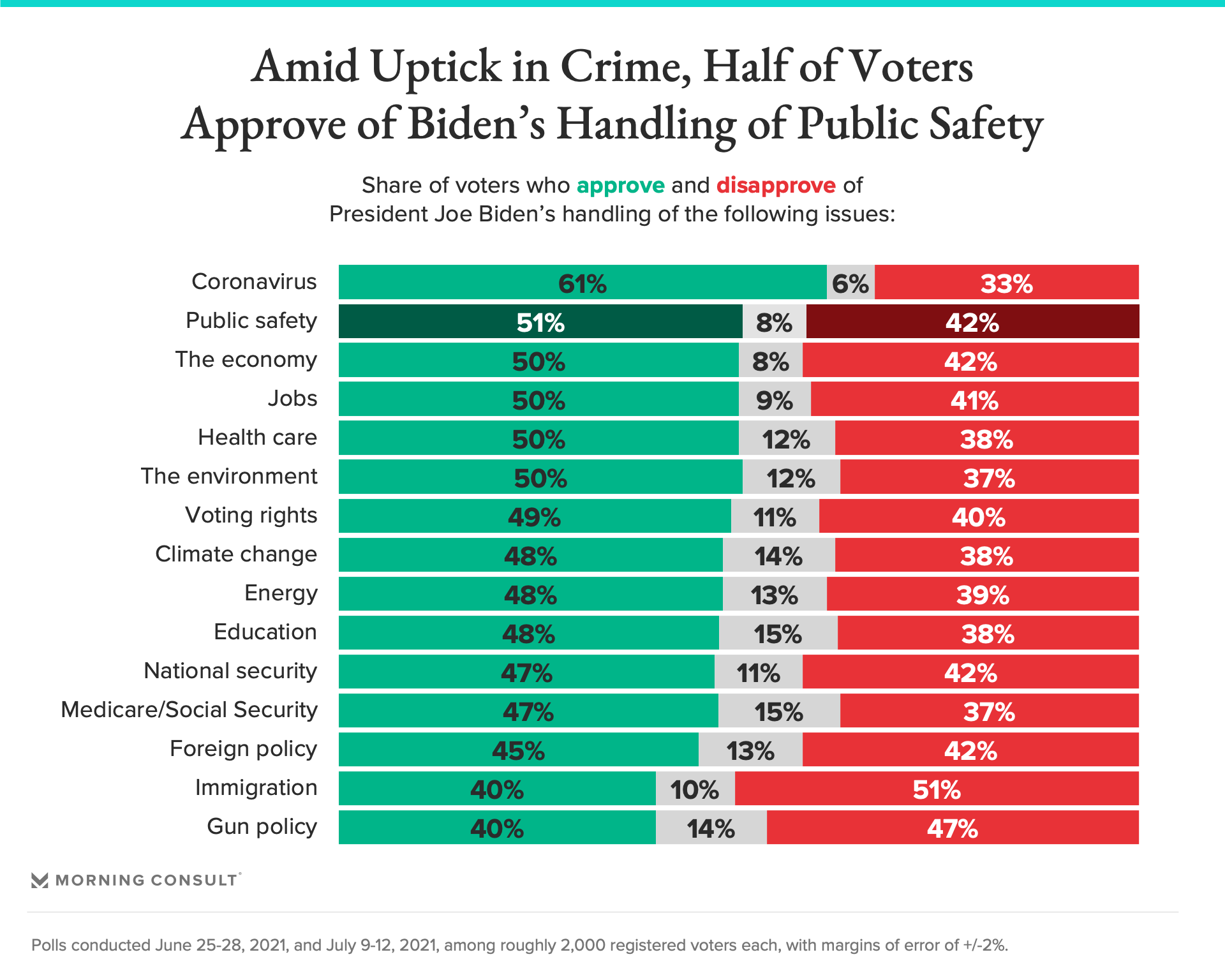 About half of voters (51 percent) said they approve of Biden's handling of public safety, higher than any other issue except his handling of the COVID-19 pandemic in a previous Morning Consult/Politico poll, while 42 percent disapprove. Democrats are 8 points more likely to approve of Biden's handling of public safety than Republicans are to disapprove.
The good graces for Biden from the overall electorate do not fully extend to Democrats on Capitol Hill, mirroring previous Morning Consult findings that Biden is generally more popular on the issues, and personally, than his colleagues in Congress. The latest survey showed voters were evenly split, at 42 percent, when asked whether they trusted congressional Democrats or Republicans in Congress more to handle public safety in the United States.