With several of President Joe Biden's key agenda items stalled on Capitol Hill – and former President Donald Trump largely out of the picture, at least for now – excitement for the 2022 midterm elections has softened among Democratic voters even as it's gained some strength across the aisle.
According to a new Morning Consult/Politico survey, the share of Democratic voters who said they were "very" or "extremely" enthusiastic about the midterms has fallen 5 percentage points since April, to 48 percent, along with similarly sized drops among Americans who voted for Biden in November.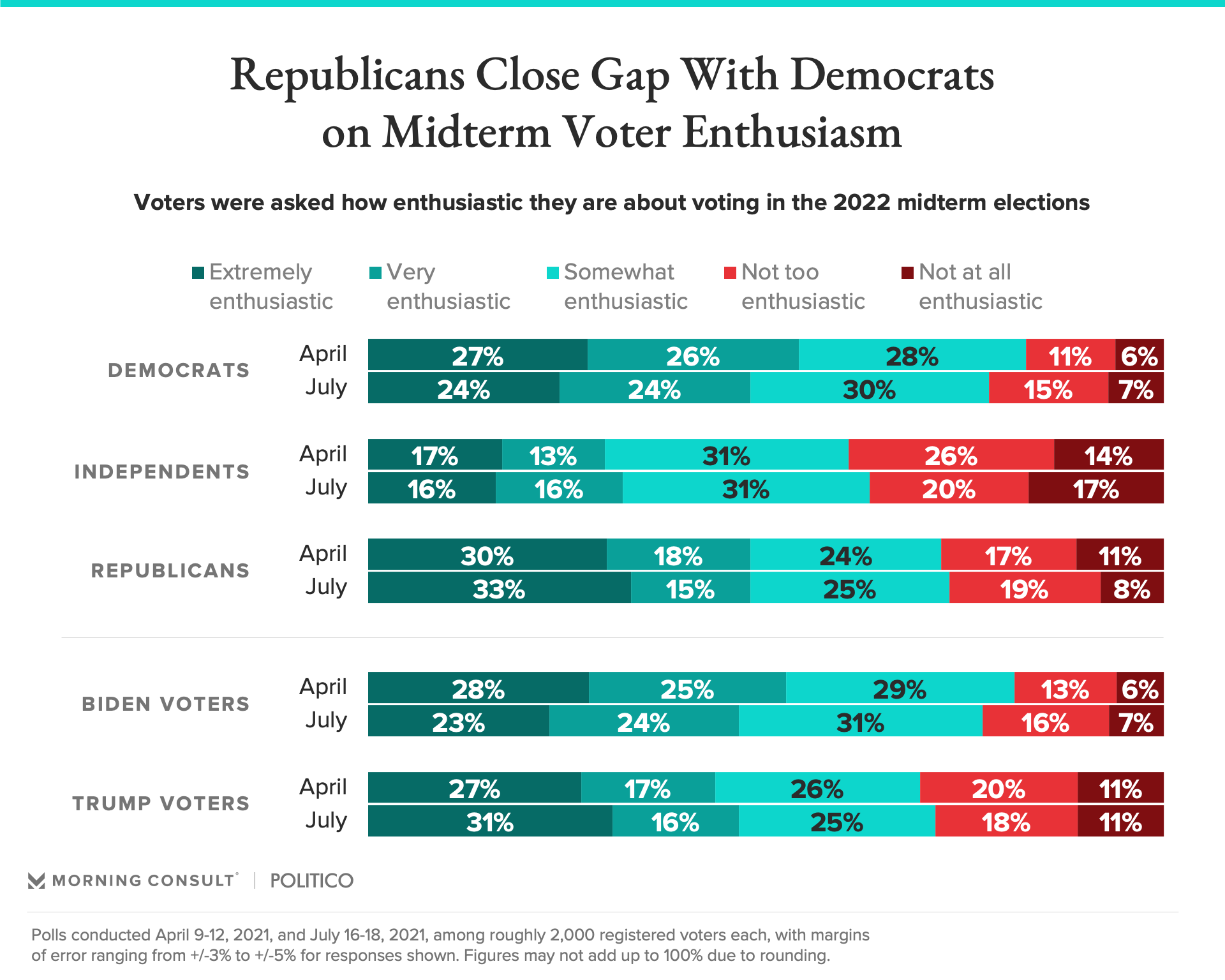 Nearly 4 in 5 Democratic voters said in the July 16-18 survey that they were at least "somewhat" enthusiastic about the 2022 elections, down slightly from the April 9-12 poll, which was conducted a month after Congress sent Biden the $1.9 trillion COVID-19 relief package. Each poll surveyed roughly 2,000 registered voters, with 2-point margins of error.
As was the case three months ago, Democrats are more likely than Republicans to say they're at least somewhat enthusiastic about the midterms. But Republicans have strengthened their intensity advantage.
A third of Republican voters said they're "extremely enthusiastic" about the midterms, compared with 24 percent of Democrats, and Trump voters – who were virtually tied with Biden voters on the question in April – are now 8 points more likely than the current president's supporters (31 percent to 23 percent) to share the sentiment.
Enthusiasm, like many midterm electoral dynamics, tends to favor the party out of power, and if the 2010 and 2014 midterm cycles under then-President Barack Obama are any indication, congressional Democrats are right to worry about depressed turnout from their base. A Morning Consult/Politico poll last month found that a quarter of Democratic voters said their party's lawmakers on Capitol Hill had underperformed their expectations. 
One potential mitigating factor for Democrats is a lack of confidence in elections among GOP voters, which Republican officials have blamed for the two January runoff losses in Georgia that saw them lose control of the Senate. According to the latest Morning Consult tracking released last week, 38 percent of Republicans say they have at least some confidence in the U.S. electoral system, compared with 62 percent of Democrats, following a trend that has persisted since Trump's November loss.