Heading into the Summer Olympics, there were signs that viewership might be historically soft: overall declines in linear TV usage, a lack of star power and a potential vaccine-driven desire to get out of the house, to name a few. Former NBC researcher Joe Brown forecasted in March that the Tokyo Games could go down as "NBC's lowest-rated Summer Olympics" ever, and that was before it was clear there wouldn't be fans in the stands cheering on the athletes.
Despite the red flags, however, daily reports of double-digit viewership drops relative to the 2016 Summer Games in Rio de Janeiro seem to be worse than even the most bearish projections. According to Sports Business Journal, declines for NBC's prime-time coverage during the first week of competition ranged from a 32-percent drop to a 55-percent decline from comparable nights in 2016.
"When we talked back in March, things didn't look good," Brown said, "but I don't know that anyone quite expected them to be where they are right now."
In fact, a comparison of Morning Consult surveys conducted prior to the Tokyo Games and after the first week of action suggests U.S. adults are less interested in and watching less of this summer's Olympics than they anticipated.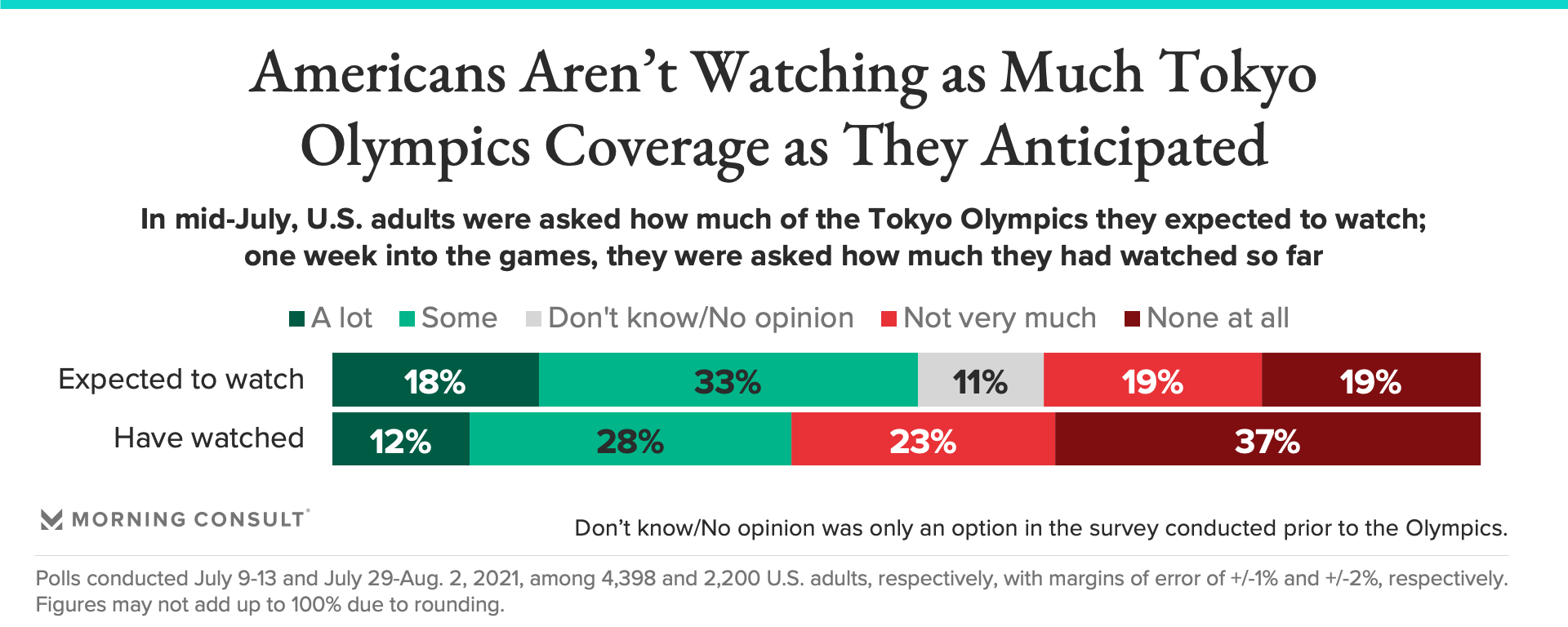 In a July 29-Aug. 2 survey, 40 percent of U.S. adults said they had watched "a lot" or "some" of the Tokyo Olympics since they started on July 23, short of the 51 percent of respondents in a July 9-13 survey who said they expected to watch that much of the games. On the flip side, 60 percent of Americans in the mid-games survey said they hadn't watched much or any of the action from Japan, a much larger share of respondents than the 38 percent who said in the earlier poll that they didn't expect to watch.
Half of millennials said they had watched a significant amount of the Olympics through one week, compared to 37 percent of Gen Xers and Gen Zers and 34 percent of baby boomers. While the shares of millennials and Gen Zers who said they'd been watching were just 3 and 4 percentage points shy of those who said they planned to watch in the pre-games polls, respectively, the shortfalls among Gen Xers (16 points) and baby boomers (18 points) were considerably larger.
Prior to the start of the games, Brown — who now heads up his own consultancy, JWB3 Media Insights — identified signs of softness in viewing intent among baby boomers as a possible red flag for ratings given that Olympic viewers historically tend to skew older.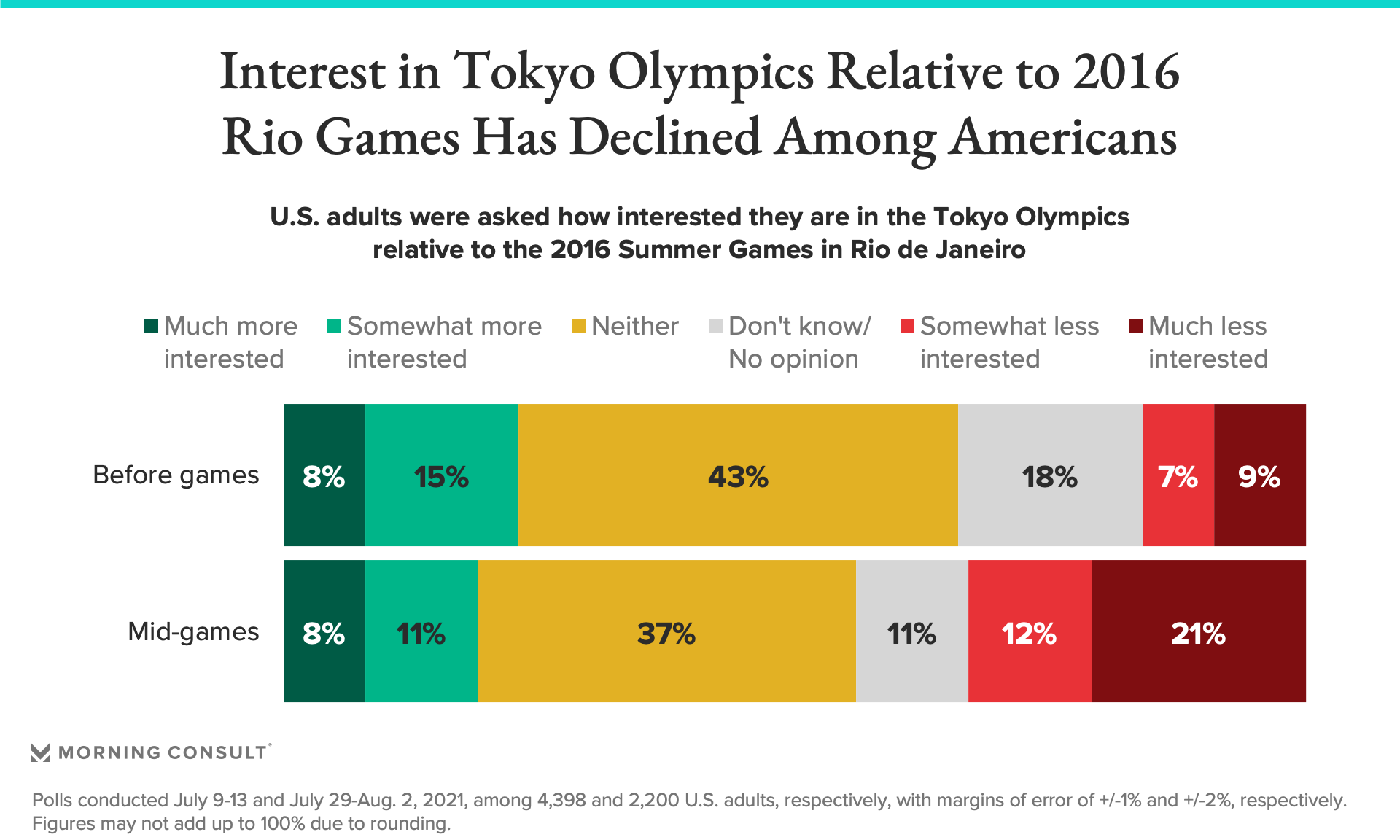 Americans' interest in the Tokyo Games relative to the 2016 Summer Games in Rio de Janeiro also waned after a week of this summer's competition. 
In the pre-games survey, the share of respondents who said they were more interested in this summer's Olympics than the Rio Games (23 percent) was 7 points greater than the share who said they were less interested (16 percent). After a week of the Tokyo Games, the share more interested in the current Olympics than the 2016 Games (19 percent) was 14 points smaller than the share who said they were less interested (33 percent), representing a 21-point swing in about two weeks.
Asked how their viewership of the Tokyo Games thus far has compared to previous Summer Games, 15 percent of U.S. adults said they've been watching more this time around, compared to 48 percent who said they've been watching less. 
Among Republicans, the share who said they've been watching more this time around was 11 percent, while the share watching less was 55 percent. By comparison, 22 percent of Democrats said they've watched these Summer Olympics more than previous editions, while 40 percent said they've watched less than in the past.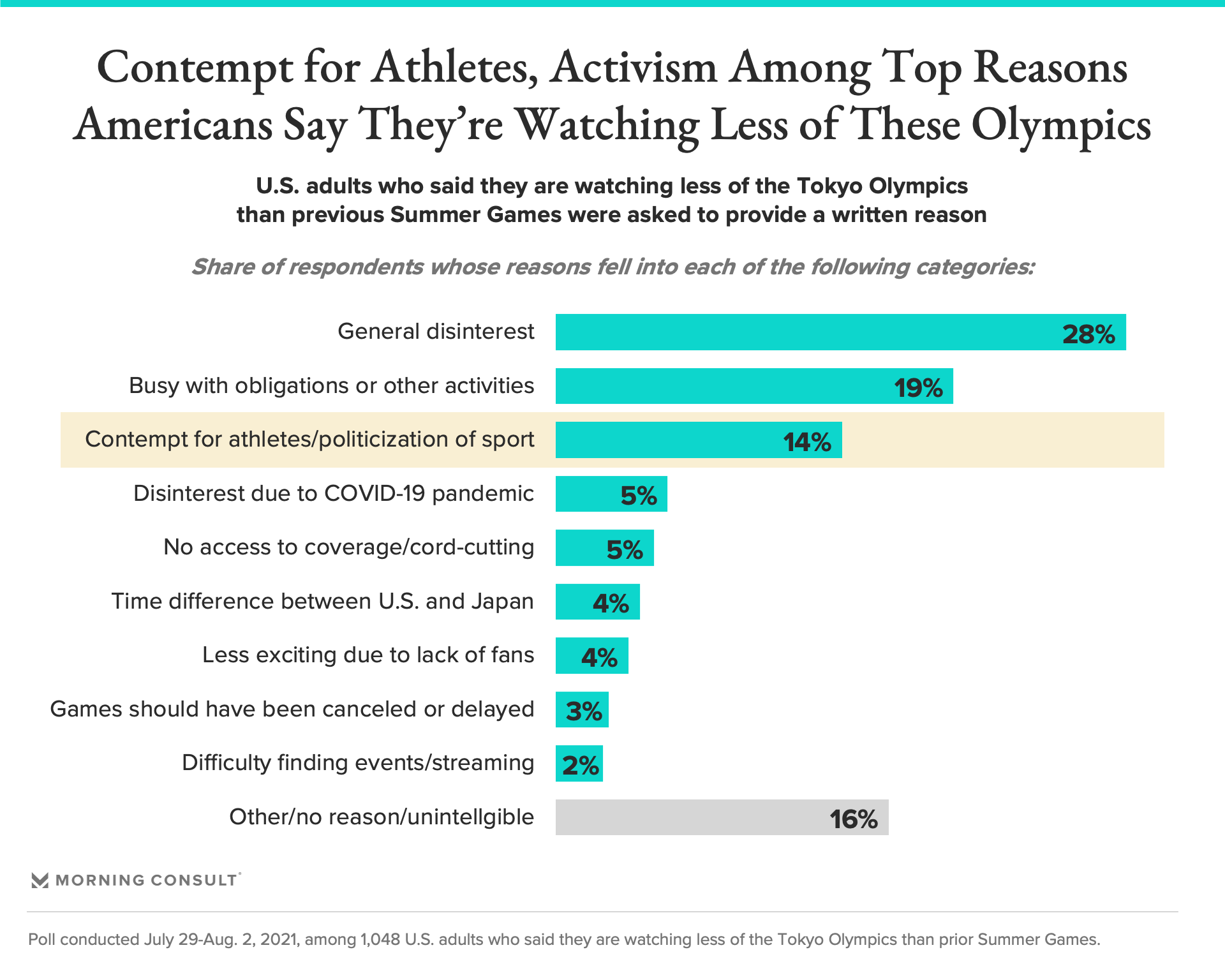 The 1,048 respondents who said they were watching less of this year's Summer Games than previous iterations were asked to provide a reason in their own words. Among those responses, 28 percent could be categorized as general disinterest, with another 19 percent related to the respondent being busy with other obligations or activities. Fourteen percent pointed to either contempt for American athletes or the overall politicization of the competition, including 27 percent of responses by Republicans who said they were watching less.
The share of respondents who attributed their decline in viewership to politics and protest is notable given that the first week of the Tokyo Games featured only a few examples of athlete activism, indicating that this concern is based more on previously held expectations rather than events on the ground.
Just 5 percent of those who said they're watching less this year pointed to a lack of access to NBC's coverage of the games, which suggests cord-cutting might not be the primary driver of the declines in viewership versus 2016. 
"Interest just isn't there, frankly," Brown said. "It's one thing to talk about media headwinds, which we always talk about, but this is way beyond that."