Voters are roughly split on whether they support President Joe Biden's recent executive order that calls for 50 percent of cars and trucks sold in the United States to be electric, plug-in hybrid or fuel cell-powered by 2030, according to polling from Morning Consult and Politico. 
The survey, which was conducted in the days after Biden's Aug. 5 announcement on new car sales, found that 43 percent of voters support the order (17 percent "strongly" and 26 percent "somewhat") and 44 percent of voters said they oppose it (31 percent "strongly" and 13 percent "somewhat").
Predictably, Democrats are far more likely to support Biden's announcement (71 percent) than their Republican counterparts (15 percent). Forty-five percent of independents expressed their support.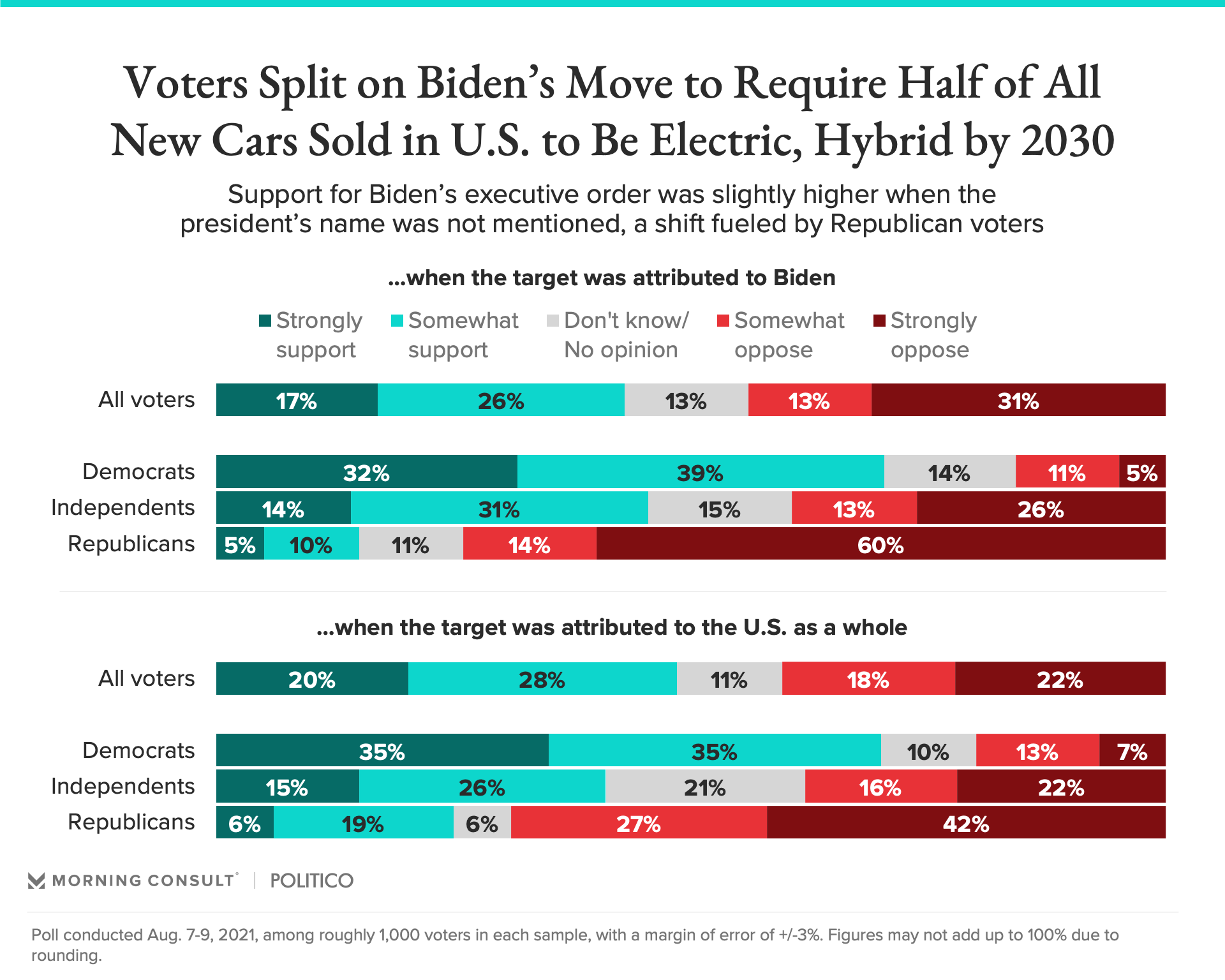 But overall support nudged up slightly when a second prompt attributed the 50 percent electric vehicles goal to the United States as a whole. The survey split respondents into two groups for each version of the question, and of those responding about whether they back the country's — rather than the president's — goal, nearly half supported the move (20 percent "strongly" and 28 percent "somewhat") and 40 percent opposed it (22 percent "strongly" and 18 percent "somewhat"). 
This overall discrepancy was due largely to a 10-percentage-point increase in support among Republicans, a quarter of whom supported the move when attributed to the country rather than to Biden. And while 69 percent of Republicans still opposed it, the share who did so "strongly" dropped dramatically, from 60 percent to 42 percent.  
However, the opinions of a significant share of respondents are based on limited information, given that news of the executive order had limited impact. Just 17 percent of voters said they saw, read or heard "a lot" about the order, while 35 percent said they had heard "some." Roughly a quarter each said they had heard "not much" or "nothing at all." 
In connection with Biden's order, General Motors Co., Ford Motor Co. and Stellantis NV (Chrysler's parent company) said in a joint statement that they plan to target 40-50 percent electric vehicle sales by 2030, a goal that advocates have pointed out is largely in keeping with existing market trends. 
While the tepid response to Biden's announcement is likely not good news for these automakers who are pivoting to produce electric vehicles, previous Morning Consult polls found that roughly 40 percent of U.S. adults are interested in purchasing an EV in the next decade. And many of those who are not interested said they could be persuaded if infrastructure improves or costs decrease.  
The Aug. 7-9 poll surveyed 1,996 registered voters and had a 2-point margin of error. To compare results for the "Biden" and "United States" prompts, respondents were split in two groups of about 1,000 voters each, both with 3-point margins of error.