In the aftermath of the United Nations' Intergovernmental Panel on Climate Change report released last week, its grim conclusions are on the radar of roughly half the public, an Aug. 11-15 survey from Morning Consult found. 
Thirteen percent of U.S. adults said they had seen, read or heard "a lot" about the report and its findings — including that climate change is worsening, there is limited time to avoid future crisis-level climate impacts and that the world will need to take immediate action to reduce emissions — and 36 percent reporting hearing "some." A quarter of adults said they heard "not much" about the report and an equal share said they had heard "nothing at all."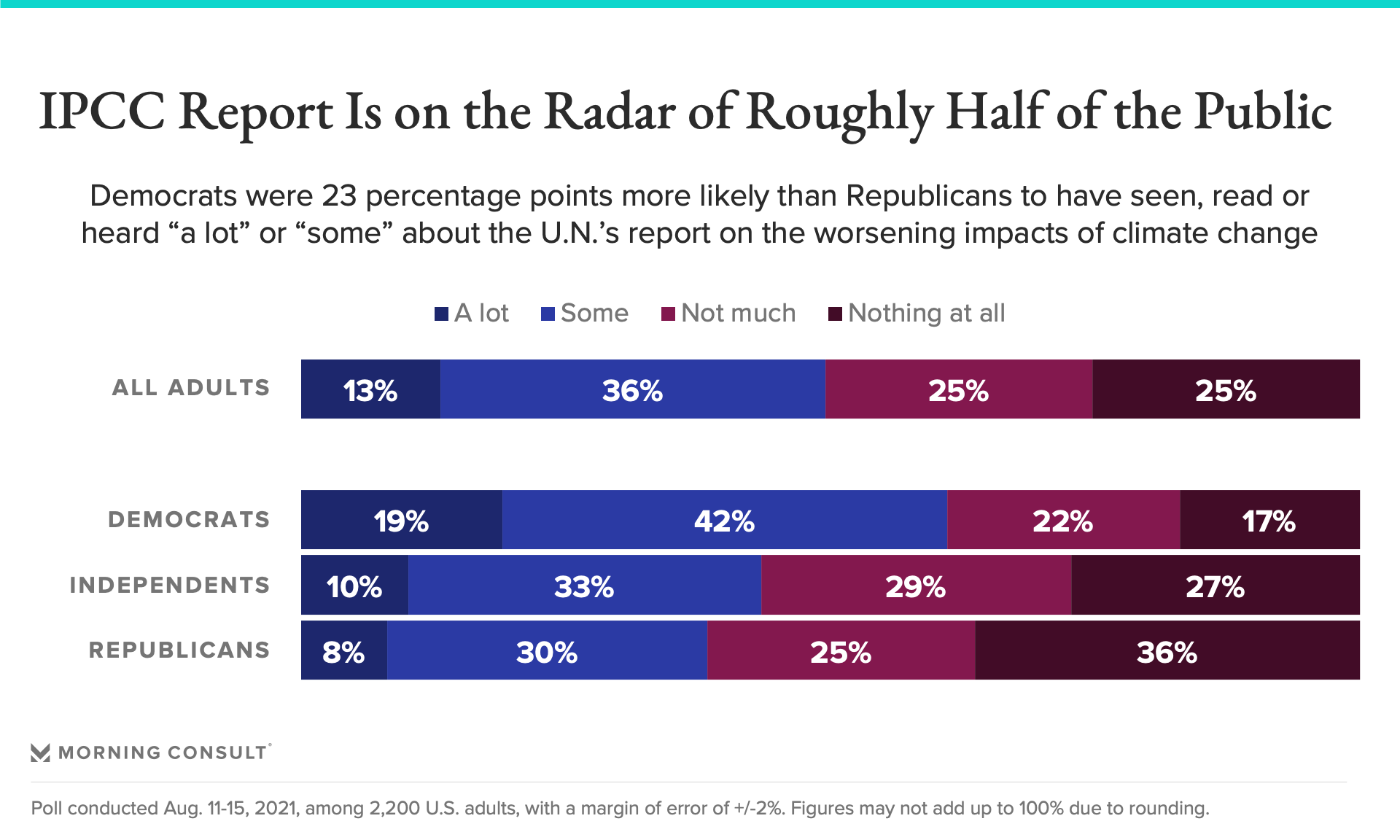 At 19 percent, Democrats were more than twice as likely as Republicans (8 percent) to have heard a lot about the report. The progressive research and information watchdog Media Matters for America found that almost all major television networks devoted significant coverage to the IPCC report on Aug. 9, the day of its release. Fox News, a favorite of Republicans, was the exception. 
Just 10 percent of the group aware of the report's release said they have discussed climate change a lot with friends and family since its release, while 38 percent said they have discussed it some. Democrats (14 percent) were more likely to have discussed the escalating phenomenon "a lot" after the release of the report than Republicans (5 percent). 
Broadly, those who have heard at least something about the report are worried (60 percent) and frustrated (56 percent) about its findings, though not particularly surprised (29 percent said "surprised" describes their response well), suggesting the rash of bad news on climate change has penetrated public opinion even before the seminal report's release.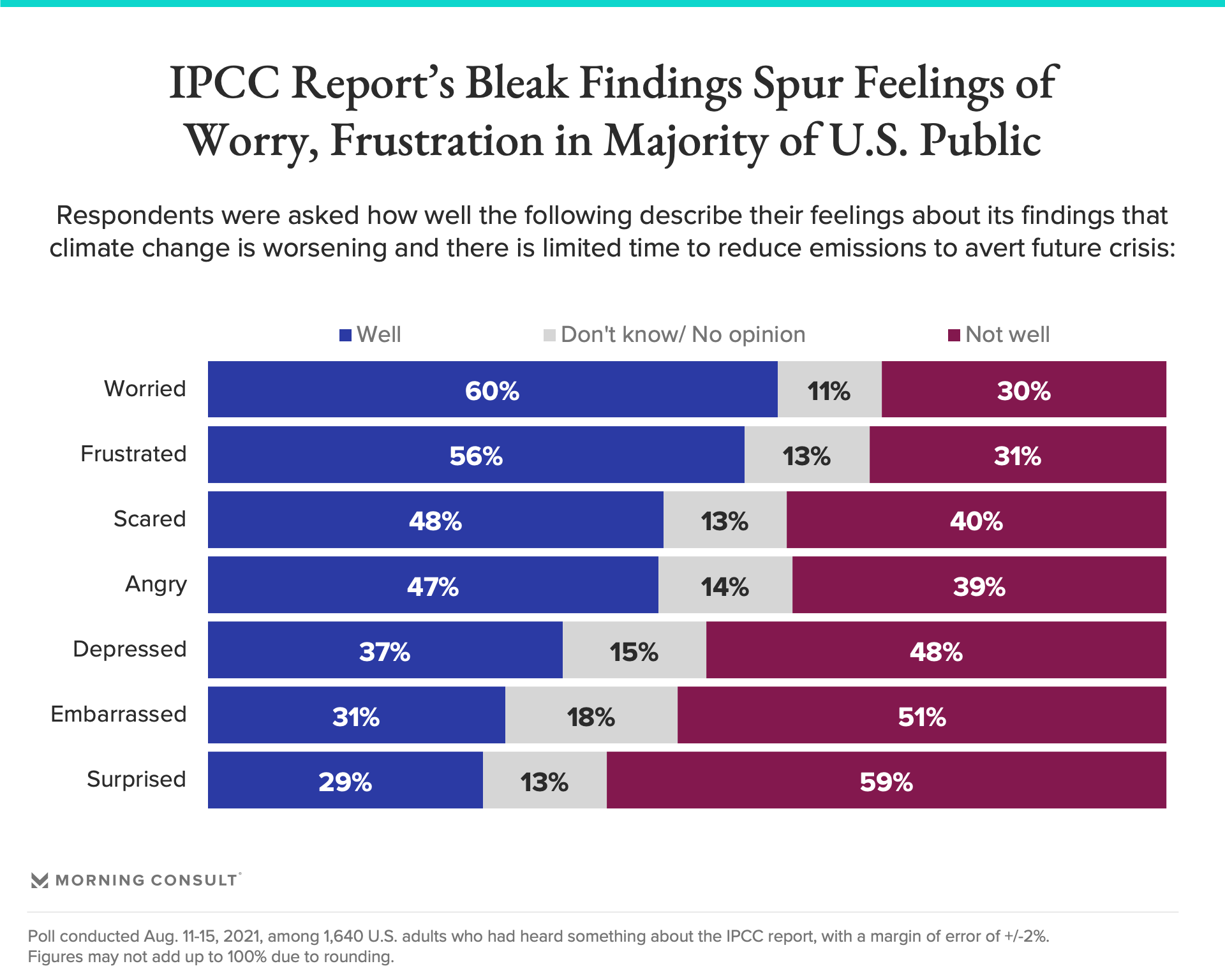 This overall sense of malaise was reflected in responses to whether the United States and the global community will reduce emissions and slow the impacts of climate change in the coming decade. Just 11 percent of adults are "very confident" in the U.S. efforts and 8 percent said the same of the global community. 
About 2 in 5 adults said they have little or no confidence in either group.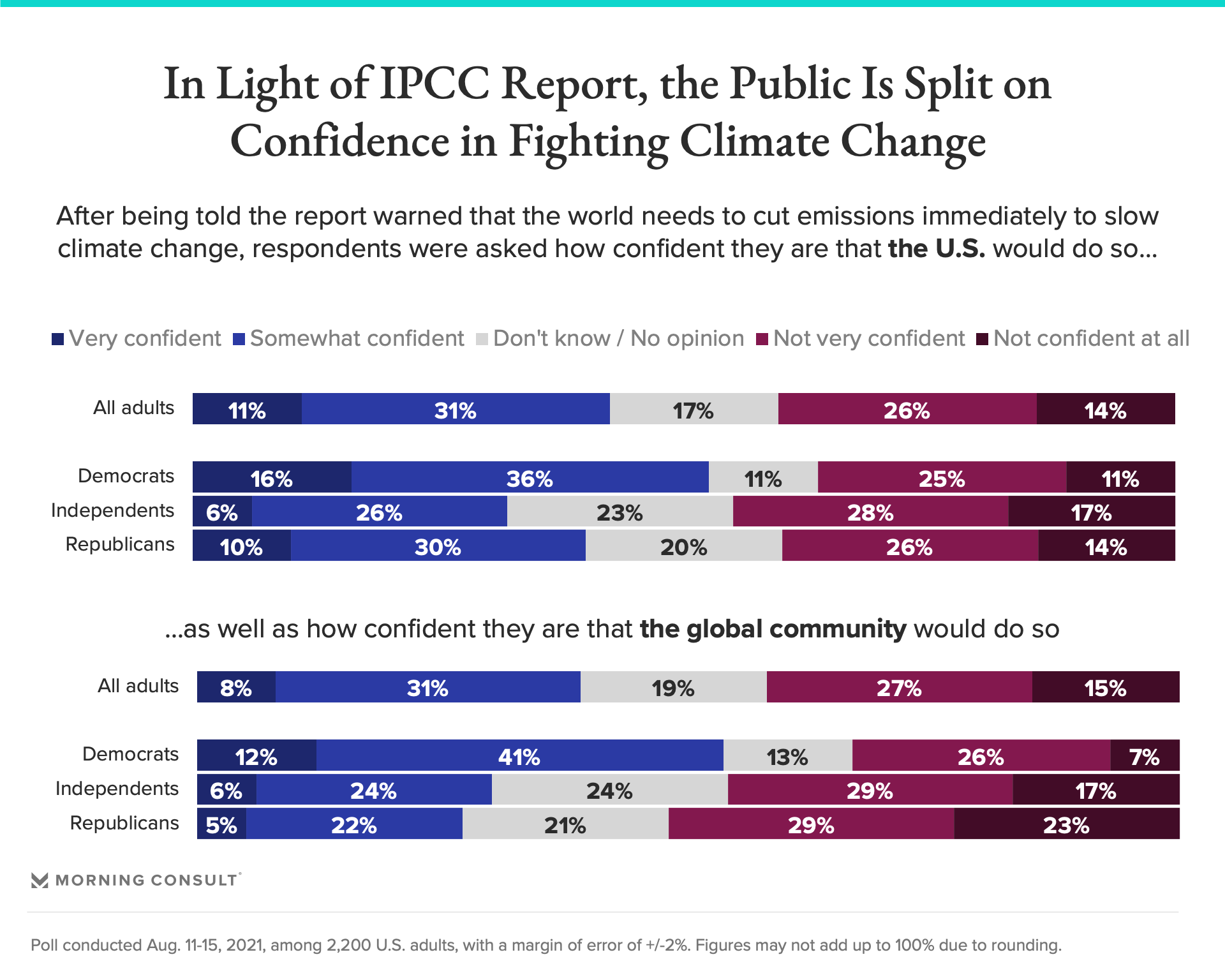 The latest data also found a small uptick in the share of adults who say they are "very concerned" about climate change since the IPCC report's release, increasing to 45 percent after hovering between 38 and 42 percent all summer. 
The share of those who said they are concerned about the impact of natural disasters on their communities remained relatively steady at 40 percent, compared with its previous range of 32-39 percent. 
Meanwhile, 5 percent of adults said they are considering moving now as a consequence of disasters in their region, and 18 percent said they are considering moving in the future. The combined share represents an increase of 3 percentage points since Morning Consult asked the same question 11 months ago. 
The latest poll surveyed 2,200 U.S. adults — 1,640 of whom were aware of the IPCC report — and has a 2-point margin of error.