President Joe Biden scored major legislative victories last week when the Senate sent the House his $1 trillion bipartisan infrastructure bill and advanced a budget resolution that could pave the way for massive social spending plans.
But a new Morning Consult/Politico poll found those wins in Washington were overshadowed by developments in Albany, where one of the nation's most prominent Democrats, New York Gov. Andrew Cuomo, announced he would step down amid scandal.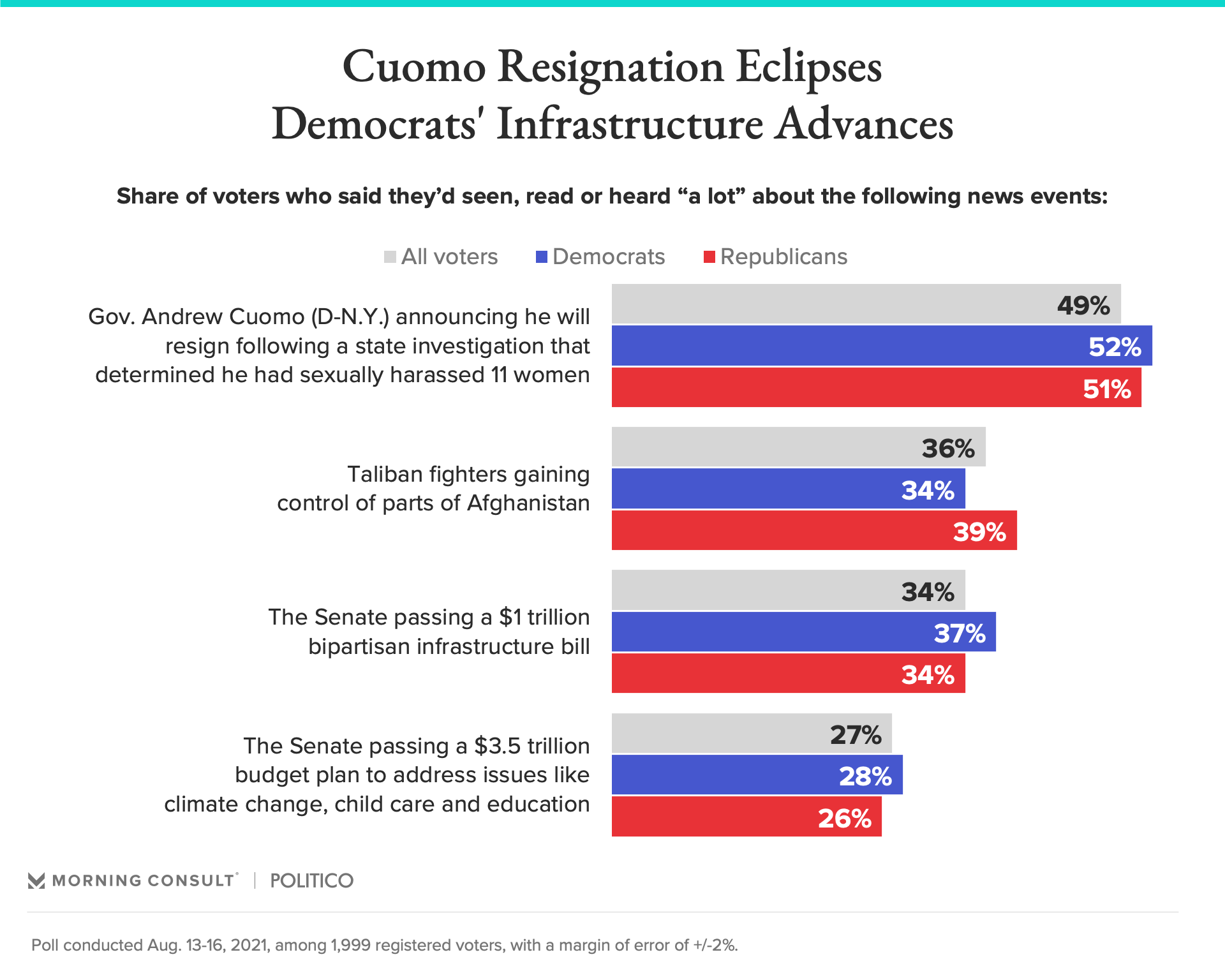 About half of voters (49 percent) – including similar shares of Democrats and Republicans – said they had seen, read or heard "a lot" about Cuomo's resignation following a state investigation that determined he had sexually harassed 11 women.
The share of voters who said they were well-informed about Cuomo's fall was 15 percentage points higher than the share who said the same of the Senate's passage of a $1 trillion bipartisan infrastructure bill (34 percent) and 22 points higher than the share who heard the same of the Senate's move to advance a $3.5 trillion social spending measure (27 percent). The poll has a margin of error of 2 points.
Both figures are less than the 47 percent of voters who said in March that they'd heard a lot about the House passage of the popular $1.9 trillion American Rescue Plan, or the 64 percent who said the same when Biden signed the relief package – one of the most salient events of the year.
While Democratic voters were slightly more likely than Republicans to say they'd heard about the bipartisan development, the partisan gaps in salience for the events were small, particularly compared with the average 11-point difference in 240 news items tested in Morning Consult/Politico surveys so far this year.
Along with the Cuomo news, the poll suggests that developments in Afghanistan also threaten to distract from Biden's legislative victories as the House is set to begin work on his public works and social spending measures next week, amid concerns from Democrats that the party is not doing enough to sell his tangible successes.
The Aug. 13-16 survey of 1,999 voters was conducted over a weekend in which Afghanistan's president fled the country and Kabul fell to Taliban militants, but before searing images of Afghans chasing planes and trying to flee their country had time to seep in and Biden spoke to the nation on the subject.
But even so, the initial events in Afghanistan eclipsed or roughly matched news of Biden's legislative wins, with 36 percent of voters reported having seen, read or heard a lot about Taliban fighters gaining control of parts of Afghanistan, including roughly 2 in 5 Republican voters and over a third of Democrats (34 percent).