Last week, "Jeopardy!" executive producer Mike Richards stepped down as the quiz show's host after offensive comments he made on a podcast years ago resurfaced. Despite the controversy, new polling conducted after Richards' announcement reveals the scandal had little impact on viewers' feelings toward the show, and that many still want LeVar Burton as the next host.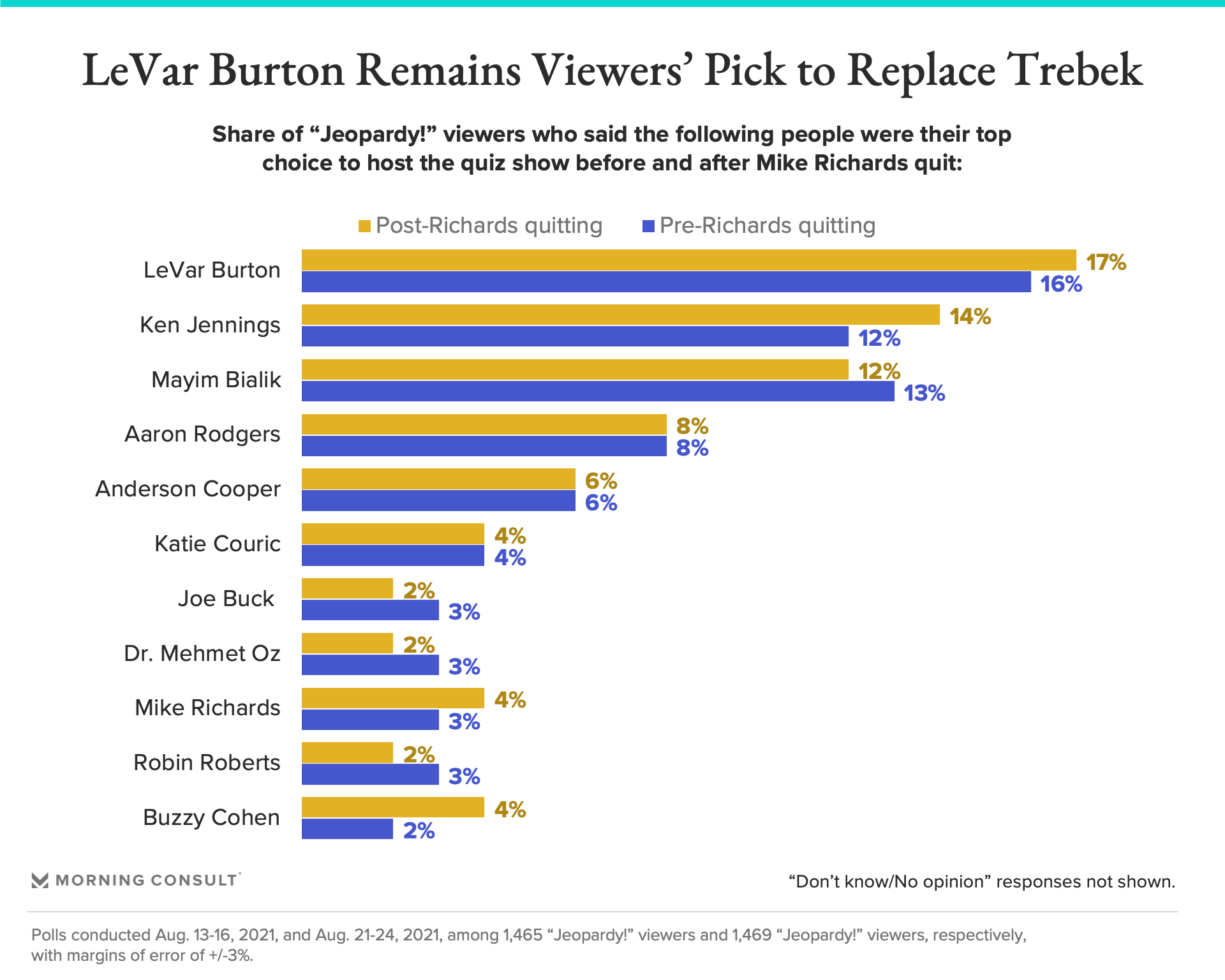 An Aug. 21-24 Morning Consult survey found Burton, a recent "CBS This Morning" guest host and former presenter of  "Reading Rainbow," remained viewers' top pick to take over as "Jeopardy!" host, with 17 percent of the 1,469 "Jeopardy!" viewers surveyed saying he was their preferred replacement, up slightly from 16 percent in an Aug. 13-16 survey. 
"Jeopardy!" champion Ken Jennings finished in second place and saw support tick up by 2 percentage points to 14 percent, while Mayim Bialik — who was named the show's temporary weeknight host on Monday — had the third-most support at 12 percent. Bialik's support stayed flat from the survey conducted before the Richards controversy.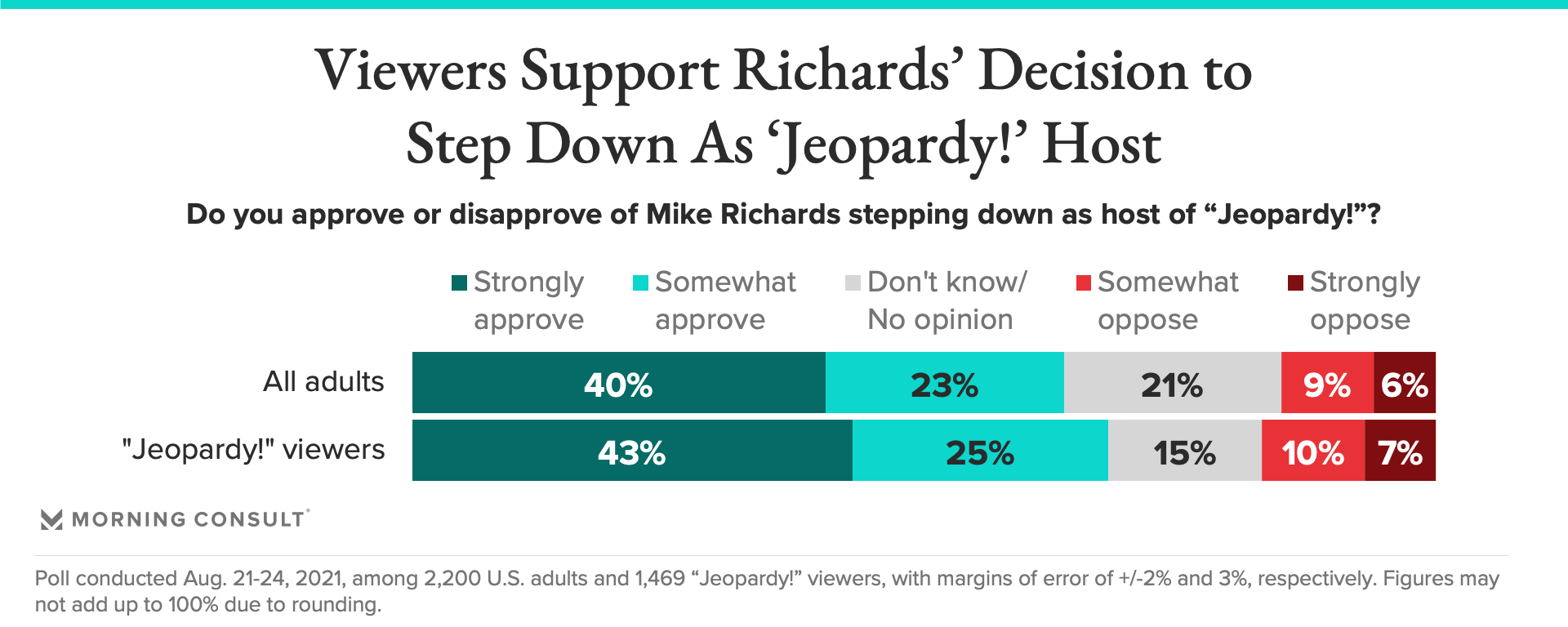 Adults overall (63 percent) and "Jeopardy!" viewers (68 percent) largely supported Richards giving up his role as host. He will remain the program's executive producer.
Polling suggests the drama surrounding the search for a new host has had little impact on the "Jeopardy!" brand: 63 percent of viewers and 66 percent of adults said their feelings about the show were "about the same" after the scandal, a sign it has had little impact on the quiz show's reputation. The survey has an overall margin of error of 2 points, while responses from "Jeopardy!" viewers have a 3-point margin of error.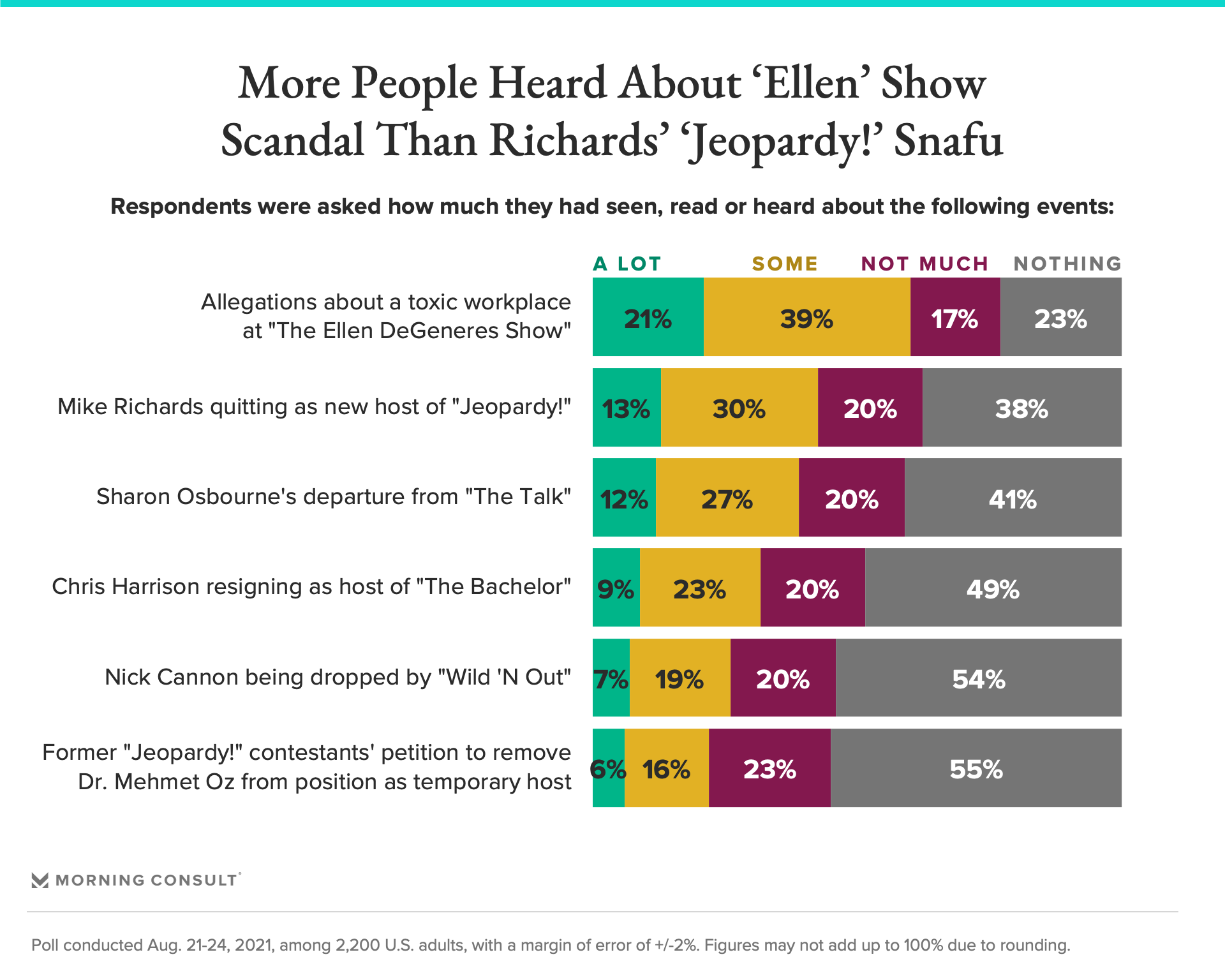 Forty-three percent of adults and 52 percent of "Jeopardy!" viewers said they had seen, read or heard "a lot" or "some" about Richards' decision to step down from the hosting gig, following a report published last week by the Ringer that brought to light offensive comments he made about Asians, women and Jewish people on a podcast in 2013 and 2014.