U.S. public health officials are still trying to figure out how to convince more unvaccinated Americans to get a COVID-19 vaccination in order to address the rise in cases related to the delta variant. A new Morning Consult survey suggests that vaccine requirements at some public spaces — like stadiums, movie theaters and restaurants — could help persuade a sizable portion of the unvaccinated adults to get the shot.
In a Morning Consult survey conducted Aug. 21-25, more than 1 in 4 unvaccinated adults said they would likely get vaccinated against COVID-19 if it were required to attend a sporting event or concert. More than 10 percent said they'd "definitely" receive a shot to go to such an event, while an even greater share of unvaccinated adults said they could be convinced to get a vaccine in order to shop in a store (35 percent) or to send one's child to school (33 percent).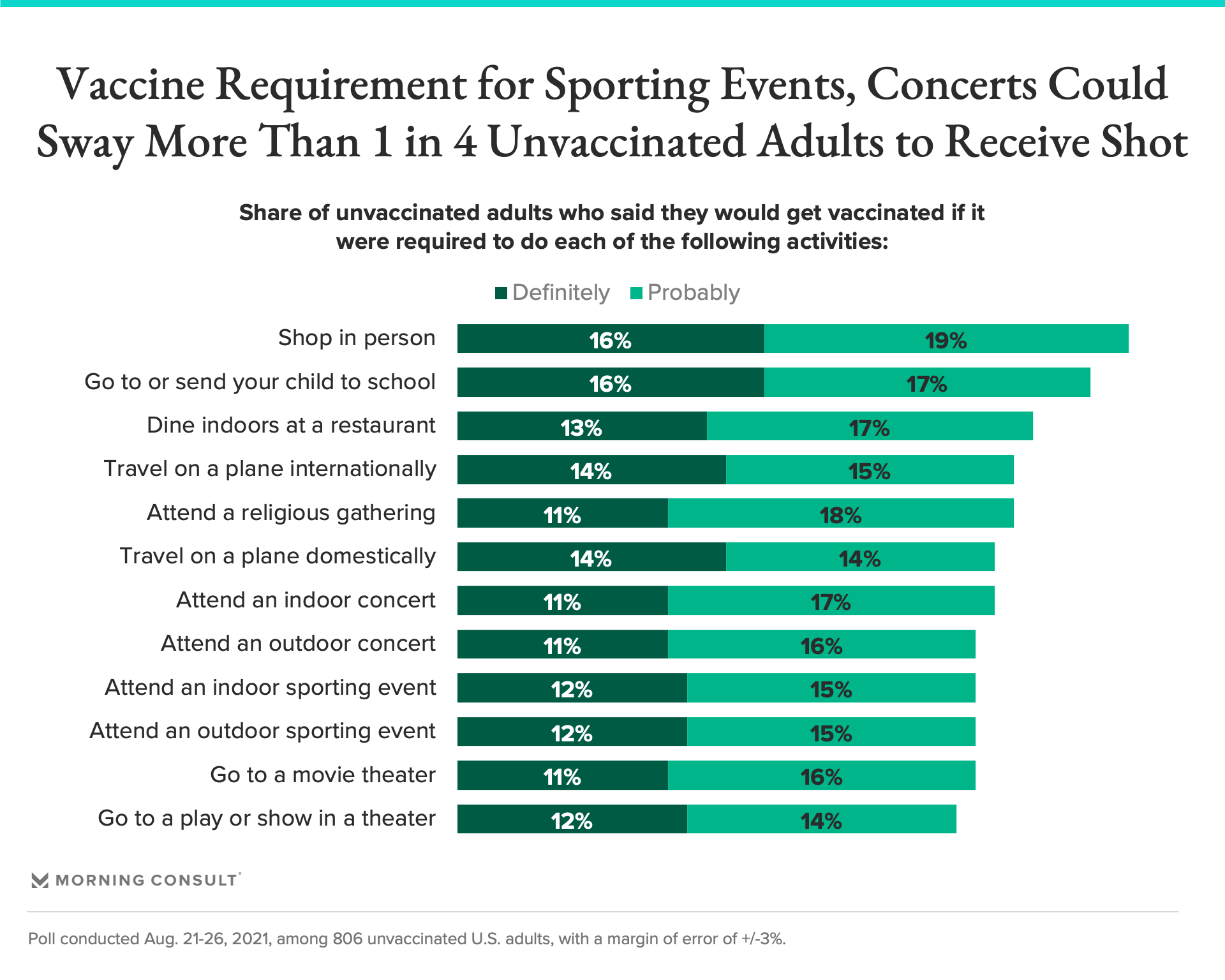 The majority of respondents supported policies that require individuals to either be vaccinated or show proof of a recent negative COVID-19 test in order to enter a public space or event — though the level of support varied based on the type of activity. For example, while 62 percent of Americans supported requiring travelers on an international flight to show proof of vaccination or a negative test, 51 percent supported such a mandate for those attending an outdoor sporting event.
Vaccinated adults were more likely to support these policies than unvaccinated respondents. Roughly 70 percent of vaccinated adults supported vaccine mandates for indoor concerts and sporting events, for example, but only about one-third of unvaccinated consumers said the same.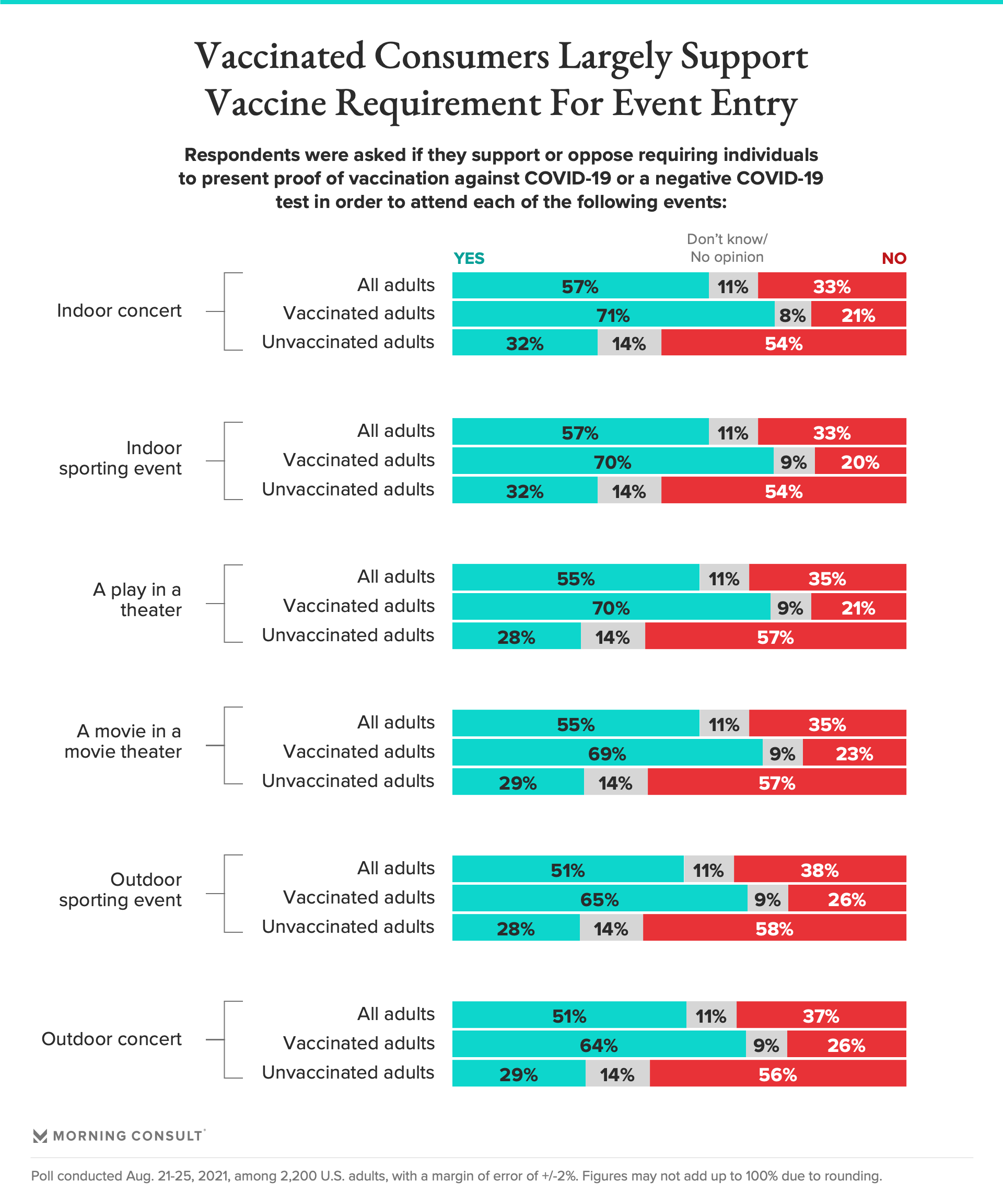 Some event organizers have adopted even stricter guidelines in recent weeks. New York City now requires at least one dose of the vaccine as a condition of entry to indoor restaurants, concerts and movie theaters, and is deploying a program called the Excelsior Pass that allows New Yorkers to electronically confirm their vaccine status. 
And as performers get back on stage, AEG Worldwide, Live Nation Entertainment and the Broadway League all announced that those attending concerts and theater performances will be required to show proof of vaccination or a negative COVID-19 test to enter their events.
One key variable from policy to policy is whether unvaccinated individuals will be allowed to present a recent negative COVID-19 test result as an alternative to a vaccination. The Las Vegas Raiders, the first NFL team to announce that those attending home games need proof of vaccination for the 2021 season, will notably not permit a negative test in lieu of proof of vaccination for admittance to Allegiant Stadium.
Meanwhile, New Orleans, which has jurisdiction over Saints football games at the Caesars Superdome, will allow unvaccinated attendees to show proof of a negative test within 72 hours as an alternative to getting vaccinated.
Roughly half of U.S. adults said they support allowing unvaccinated individuals to present a negative COVID-19 test as an alternative to proof of vaccination for a range of activities, from attending an outdoor sporting event (53 percent) to traveling on an international flight (47 percent), according to the survey.
Unlike vaccine mandates, which can be controversial depending on the setting, the survey found little opposition to requiring masks in public places. The overwhelming majority of U.S. adults said they support mask requirements for indoor sporting events (79 percent), theater shows (79 percent), movie theaters (78 percent) and religious gatherings (78 percent), among other activities.
Vaccinated individuals were much more likely than unvaccinated individuals to support mask mandates for either all adults or just unvaccinated adults at public events — but even the majority of unvaccinated people generally supported some sort of mask requirement.