Following a Delta-driven economic slowdown and a disappointing August jobs report, policymakers and businesses alike will be looking at higher frequency indicators like unemployment insurance (UI) claims for additional signs of weakness in the labor market. However, the Sept. 4 expiration of federal unemployment benefits will likely mask the true impact of the COVID-19 resurgence on employment.
This analyst note draws on the most recent data from Morning Consult's Lost Pay / Income Tracker to show that a growing share of U.S. adults are experiencing income and pay losses unlikely to be fully captured in weekly UI data.
Lost income tracker shows worrying trend yet to show up in claims data
According to Morning Consult's weekly Lost Pay / Income Tracker, the percentage of U.S. adults who reported losing pay or income in the prior week has ticked up significantly over the past 4 weeks. Since reaching a pandemic low of 11.4% during the week ending August 14th, the share reporting lost pay or income has risen to 13.0% during the week ending September 11. 
The recent increase in lost income or pay may be an early warning sign for the U.S. labor market, which could remain largely unseen in official datasets until the September jobs report is released on October 8. Historically, Morning Consult's Lost Pay / Income Tracker has served as a leading indicator of initial UI claims, as it did last winter when the third wave of the pandemic weighed heavily on job creation. However, in recent weeks new claims have continued to track downwards while lost pay or income has increased, especially in the past two weeks.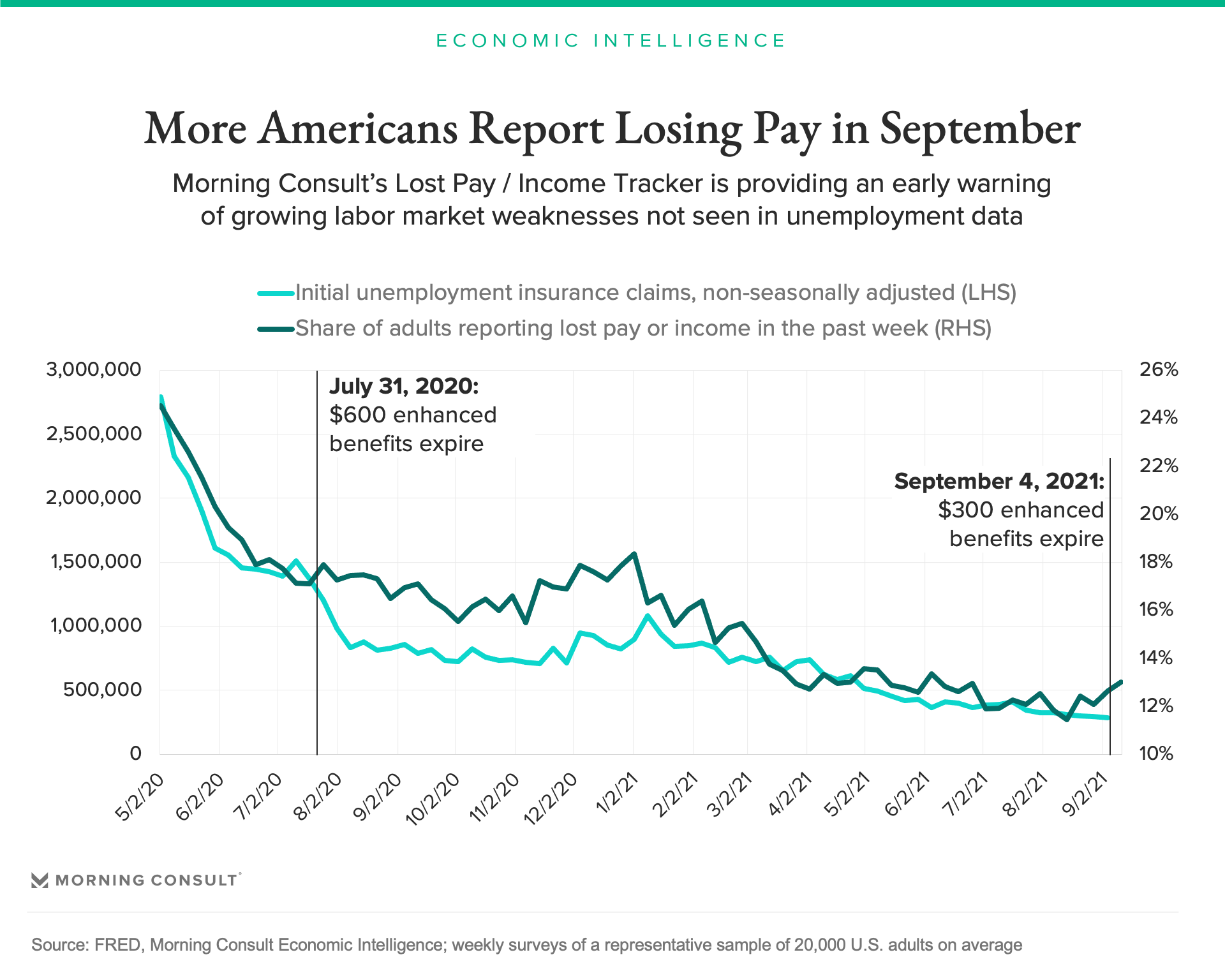 One likely reason for the recent divergence is the expiration of federal UI benefits, which ended eligibility or reduced the value of weekly payments for millions of Americans. Benefits ended nation-wide on Sept. 4, while 26 states cut off benefits in the weeks prior. Smaller weekly payments reduce the incentive for workers to file for claims, exerting downward pressure on UI filings even if more workers experience pay losses.   
Thursday marks the first release of new claims data since the disappointing August jobs report, and a further decrease in Americans filing for UI benefits may help to calm markets and policymakers. However, UI claims currently do not tell the full story in terms of the employment recovery. Should the incidence of lost income and income continue to track higher in the coming weeks, weekly UI claims recorded in September could potentially provide a false sense of economic optimism. 
Food and hospitality workers most susceptible to income loss
As the Delta variant undermines Americans' comfort taking part in many activities like dining out or travel, service sector workers are bearing the brunt of the increases in pay and income losses. In the last four weeks, the share of food and beverage workers who reported lost pay or income rose from 19.1% to 25.7%. Leisure and hospitality workers were the second most likely to report income loss, with 19.5% saying they lost pay or income in the week ending Sept. 11.
A slowdown in hiring in leisure and hospitality was the primary reason the monthly U.S. jobs report came in below expectations in Aug., and early readings of Morning Consult data in September indicate the demand for labor in these sectors continues to slow. Further weakness in hiring in these service industry sectors would drag down the headline jobs figure in September. 
Labor market weakness could cause policymakers to recalculate
Expectations for both fiscal and monetary policy have been predicated on a belief that the U.S. economy, and the labor market in particular, will continue to improve this year. However, Jerome Powell's Federal Reserve continues to remain cautious and stress the importance of a strong labor market recovery in its calculus for future policy. Should the past few weeks' acceleration in pay losses prove a longer-lasting trend, it could lead the Fed to maintain a more accommodative monetary policy for longer, or even prompt the Biden administration to more aggressively pursue spending priorities.