Amid Trading Controversies, Public Trust in Federal Reserve Hits New Tracking Low
Democrats' trust in the Fed has held steady since tracking began in November 2020, while Republicans' trust is fading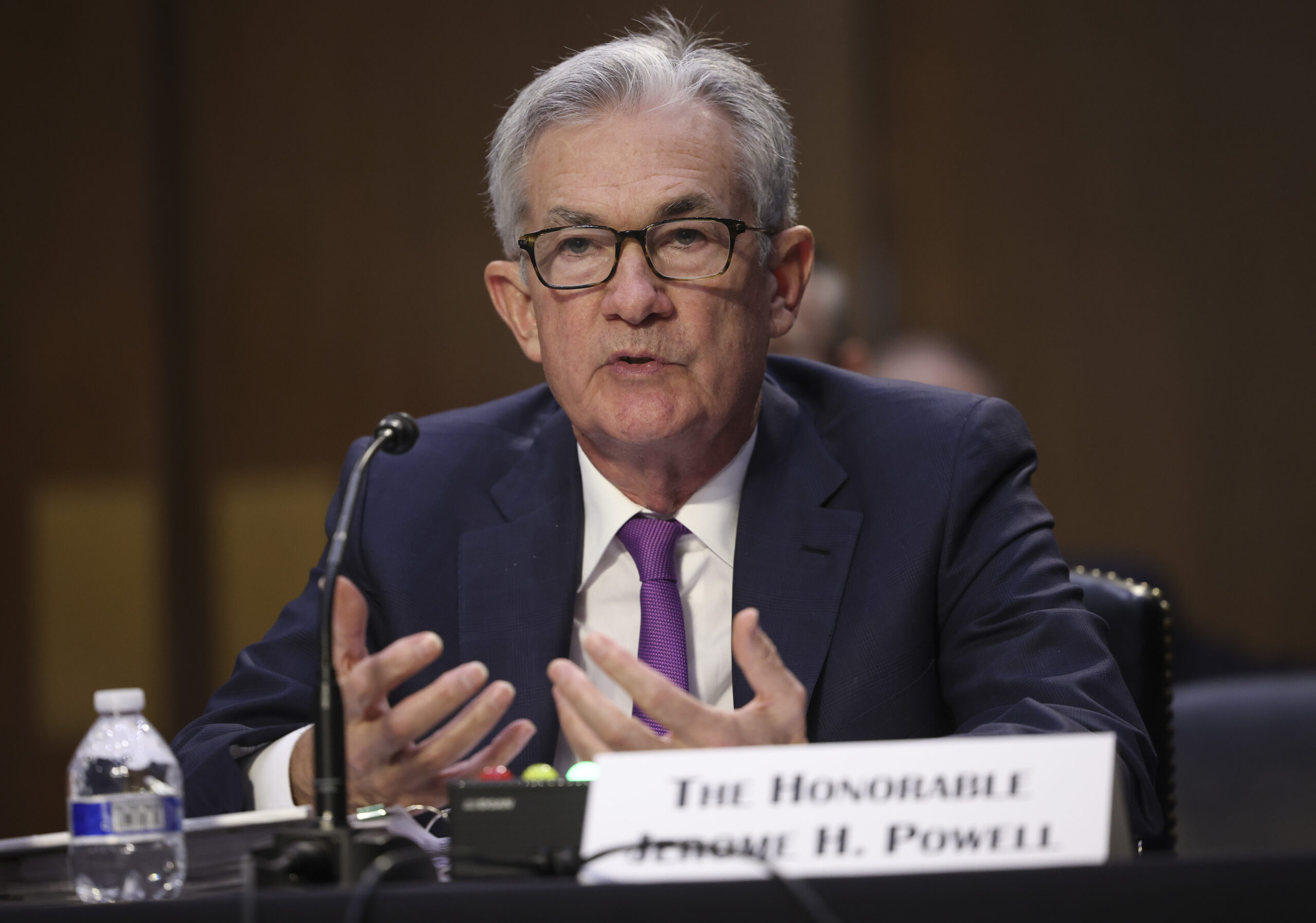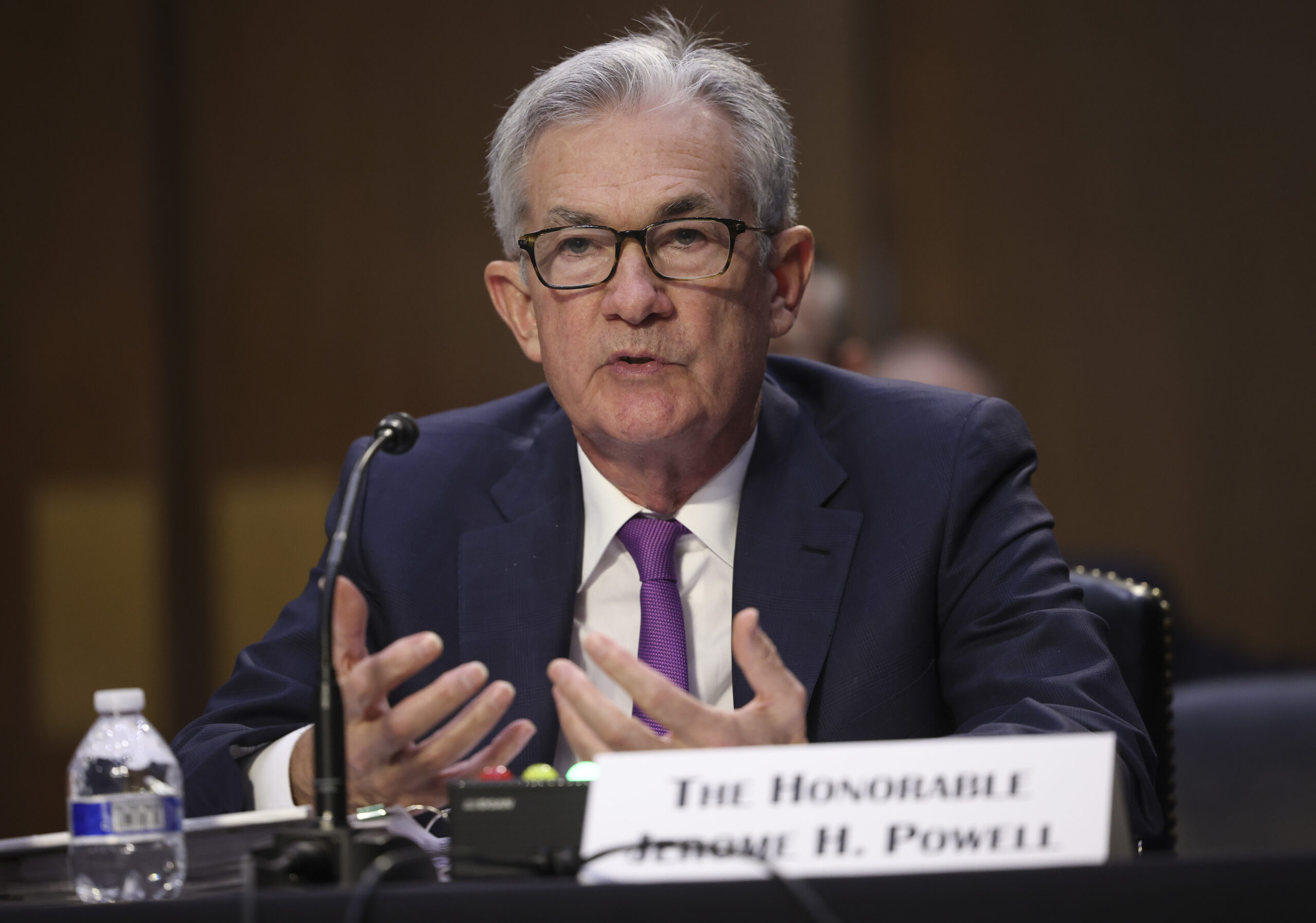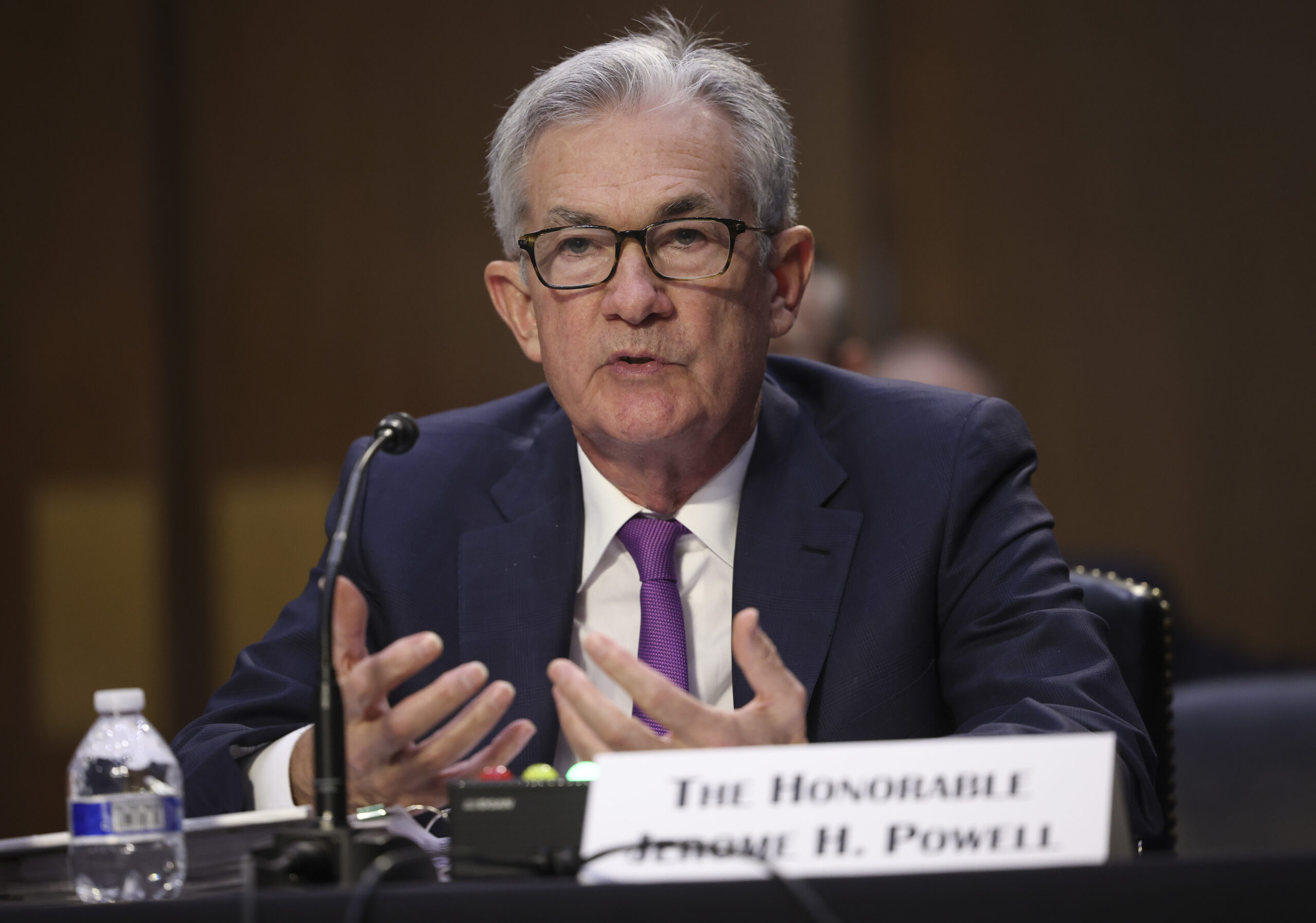 Republican trust in the Fed has dropped 6 points since the trading scandal broke and has fallen 18 points since Morning Consult began tracking the data in November 2020.

Trust in the Fed reached a high in March as the vaccine rollout got underway and Jerome Powell spoke of falling unemployment rates.
Two departing Federal Reserve officials are leaving the central bank in a trickier political spot than it was in only a few months ago, as public trust in the institution has sunk to the lowest point in 10 months of Morning Consult tracking.
Robert Kaplan, head of the Federal Reserve Bank of Dallas, and Eric Rosengren, president of the Boston Fed, announced their resignations Monday after facing criticism for stock trades made as the Fed was supporting markets amid the coronavirus pandemic.
Federal Reserve Chair Jerome Powell said during a Senate Banking Committee hearing Tuesday that the appearance of those trades, while compliant, "is just obviously unacceptable" and that sustaining "the public's trust is the essence of work."
Powell may have some work to do on that front: 51 percent of U.S. adults said they have "a lot" or "some" trust in the Fed, an all-time low in a weekly Morning Consult survey that launched in late November. The most recent poll was conducted Sept. 23-25.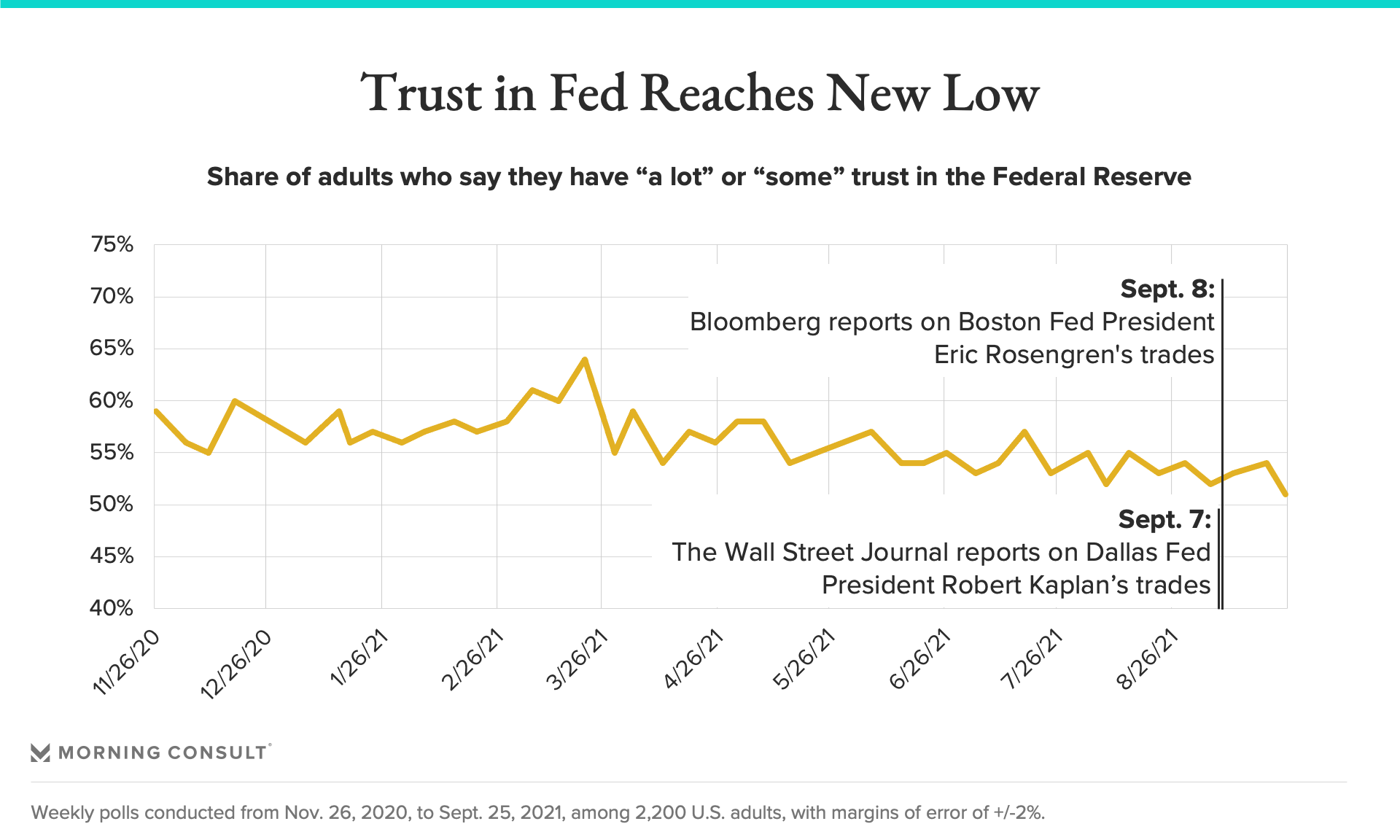 Trust in the Fed surged to a record high of 64 percent in March, a time when the economic mood of the country was more positive as restaurants and other businesses began to reopen amid the COVID-19 vaccine rollout.
After the central bank's policy-setting committee meeting in March, Powell noted falling unemployment, and Morning Consult's consumer sentiment tracker noted rising optimism about the economy around the time.
Trust in the Fed has trended downward since, with the nadir so far coming more than two weeks after news of the trading controversy broke but just two days before Kaplan and Rosengren announced their departures.
The trading controversy comes at an especially crucial time for Powell, whose term as chair is up in February. His renomination has become yet another battle between progressives in the Democratic party, who argue Powell allowed the financial sector to be deregulated during the Trump presidency, and moderates who applauded the Fed's monetary and economic policy during the pandemic.
Despite that intraparty split, Democrats have expressed high levels of trust in the Fed, especially compared to Republicans.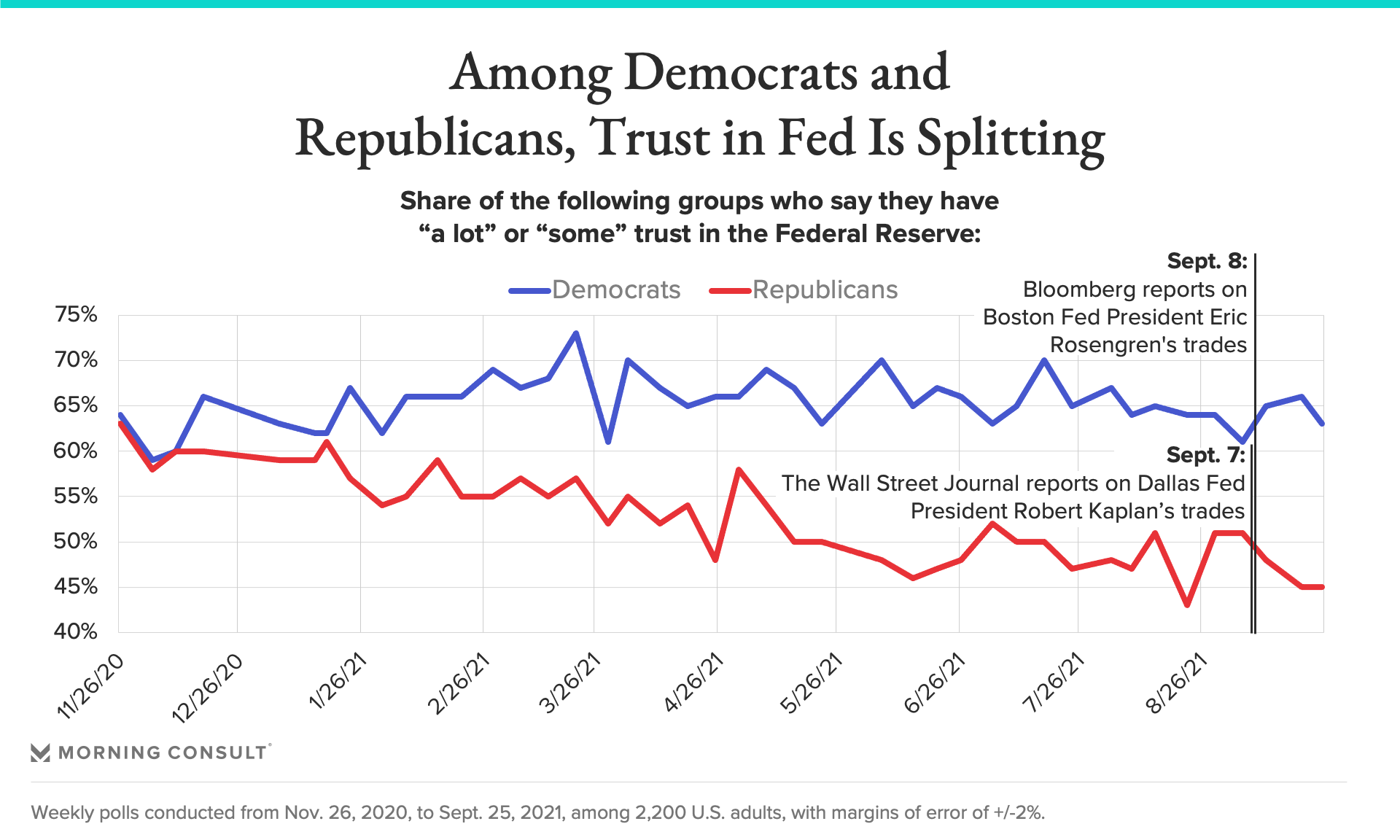 Among Democrats, trust in the Fed has held relatively steady since November 2020, after President Joe Biden's election, while the share of Republicans who trust the central bank has fallen 18 percentage points to 45 percent over the same time period.
Since the trading scandal broke in early September, Democratic trust in the Fed has remained largely unchanged, while Republican trust dropped 6 points, suggesting that the overall decline in trust among U.S. adults is driven by Republican sentiment.