As the country reels from yet another record-setting disaster season, a majority of U.S. adults are anticipating things will only get worse, per new polling from Morning Consult. 
Asked to reflect on the past five years, 61 percent of the public says disasters and storms have been getting more severe, while 30 percent say their severity has remained roughly steady; just 2 percent (within the poll's 2-percentage-point margin of error) said they have gotten less severe. 
And 55 percent of adults say they expect the wildfires, hurricanes, floods and droughts that have become a feature of almost every season in recent years to become increasingly severe in the next five. Roughly one-third of respondents say they expect the status quo to remain.
However, there is a wide partisan divide in respondents' perception of both the recent past and the near future's disaster landscape. Democrats are 29 points more likely than Republicans to say disasters and storms have been getting worse, at 74 percent and 45 percent, respectively. This roughly maps the groups' future expectations, with 69 percent of Democrats saying disasters will get more severe and 38 percent of Republicans saying the same. 
Meanwhile, an increasing number of people in the Northeast and South say that climate change is affecting the environment and weather where they live, up to 63 percent from 57 percent one year ago. The poll ran just weeks after the vestiges of Hurricane Ida resulted in unprecedented and fatal flooding across major cities in the region. 
Across the population as a whole, however, the share of adults who say climate change has begun to take a local toll has remained approximately steady, at 57 percent (up slightly from 55 percent in September 2020).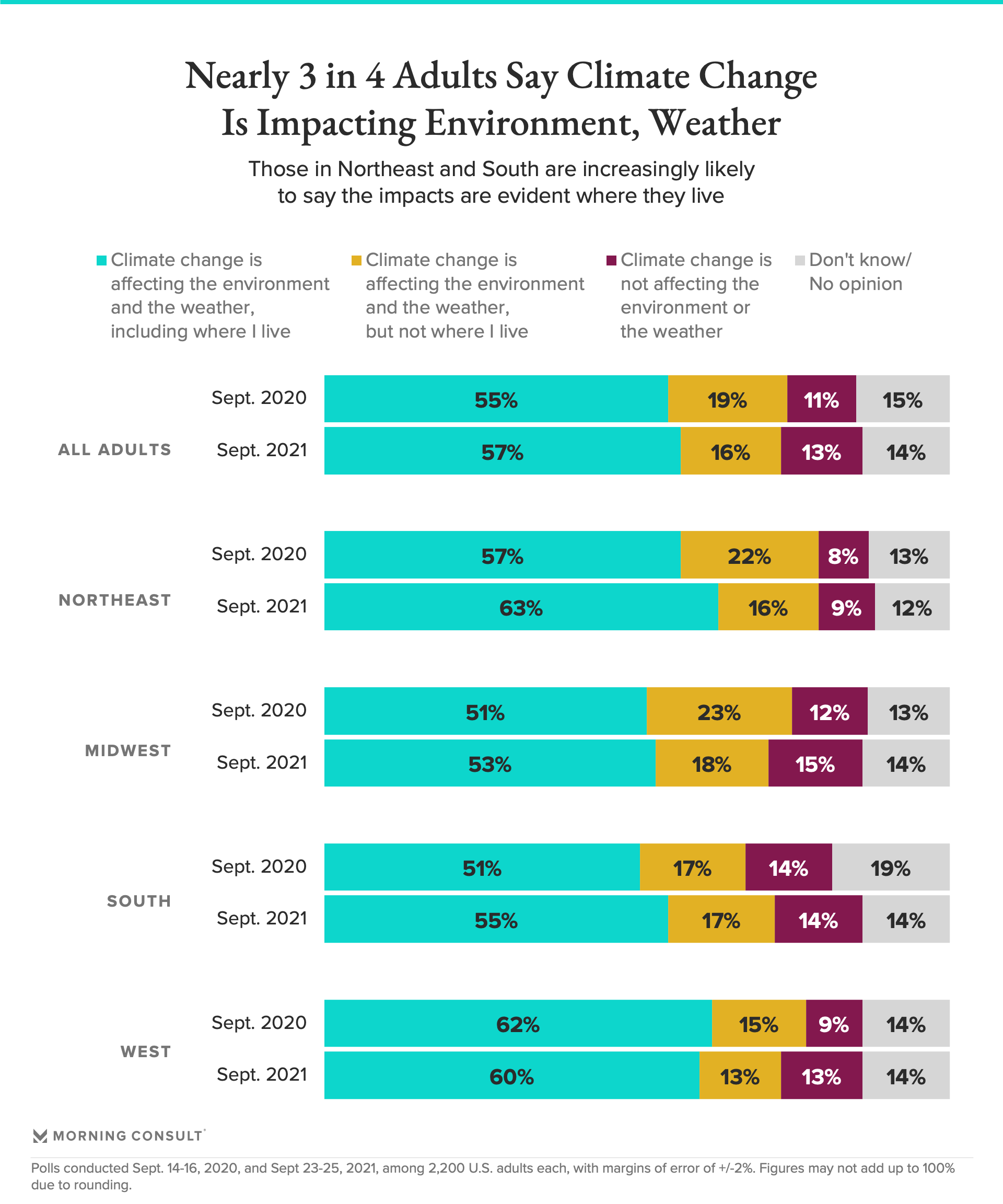 Relatedly, the share of adults who say they are considering moving now or in the future due to disaster concerns has nudged up only slightly, from 20 percent last year to 23 percent in the new poll. 
This portrait of U.S. disaster attitudes comes as the Biden administration and federal legislators weigh disaster mitigation funding as part of the massive social spending bill proceeding along its controversy-riddled path through Congress. 
Just 23 percent of adults say lawmakers have "probably" or "definitely" done enough to mitigate the fallout from disasters, with 59 percent saying they have not. Republicans are slightly more approving than their counterparts on the left, with 29 percent and 23 percent saying lawmakers have done enough on disasters, respectively.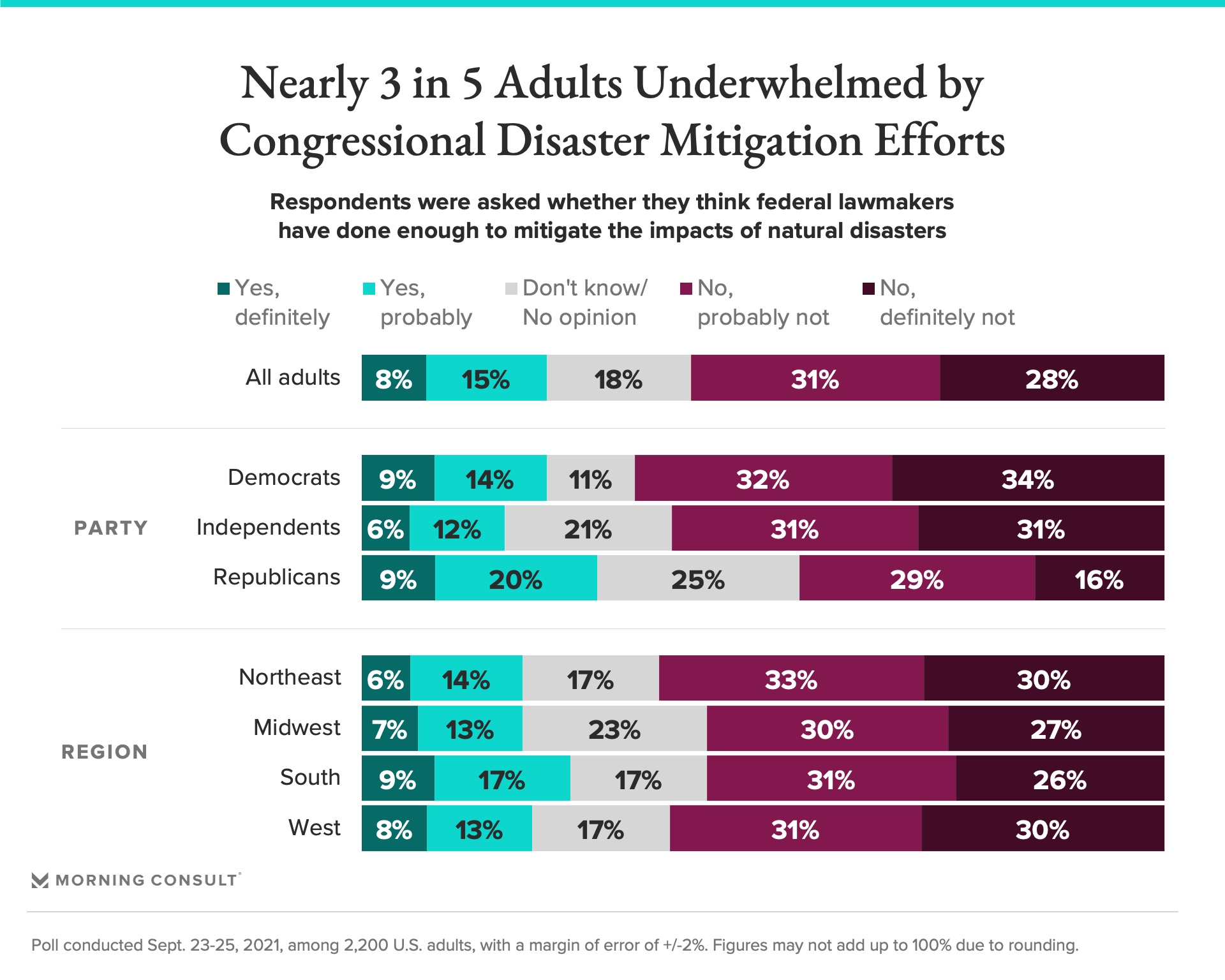 Lawmakers of both parties are fairly low on the public's ranking of whom it trusts to deal with climate change and the disasters that accompany it. When adults were asked about their confidence in various individuals, groups and organizations on climate change, scientists, environmental groups and the Environmental Protection Agency garnered the most trust, while Republicans in Congress and business leaders the least.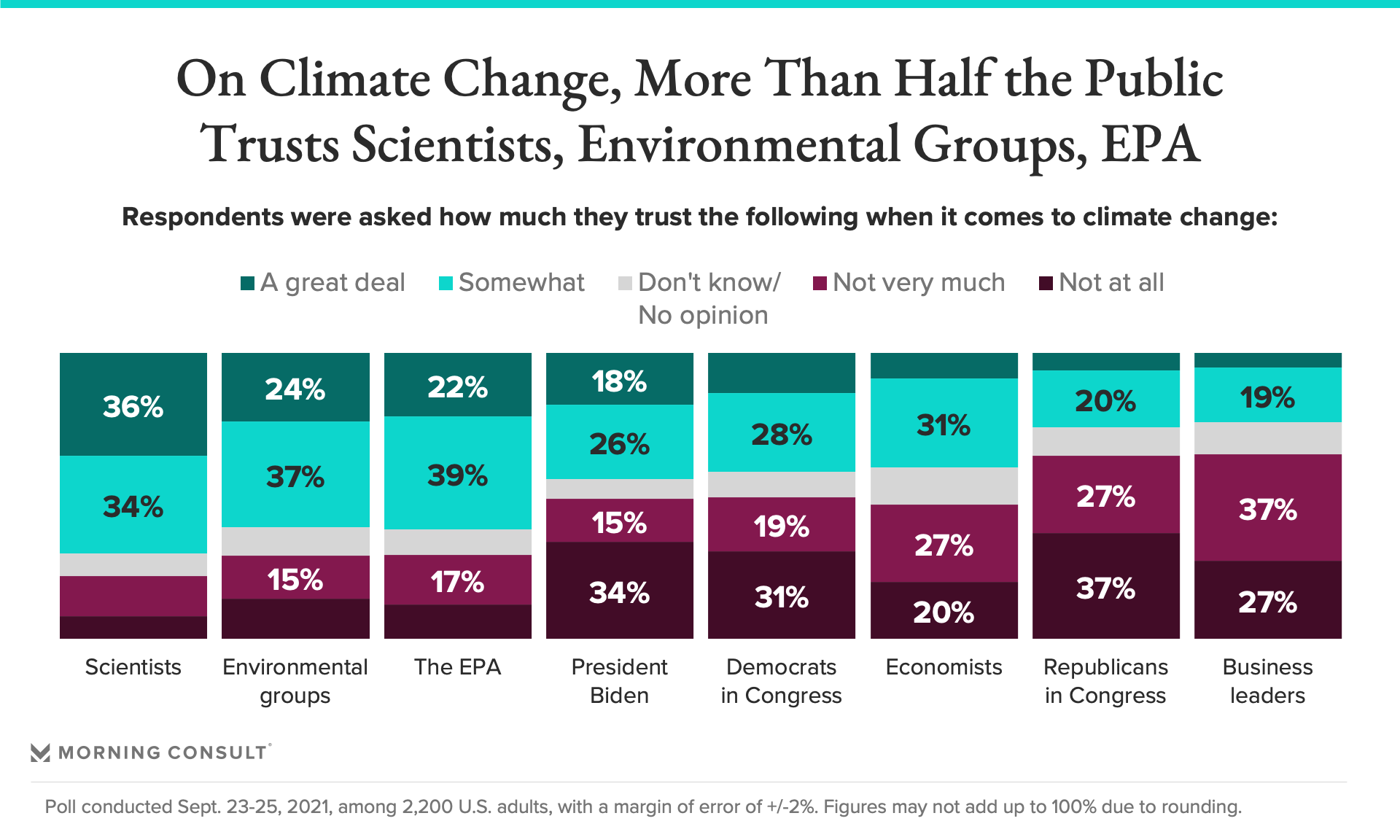 And when asked about sources of information on hurricanes and other disasters specifically, the public was most likely to place its trust in scientists and national meteorologists.  
Both polls surveyed 2,200 U.S. adults and had 2-point margins of error. The 2020 poll was conducted Sept. 14-16, while this year's update ran Sept. 23-25.