Tax Hikes for Corporations and High Earners — Absent From Most Recent 'Build Back Better' Debate — Are Popular Among Voters
Increasing the capital gains tax rate has less support but is still relatively popular at 45% approval
In capitulating to Sens. Joe Manchin (D-W.Va.) and Kyrsten Sinema (D-Ariz.), Democrats have slashed some of the most popular pay-for provisions from their "Build Back Better" economic spending bill. But a new Morning Consult/Politico poll shows those measures had strong backing from voters.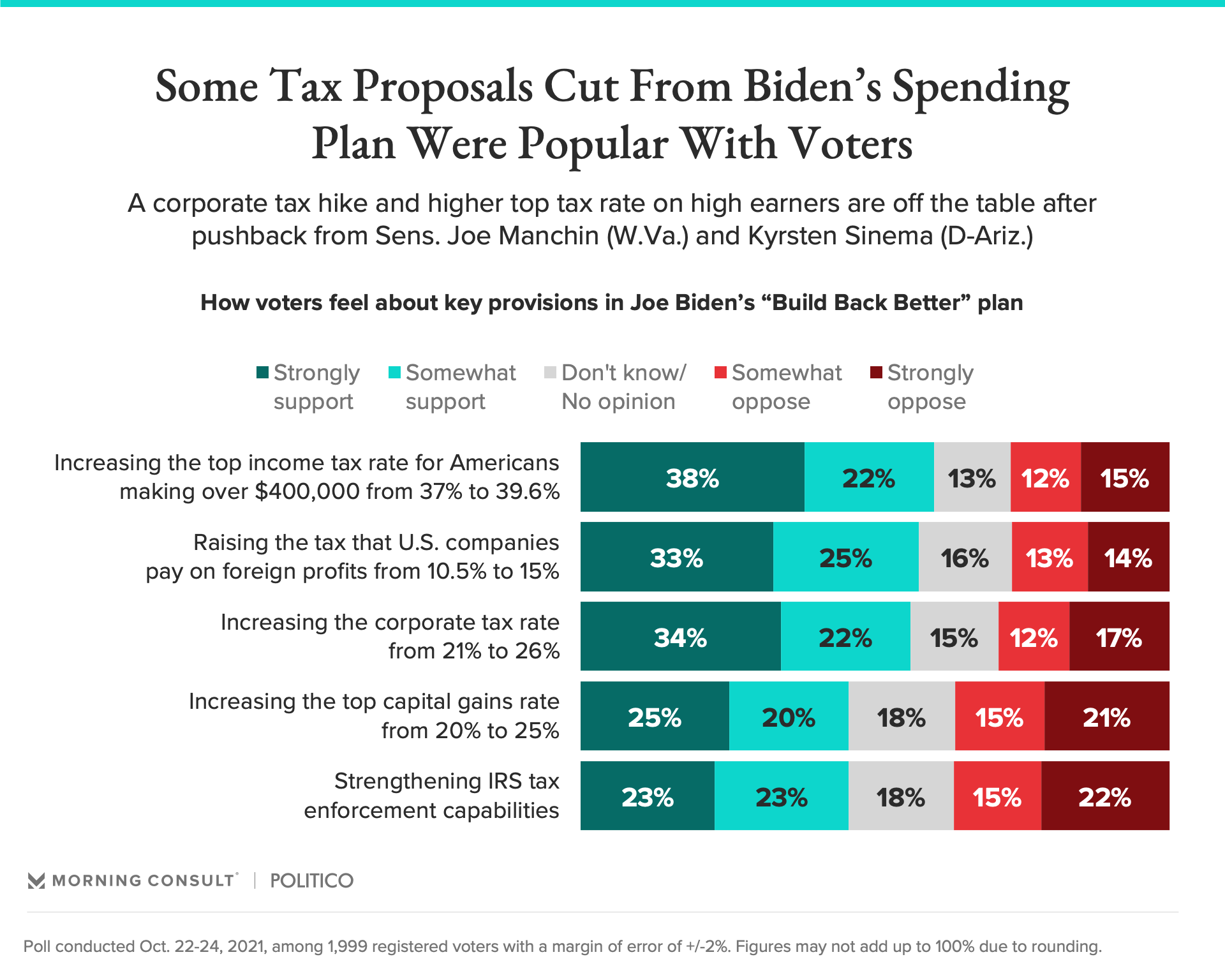 What the numbers say
Measures that have been cut

from more recent versions of the economic spending package, projected to cost around $1.5 trillion,

are also the most popular

. Increasing the top income tax rate for Americans who make more than $400,000 garnered support from 60 percent of voters, while 56 percent were in favor of increasing the corporate tax rate.

The corporate tax rate is still a topic of conversation: Sen. Elizabeth Warren (D-Mass.) and other Democrats suggested a 15 percent minimum on large companies' income Tuesday night — although it's unclear if Manchin or Sinema would back the plan.
Raising the top capital gains tax rate

, a measure that has

reportedly

won approval from Manchin, received

45 percent support

. Strengthening Internal Revenue Service enforcement, which could also win approval from the two moderate Democrats, has 46 percent backing.

Perhaps some good news for Treasury Secretary Janet Yellen:

The global minimum tax rate

she pitched abroad and now must convince American lawmakers to support

polls well in the United States

. More than half of survey respondents supported raising the tax that American companies pay on foreign profits from 10.5 percent to 15 percent.
The poll was conducted Oct. 22-24, 2021, among 1,999 registered voters with a margin of error of plus or minus 2 percentage points.