Policymakers on both sides of the aisle are already making moves on 6G with a new bill, just as two major telecommunications companies are eyeing early 2022 to roll out a new 5G frequency band. But while lawmakers and industry leaders are full steam ahead on these broadband buildouts, it appears the public isn't yet fully on board.
Most adults who don't have a 5G cellphone said they are willing to upgrade to one with those capabilities, but they would be unwilling to do so if they had to pay more for the phone, according to new Morning Consult polling. And most of the public is unwilling to pay more per month to access a 5G network.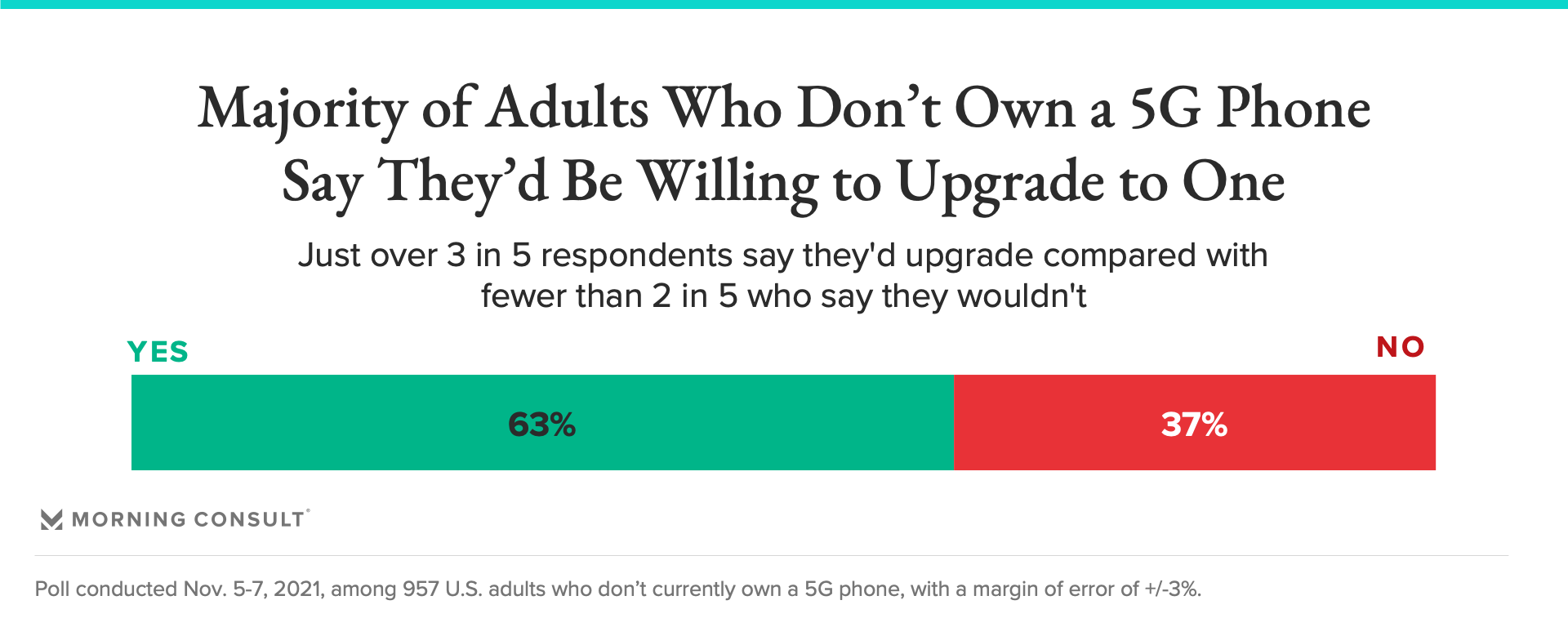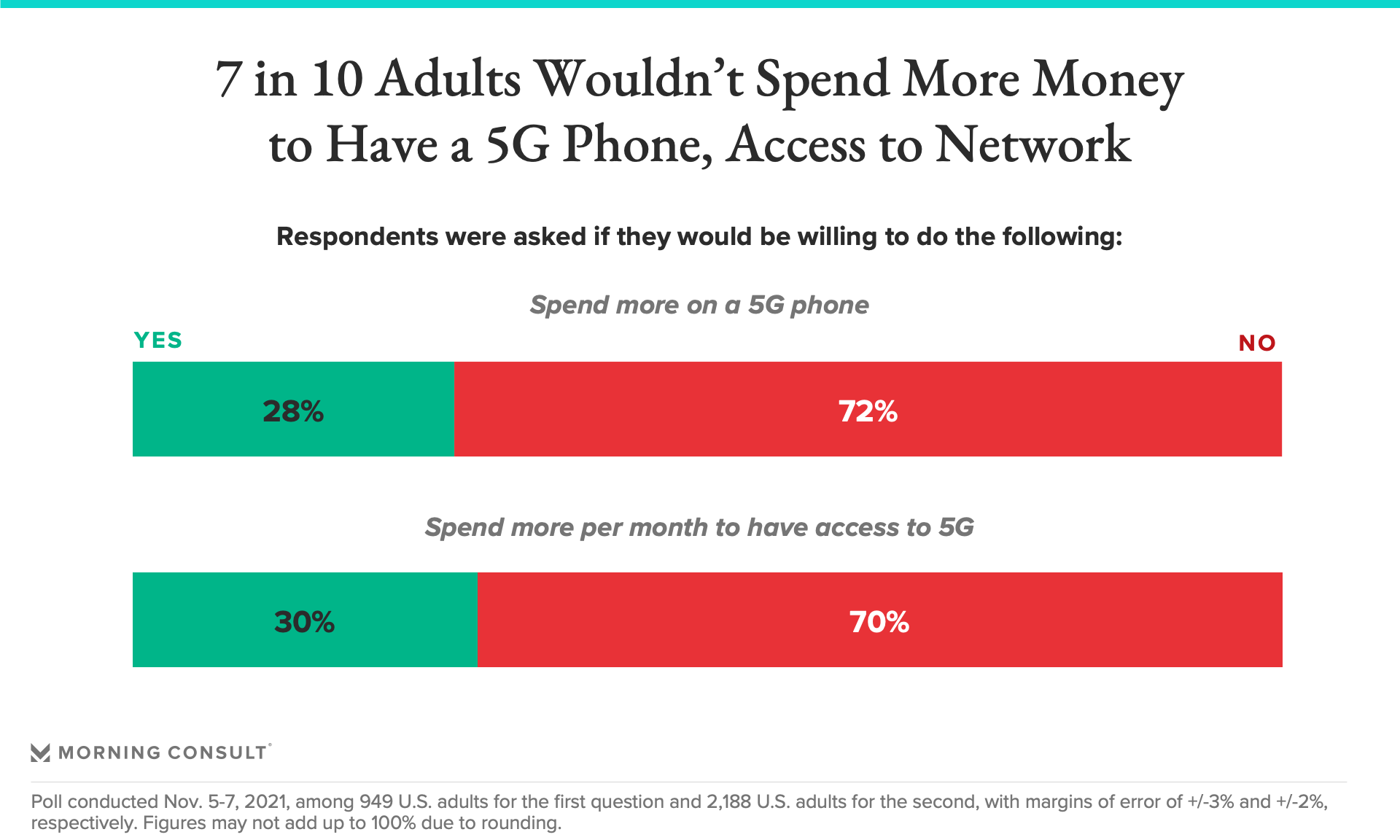 Selling the 5G buildout to hesitant consumers
Telecom companies and lawmakers have been talking up 5G for years as a way to get more people connected, and at faster speeds. But while the hype around 5G has been significant, the limited supply of 5G-capable phones up to this point has meant they are more expensive than regular phones, and the worldwide shortage of semiconductors may prevent faster manufacturing, especially for Apple Inc.'s 5G-ready iPhone 13.
Meanwhile, mobile 5G networks have been rolling out across the country but ran into a significant obstacle this month, as AT&T Inc. and Verizon Communications Inc. agreed to delay their Dec. 5 rollout on a new frequency band to address concerns raised by the Federal Aviation Administration about potential interference with aircraft. Both companies agreed to push back the deployment for a month, although they disputed the claims that 5G could interfere with airplanes' safety systems.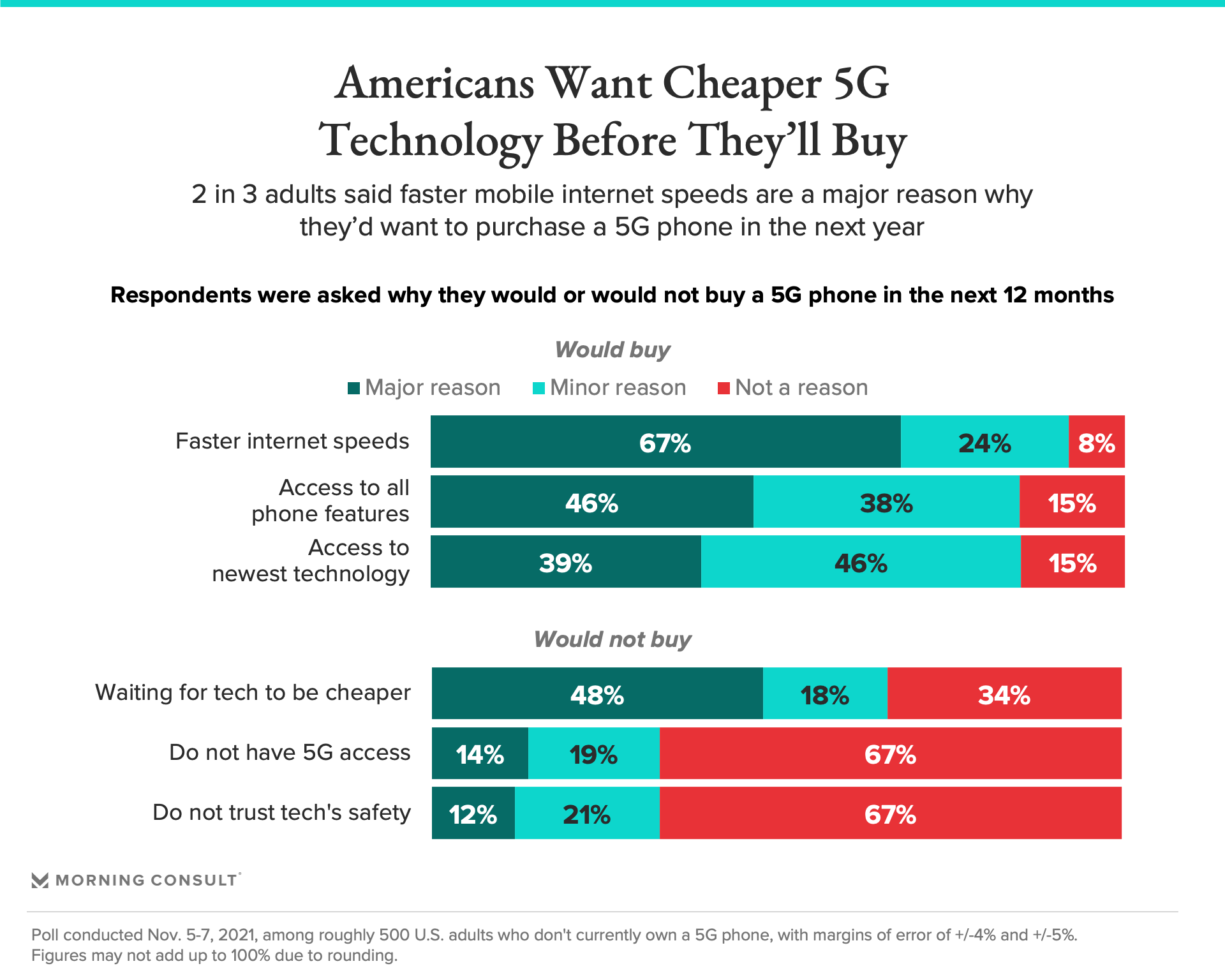 In promoting 5G, telecom companies have talked up its faster internet connections to lure customers, and that appears to have broken through with holdouts, as 67 percent said it would be a major reason for them to buy a 5G-ready phone in the next 12 months. Another 24 percent, meanwhile, said it would be a minor reason for them to do so.
Less important to potential 5G phone owners in considering whether to buy  one in the next year was having access to all phone features and owning the newest technology, although strong majorities said both were at least a minor reason for them to be willing to upgrade.
What's stopping widespread 5G adoption? Cost, primarily
However, cost remained a sticking point, as 66 percent said a reason they'd be unwilling to buy a 5G phone in the next 12 months is because they're waiting for the technology to become cheaper. In addition, about a third said they don't have 5G access in their area and they lack trust in the tech's safety.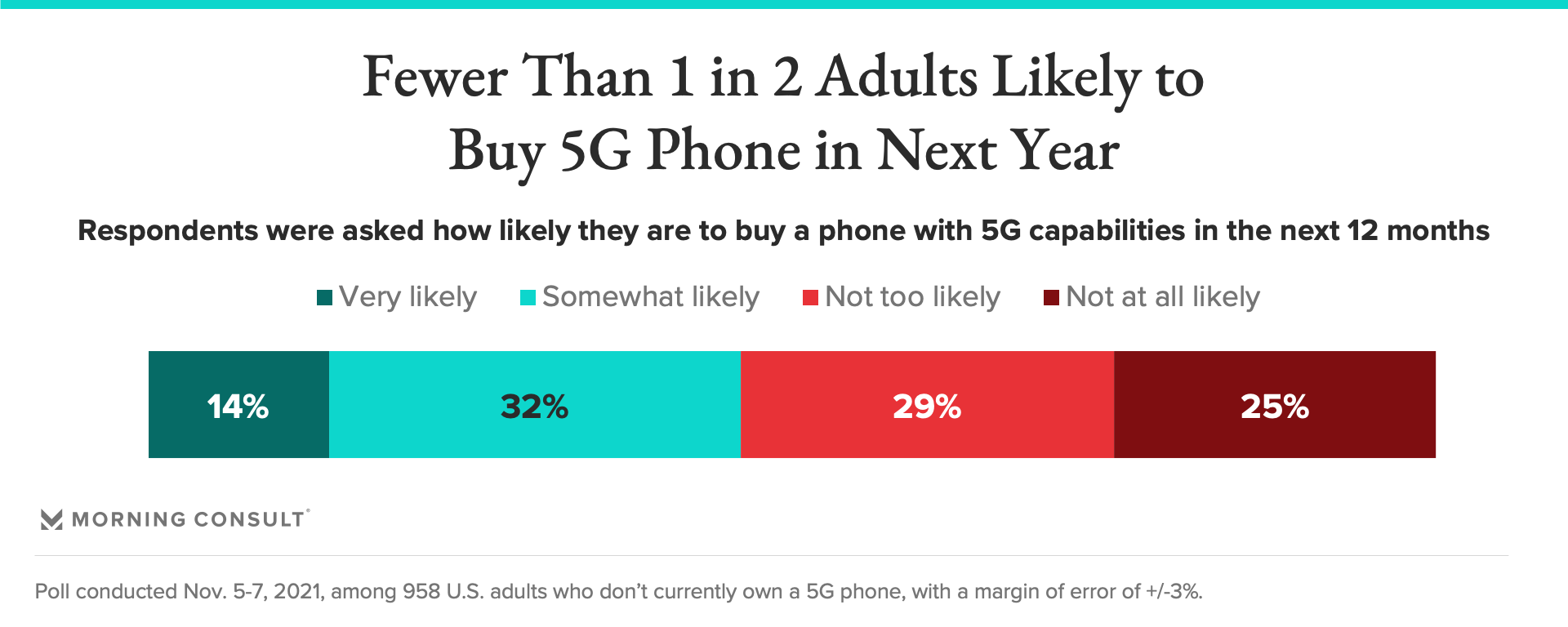 All this means that in the next year, only 46 percent of adults who don't already own a phone with 5G capabilities said they would be at least somewhat likely to buy one. Among all U.S. adults, 46 percent said they own a 5G-capable phone, while 44 percent said they did not.
Despite efforts to roll out 5G, plans are already being made for the next generation of mobile technology, as a group of bipartisan senators introduced legislation last month to support the advancement of 6G technology. The bill would establish a national 6G strategy by creating an expert council to oversee federal development of telecommunications networks. Already, telecommunications networks are part of an alliance that looks to promote North American leadership on 6G.
Two-thirds of the public said they had seen, read or heard "nothing at all" about 6G technology, compared with 16 percent who said they had seen, read or heard at least some. Sixty-two percent said they had seen, read or heard at least some about 5G technology in general.