Want to spark a debate among Marvel fans? Just ask them which Avenger is the most powerful. And while each fan has their own interpretation, new data from Morning Consult may answer the question once and for all. 
Fans were provided with a list of 20 popular characters from the Marvel Cinematic Universe and asked to rank each character on a scale of 1-10 for two traits: morality (1 being evil, 10 being good) and the strength of their abilities (1 being weak, 10 being powerful). The results were fascinating: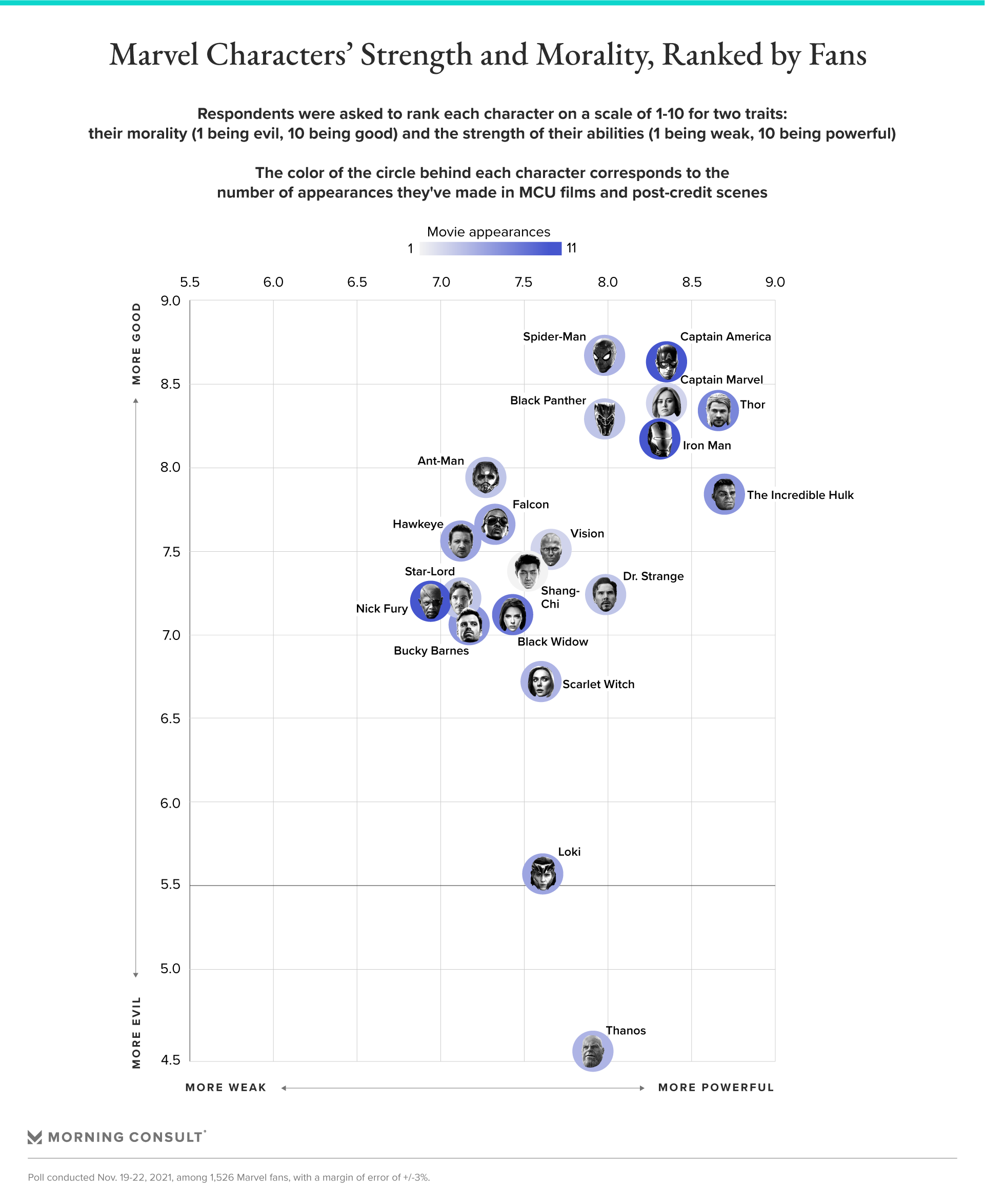 What the numbers say 
Marvel fans ranked The Incredible Hulk as the franchise's most powerful character, with an average rating of 8.69. Thor, the God of Thunder, was close behind, nearly tying the Hulk with an average score of 8.66. Nick Fury, the brain who assembled the Avengers team, was considered the weakest, with an average score of 6.94. 

When it came to morality, Spider-Man was viewed as the most "good" hero with an average score of 8.67, narrowly beating Captain America (8.63). 

While Thanos, the villain who erased half of humanity in "Avengers: Infinity War," was easily deemed the most evil character with an average score of 4.51, Loki, the fan-favorite trickster-turned-hero, was viewed as the second-most evil with a score of 5.57.

Six characters emerged as having elite combinations of strength and goodness: Hulk, Thor, Captain America, Captain Marvel, Spider-Man and Black Panther. Many of the other Marvel heroes, such as Black Widow and Dr. Strange, were viewed as being either physically weaker or more morally ambiguous.   
The survey was conducted Nov. 19-22, 2021, among 1,526 Marvel fans, with a margin of error of plus or minus 3 percentage points.