Adults in Western Europe and the United States overwhelmingly want companies to shutter their Russian business operations, per a March 29-31 Morning Consult survey conducted in the United States, France, Germany, the United Kingdom, Italy and Spain. For companies that choose to stay put, the only justification that's well received by adults on both sides of the Atlantic is ensuring the well-being of ordinary Russians. Continental Europeans are open to other rationales, but the way forward is risky.
The foundations for corporate activism
The last few years have seen consumers and employees place increasing demands on business leaders to react to hot-button social issues like diversity and inclusion, COVID-19 vaccination mandates, and the future of work. In the past, geopolitical issues have occasionally entered the public dialogue on corporate activism as well: Boycotts of apartheid South Africa and disinvestment following revelations of forced labor usage in China's Xinjiang province are two notable examples. 
After Russia invaded Ukraine on February 24, 2022, many foreign businesses decided to close their doors there due to ideological or public relations reasons or operational difficulties linked to sanctions. Others chose to stay despite negative press, citing various legal and moral obligations. 
Western Europeans largely share U.S. adults' sentiment that companies should withdraw from Russia
Nearly two months on, Russia's invasion of Ukraine remains exceptionally salient among U.S. and Western European adults, and public awareness of commercial fallout from the invasion is high: On average, 77% of Europeans surveyed said they had heard "some" or "a lot" about companies withdrawing from Russia after it invaded Ukraine, on par with the 75% of U.S. adults who said the same. Heightened attention to the crisis has translated into sizable shares of adults who view companies' decision to remain in Russia negatively: Net support for doing so ranges from -22 to -54 among U.S. and European adults.
Consumers also have little appetite for corporate whitewashing. More adults than not in Western Europe and the United States want companies to donate to Ukrainian causes, but not as a quid pro quo for remaining in Russia. Substantial shares of each support corporate activism in the form of providing humanitarian aid and employment opportunities to Ukrainians, as long as it comes without strings attached.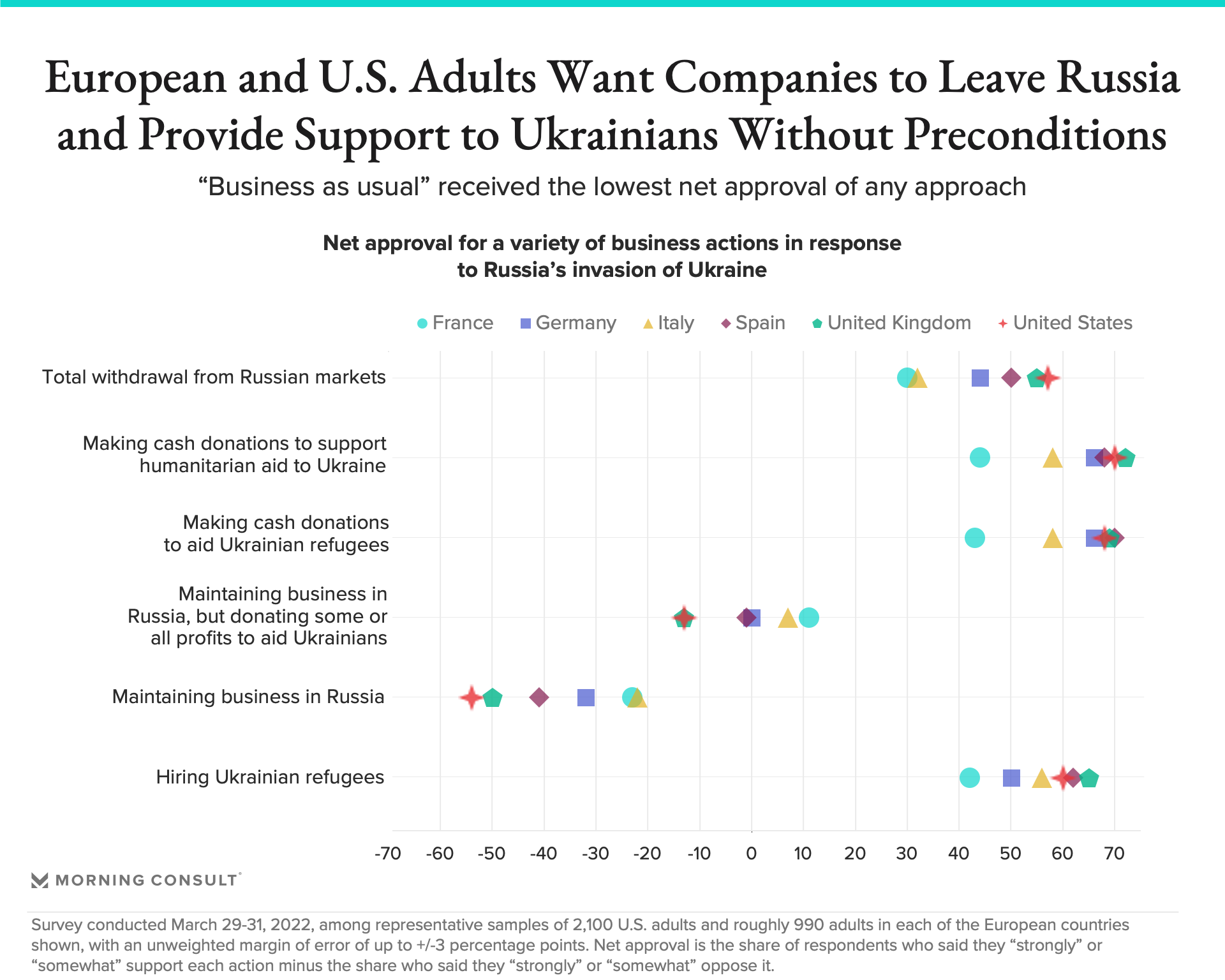 Staying in Russia is risky, but companies may be able to make a moral argument for not harming Russian civilians
Companies that insist upon staying put should be exceptionally attentive to reputational risks until they can determine whether consumers will vote with their wallets. At present, pluralities of continental Europeans are generally convinced by common rationales that companies have used to justify staying in Russia, with the exception of one — that withdrawing would not alter Russia's calculus when it comes to Ukraine — but the margins are slim. And pluralities of U.S. and British consumers are only swayed by one: that withdrawing from Russia would hurt ordinary Russians rather than the government.
For Companies Staying Put, the Justification That Resonates Most With European and U.S. Adults Is Helping Russian Civilians
Respondents in the following countries were asked how convincing they find each of these corporate justifications for remaining in Russia:
Survey conducted March 29-31, 2022, among representative samples of 2,100 U.S. adults and roughly 990 adults in each of the European countries shown, with an unweighted margin of error of up to +/-3 percentage points. Figures may not add up to 100% due to rounding.
Companies that can credibly embrace this rationale for staying should do so: It is morally defensible and will resonate with U.S. and European consumers alike. It is also far more straightforward than the messaging acrobatics many companies have engaged in to date. And companies' efforts to justify their decisions to remain in Russia on these grounds have generally been well received, as was the case for companies providing life-saving medication and basic food items to Russian consumers. 
Beyond moral arguments, the risk of miscalculation is high
Companies whose business activities do not lend themselves to such messaging — like managing hotels or purveying luxury goods — should think carefully about their Western audience before deciding on a course of action.
Those with a larger foothold in the United States and United Kingdom have limited room to maneuver given prevailing sentiment in those countries, and they should consider cutting ties to Russia sooner rather than later. By contrast, companies whose commercial presence is concentrated in continental Europe will find consumers more receptive to legal justifications for remaining in Russia, such as upholding contractual obligations to local clients and employees or preventing the government from nationalizing their assets. Continental Europeans' awareness of the depth of their countries' commercial ties to Russia, and the economic risks that severing ties would entail, is one possible explanation for this divergence.
Across most countries in the region, large shares of adults are nevertheless uncertain about how convincing they find common legal justifications, leaving substantial room for companies to miscalculate. Increasingly clear evidence of Russian war crimes in Ukraine is also likely to further muddy the waters, making these justifications untenable over the long term. And European support for businesses' withdrawal from Russia will compound the risk. 
The safest option is to abandon ship
Companies would be wise to take note of these headwinds and the invasion's ongoing salience among U.S. and Western European adults and act accordingly.
Those for whom Russia is not a major profit center should consider withdrawing from the country sooner rather than later. Those that remain must clearly explain how doing so benefits ordinary Russians, particularly if they serve U.S. and British consumers. Companies serving continental European consumers have more flexibility but should remain cautious, given European adults' uncertainty about the legitimacy of legal justifications for remaining in Russia. 
Companies that have fully withdrawn from Russia or intend to do so are in a good spot: They are less likely to face reputational blowback than those that have stayed and should tout their departure publicly. Those that aim to go the extra mile — and whose employees and leaders care strongly about the company's moral compass — should also strive to fund Ukrainian causes as part of their corporate activism.