Amid Partisan Finger-Pointing on Inflation, Voters Say a Few Different Entities Have a Lot of Power Over Rising Prices
Comparable shares of voters say the president, Fed, Congress and large corporations have "a lot" of power to manage rising consumer prices
With inflation continuing to hover around 40-year highs and the Federal Reserve moving more aggressively to raise interest rates, lawmakers on both sides of the aisle have been pointing fingers over the stubbornly high rise in consumer prices. A new Morning Consult/Politico survey indicates that voters are mostly buying what both Republicans and Democrats are selling.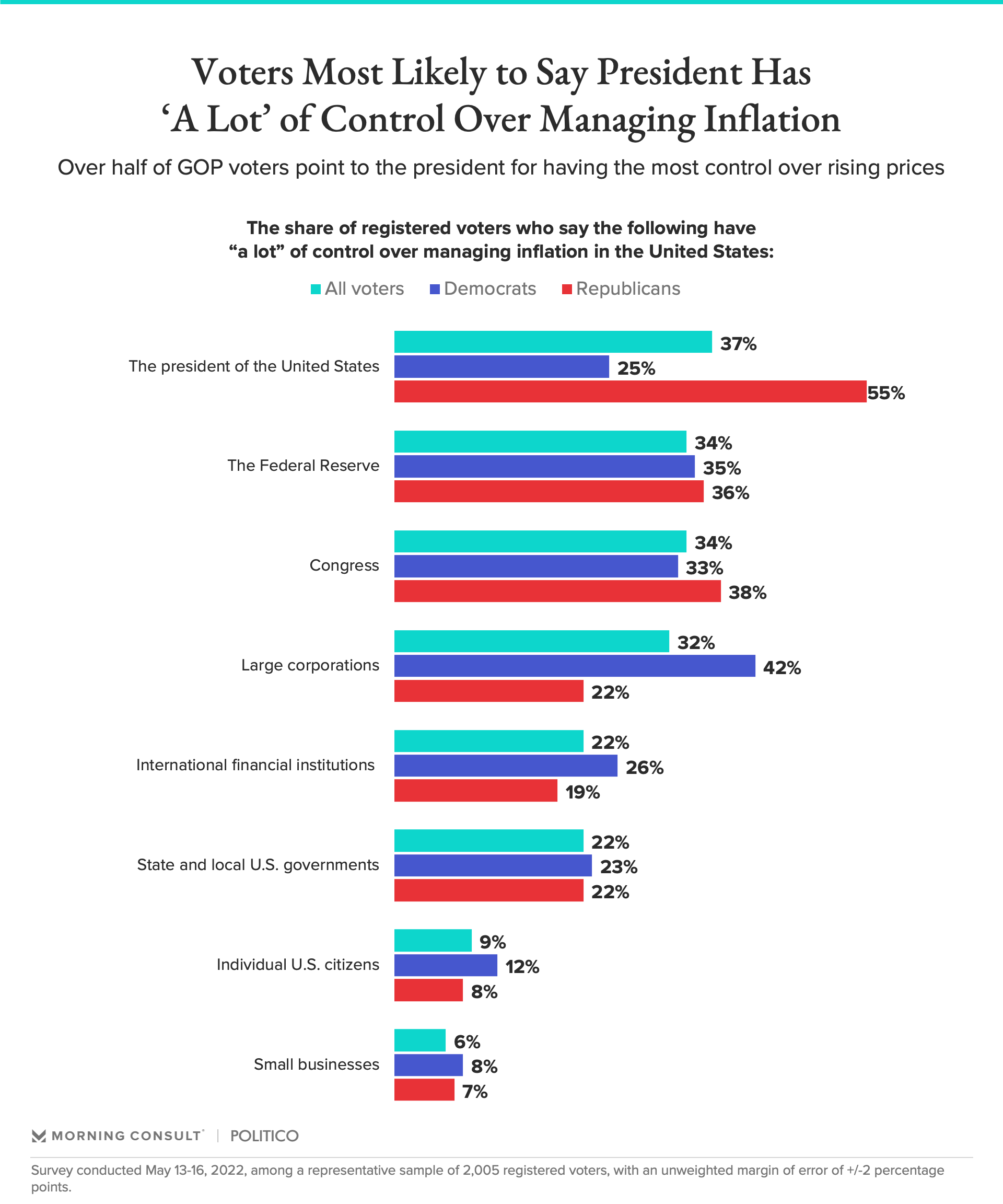 What the numbers say
More than a third of voters said the president of the United States possesses "a lot" of control over managing inflation — a message Republican lawmakers have hammered President Joe Biden with for months. Nearly equal shares said the same for the Federal Reserve, Congress and large corporations; Biden earlier this year attempted to

connect rising prices to anticompetitive behaviors

from big companies. 

Republicans and Democrats largely see eye to eye on which entities they believe have the power to manage inflation, with two major exceptions: 55% of GOP voters think the president has "a lot" of control over rising prices, compared with just 25% of Democrats. And 42% of Democrats see large companies as having a lot of power in controlling inflation, compared to just 22% of Republicans who say the same. 

Voters may ultimately be looking to the Federal Reserve to get rising prices under control. Three in 4 voters said the Fed has "a lot" or "some" control over managing inflation, while an essentially equal share said the same for Congress.  

Voters are slightly more likely to say congressional Republicans have a better plan to fix inflation (43%) than Democratic lawmakers (38%). About 3 in 5 voters blame the Biden administration's policies for inflation, and just over half say limited competition among large companies is to blame. Both figures have held steady since Morning Consult/Politico began tracking the question.
The May 13-16, 2022, survey was conducted among a representative sample of 2,005 registered voters, with an unweighted margin of error of plus or minus 2 percentage points.