Across the country, Republican state lawmakers have increasingly used parental rights as their justification for pushing measures like Florida's new law to curtail the discussion of sexual orientation and gender identity in classrooms that critics cast as anti-LGBTQ. 
While American parents offer mixed views about what is fair game for classroom education, Morning Consult surveys show people across the political spectrum — including parents, Republican and Democratic alike — have largely become more comfortable with increasing LGBTQ prominence in everyday life over the past few years, putting the GOP in tricky political territory.
Where Americans stand on LGBTQ in the classroom
American parents or guardians of children 18 years old or younger are essentially split over the teaching or discussion of sexual orientation and gender identity in K-12 classrooms: 41% support it and 44% are opposed. Parents are slightly more likely to support (44%) than oppose (40%) instruction about the LGBTQ civil rights movement.
Parents Are Divided on Teaching of LGBTQ Civil Rights, Sexual Orientation and Gender Identity
U.S. parents were asked if they support or oppose the following being taught or discussed in K-12 schools:
Survey conducted April 20-23, 2022, among 1,109 U.S. parents, with margins of error of up to +/-8 percentage points for responses shown. Figures may not add up to 100% due to rounding.
There are only small differences between parents of younger pupils and of high schoolers, but stark partisan divides are evident: Roughly 3 in 5 Democratic parents nationwide support discussion of sexual orientation and gender identity, while nearly as many Republican parents and almost half of independent parents oppose it.
Florida's high-profile law, signed in March by Gov. Ron DeSantis (R), restricts such instruction in Florida's K-3 public classrooms, among other things, and a Morning Consult/Politico survey earlier this year found a slim majority of voters nationwide backed that provision. But critics argue the measure will stifle teachers' freedom of expression and obstruct lesson plan coverage of important aspects of American history. It also raises questions about what LGBTQ educators should do with a picture of a partner on their desk, how to discuss pronouns or a child with two moms or two dads.
Annise Parker, president and CEO of the pro-LGBTQ Victory Fund, said schools have often marked the frontlines of the culture wars, and this time, proponents of legislation like Florida's have been especially able to wedge Americans' still-mixed views about rights for transgender people. 
"One of the reasons we've made such great progress over the years in terms of how the public perceives people who are gay and lesbian is because of proximity — knowledge of people coming out individually. The transgender issue is still unknown for a lot of folks," she said. "For an issue that it took some education for my own community to come to grips with, we shouldn't be surprised it's much harder for the broader society." 
Tim Miller, a former Republican strategist who worked on Jeb Bush's 2016 presidential campaign, agreed that focus by state officials on LGBTQ discussion in classrooms can't be decoupled from American parents' dissatisfaction about how schools handled the pandemic, which helped to fuel an earlier conservative uproar about critical race theory.
"Right now, they think it's a winner — and it probably is a mild one — because it's being tucked into this broader conservation about what's appropriate in schools and 'woke' indoctrination of students," he said. 
Bryan Griffin, a DeSantis spokesman, denied that politics played any role in the governor's decision to sign the bill. He said the law was not meant to target any members of the LGBTQ community and alluded to DeSantis' comments at the bill signing, when he cast the law as part of a package of actions to protect parental rights in education.  
"There is no First Amendment right for anyone to incorporate gender theory or sexually explicit material into classroom instruction, and it is certainly wrong if done behind a parent's back," Griffin said. "Sexual content does not belong in the K-3rd grade classroom, and classroom instruction should always be age appropriate."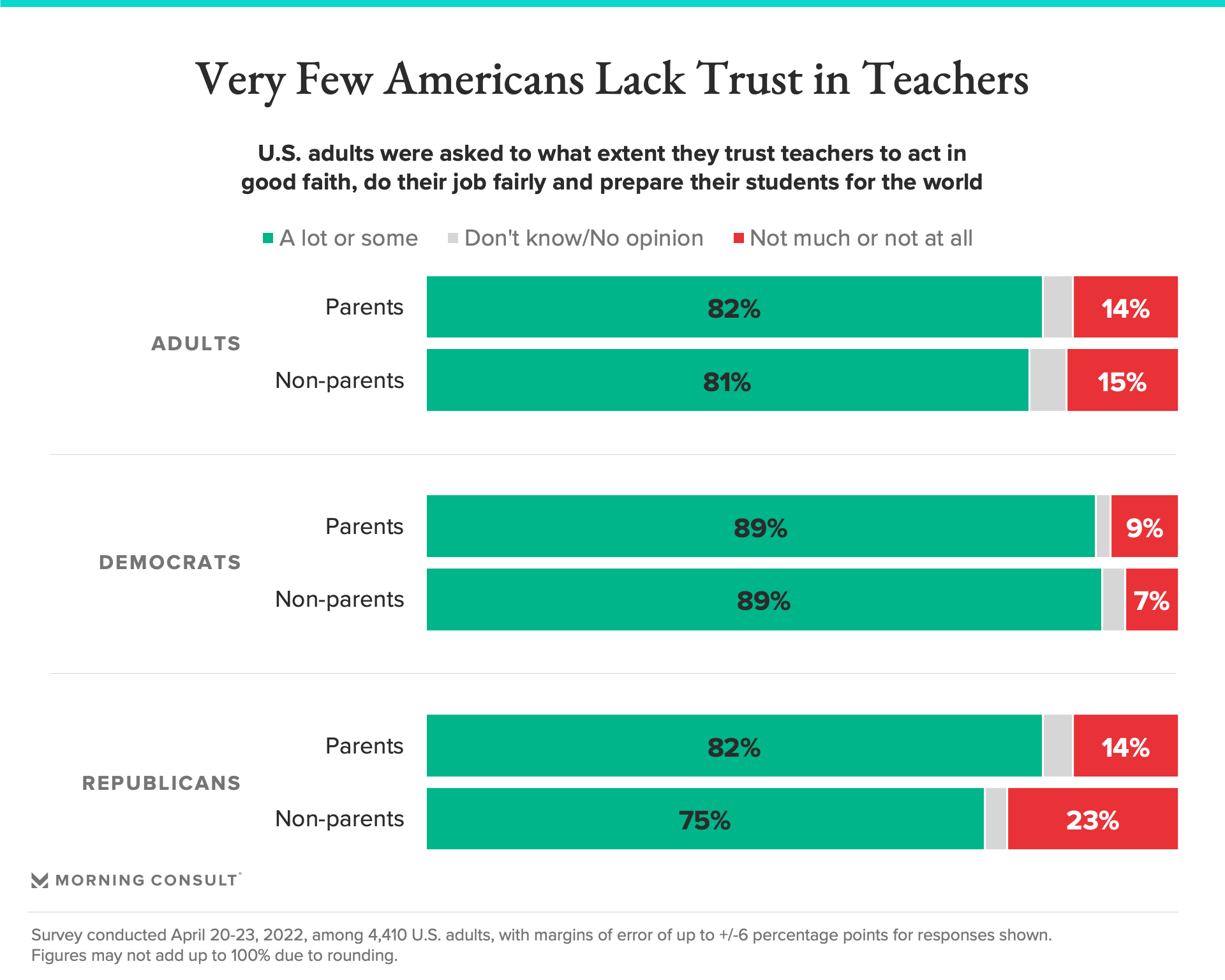 While most Americans — including 82% of Republican parents — trust teachers to "act in good faith, do their jobs fairly and prepare their students for the world," the GOP's focus on LGBTQ topics in the classroom could capitalize on declining trust in the public education system, especially among Republicans, who are more likely than the broader population to believe classroom instructors have influence on children's values and their sexuality and gender identity.
Republicans are aligned with much of their base in the view that LGBTQ discussion is inappropriate for the educational system. But some have gone even further and accused those who believe teachers should be able to discuss such matters in the classroom of being "groomers," a term used to refer to people who lure children for sexual abuse. DeSantis, as he signed Florida's high-profile measure into law, said that parents "should be protected from schools using classroom instruction to sexualize their kids."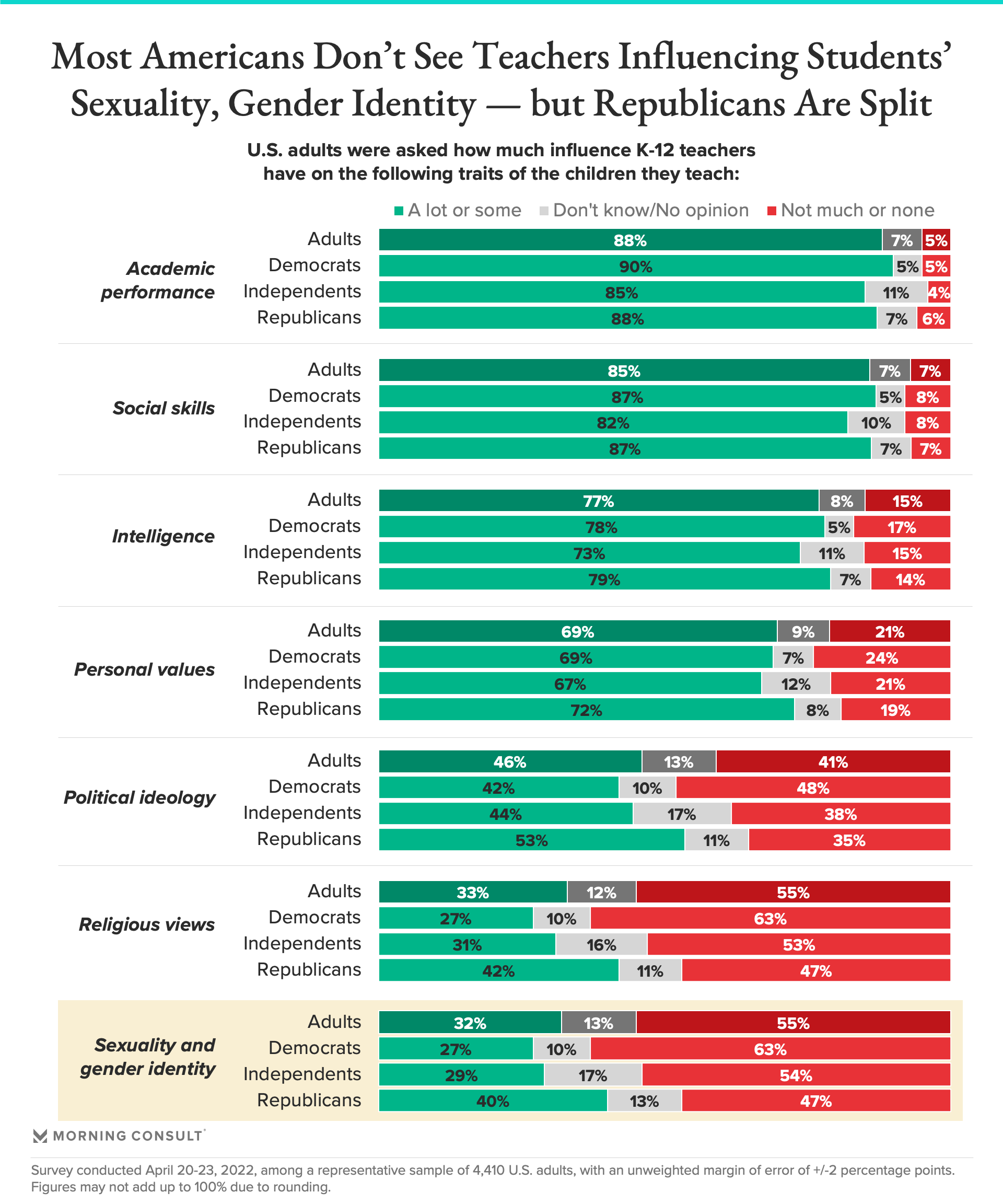 The "groomer" rhetoric was panned by one Florida pro-LGBTQ group as a sign that the legislation is rooted in a "belief that LGBTQ people, simply by existing, are a threat to children and must be erased," suggesting its proponents don't want them to be involved in their children's lives. According to the survey, that sentiment is confined to a small segment of the Republican base.
Nearly three-quarters of parents said they are at least somewhat comfortable with LGBTQ people working with their children, compared with 18% who say they are uncomfortable. Similar shares of parents — regardless of the age of their children — share the same viewpoints.
Most Parents Are Comfortable With LGBTQ People Working With Their Kids
Parents were asked how comfortable they are with LGBTQ people working with their children
Survey conducted April 20-23, 2022, among 1,109 U.S. parents, with margins of error of up to +/-8 percentage points for responses shown. Figures may not add up to 100% due to rounding.
Vast majorities of parents who are Democrats or independents said they are comfortable with LGBTQ people interacting with their kids, while nearly 3 in 5 Republican parents agreed. Roughly 3 in 10 Republican parents said they do not personally know or associate with an LGBTQ person. Those parents were more likely to say they are uncomfortable having an LGBTQ person interact with their children than the roughly two-thirds who do, 44% to 25%.
Parker, the first openly LGBTQ mayor of a major American city, Houston, said the anti-LGBTQ talk that has surrounded the debate over what can be discussed in the classroom is an attempt to motivate a limited audience of people with fear.
"It's not something that resonates with the majority of American voters and it's not something that resonates with all Republicans," she said. "These are targeted messages to a subset of the right — an ever-shrinking core of the Republican base." 
Americans' increasing comfort with the LGBTQ community
Most Americans, including Republicans generally and the parents among them, have become more comfortable with the LGBTQ community over the past three years, according to Morning Consult surveys. 
When it comes to educational instruction, about a third of Republican parents (32%) said they are comfortable with LGBTQ history lessons in their child's classroom, more than twice the share who said so in May 2019, while the share who said they were uncomfortable with it fell, from 77% to 55%. 
Slim Majority of Parents Are Comfortable With LGBTQ History Lessons for Their Kids
U.S. parents were asked how comfortable they would be if they learned their child was being taught lessons on LGBTQ history at school
Survey conducted April 20-23, 2022, among 1,109 U.S. parents, with margins of error of up to +/-8 percentage points for responses shown. Figures may not add up to 100% due to rounding.
Republican parents are more comfortable than the party's non-parents with seeing public displays of affection between same-sex couples. That appears partly driven by ideology, age and association: GOP parents are less likely than non-parents to identify as "conservative" and more likely to be young and say they personally know or associate with somebody who identifies as LGBTQ, which prior research has found to be a key driver of acceptance.
As for the broader population, half of all Americans said they are comfortable learning children are being taught lessons on LGBTQ history at school, compared to roughly 2 in 5 who said it makes them uncomfortable. Both figures were similar to the shares measured in 2019, but comfort has increased with regard to other aspects of queer life, including seeing a child being raised by a same-sex couple, being invited to a same-sex wedding or being represented by a person who is LGBTQ in Congress.
Americans Are Increasingly Comfortable With LGBTQ Association
Share of U.S. adults who said they are "very" or "somewhat" comfortable with…
Surveys conducted May 1-5, 2019, and April 20-23, 2022, among representative samples of 2,200 and 4,410 U.S. adults, respectively, with unweighted margins of error of +/-2 percentage points.
Miller, now a writer for The Bulwark, a center-right and anti-Donald Trump publication, said that while the measures aimed at LGBTQ discussion in classrooms may offer the GOP a short-term political boost, the latest culture war fight could put the party in a bind in the future.
"I don't think there's a short term price, but I think that there's a reason why conservatives had stopped fighting on gay issues: It was a loser, not because overnight every conservative changed their mind about gay marriage," he said. "There's a lot of state legislators pushing this into areas that are much less popular for Republicans, and that isn't part of the DeSantis plan."