What's to Blame for the Baby Formula Shortage? According to Voters, It's Mostly Supply Chain Issues
More than half of voters pin blame for baby formula shortage on supply chain, FDA, Abbott
Policymakers are scrambling to address the nationwide baby formula shortage, and while 2 in 3 voters pin the blame on pandemic-related supply chain issues, they're split along party lines on who else is most on the hook, according to the latest Morning Consult/Politico survey.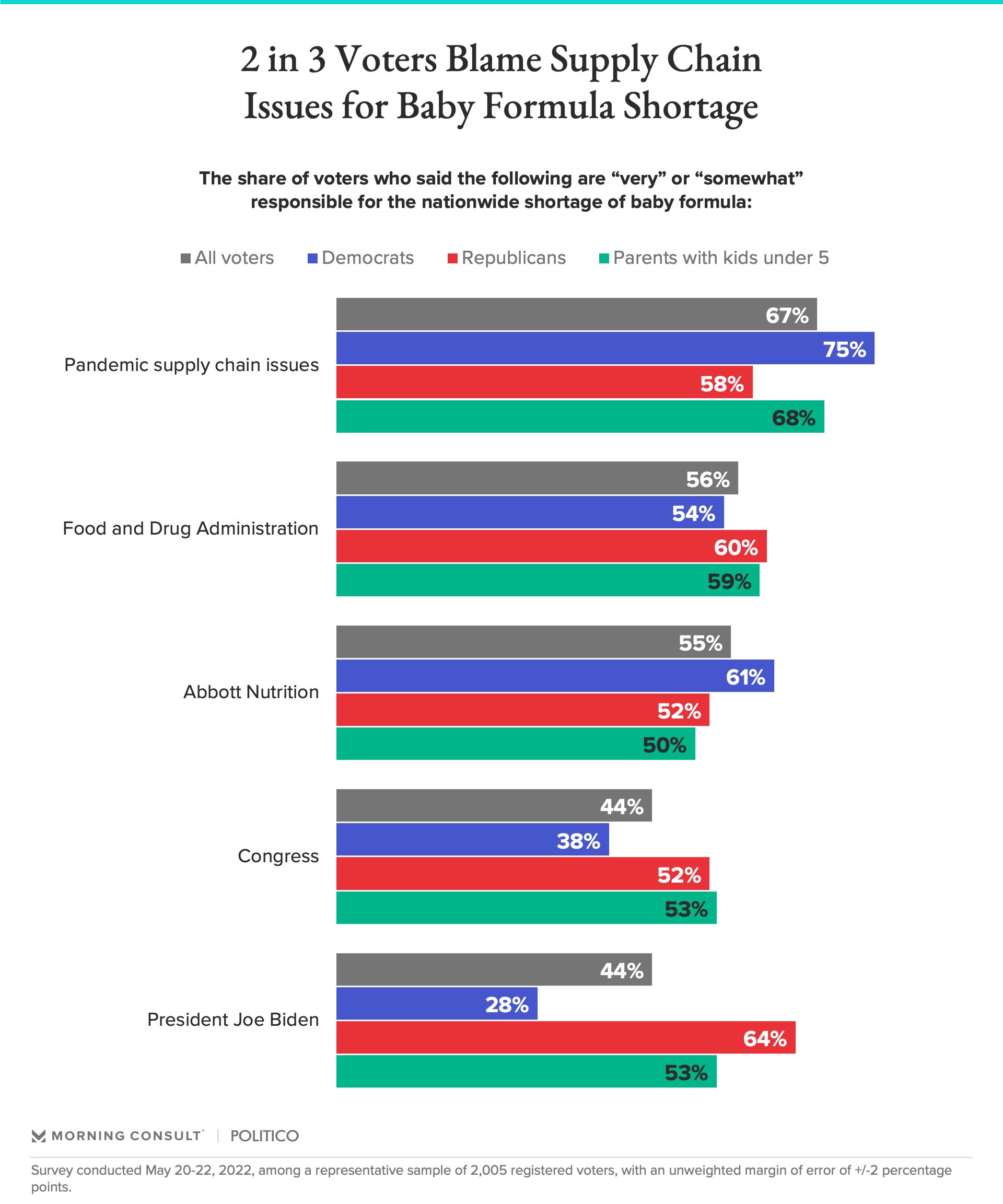 What you need to know
Many stores have been sold out of baby formula for weeks, but there's no shortage of blame going around for the mess. Apart from supply chain issues, voters were most likely to say the Food and Drug Administration (56%) or manufacturer Abbott Nutrition (55%) were most at fault, followed by policymakers (44%).

Democrats and Republicans agreed that the FDA and supply chain issues were among the top three groups most responsible, but they differed on their third picks: Democrats pointed to Abbott (61%), while GOP voters pinned the most blame squarely on President Joe Biden (64%).

The shortage has been brewing for months. In February, the FDA issued a formula recall and Abbott shut down a Michigan plant due to contamination concerns, paving the way for a massive shortfall that's left parents across the country struggling to feed their children. The Biden administration has since relaxed rules to allow emergency formula imports from Europe, while Congress passed a

bill

to shore up access to formula for parents who get it through a government assistance program.

The impact of the baby formula shortage has been so far-reaching because Abbott controls

48% of the market

; earlier this month,

43% of baby formula

was out of stock nationwide. The U.S. electorate is feeling the pain, with 25% of voters — including 58% of parents with kids under 5 — saying they or someone they know has been affected by the shortage.

Even those without a direct link are keeping close tabs on the situation: 60% of voters said they'd seen, read or heard "a lot" about the shortage.
The May 20-22, 2022, survey was conducted among a representative sample of 2,005 registered voters, with an unweighted margin of error of plus or minus 2 percentage points.