The United States is winning the favorability fight, both globally and in the Indo-Pacific
Global and regional public opinion broadly favors the United States amid a flurry of U.S. efforts to ramp up its security and economic engagements in the Indo-Pacific as a bulwark against China.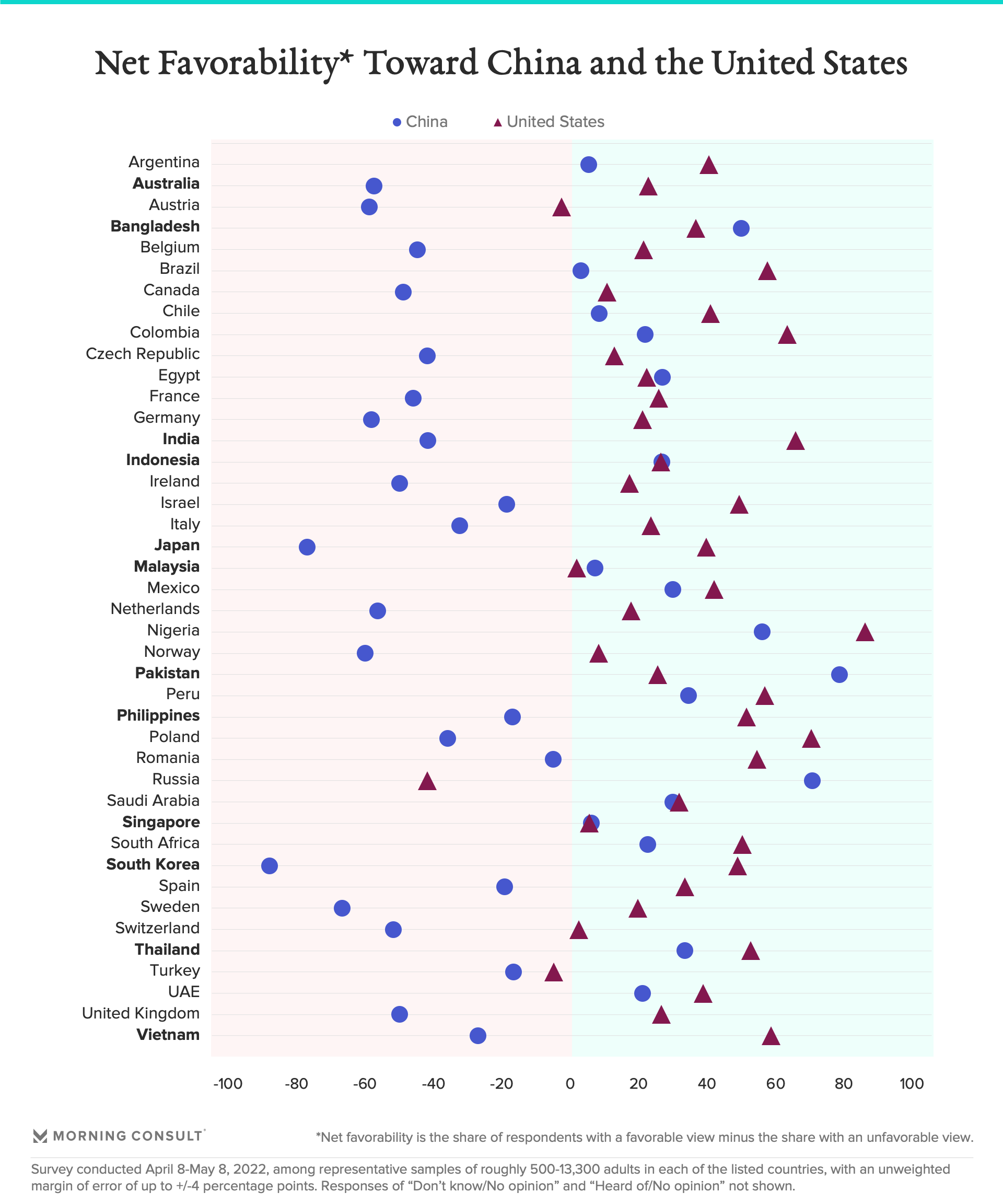 Among 42 countries where Morning Consult surveys daily, net favorability toward the United States — defined as the share of respondents holding a favorable view minus the share holding an unfavorable view — is positive in 39 of them, with Russia, Austria and Turkey being the exceptions. China fares substantially worse: Net favorability is positive in fewer than half of all cases. And only in seven countries (Bangladesh, Egypt, Indonesia, Malaysia, Pakistan, Russia and Saudi Arabia) does China see higher favorability than the United States.
The outlook is similar in the Indo-Pacific. Net favorability toward the United States is positive in all 12 countries in the region aside from China (indicated in bold in the figure above), while favorability toward China is only positive in half.
Prevailing positive sentiment will pay dividends for U.S. companies doing business in the Indo-Pacific region

These trends send a clear message to the U.S. government as it seeks to rally regional partners to support the rollout of its Indo-Pacific Strategy: At present, Washington is well ahead of the curve relative to Beijing.
To the extent that public favorability toward the United States and China is positively correlated with views on trade and investment involving each country's multinationals, the former's leg up has implications for corporates that do business in Asia — and that might like to do more of it.
Our data on Indo-Pacific sentiment toward trade and investment flows involving American and Chinese companies suggests this is the case. Specifically, across six of the region's larger markets — Australia, India, Indonesia, Japan, Singapore and South Korea — public perceptions that U.S. and Chinese trade and investment flows are mostly beneficial are positively associated with net favorability toward each country.
We observe a similar trend when comparing views on whether the United States and China are economic allies or enemies relative to a respondent's own country. The consistency of the relationship across both metrics increases our confidence in the validity of this trend.
To the extent that these patterns hold across the broader Indo-Pacific region, U.S. and Chinese companies doing business there should anticipate easier market access and business opportunities where favorability toward their country is high, and greater headwinds otherwise. This is good news given that foreign trade and capital flows have historically been hot-button issues in the Indo-Pacific and elsewhere.
By contrast, Chinese companies are likely to see more limited upside potential if the country's regional relations do not improve, given that prevailing sentiment favors the United States in both absolute and relative terms.
The outlook for ASEAN countries is mixed
The outlook for U.S. companies doing business in ASEAN countries is more mixed compared with the broader Indo-Pacific region. Among the ASEAN markets where we survey daily — Indonesia, Malaysia, the Philippines, Singapore, Thailand and Vietnam — favorability toward the United States is net positive in all, compared with just four for China. While the United States still outpaces China among ASEAN countries, China performs far better among this subset than it does on the global stage and in the Indo-Pacific. And among the four countries where China performs well (Indonesia, Malaysia, Singapore and Thailand), the U.S. favorability premium is relatively small.
While U.S. multinationals are still likely to see meaningful business opportunities in ASEAN countries, they are less likely to benefit in relative terms owing to China's stronger subregional performance.
Chinese companies stand to benefit if ASEAN members remain dissatisfied with the United States' Indo-Pacific economic agenda
ASEAN dynamics offer a cautionary note for American and Chinese companies. In the run-up to a long-anticipated U.S.-ASEAN summit that implicitly called out China's destabilizing security role in the region and aimed to strengthen the association's economic ties with the United States, ASEAN countries widely panned the United States' nascent Indo-Pacific Economic Framework for not granting expanded U.S. market access to Asian companies.
Should the U.S. ultimately offer more in the way of economic carrots to IPEF participants in the months ahead — a clear long shot — U.S. favorability in the Indo-Pacific region stands to increase. In turn, American companies could reasonably anticipate a boost in regional sentiment toward U.S.-led trade and investment inflows.
In the far more likely scenario of the desired olive branch not materializing, however, American and Chinese companies will face a more level playing field, particularly among ASEAN members.
Chinese multinationals should not necessarily plan for an imminent boost in regional favorability. But they can expect to see gains if ASEAN members' grievances with the United States' Indo-Pacific agenda, and with IPEF in particular, persist.