About 2 in 3 Voters Back FDA Bans on Tobacco-Flavored Vapes
Findings come after agency orders all Juul products off the U.S. market
About 2 in 3 voters are on board with Food and Drug Administration bans on tobacco-flavored vaping products, according to a new Morning Consult/Politico survey that comes after the agency's decision to order such products from Juul Labs Inc. off the U.S. market.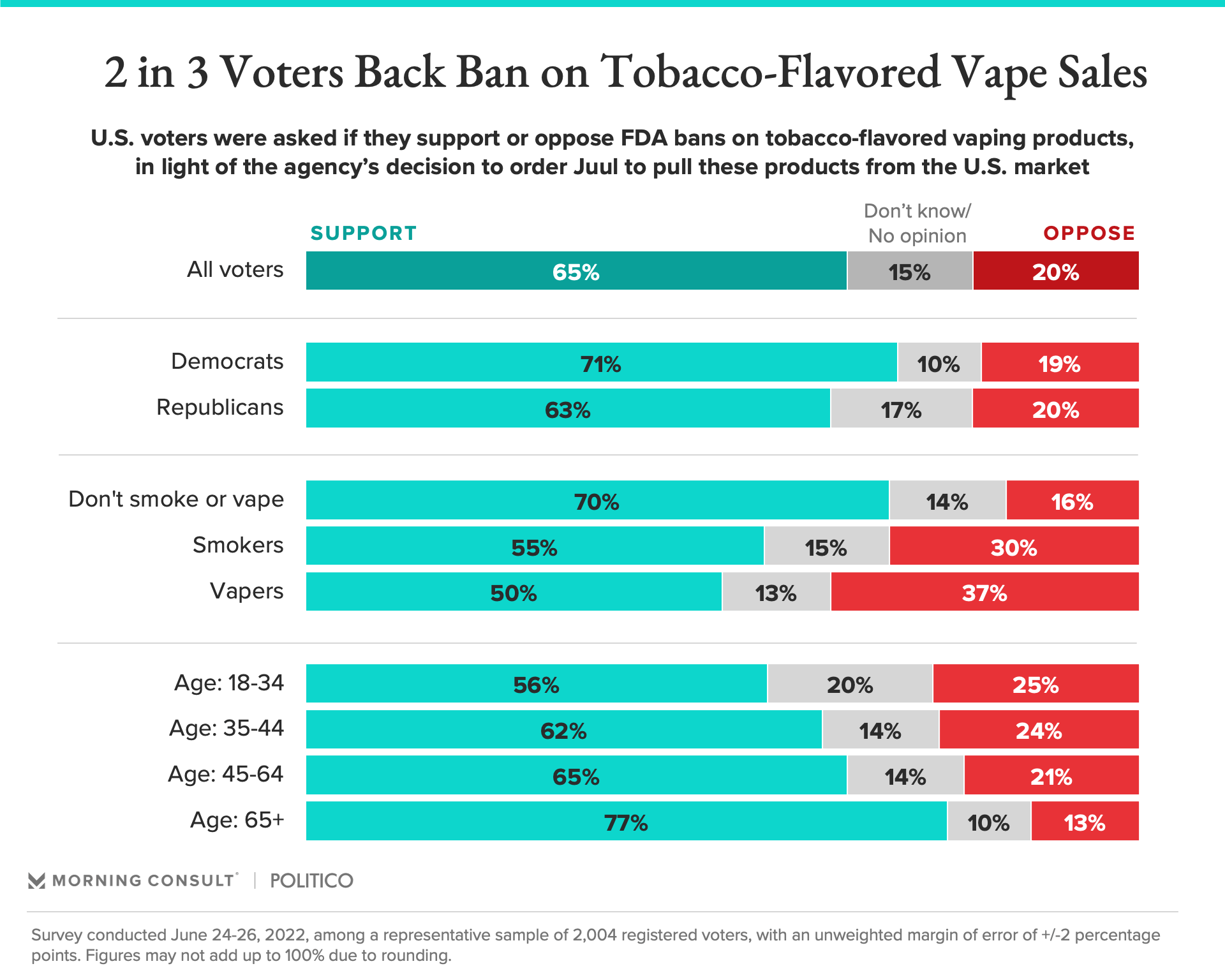 Voters largely in favor of vape bans
Last week, the FDA

banned Juul

from selling any of its vaping products in the United States, including tobacco-flavored cartridges, citing insufficient health and safety data. After being told about the move, 65% of voters said they were in favor of bans on tobacco-flavored vape products, with majority support across political divides. Older voters were more supportive of bans than younger voters, as were more highly educated voters.

Notably, 50% of voters who regularly vape and 55% of cigarette smokers said they support FDA bans on tobacco-flavored e-cigarettes, as did 70% of voters who don't smoke or vape. There's overlap between the groups who light up, with 42% of smokers saying they also vape and 69% of vapers saying they also smoke cigarettes.

It will be some time before Juul's products — which once made up

76% of e-cigarette sales

at U.S. convenience stores — are actually off the shelves. An appeals court

temporarily froze

the FDA ban last week, teeing up a long legal battle over the vaping giant's future.

The ban reflects a departure from the FDA's approach to other big e-cigarette manufacturers, which have been allowed to keep tobacco-flavored products on the market. And it comes

three months before

the first youth marketing case against Juul is set to begin in San Francisco federal court.

Over the weekend, 56% of voters said they had seen, read or heard at least something about the FDA's Juul ban, though a quarter said they'd heard nothing at all about it.
The June 24-26, 2022, survey was conducted among a representative sample of 2,004 registered voters, with an unweighted margin of error of plus or minus 2 percentage points.