European Consumer Confidence Continued to Plunge in July
Confidence dips in Western Europe's five largest economies but remains stable in Russia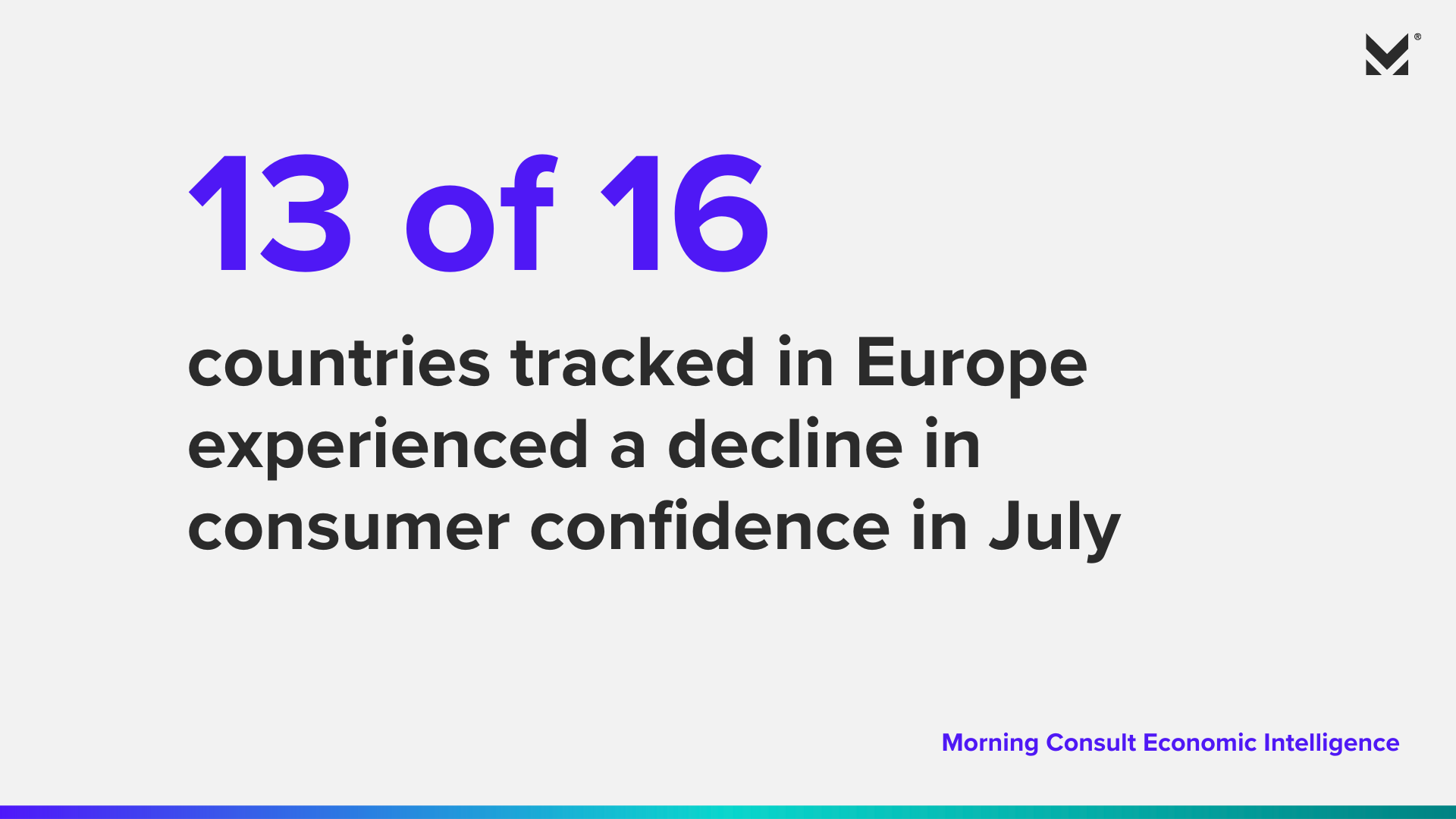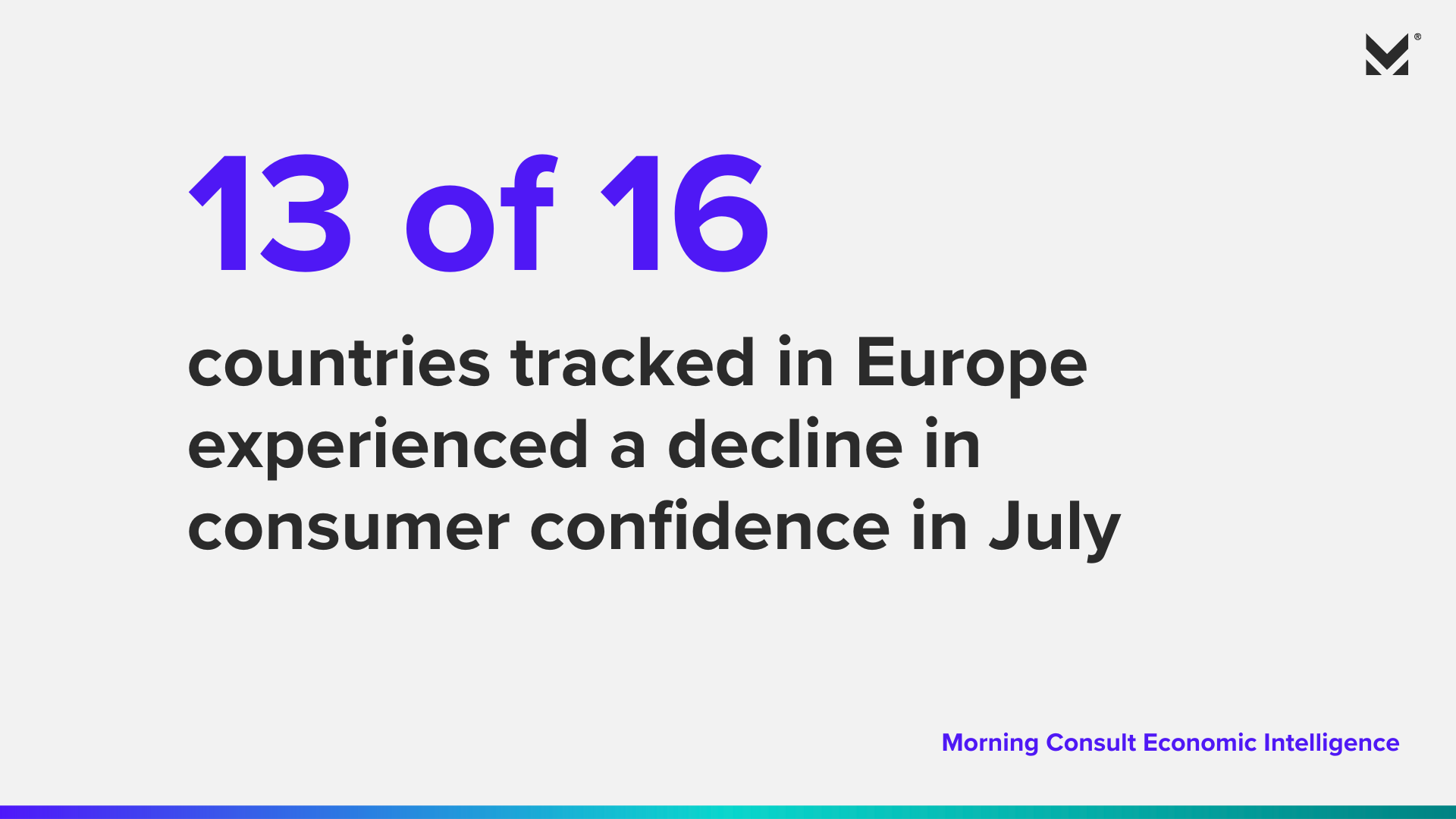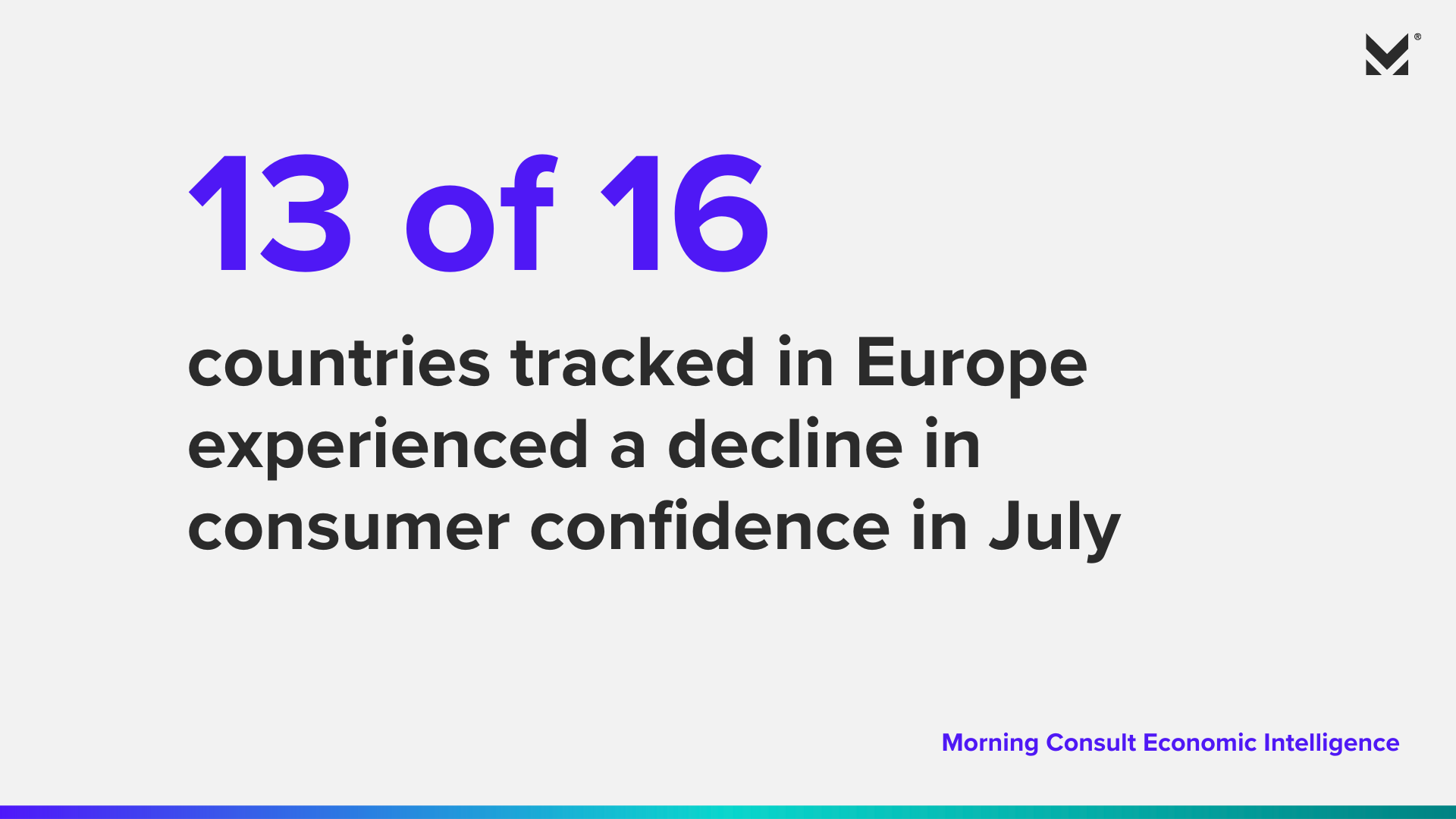 Consumer confidence fell across Western Europe in July, continuing its five-month downward trend since the Russian invasion of Ukraine, according to decision intelligence company Morning Consult's Index of Consumer Sentiment, one of the high-frequency data sets featured in Morning Consult Economic Intelligence.
Zeroing in on Europe's largest economy, Germany experienced a staggering 9.3% drop in consumer confidence in July — the greatest decline tracked on the continent and the country's biggest dip since March — headlining a growing pessimism through the continent's major economies. Across Europe, strong summer tourism was no match for inflation and energy insecurity, with consumer confidence falling 6.4% in Spain, 2.8% in Italy, 1.8% in France and 1.0% in the United Kingdom.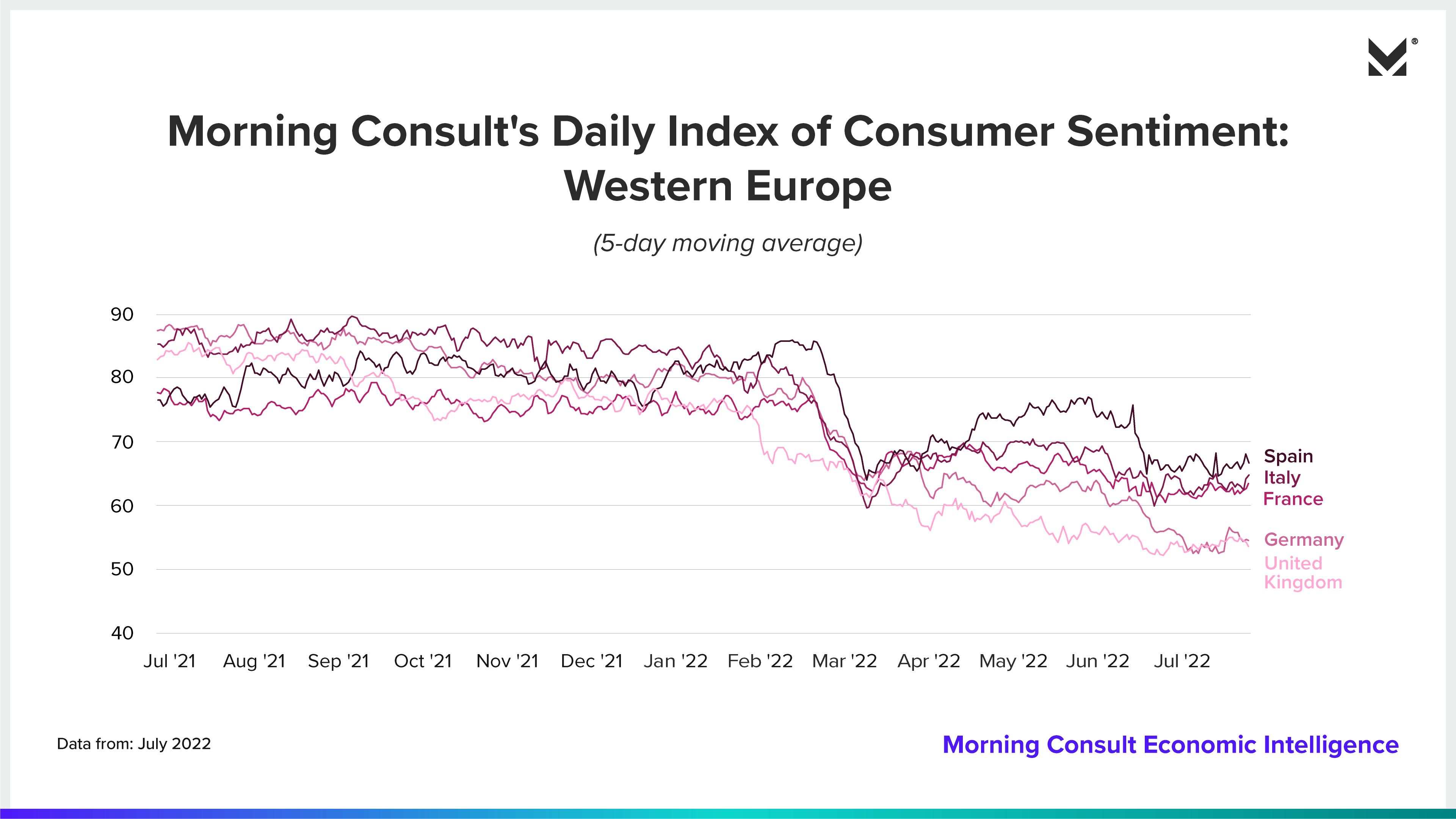 As Europe struggles with the fallout from the war in Ukraine, consumer confidence in Russia increased 0.7% in July, marking the fourth consecutive month of growing confidence for the country. With consumer confidence dropping by an average of 2.5% in July across the 44 countries Morning Consult tracks daily, Russia joins a handful of countries, including Turkey (+2.8%) and Brazil (+1.9%), that are bucking the global downtrend. Russia's economy will likely weaken in the long run as the West cuts ties, but sanctions have yet to cancel out the impact of elevated energy prices and strong demand from India and China.
"The pessimism of European consumers is striking, even as sentiment dropped broadly across 31 of the 44 countries we survey each day," said John Leer, chief economist at Morning Consult. "The ongoing economic slowdown in Germany and the U.K. threatens potential spillover across the continent, heightening the risk of recession."
Want access to our high-frequency economic data and analysis? Request a demo today.
In addition to overall ICS, Morning Consult also tracks consumer sentiment regarding current economic conditions and future expectations every day. These high-frequency gauges of consumer sentiment have positioned Morning Consult to identify the impact of geopolitical and economic events on consumers across 44 countries.
To speak with Morning Consult's team of economic and geopolitical risk experts about our high-frequency survey data, email press@morningconsult.com.
Methodology
Morning Consult's Consumer Confidence Survey is a high-frequency indicator of consumers' economic and financial outlooks across 44 countries. The survey, which reaches 19,000 respondents globally each day, is used to construct Morning Consult's Index of Consumer Sentiment, based on responses to five questions for assessing consumers' perceptions of their current and future personal finances, 12-month and 5-year expectations for business conditions in their country, and current buying conditions for major household purchases.
About Morning Consult
Morning Consult is a global decision intelligence company changing how modern leaders make smarter, faster, better decisions. The company pairs its proprietary high-frequency data with applied artificial intelligence to better inform decisions on what people think and how they will act.
Among the company's decision intelligence solutions is Morning Consult Economic Intelligence, which features a suite of economic indicators supported by unprecedented global scale, frequency and depth. With forward-looking metrics, macro- and micro-level data, high-frequency data, and exclusive expert analysis, MCEI powers modern leaders' decision-making to lead, rather than react to, markets.