Why Are So Few Workers Worried for Their Jobs?
Pay loss expectations among U.S. adults fell to a record low in September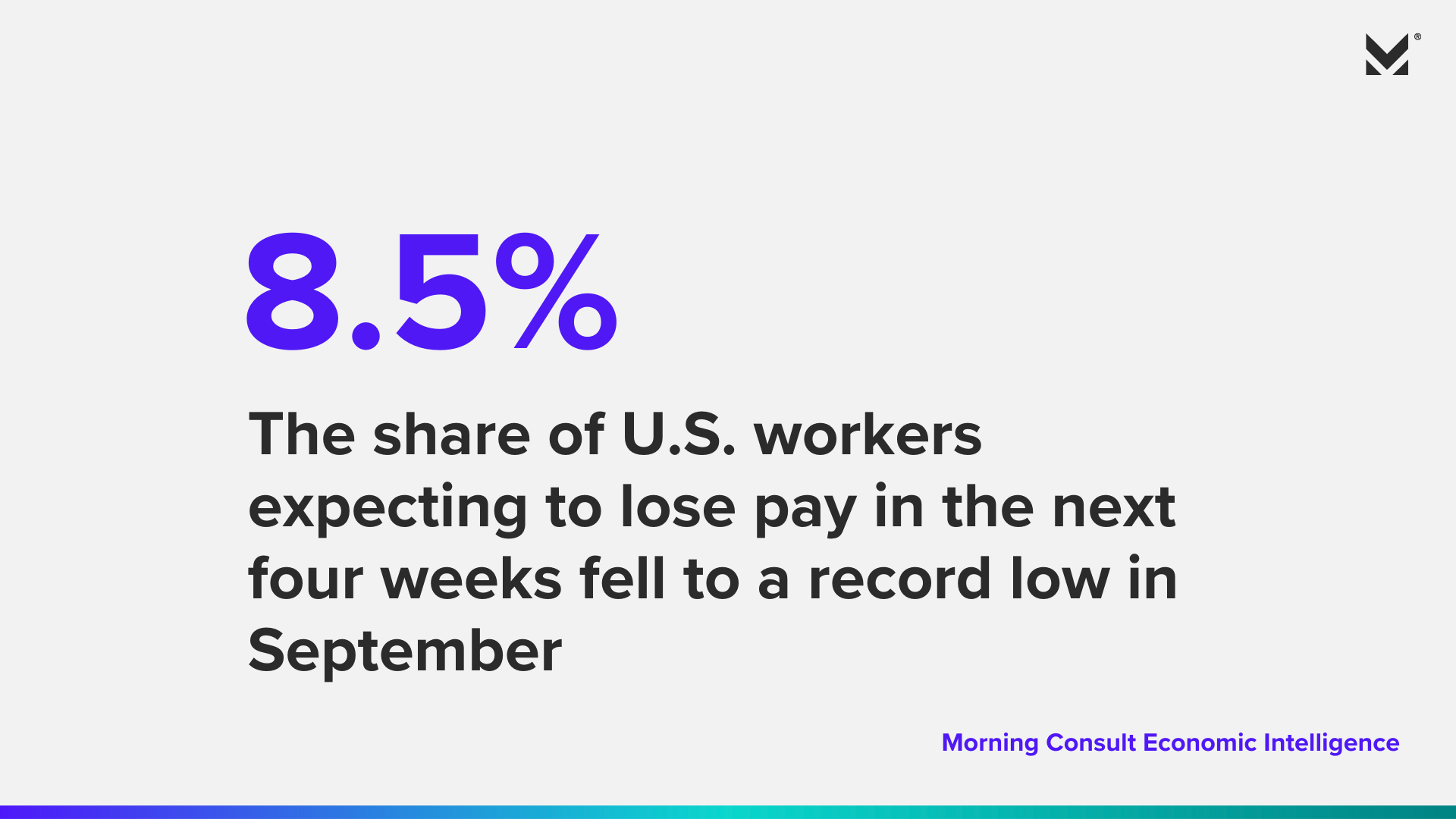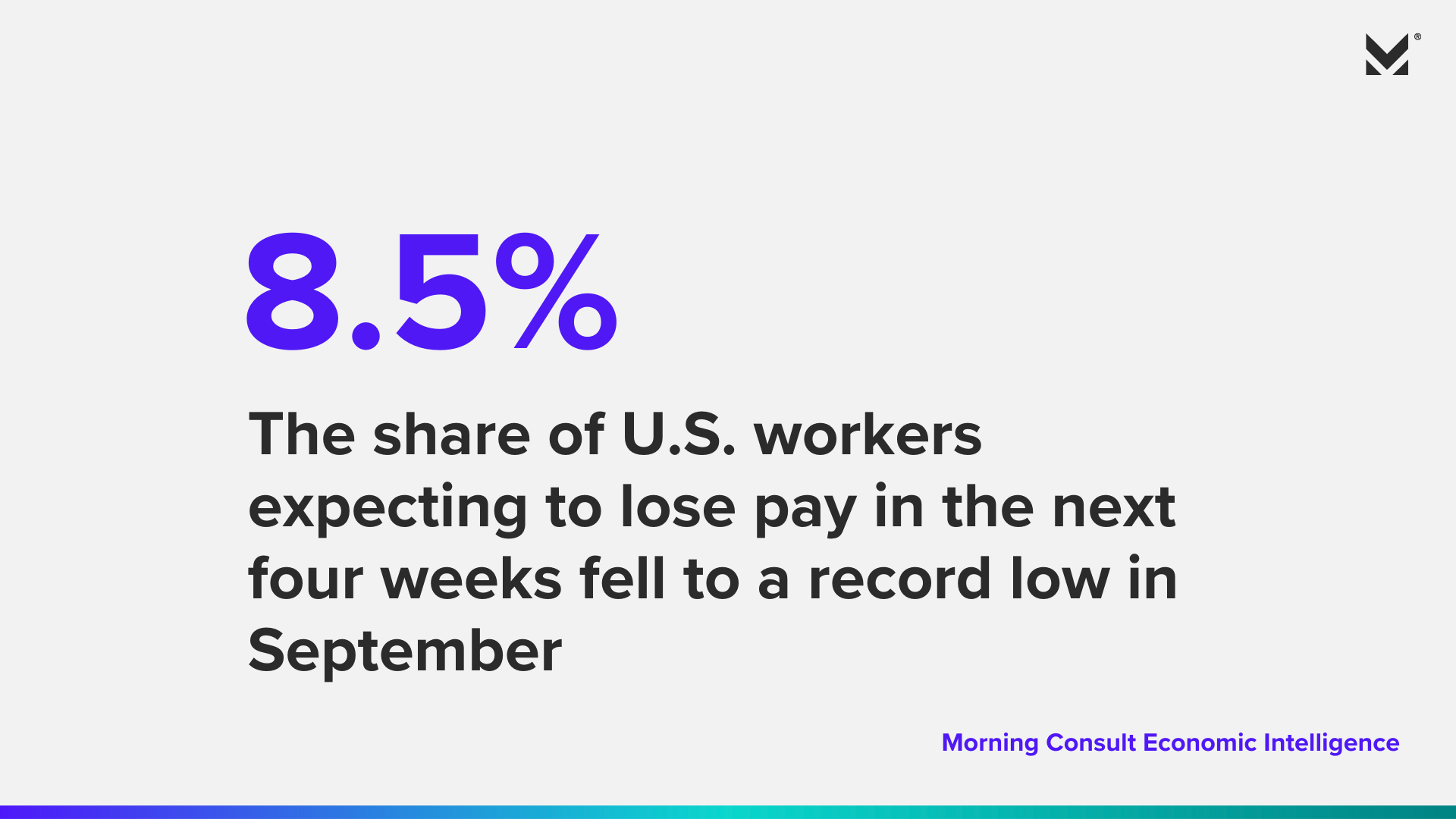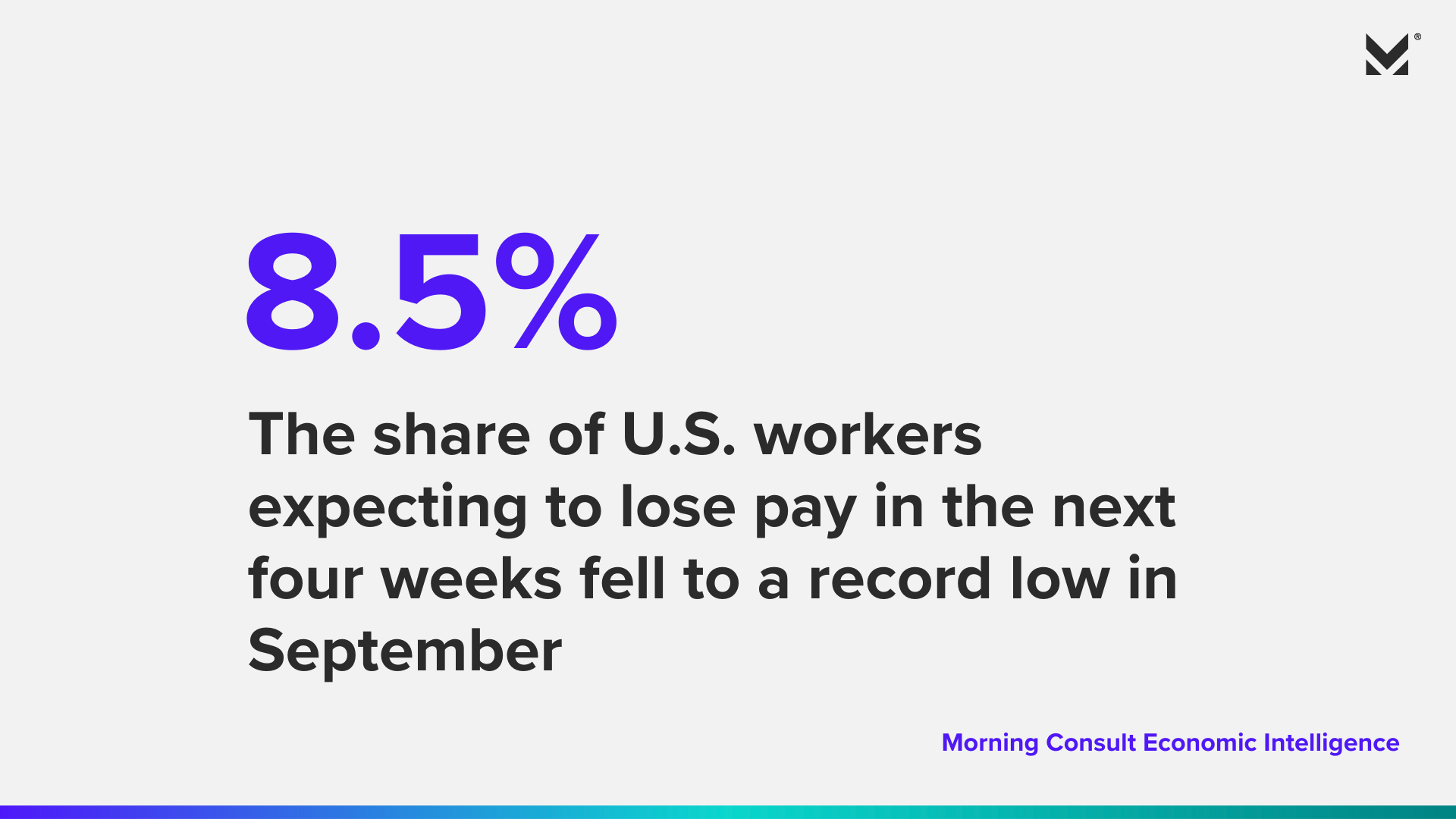 The share of U.S. workers expecting to lose pay within the next four weeks fell to a record low last month, according to the latest high-frequency data from decision intelligence company Morning Consult. Just 8.5% of employed U.S. adults surveyed in September said they expect to lose employment income in the next four weeks, down from 12.5% in August — an indication recession risks are not yet worrying the average worker.
The exclusive data is drawn from the company's monthly surveys of 2,200 U.S. adults, including roughly 1,150 workers employed across all employment sectors. The findings correspond with recent positive signals from weekly unemployment insurance claims, which hit a five-month low the week ending Sept. 24. Although the Federal Reserve's aggressive interest rate hikes may impact the labor market eventually, Morning Consult's high-frequency data shows little cause for immediate concern.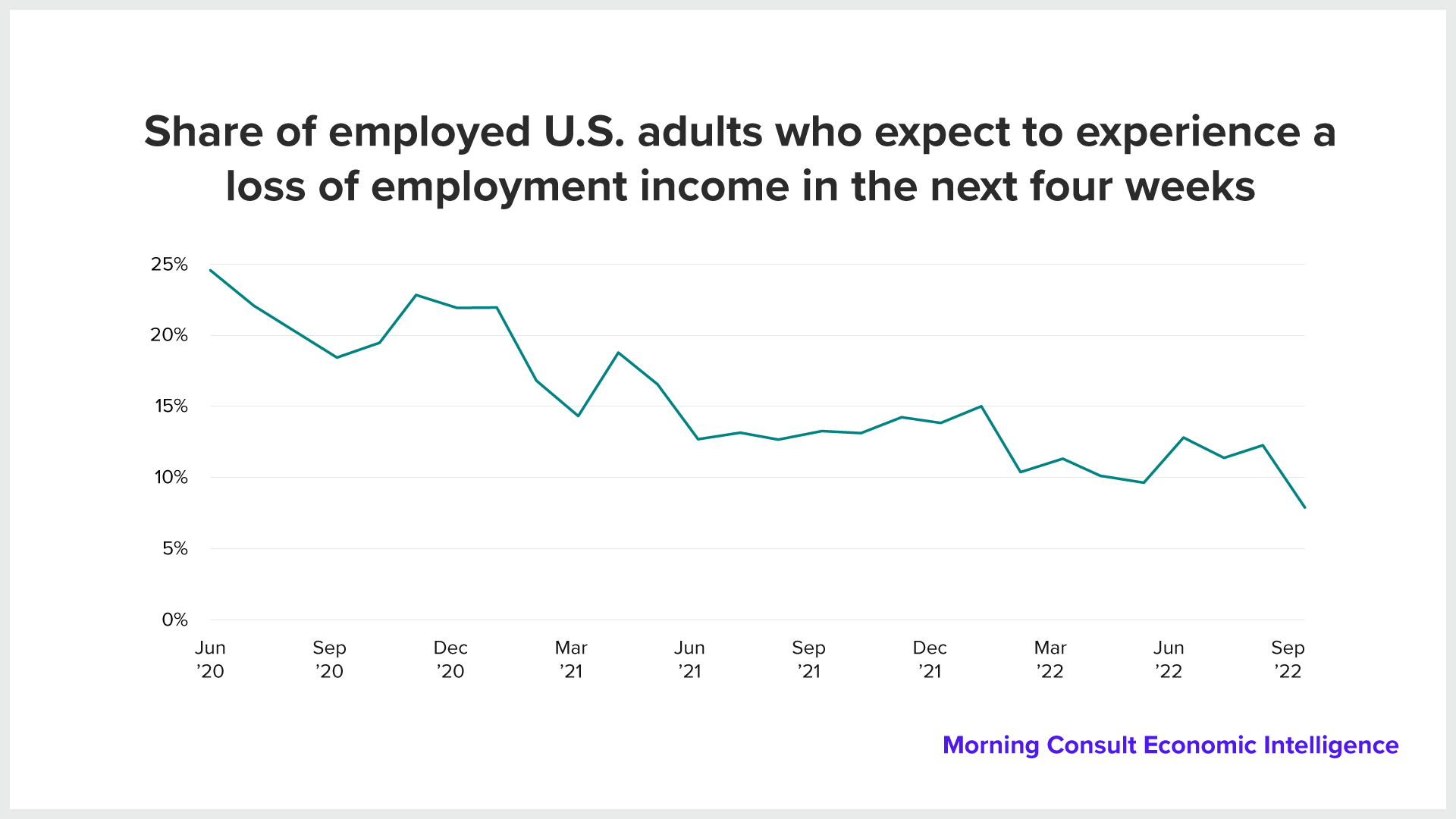 "Economists and policymakers are eagerly awaiting this Friday's jobs report, but our data gives us the opportunity to measure workers' anxiety directly," said John Leer, chief economist at Morning Consult. "For now, workers seem unworried about losing income in a potential recession, likely because they aren't witnessing job losses firsthand in their industry."
Want access to our high-frequency economic data and analysis? Request a demo today.
Pay loss expectations fell most sharply in September among adults from low- and middle-income households. The share of workers from households earning less than $50,000 a year who expect to lose income in the next four weeks fell from 13.7% in August to 10.1% in September. The share from households earning between $50,000 and $99,999 who expect to lose income dropped even further, decreasing from 13.2% to 7.0%. 
"We know from our high-frequency data that lower-income adults have been more likely than their higher-income counterparts to fear a loss of income for most of the pandemic," said Jesse Wheeler, economic analyst at Morning Consult. "That gap has closed in 2022, with lower earners driving the nationwide decline in job insecurity." 
To speak with our team of economists about Morning Consult's high-frequency economic data, email press@morningconsult.com. 
Methodology
Morning Consult's U.S. Labor Market Survey offers insights into the drivers of topline employment figures by looking under the hood at the principal motivations and intentions of workers, the unemployed and those outside the labor force. It asks questions around past, current and expected employment; unemployment insurance benefits; motivations for seeking or not seeking employment; views toward remote work and returning to the office; and willingness to relocate or change industries.
Morning Consult surveys more than 17,000 consumers around the world each day on key economic indicators. The company conducts an additional 20,000 weekly interviews in the United States on lost pay or income, and 2,200 monthly interviews in the United States on labor market conditions.
About Morning Consult
Morning Consult is a global decision intelligence company changing how modern leaders make smarter, faster, better decisions. The company pairs its proprietary high-frequency data with applied artificial intelligence to better inform decisions on what people think and how they will act.
Among the company's decision intelligence solutions is Morning Consult Economic Intelligence, which features a suite of economic indicators supported by unprecedented global scale, frequency and depth. With forward-looking metrics, macro- and micro-level data, high-frequency data, and exclusive expert analysis, MCEI powers modern leaders' decision-making to lead, rather than react to, markets.
Correction: A previous version of this memo included incorrect figures from our Labor Markets tracker due to a data processing error. It has been updated to reflect the correct numbers.