How High-Frequency Economic Data Can Inform Business Decisions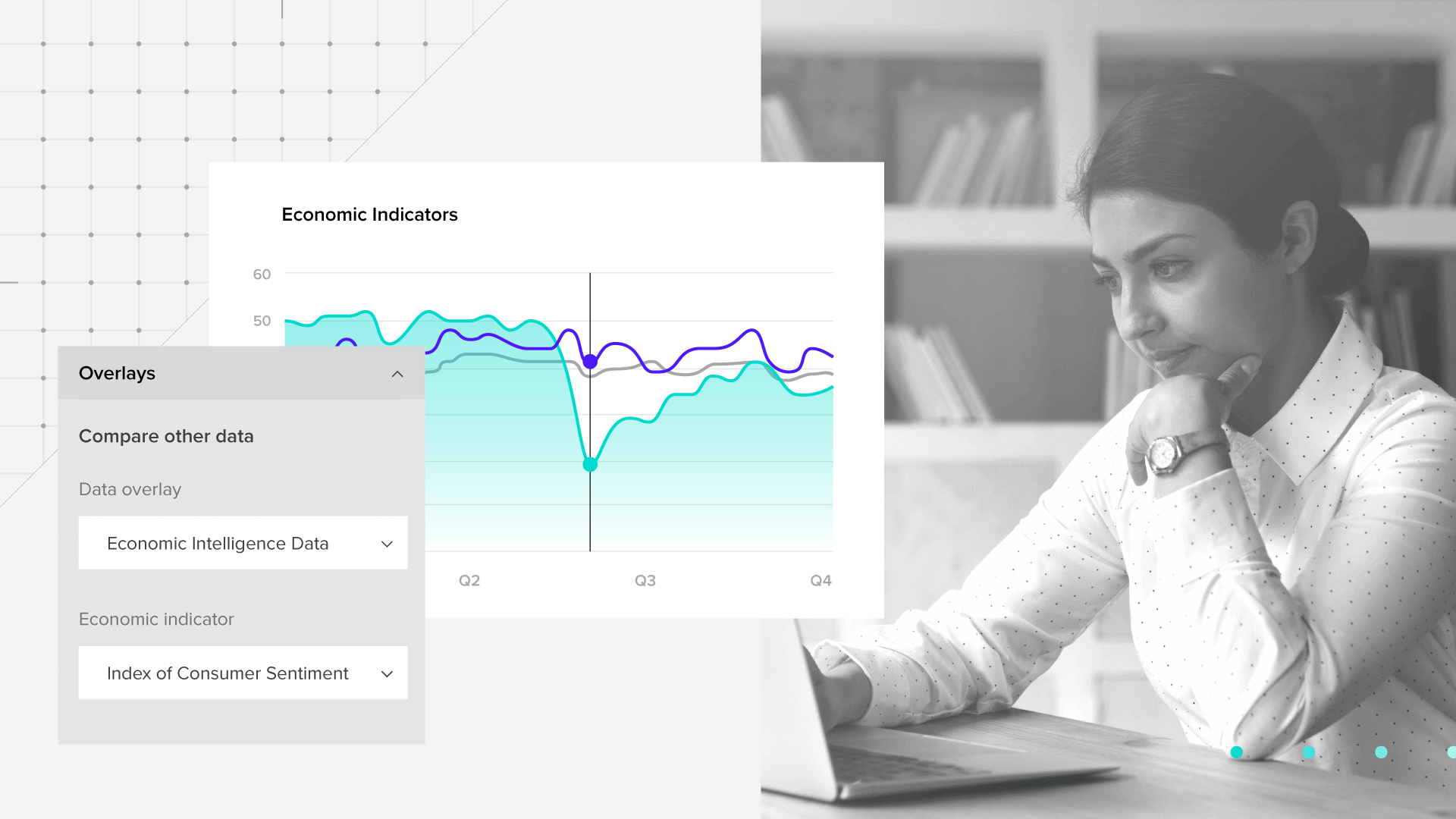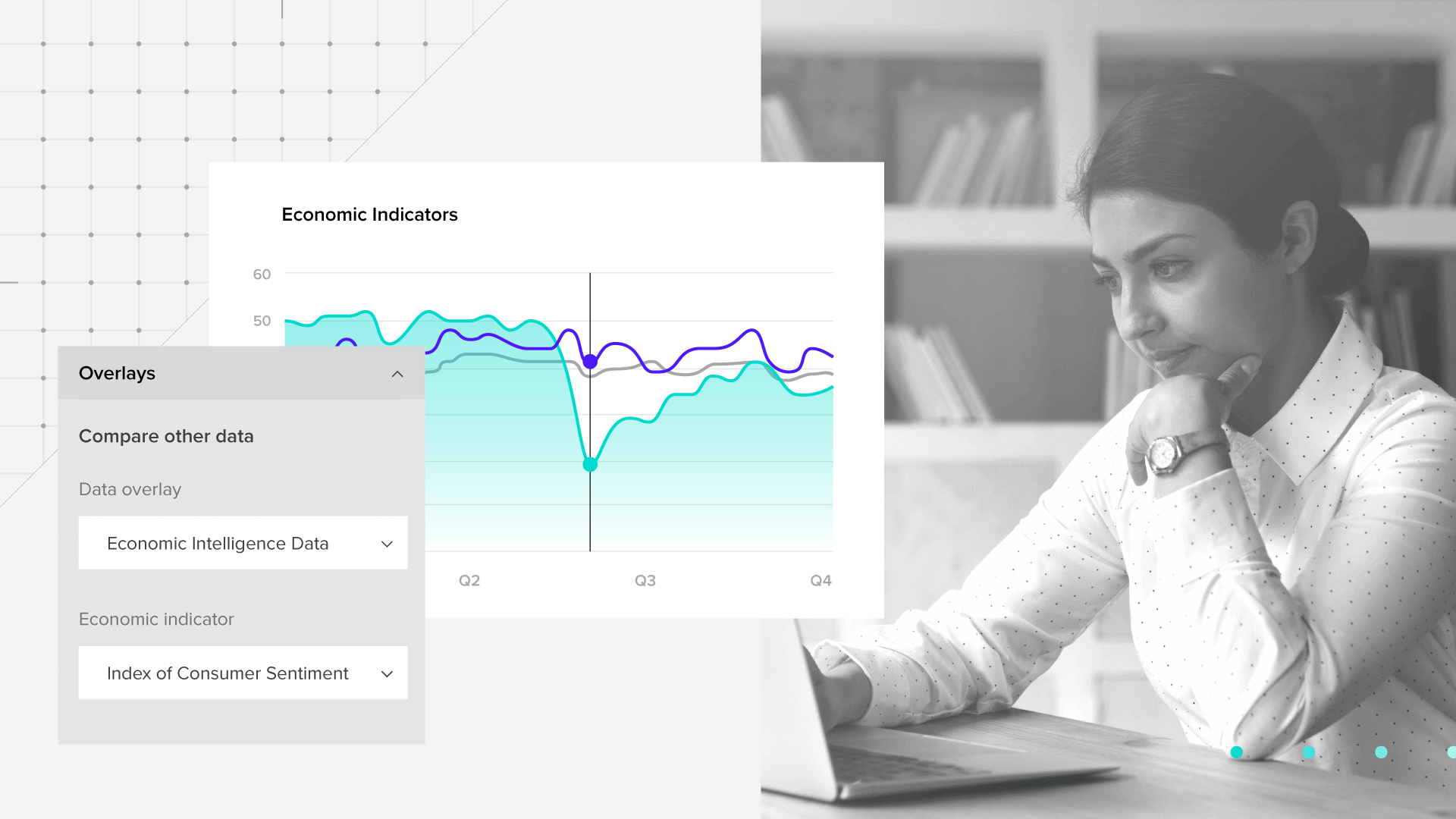 Morning Consult
October 25, 2022 at 5:00 am ET
Federal Reserve Chairman Jerome Powell underscored the significance of high-frequency data in a July 2020 press conference, telling reporters, "What we think of as sort of nonstandard, high-frequency data, that's become a very important thing."¹ This statement is as relevant today, as it was then. 
You need to be empowered with up-to-the-minute, comprehensive, economic data to help you make timely, fully informed decisions, so rather than reacting, you lead your markets. Traditional economic indicators look backwards, hamstrung by outdated survey methods, infrequent sampling and a singular focus on macroeconomic trends. But forward-looking metrics need to fuel the decisions you make today. This is why high-frequency economic data is critical to a real-time understanding of the factors driving consumer behavior.
What is high-frequency economic data? 
High-frequency economic data is a daily measure of the financial health or wellbeing of a country, region or individual market and translates into insights on how customers are thinking about their own finances and the economy at large. It typically goes into greater depth than traditional sources such as the University of Michigan's Survey of Consumers and the Bureau of Labor Statistics' monthly jobs report. Often you can "slice and dice" economic activity data by specific audience profiles and segments — giving you insight into key audiences like never before.

The importance of real-time economic analysis
Consumers' changing financial and economic circumstances can have a swift and sizable impact on your business, but traditional ways of collecting economic data can't keep up with the times. It is often out of date and imprecise. Having up-to-the-minute economic data analysis is critical for making timely decisions in today's hyper-drive environment — and business leaders are facing more and more urgent questions, including: 
What's impacting the market now, what will affect the market tomorrow and how will both impact your business? 

Which demographic segments are likely to purchase your products, and what are their current economic circumstances? 

What consumer trends are unfolding today that can unlock future growth for your company? 

How could consumers' perception of the economy influence their willingness to buy your brand?
Use cases for economic data analysis in business
In an uncertain economy, organizations need to get ahead of what is being forecasted and understand consumers' economic sentiment, as well as how they plan to act.
Consumer Spending

Habits

: This data can help you understand emerging trends in consumer demand, purchasing power and shopping patterns across demographics. You'll learn about your target consumers' share of wallet and how they expect their income, housing situation and general financial well-being to change over time. All of these insights allow businesses to see over the horizon and plan for both good and bad times. 

Monitor Labor and Employment Conditions

: Compare labor market conditions across and within countries to identify job seekers with appropriate skill sets. This category of

economic data

enables you to identify emerging labor market trends and better understand how to attract, hire and retain talent. 

Understand Evolving Consumer Confidence: Avoid missteps by keeping a pulse on your customers' current financial anxiety in turbulent markets. By understanding emerging trends in consumer demand and personal finances, you can better forecast consumer spending.

Economic Intelligence you can't access anywhere else
Morning Consult Economic Intelligence is a suite of economic indicators supported by our signature scale, frequency and depth. It provides daily insight into key indicators among sub-populations and geographies not available elsewhere. That's the Morning Consult difference. We start by giving you the most comprehensive set of real-time economic indicators in the industry, which helps you understand the big picture now and in the future. More importantly, we give you customizable, granular data, which gives you the power to precisely understand your customers future intentions and how that impacts your business. Here's how we do it:
1. Forward-looking metrics
Morning Consult's forward-looking metrics enable you to see both the trends that are occurring in real time and the factors driving how your customers will react. Our data is released daily while other economic data is released monthly. This provides you with the opportunity to spot trends as they happen. 
These insights identify how your consumers are feeling about specific events (e.g., inflation) and whether those changes affect their likelihood of buying your product or service. For example, with an understanding of how significant events, such as a recession or runaway inflation, will impact consumer demand, your organization has time to recommend changes to investments and other assets before the bottom line is significantly affected. 
2. Macro- and micro-level economic data
Morning Consult's large sample size and robust demographic collection lets you analyze indicators at either the national or global level and by other granular population segments. Responses are collected daily, which means  – you guessed it – access to more responses. These responses can be segmented into key demographics such as income, location, gender, generation and more. 
With this information you can gain a holistic understanding of your key audiences and their current financial confidence. Your organization can derive which customers are the most interested in purchasing from your brand, so that you can tailor launches, craft product messaging, direct media buys, drive sales initiatives and customize talking points, all to their specific needs. 
3. High-frequency economic indicators
Morning Consult conducts more than 17,000 daily interviews with adults in the world's largest economies to constantly gauge sentiment on the economy, businesses and consumers' likelihood to spend. Daily responses go back to January 2018, allowing clients to analyze past events in depth to forecast future economic trends. 
This means that organizations can get daily insights into target consumers' perception of their brand versus competitors. You can also find out how your consumers, or potential consumers, perceive the value of your product or service in relation to cost amidst rising prices. From there, you can target your spending to audience groups with the highest return on investment, saving money and improving efficiency. All of this will help your business tailor creative, plan spending and prepare operations to best serve your key audiences with the highest intent.
4. Proprietary data and analysis
Morning Consult leverages proprietary first-party data that our team of economists is uniquely qualified to analyze and interpret. The scale of data means that Morning Consult can apply very specific audiences (e.g. purchasers of a given brand) to more precisely evaluate the impact of current conditions on companies.
5. Exclusive premium economic reports and analyses
Authored by Morning Consult's team of expert economists, subscribers get exclusive access to analysis on key economic indicators and recession signals, including labor and employment, consumer spending and personal finances, and supply chains and inflation.